Could Alberto Moreno be a catalyst for change as Liverpool seek to find their attacking output? Karl Matchett provides the analysis on why the Spaniard should be involved.

Lethargic, lacking conviction, without a game plan to attack. Slow-paced, one dimensional, rigid. All those terms and more were used to describe Liverpool's less-than-acceptable performance in the defeat to Manchester United at the weekend, but the most worrying thing of all has to be that it was far from a one-off.
The Reds have struggled to transition play from back to front for some time now and in none of the games this season, including those won, has the team looked a real, relentless attacking force. While certain personnel changes appear wanted by everybody other than the manager, one or two of the lesser-used squad members must now be wondering exactly how bad things have to get before they are given a real chance this season.
Alberto Moreno must be one of those, having been used only as an impact sub, mainly on the left of midfield, since the new campaign began.
Even before the season started — certainly before he was almost shipped out of the club to Real Madrid — Moreno was talking to Marca about how much he was looking forward to the season and the areas he knew he needed to improve.
My first game was against Southampton. I still couldn't play but I'll never forget it—you have to experience You'll Never Walk Alone. My first year was difficult because of the language and change of home but I still played 41 times and that's good for my age and to play in a club the size of Liverpool. I want to make the position my own, play as many games as possible and make sure that the Liverpool fans are happy with me. The league is very physical, lots of back-and-forth. You have to be extremely alert; if you dont acclimatise quickly you get punished.
For more than one reason, the Spaniard fell out of favour toward the end of last season and has yet to re-establish himself. Since the end of March, his game time has been extremely limited. The following graph shows how just how restricted he has been, compared to other defenders and positional rivals. Simon Mignolet is included as the control — he's featured in every minute.


One move alone isn't going to suddenly rectify everything that is wrong with Liverpool at present, but with Daniel Sturridge on the verge of a return and Philippe Coutinho back from suspension, add in a potential first start for Moreno and the team would automatically begin to look faster, with a more offensive mindset and more potent final-third quality than it has done so far this season.
Team Mentality
The players' mindset has to be the primary concern. Most of them must know they are talented, attack-minded individuals who are simply not gelling as a unit at present. Others are naturally more restrained, cautious or simply not dynamic enough to provide the forward-thrust that the team needs at present.
On the offensive, Moreno is immediately a forward-looking mechanism in Liverpool's slumbering attack. As soon as play is won his natural inclination is to attack the space, open up the game and try to link with final-third players.
With Joe Gomez in place at present as the left-back, his natural inclination (and likely tactical instruction at Old Trafford) is not to break forward at the first sight of a counter-attacking chance. It has already cost Liverpool more than one chance to overload down that channel, just as his need to turn back inside and pass on his right foot has cost opportunities to deliver the ball into the box early for Christian Benteke during more structured build-up play.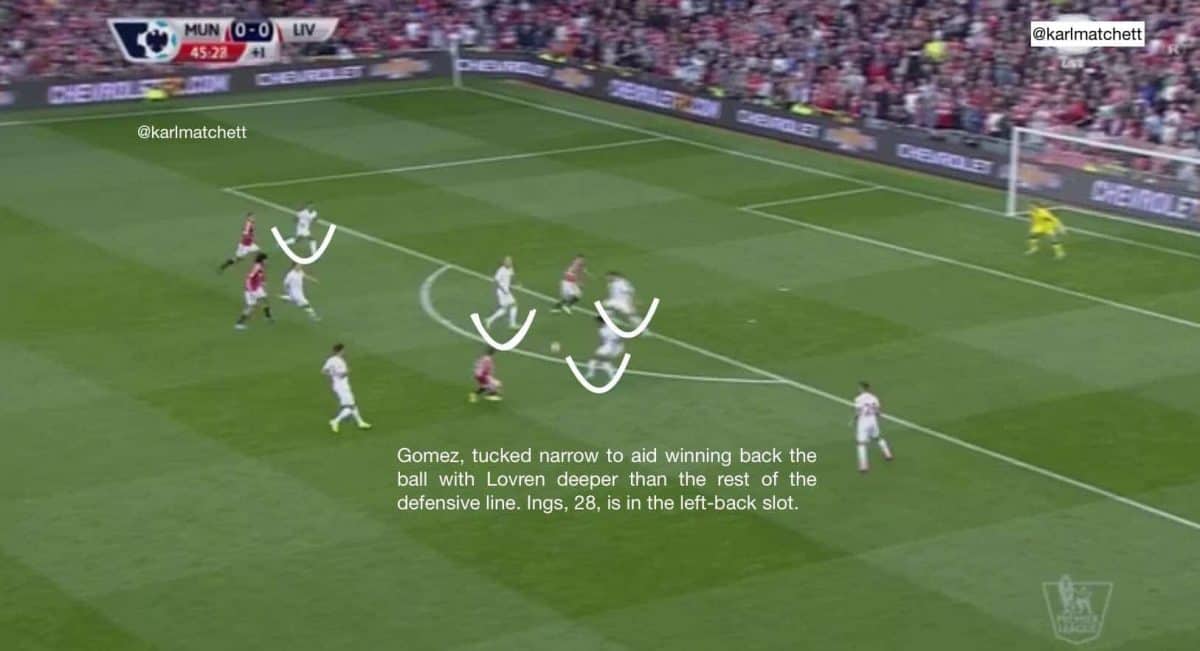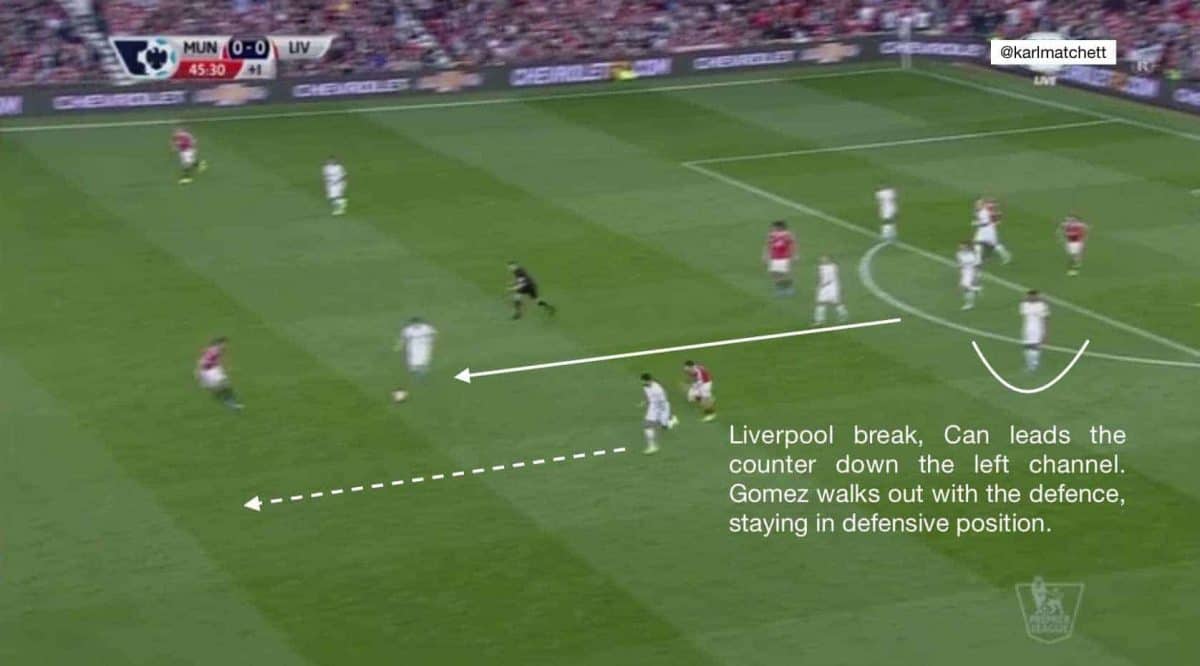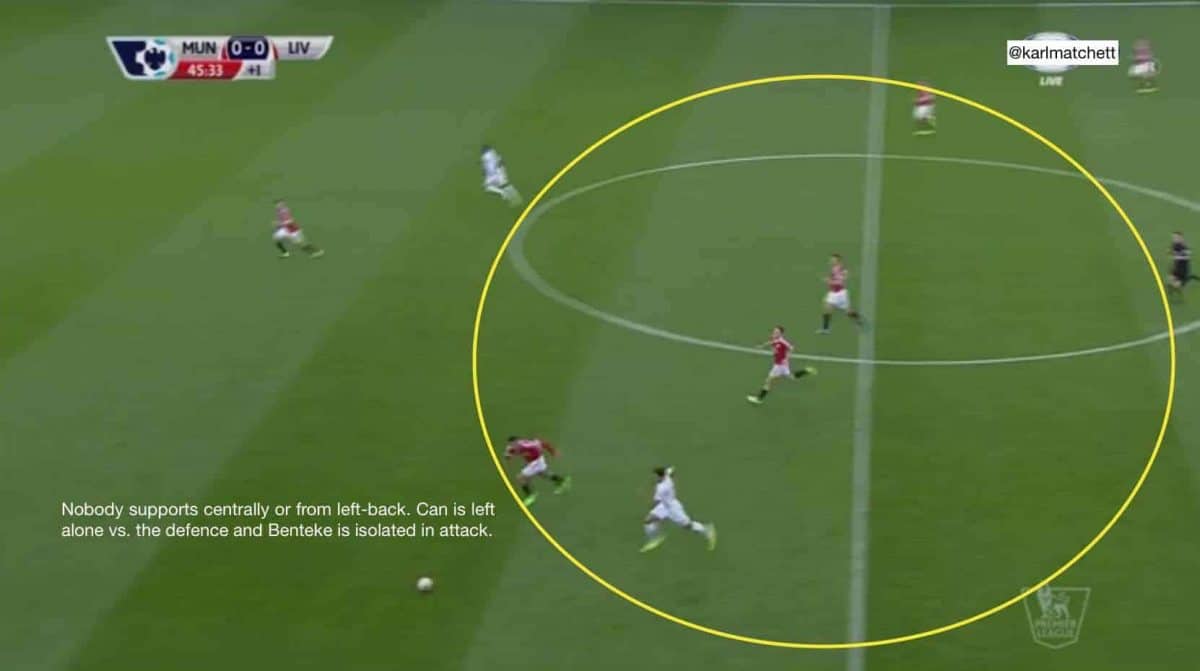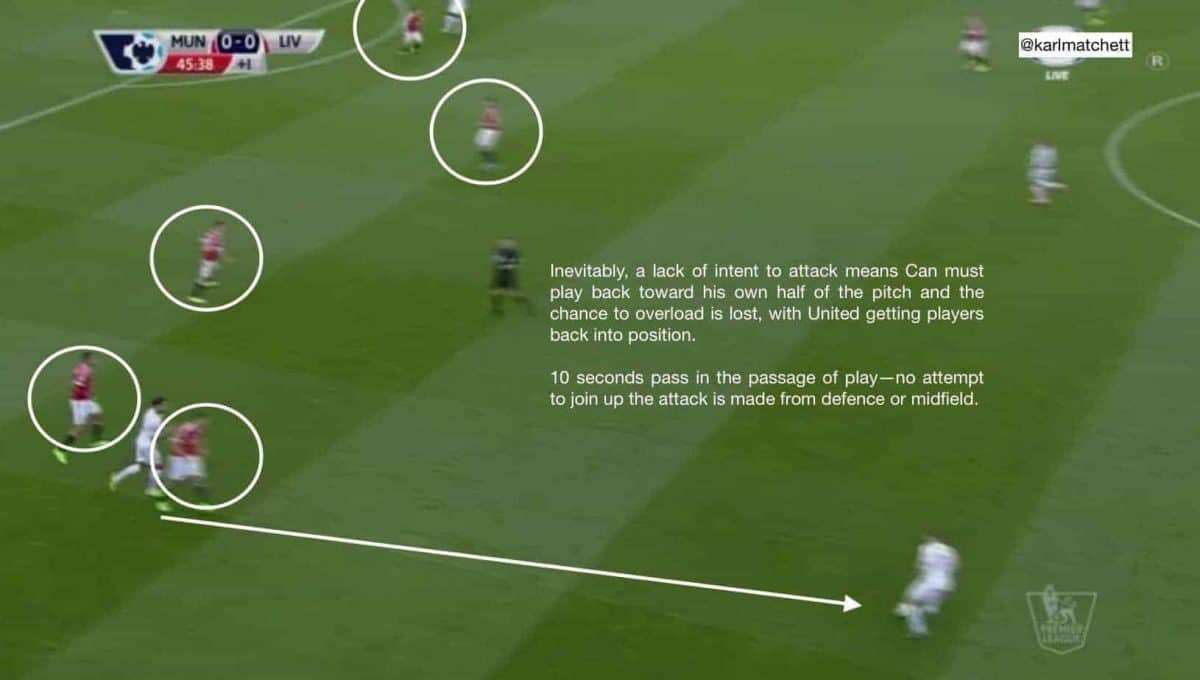 It should be stressed, this isn't a slight on Gomez's abilities, it's simply the situation Liverpool have put themselves in with their tactics and lineup. He's a defender, he's right-footed, this is the way he plays.
Moreno not being in the side right now means he has lots to prove every time he enters as sub. There wasn't time to "prove" much of anything at United by the time he came on at 3-1 down, but even so there were a few moments where his acceleration and determination were clearly visible. He's an aggressive player on and off the ball with his positioning, but also his combative nature.
This isn't a Spanish player who is just an on-the-ball talent; his development was exciting to watch before joining Liverpool, in large part because of his physical traits. Good upper-body power, a fearlessness (bordering on recklessness at times) in the challenge and of course no end of pace all contribute to his performance in both directions of play.

He's far from a complete defender, but he possesses enough attributes to give himself a chance to recover from any decision-making errors and also contribtues a lot more to the team than anybody else in an offensive left-back role.
Moreno knows he has a struggle on his hands for first-team football at Anfield—and right now, that's a great thing to bring into the side: someone who is going to work even harder than they usually might do, knuckling down and showing they can bring something extra to the team, just to keep themselves in the starting XI.
Would anybody really baulk, after insipid and listless performances against West Ham and Manchester United, at a little extra tenacity and desire from those wearing the Liverbird?
Rodgers: Stop the Safety-first
There was a piece in the Telegraph after the United defeat which dealt with the question of progression under Rodgers. Bascombe: "There is a feeling within Anfield it just a matter of time before a quality group of players click, the argument being another period of re-adjustment was inevitable as seven new recruits were introduced."
That might be the feeling inside Anfield, but outside of it the feeling is much closer to the article's opening: "No matter how much time and application has gone into creating it, or how much you analyse it, you're none the wiser about what it is meant to be."

Rodgers was right to go cautious early, given tough away games and a negative outlook in general about the season, but that should have ended post-West Ham debacle. Now it should be about going on the offensive: attempting to get the fans back onside, to get the needed points and because there are winnable home games ahead.
The current set-up and gameplan isn't an identity crisis for Liverpool, it's simply a poor excuse which has over the last 15 months become the team's identity. Getting Moreno involved again would be a step toward what was best about the side when success was more likely.
There's another point to skirt around: Dejan Lovren. Slips, misplaced passes and decision-making aside, Lovren is downright poor when asked to move out of the centre and come across to the channel to intercept an attack. Now, if Moreno is higher upfield than Gomez he's certainly not going to be in place to recover defensively every time the opposition counter-attack, but he does have far greater mobility and agility than either Lovren or Gomez. More than once after coming on he has already shown that capacity to fight back inside and try to win the ball.
— Karl Matchett (@karlmatchett) September 15, 2015
— Karl Matchett (@karlmatchett) September 15, 2015
On the flip side, Lovren is ambitious about passing out from the back line and having the diagonal line open to Moreno, higher upfield than Liverpool's current left-back is getting, should provide an automatic out-ball which gets the Reds onto the front foot, rather than having to go square to the flank or short to the deepest midfielder.
No-go Joe
Putting Moreno in naturally means somebody else comes out, but it isn't necessarily a reflection of Gomez — who has done well for the most part, but is perhaps not what is now required to go forward.
In pre-season the balance of Liverpool's defensive quartet largely saw the right full-back go and the left stay. It's possible that Moreno has been a casualty of that intent, with Gomez being a more reliable pillar in place rather than an offensive outlet to balance the expected forward raids of Nathaniel Clyne on the right.

Gomez does not, however, see himself in the position in the long term — and neither does anyone else, to be fair. He spoke on being in the team and future aims:
I think at the moment I'm just grateful for the opportunity of playing and left-back has been my chance to do that. So at the moment, I'm just trying to learn and be the best that I can be, in whatever position I play in. But, ideally, coming to the club and speaking to the manager, we both know that in the end my goal is to be a centre-back and that's something I always keep at the back of my mind so I can be the best centre-back I can be.
There are two discussions to be had here, then, and one is — in the realistic, proper-world scenario of what actually happens — utterly irrelevant.
The irrelevant one is whether moving Gomez centrally benefits the team or risks destroying a young player's tremendous potential. He's a composed, technical defender who looks as though he should be fantastic at playing the ball out of the back (John Stones vs. Chelsea, anyone?) but it has to be noted that Gomez has already made a few errors, even before the rash tackle to concede a penalty against Manchester United.
If he makes more mistakes and costs goals, does that wreck his confidence? Does it break the trust the team has in him at present? It's a big step from right-back in the Championship to centre-back for a club chasing the top four and only the manager and coaches, those who see his mindset and reactions every day, can possibly have an inkling of how he might recover (or otherwise) from the inevitable setbacks and mistakes that he will make if played in the middle at this stage.
It is irrelevant, though, because there apparently needs to be a cataclysmic, seismic or quite possibly Earthlife-threatening sea-change to occur for Martin Skrtel to be moved out of the centre-back slots. Lovren has been awful, yes, but it's debatable whether the Reds' long-serving No. 37 is just behind or just ahead in the obvious error stakes, and presumably it's the right side of the centre-backs that Gomez would operate in.

Of more relevance is whether Gomez deserves to be turfed out of the team, not because of poor performances but simply because the team will benefit more without him? Where does the line get drawn for changes due to player performances and changes due to overall team improvement? On the one hand it's fine to make an alteration, even with a player performing well, if it will tactically benefit the team—but what about not changing others who have been playing worse?
It's a tricky situation for Rodgers to judge, made a little easier by the fact that Gomez is younger and ergo more expendable, from a "hurt ego" point of view. Should that matter? Probably not. Does it, in the real world? Almost certainly yes.
Steven Gerrard has been consistent about his effusive praise for Rodgers as a man manager. There is precious little evidence of the squad "playing for him" this season, but this is another test in that regard all the same: drop a senior? Drop a young, unestablished new signing? Or do nothing at all, again?
Threes and Fours
Gomez to centre-back and Moreno to left-back isn't the only way to play both in the team, of course. Rodgers has been utilising Moreno as a late sub on the left side of midfield or attack, ahead of Gomez, and that's a potential route into the team for the Spaniard too.
Either way, Liverpool need an outlet not just down the flank, but all the way into the final third.

The ridiculousness of playing Roberto Firmino and Danny Ings out wide only begs further questions of why no additional (natural) wide talents were targeted in summer if 4-3-3 (and variations) was the intended system, while Adam Lallana's fitness remained questionable and both Raheem Sterling and Lazar Markovic were allowed to leave.
Jordon Ibe is the only other real wide player so is Moreno so far down in Rodgers' estimations that he is not even a consideration to start as an extra threat from the flanks?
Moreno isn't just a supply line with crosses from deep. He plays to link triangles between himself, the forward and an inside midfielder, he looks to hit the byline and work short-range cut-backs and near-post crosses. How many times early on last season, and just after the 3-4-2-1 came into play, was Moreno seen bursting past the opposition defence and pulling back the ball? Now he has a real target to aim for in Benteke. At present, that type of service to the new No. 9 simply doesn't exist.
#STK 0-1 #LIV (via @StatsZone http://t.co/zRuNdociP8): pic.twitter.com/MB1Pli0iP1

— Karl Matchett (@karlmatchett) September 15, 2015
#ARS 0-0 #LIV (via @StatsZone http://t.co/rWkTDLKATb): pic.twitter.com/AmApm7cwKR

— Karl Matchett (@karlmatchett) September 15, 2015
#MUN 3-1 #LIV (via @StatsZone http://t.co/6z4HyjY5Ja): pic.twitter.com/OvTPGaUyvr

— Karl Matchett (@karlmatchett) September 15, 2015
In a diamond midfield system, Moreno is the optimal left-back. He'll provide width and penetration, real offensive intent, while the hard-working likes of James Milner, Joe Allen or Jordan Henderson fill in behind when necessary. In a 4-3-3, the option is there to play Moreno instead of Gomez — or ahead of him.
Either way, what Liverpool are doing so far simply isn't working, not in the way they need it to. Moreno should be one of the first who now gets the chance to come in and offer up a new threat in attack and determination in defence— and just maybe he can help be the catalyst for change as Liverpool seek to get back to some semblance of effective play at both ends of the field.