Danny Ings is proving himself to be one of Liverpool's most likeable players in recent years, and is a rare positive so far this season.

Occasionally a Reds player comes along whose all-round character resonates with the fans.
Dirk Kuyt is one who certainly springs to mind in that respect, while Pepe Reina and Xabi Alonso also 'got' what playing for Liverpool was all about.
It may be very early days, but you can add Ings to that list.
Ings' name was sung from the Kop against Carlisle on Wednesday as he emerged as the only player to take credit from the game.
The 23-year-old was probably not one of the Reds' more universally popular signings of the summer, with some perhaps feeling that he was no better than the likes of Rickie Lambert and Fabio Borini.
It was hard to see how much he would feature this season, considering he didn't play at all in the opening few weeks of 2015/16, but suddenly that has all changed.
From nowhere, the amiable striker has become the biggest positive of Brendan Rodgers' side's stuttering campaign so far.
Standout performer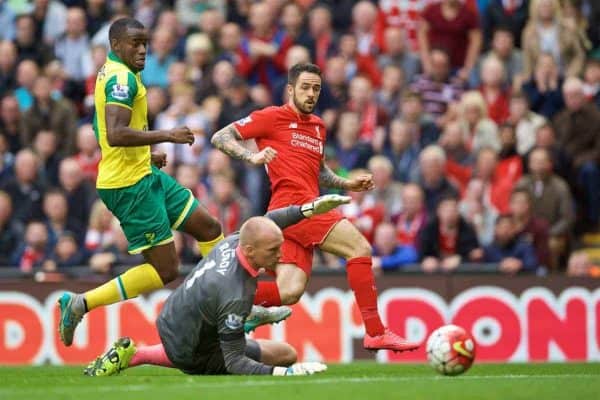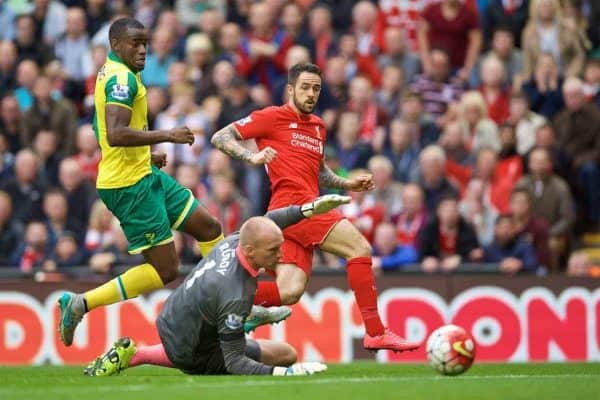 While many around him have desperately searched for form, Ings has impressed in every one of his five Liverpool appearances so far.
His debut came in the hideous 3-0 home defeat against West Ham at the end of August, with the Englishman's energetic 30-minute cameo a bright note on an otherwise depressing afternoon.
The same could be said of the 3-1 loss at Man United two weeks later, with Ings Liverpool's most hard-working, least-to-blame player in an unsuited left-wing role.
Neither of these displays were earth-shattering by any means, but it was evident straight away that the Reds had a player with a superb attitude in their ranks.
Another pretty impressive showing from the substitutes' bench away to Bordeaux followed, in which Ings almost scored a sublime, Dennis Bergkamp-esque goal in the second-half, before Norwich City visited Anfield last Sunday.

The former Bournemouth man found the net for the first time in a Liverpool shirt against the Canaries, and his pace and movement made a sizeable difference when he replaced Christian Benteke at half-time.
Last but not least was Carlisle United on Wednesday evening, which is being spoken of as one of the most embarrassing nights in Liverpool's recent history.
Rodgers' men needed penalties to knock out the League Two strugglers, and the general consensus was that Ings was comfortably the Reds' best player on the night.
He scored his side's only goal of the game, and seemed to be the only player who genuinely cared about the outcome of proceedings.
Few would have predicted Ings being Liverpool's most effective player come the end of September- Philippe Coutinho aside, perhaps- but that is very much the case.
Putting teammates to shame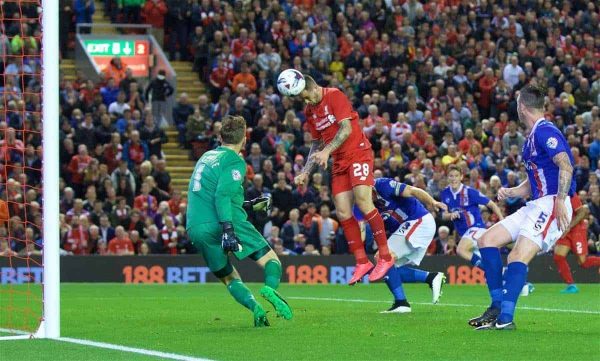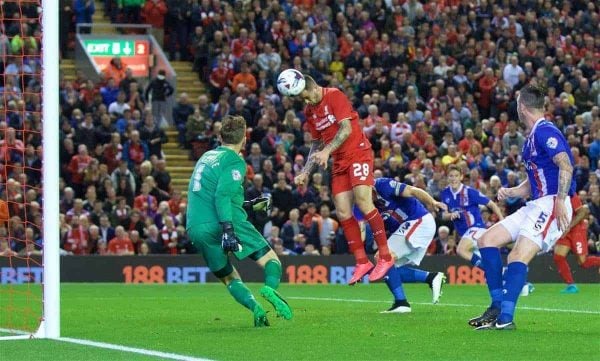 The most alarming aspect of Liverpool's wretched form of late has been the complete lack of fight and professionalism from some players.
The Carlisle mess saw Coutinho being continually greedy on the ball, James Milner incapable of taking a good corner and both Dejan Lovren and Martin Skrtel attempting pointless 40-yard shots.
There were experienced players doing unforgivable things right across the pitch. Too many played with no belief or heart, and everything seemed too nice. Where have all Liverpool's winners gone?
Ings was the only Reds performer on that pitch who brought a spark. He chased every ball down, geed up his teammates and even converted his penalty in the shootout.
If every player was putting in the kind of shift he is right now, Liverpool might not find themselves in such appalling form.
Rodgers clearly deserves the brunt of the blame, but was he instructing his centre-backs to shoot from distance? Was he asking Milner to be so wayward with his set-pieces?
Likeable
In an age where so many footballers are easy to dislike, Ings comes across as one of the most genuine, down-to-earth characters in the game today.
He seems to have built an instant rapport with the supporters, and his decision to applaud the Kop on Wednesday will not be forgotten by the Reds faithful.
The youngster is clearly willing to give his absolute all to the cause, and that kind of attitude can rub off on others.
Burnley player Danny Ings gives his boots and a kiss to a young, handicapped fan pic.twitter.com/bPpZaPPHSw

— Powerful Pictures (@Powerful_Pics) August 1, 2013
His work-rate is fantastic, his team ethic is as good as anyone's in the Liverpool squad and his off-pitch activities are also admirable.
The 'Danny Ings Disability Sport Project' in Burnley is entirely self-funded by the Reds striker, and the image of him handing his boots to a handicapped fan last season left an indelible mark.
Ings isn't alone in terms of the good work he does away from football, but whereas it can feel somewhat forced with some players, his efforts feel incredibly genuine. He is a breath of fresh air.
Future Reds hero

It is always easy to go overboard about something positive when there are so many negatives affecting Liverpool, but Ings has the feel of becoming a real favourite on Merseyside as time goes by.
His style of play is both infectious and effective, much like Luis Suarez, and while he will clearly never reach the Uruguayan's incredible heights, there is no reason why he can't become a top player for the Reds.
It is easy to forget that he is still just 23- the fact he looks twice his age doesn't help in that respect- and he should improve immeasurably over the next several years.
Liverpool legend John Aldridge summed Ings up perfectly following the Norwich game, saying:
He showed a wonderful attitude which was both refreshing and infectious. He came on at half-time and brought the crowd to life and lifted the players around him, too. And he's got quality too. His movement was excellent, he took his goal very well and did everything that could have been asked of him.
This is what we will always get from Ings at Liverpool, and the early signs are that this incredibly likeable, talented footballer is well on his way to becoming something of a surprise hero at Anfield.
[interaction id="56011f2474a791dd4be6c7b0″]