With media pundits often regurgitating the claim that no successful side has ever won anything with three at the back, we dispel this myth.

It seems to be the case now that every time Liverpool go through a period of poor form with one of Brendan Rodgers' favoured formations (4-3-3 and 4-2-3-1), the three-man defence is rolled out to provide stability.
But that this is widely perceived as a tactical stopgap—with a return to a 4-4-2 diamond formation long anticipated by supporters.
That a three-man defence is a poor foundation for tangible success—league titles; cup glory; international dominance—is a myth.
Here are three sides that have proven hugely successful with three at the back.
Germany, Euro 1996
'There are no stars, the team is the star,' was Berti Vogts' unofficial mantra during his time in charge of Germany from 1990 to 1998.
While this may have been the case overall, with a strong team spirit and work ethic pervading Vogts' successful tenure—following his reign as manager of West Germany—one leading man emerged during the Germans' triumph in the European Championships in 1996.
Matthias Sammer's transition from defensive midfielder to Beckenbauer-aping libero underpinned Vogts' success on English soil, despite early injury to one of his defensive partners, Jurgen Kohler.
Vogts fielded a 3-4-1-2 formation, with Sammer at the heart of defence, tasked with dictating play, breaking out from a sweeper's position.
This allowed Germany to avoid fielding a specialist defensive midfielder, and provided an exceptional fluidity to their forward play, as well as a compact block in defence.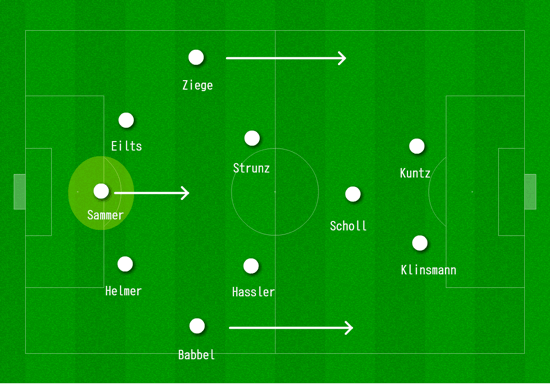 This density in the defensive line proved pivotal, with Germany conceding just three goals in six games throughout the tournament, vanquishing Terry Venables' England in the semi-final.
The performances of Sammer, his flanking centre-backs and regular wing-backs Christian Ziege and later-to-be Liverpool man Markus Babbel provided Vogts' side with the launchpad for a cohesive attacking system.
Sammer was named Player of the Tournament and eventually pipped Barcelona's Ronaldo to the 1999 Ballon d'Or award, underlining just how effective a player he was—and this quality showed how a three-man defensive can be successfully utilised.
Brazil, World Cup 2002
Six years after Germany's Euro 1996 triumph, a Rudi Voller-led side were defeated 2-0 in the World Cup final, with Luiz Felipe Scolari's Brazil, inspired by the brilliance of Ronaldo, rampaging to victory.
Perhaps taking inspiration from Vogts' success, Scolari maximised the many talents of his Selecao with a similar formation.
Unlike the modern-day Brazil sides, Scolari was blessed with a clutch of genuine, world-class players in Lucio, Cafu, Roberto Carlos, Gilberto Silva, Ronaldinho, Rivaldo and Ronaldo.
What is the best way to utilise a pair of attack-happy full-backs, two sensational No. 10s and the best striker in world football? Scolari opted for a dynamic 3-4-2-1 formation.
The width achieved by deploying Carlos and Cafu as wing-backs provided ample support for the fluid inside duo of Ronaldinho and Rivaldo, who swarmed around the peerless Ronaldo, and Brazil washed away their opponents on the way to the final, scoring 16 goals in six games.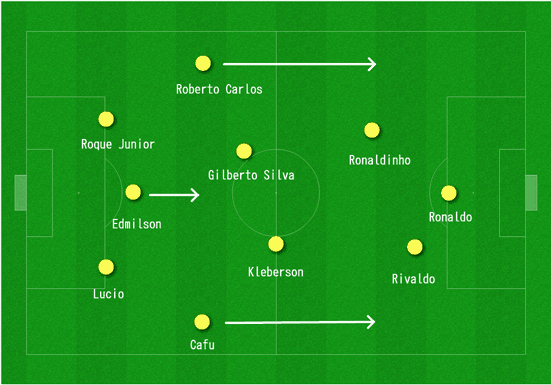 Despite fielding a subpar centre-back in Roque Junior, this three-man back line served as the foundation for an overwhelming attacking front: Edmilson stepped out into midfield, supported by Gilberto and Kleberson, while Lucio and Roque Junior were aided by Carlos and Cafu.
It was a well-worked, rotational balance that ensured defensive stability and the ability to overload the attacking areas.
Bayern Munich, the Pep Guardiola era
Pep Guardiola is commonly regarded as one of the finest tactical minds in modern football, with his success with both Barcelona and Bayern Munich underlining his managerial pedigree—and a main factor behind this is his regular use of a three-man defence.
Beginning his Bayern tenure with a regular 4-3-3 formation, Guardiola quickly shifted to a 3-4-3, largely prompted by a change in roles for the masterful Philipp Lahm.
Lahm's transition from world-class right-back to a master of the midfield has been remarkable, and one which Guardiola can be credited for, having noted the German's tactical intelligence and robust, all-round game.
This move allowed Guardiola to field a number of formations for different tactical demands, with 2-3-2-3, 3-3-3-1, 3-3-4 and 2-3-3-2 all becoming features of his pre-match whiteboard.
Along with the transition of Lahm, the complementary talents of Jerome Boateng and David Alaba have allowed this system to flourish.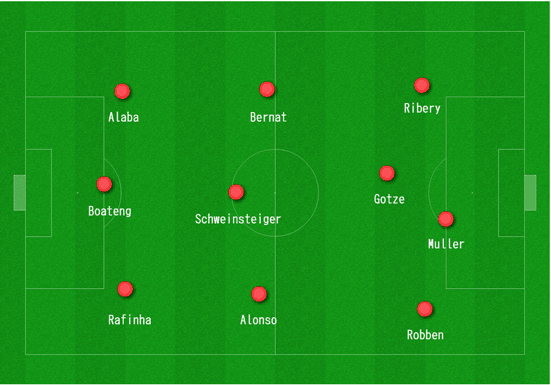 Boateng is one of few world-class centre-backs currently operating in world football, while Alaba is at the forefront of a new generation of full-backs as one of Bayern's most important players.
In Bayern's three-man defence, Alaba is given license to operate as a playmaking central midfielder, as well as supporting the attack as an orthodox full-back.
Alaba is one of many phenomenally talented—and, most importantly, vastly intelligent—players at Guardiola's disposal at Bayern, and that is one of the reasons why the Spaniard's three-at-the-back systems are successful.
[quote_box_right]Other Notable Three-Man Defences:
– Carlos Bilardo's Argentina
– Fabio Capello's Roma
– Marcelo Bielsa's Chile
– Francesco Guidolin's Udinese
– Walter Mazzarri's Napoli
– Hassan Shehata's Egypt
[/quote_box_right]
In his time at Bayern to date, Guardiola has won five major honours in two seasons, including back-to-back Bundesliga triumphs.
Though, as his swift move away from a three-man defence against Barcelona in last season's 3-0 Champions League defeat proves, this system is not without its flaws—particularly when lining up directly against three of the world's greatest attacking players.
For a three-man defensive system to be effective, a manager must know when and when not to utilise it—Rafa Benitez's switch to a back three of Jamie Carragher, Sami Hyypia and Djimi Traore midway through Liverpool's 2005 Champions League final success is the perfect example of this.
As the success of Germany in '96, Brazil in '02 and Guardiola during his time at Bayern show, however, three at the back is by no means an indicator of impending doom.
[interaction id="560aa7e174a791dd4b1cf18f"]