The Liverpool squad has been rated for the upcoming FIFA 16 release, with both Jose Enrique and Emre Can ranked rather questionably.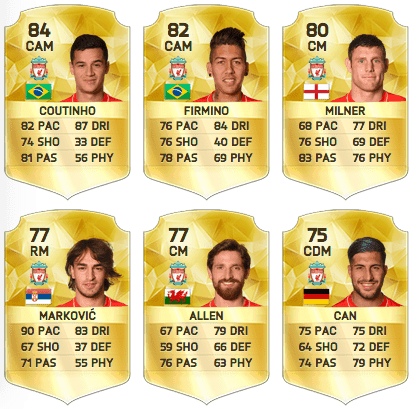 Ahead of the release of EA Sports' latest instalment in their FIFA franchise, FIFA 16, player ratings for this season's Liverpool squad have been revealed by Futhead.com.
Each player is rated based on a number of attributes including pace, dribbling, passing and defensive ability.
The accuracy of these ratings however, is highly questionable.
Philippe Coutinho is, understandably, Liverpool's highest-rated player, with a rating of 84, while Daniel Sturridge (83), Roberto Firmino (82) and Christian Benteke (82) also lead the pack.
Since joining Liverpool this summer, James Milner (from 78 up to 80), Nathaniel Clyne (from 76 up to 81) and Danny Ings (from 71 up to 75) seem to have seen a major increase in their ability, with their ratings boosted considerably from their representation in FIFA 15.
Simon Mignolet (from 82 down to 78) and Dejan Lovren (from 80 down to 79), however, have seen their stocks fall between releases.
Perhaps most striking is the low valuation of new Reds captain Jordan Henderson, whose ability remains rated at just 79.
Lucas Leiva and Alberto Moreno are also rated at 79, while Kolo Toure is just one point lower, at 78.
Incredibly, EA Sports rate part-time footballer Jose Enrique at 77. This is equal to Joe Allen and higher than Ings, Emre Can (75) and Jordon Ibe (70).
Divock Origi (76) is also, unfathomably, rated higher than Can and Ibe.
View all of the Liverpool squad's FIFA 15 and FIFA 16 ratings below:

How would you change Liverpool's FIFA 16 ratings, and why? Let us know in the comments below.