Alex Malone takes a look at three major flaws in the Liverpool side at the moment – with some pretty damning statistics uncovered.

When the team sheet was announced before last Saturday's crucial game, I had to do a double take – 2 strikers? No obvious wide players? Lucas, Firmino, Can and Milner? Oh my god, we're going back to the diamond in midfield and two strikers… at Old Trafford! Momentarily, I was optimistic.. after all, this United team is absolutely there for the taking, so why not?
But even before the team took the field, I had tempered that unfounded optimism with the realisation that Brendan Rodgers wouldn't dare be that brave. And yes, unfortunately, I was right.
I also looked at the defence which once again included the over-rated Martin Skrtel and the inadequate Dejan Lovren as the central pair. Did the West Ham game count for nothing?
What I observed in that performance was a team in search of itself. It was gut wrenching to watch a Liverpool team so lacking any self-belief and showing no intent whatsoever to try to win the game against a genuinely poor Man United team. It was a 90 minutes which encapsulated what I believe are the the 3 major flaws in our team right now.
This team does not (and is unlikely to) score enough goals
3 goals in 5 league games is poor by anyone's standards, but statistically it's not a blip – it's unlikely to get much better given the current squad's goal scoring record, how the team is set up and how the players are utilised. Let's take a look at the numbers:
Benteke – 44 goals in 93 games for us and Villa equals about a goal every 2 games in the Premier League. So we can expect a very credible 15-20 goals from him this season.
Ings – 38 goals in 122 appearances for Burnley means we can expect 1 goal every 3 games from the lad. Given he'll likely play only 20 games or so, let's be very optimistic and say he'll give us 10 this season.
Sturridge – 35 in 55 games for Liverpool is a tremendous strike rate…. but he's not fit and hasn't played for the best part of a year. But let's be optimistic again and say 10-15 this season.
Origi – 14 in 74 is 1 goal in 5… or a maximum of 7 in the remainder of the season.
Given we're only ever (if ever!) going to play 2 of these 3 with Origi likely being 4th choice, we can expect something around 25 goals from our strikers. That's actually not that bad…… but now let's take a look at everyone else:

Milner – 13 goals in 147 games for Man City, and 36 in 411 in his career. That equates to 1 goal per 11 games… or 3 per season. His last 5 seasons have wielded 0,3,4,1 and 5 for City.
Henderson – his last 3 seasons have given us 5, 4 and 6 goals respectively. His career average is 1 goal in 8, but let's predict he'll give us another 5 or so.
Lucas – 1 goal in 198 games speaks for itself…. or if it doesn't, 1 every 5 seasons!
Lallana – 17 in 97 goals in the Premier league means 1 every six games… for an average of about 6 a season. Lallana's seasons tend to be injury prone, and this one is already no exception, but let's be generous and leave it at 6.
Can – 64 games, 5 goals. That's one every 13 games, although Rodgers has mainly played him in defence. But even for Leverkusen, he scored 3 in 29 (1 in 10) – so let's estimate Emre will also give us 4 this season.
Coutinho – for all his magic, it's 11 in his last 72 (or 1 every 7 games) for Philipe. His last two full seasons have seen him net 5 times in each. So let's estimate he gives us 6 this season.
Ibe – 7 goals in 57 games and none in the Premier League… 1 in 8 in lower leagues probably translates – optimistically – to around 1 in 10 in the top league. So let's say he'll likely give us 4 goals this season.
Firmino – 46 in 183 is a decent 1 every 4 games…. So in theory he could bag us a maximum of 9 in the final 33 games – assuming he plays!
Allen – 10 in 201 – that's 1 in 20 or an average of 2 per season… and unlikely to feature much anyway.
As for our defenders' average goals per game it's Lovren (1 in 36 games), Moreno (1 in 15), Skrtel (1 in 17), Clyne (1 in 55), Sakho (1 in 23), Toure (1 in 31), Gomez (never scored). So, irrespective of which four the manager chooses throughout the season, the defence will pitch in an estimated maximum of 8 goals.
Totalling it all up:
Predicted goals from the forwards if we play 2 strikers – 30 (20+10)
Predicted goals from the forwards if we play 1 striker – 13 (average of 15-20, 10-15 and 10)
Predicted average goals from midfield using all players equally = 3+5+0+6+4+6+4+9+2 = 39 divided by 9 players = 4 goals per midfielder
Predicted goals if we play a 4 man midfield = 16
Predicted goals if we play a 5 man midfield = 20
The defence – whichever 4 we choose… will give us a maximum of 8!
Predicted total goals this season assuming 4-5-1 = 41 (8+20+13)
Predicted goals this season assuming 4-4-2 = 54 (8+16+30)
(For reference, last season, even with Steven Gerrard and Sterling, we scored 52.)
Whichever way you look at it, goal scoring – and goalscorers – are likely to be a real issue this season, because other than the front 3, we don't have a single other player on the books (with the possible exception of Coutinho) who will come anywhere close to double figures.
Defensive Frailty
Was anyone really fooled by the 3 clean sheets to start the season? I certainly wasn't, as Lovren still looked a liability against Bournemouth, and we still looked more than a little bit shaky on far too many occasions. The next 3 games have seen 7 goals conceded – against an average West Ham, the worst Man U team in recent memory (who had no strikers!) and a French mob with 1 win in their first 5 games.
Individually, Clyne and Gomez are proving to be overall upgrades to Enrique and Johnson, but as a unit the back 4/5 is still calamitous. The central pairing of Lovren and Skrtel is just, simply, not good enough. Lovren has consistently proven himself incapable at this level, while Skrtel – who I know remains fiercely protected by many Liverpool fans, but I'm telling it as I see it – is not good enough either! Both West Ham's and Man U's 3rd goals would have been prevented by a top class central defender. Skrtel is not.

104 goals conceded in the last 81 games (2 full seasons plus the first 5 games of this) is a miserable record… and Skrtel has been an almost ever present in the team during this time featuring in 74 of those 81 games. Why Sakho (the star of the show against Bordeaux) has been frozen out is anyone's guess… but the lad is class and needs to be playing… and playing next to a more accomplished partner than either Lovren or Skrtel can provide. It's actually irresponsible of the manager to play Lovren ahead of Sakho and smacks of a manager not knowing what he is doing (more of that later.)
Behind him, Simon Mignolet has played in 79 of those 81 games. Mignolet is a decent, but not great goalkeeper. Let me ask you… would you have Mignolet in your team if you had the option of Courtois, Cech, Hart or De Gea? I'd be surprised if too many would.
So let's compare the 104 goals conceded to that of our top 4 rivals in their last 81 games:
Man City – 75
Chelsea – 71
Arsenal – 80
Man U – 83
So, in 81 games we have conceded 21 more than United, 24 more than Arsenal, 29 more than City and 33 more than Chelsea.
The harsh reality is, that each of our rivals have a significantly better defensive record over more than 2 seasons, and each of them have a better goalkeeper than we do… and until we find a truly class goalkeeper, plus replacements for both Lovren AND Skrtel, we will continue to concede at a rate that will prevent us from ever challenging for the top spot… and maybe – like last season – even for the top 4.
The Manager
Last, but by no means least… Brendan Rodgers.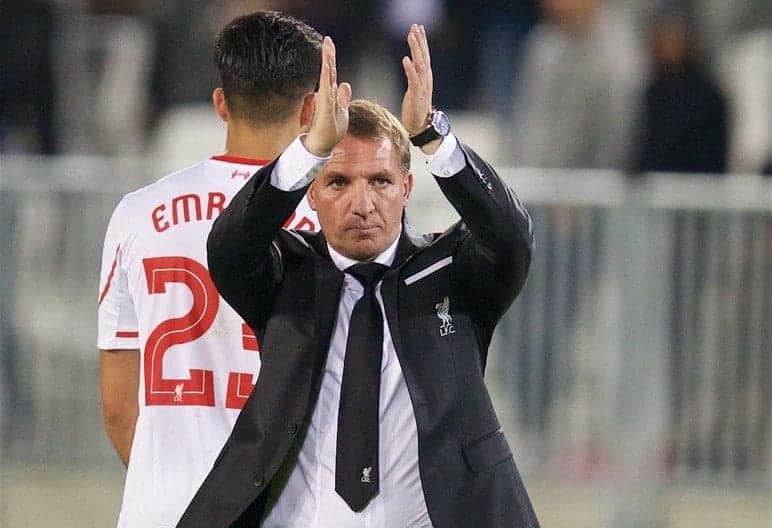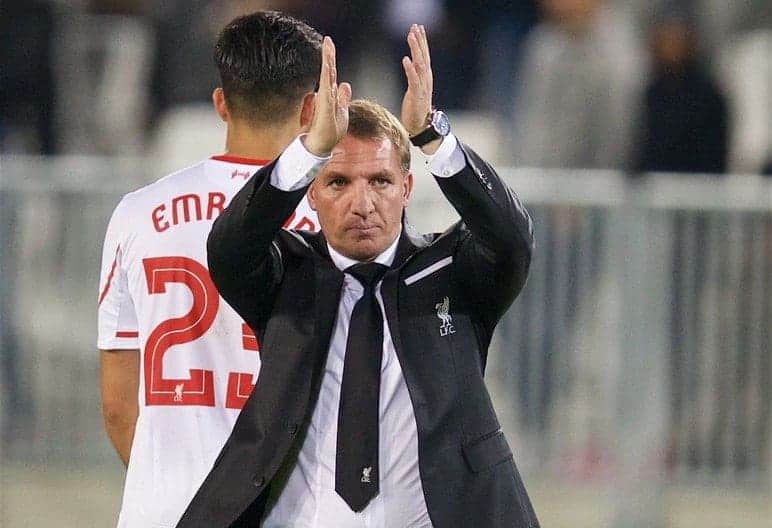 All of the above is testament to Rodgers inability to create a balanced team, or to exhibit any kind of tactical awareness.
Can at right back, Gomez left back, Ings on the wing, Henderson wide right, Lucas doing the hokey cokey etc. etc. etc. etc. The list goes on…
The man plays players out of position. He tinkers, seemingly to showcase his tactical prowess. When it works, he's out there in front of the cameras waxing lyrical about his understated genius. But when he plays 5 different formations in one FA cup semi final and it goes wrong, he's full of excuses and how success is 'a process.'
He has changed from the original 'Swansea-esque' version of 'tiki taka' and 'death by football' to 'if you have x% possession you will win y% of games' to 'marking the space' to whatever that was recently at Old Toilet. He's used virtually every possible formation under the sun, but without any consistency.
When he stumbles across a certain formation which seems to work, he sticks with it only until the first sign of it failing… then the formation merry-go-round starts again. Players don't know their roles and are often in unfamiliar positions. The teams' understanding of the tactics and formations creates confusion and the confusion leads to misunderstanding, mediocrity and poor results.
Just take a look at the last 2 league games to see players and a team completely unsure of itself. The back 4 is comedic at times with defenders looking fearful of the ball as we have tried in vain to pass our way out of the back.
Teams have worked it out; press the Liverpool back four and they'll bottle it – but will still try to pass out from the back… it'a recipe for disaster!
There is no cohesion moving the ball from defence to midfield to attack and as such the forwards are feeding on scraps. To put it bluntly, after 3 years in charge, Rodgers has created mediocrity, with a team that lacks identity, self-belief and direction.
In summary, while points 1 and 2 above are genuine and important statistics, they are only statistics because of point 3. I was willing to give Rodgers time. I was genuinely excited at the progress made when we terrorised opponents 2 seasons ago. But instead of moving on from those heady days, we have not just slipped a little, we are a shadow of the team on display back then.
The flaws in the current set up are real and there for all to see on the pitch and the manager is 100% accountable for fixing it. This is HIS team, HIS signings, HIS tactics. It's up to him to create a balanced team who can score goals, prevent the opposition from scoring goals, and win football matches.
This season will tell us if he is the man for the job… the man capable of taking our great club forward.
Over to you Brendan.