Liverpool face bitter rivals Man United on Saturday evening, Henry Jackson selects his combined XI between the two sides.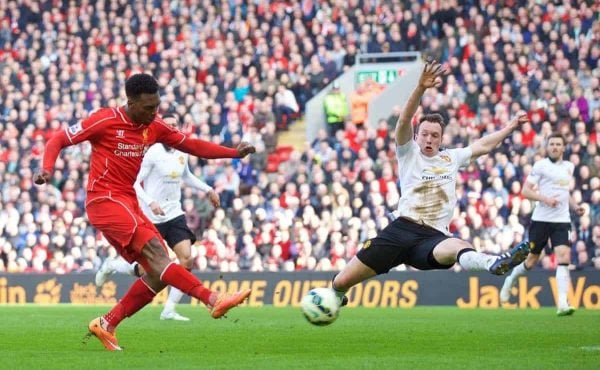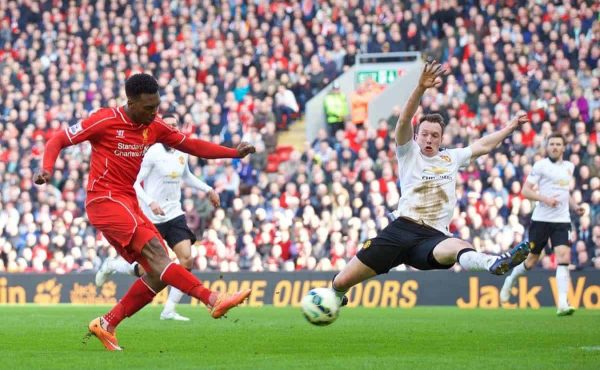 Brendan Rodgers takes his side to Old Trafford well aware that a defeat could prove disastrous in terms of his future as Liverpool manager.
Clashes between the Reds and the Red Devils remain the most hotly-anticipated in English football, and Saturday promises to be another thrilling affair.
The question is: who would make it into a combined XI between the two teams?
Goalkeeper: Simon Mignolet vs. David De Gea
There is a clear winner here, with David De Gea arguably one of the top three goalkeepers in the world currently, along with Manuel Neuer and Thibaut Courtois.
The Spaniard is likely to come back into the side to face Liverpool on Saturday, following the collapse of his move to Real Madrid. Don't be surprised to see him put in a star turn, like he did at Old Trafford last season.
Simon Mignolet has improved greatly in a Reds shirt over the last nine months, but he still not fully convincing in all facets of his game.
Winner: De Gea
---
Right-Back: Nathaniel Clyne vs. Matteo Darmian

It is a tough call between the two right-backs, but Nathaniel Clyne just has the edge because he is a slightly superior defender.
The 24-year-old has been superb since his move from Southampton in the summer, combining brilliant defensive work with effective attacking forays.
Matteo Darmian has also impressed greatly in his first few games for United, and the Italy international looks to have solved the right-back issue that has dogged them for years.
Winner: Clyne
---
Centre-Back: Martin Skrtel vs. Chris Smalling
Martin Skrtel would have come out on top in previous years, but Chris Smalling has made a tremendous start to the season.
The England international looks to have come of age for both club and country, and is a towering presence at the heart of the defence. His use of the ball still leaves plenty to be desired, however.
Skrtel blows very hot and cold for the Reds, and it is this lack of consistency that will always work against him.
Winner: Smalling
---
Centre-Back: Mamadou Sakho vs. Daley Blind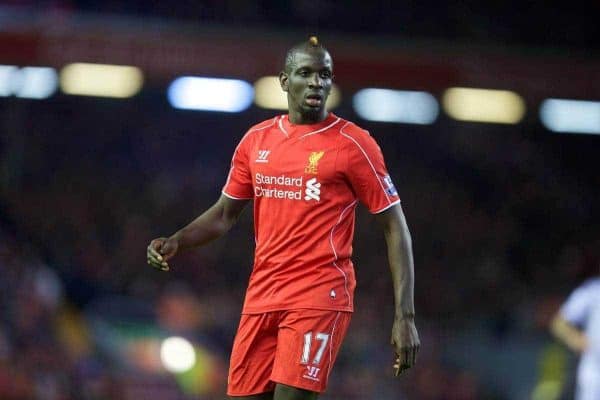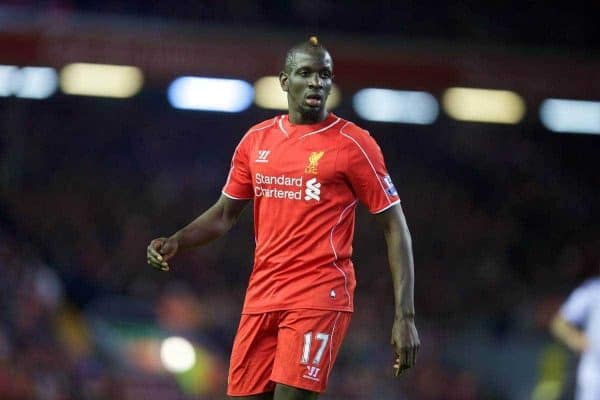 Mamadou Sakho remains bizarrely left out of the Liverpool side at the expense of Dejan Lovren, but is the best left-sided centre-back at either club.
The Frenchman is strong, fast, an excellent reader of the game and terrific on the ball, even if he doesn't actually look it.
Daley Blind is very much a makeshift central defender, and thrives far more at left-back or in midfield. Phil Jones remains on the sidelines, and when he is fit, he lacks consistency.
Winner: Sakho
---
Left-Back: Joe Gomez vs. Luke Shaw
After a disappointing first year in Manchester, Luke Shaw has made great strides so far this season, and is comfortably the best left-back at either club.
The 20-year-old will be first-choice for United and England for many years, and has the potential to become world-class if he avoids serious injury.
Joe Gomez has done very well on the whole, especially as he is being played out of position, but he lacks the attacking qualities of Shaw. Alberto Moreno, meanwhile, is too suspect defensively to merit being included.
Winner: Shaw
---
Holding Midfield: Jordan Henderson vs. Morgan Schneiderlin
Jordan Henderson has matured into one of Liverpool's most important players these days, but in the battle of the midfield workhorses, Morgan Schneiderlin is superior.
The Frenchman is a massive signing for Louis van Gaal's side, with his all-action but classy style making him one of the Premier League's most influential midfielders.
Former Everton man Marouane Fellaini can be effective on his day, but he lacks his teammate's mobility and technical expertise.
Winner: Schneiderlin
---
Centre Midfield: Emre Can vs. Bastian Schweinsteiger
Bastian Schweinsteiger may not be the world-class central midfielder he was in his prime, but he remains an excellent footballer.
His reading of play, passing qualities and experience make him impossible to leave out, and compatriot Emre Can still has a long way to go before he reaches Schweinsteiger's level.
Michael Carrick and Lucas Leiva both have enduring, understated qualities to their game, but neither are on the 31-year-old German's level.
Winner: Schweinsteiger
---
Centre Midfield: James Milner vs. Ander Herrera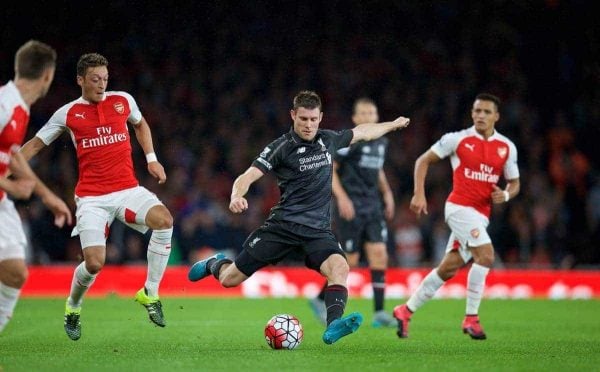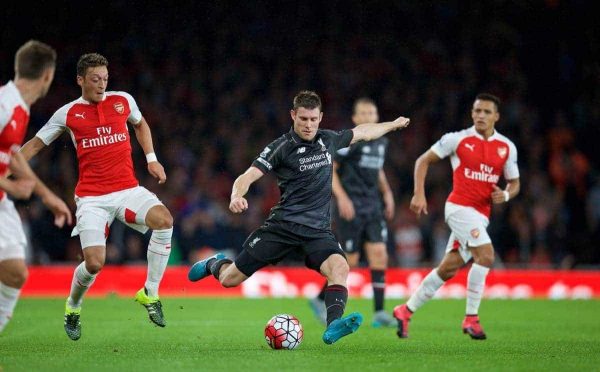 Of all Liverpool's numerous summer purchases, James Milner is increasingly looking like the best piece of business.
The 29-year-old has covered more ground than any other Premier League player so far this season, and his general influence in his preferred central midfield role has been magnificent.
Ander Herrera is a very fine player who chips in with goals and provides box-to-box running, but he does not quite have the impact of Milner.
Winner: Milner
---
Attacking Midfield: Philippe Coutinho vs. Juan Mata

Juan Mata is a superb player at his best, as shown by his double at Anfield last season, but Philippe Coutinho is clearly on another level.
The Brazilian is fast becoming one of the finest players in the league, and has far more match-winning moments of brilliance than Mata. Defensively he is also far better.
The likes of Adam Lallana, Jordon Ibe, Ashley Young and Antonio Valencia all have certain qualities they can bring to the side, but none are even remotely close to Coutinho's class.
Winner: Coutinho
---
Striker: Daniel Sturridge vs. Memphis Depay

Ok, so Memphis Depay isn't a striker, but this is one of the only ways to compare him to a Liverpool player in a 4-4-2 diamond.
The young Dutchman is clearly a massive talent, but he remains someone very much at the 'work in progress' stage of their career.
Sturridge has been such a huge loss to Liverpool over the past year, missing most of that time through injury, but when fit and firing, he is arguably the most important player the Reds have.
If the 26-year-old returns the same player he was prior to injury, he will genuinely feel like a top class new signing for the Reds.
Winner: Sturridge
---
Striker: Christian Benteke vs. Wayne Rooney

Christian Benteke has come in and done well since his big-money move from Aston Villa in the summer, but Wayne Rooney has to get the nod over the Belgian in attack.
The 29-year-old may be a bit of a fading force who polarises opinion, but he still has the touch, power, creativity and finishing to hurt any side.
Danny Ings, Divock Origi and United's new man Anthony Martial are all promising young forwards, but they have a long way to go before they can be considered really top strikers.
Winner: Rooney
---
Overall XI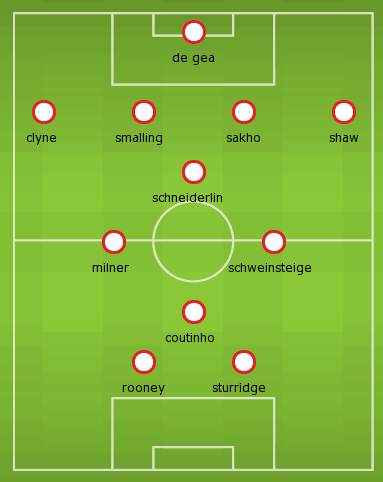 This would be a team capable of causing anyone problems once they had gelled, and the 4-4-2 diamond has a nice, balanced look to it.
Clyne and Shaw would give the side plenty of much-needed attacking width from full-back, while the energy of Schneiderlin and Milner would perfectly complement the class of Schweinsteiger and genius of Coutinho.
Sturridge and Rooney have looked good alongside one another for England in the past, and with the latter dropping deep and the former stretching the opposition defence, it would be a potentially devastating combination.
It's hard to pick weak-links in the team- there are plenty out there who are not fans of either Smalling or Sakho, however- and it would be intriguing to see how they fared against top class opposition.
Combined Man United-Liverpool XI: De Gea; Clyne, Smalling, Sakho, Shaw; Schweinsteiger, Schneiderlin, Milner, Coutinho; Sturridge, Rooney
Combined XIs are always subjective, but do you agree with ours? Let us know in the comments below.