Liverpool lost 3-1 at Man United on Saturday, performing dreadfully at Old Trafford. We take a look at how the newspapers reported the game.

Losses to United are never a nice experience, but this one felt particularly bleak.
There were times during the game when it looked as though both Brendan Rodgers and Liverpool had completely lost their identity.
The tactics were as bemusing as the team selection, and there was an alarming lack of heart, as Louis van Gaal's side strolled to victory in the second-half.
https://twitter.com/WeAre_Liverpool/status/642766245411037185
It leaves the Reds on seven points from their opening five Premier League games, and the calls for Rodgers' sacking are now louder than ever.
Here is how the morning newspapers saw the game: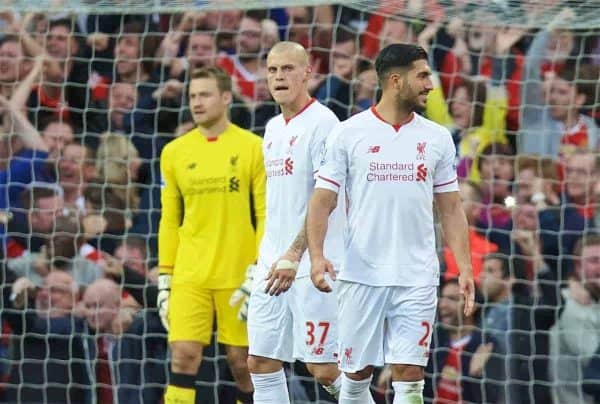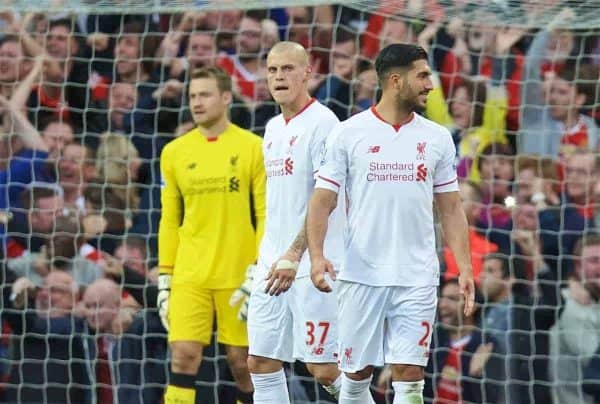 James Pearce of the Liverpool Echo, one of Rodgers' biggest defenders in recent times, admits the Ulsterman is at a new low as manager:
There was one major difference between this setback and the Reds' previous failure down the East Lancs Road last December – the absence of hope.

This time there were no crumbs of comfort for Kopites to cling to. There were no signs of promise amidst the wreckage of a damaging defeat. There was also nowhere for Rodgers to hide.

Liverpool got exactly what they deserved after serving up an error-strewn and largely passionless performance which defied belief considering the occasion.

So much for seeing a spirited response following the debacle against West Ham. All the travelling Kop got was more of the same.

[…]

Many wanted him (Rodgers) sacked back in May and nothing so far this term has changed their minds.
David McDonnell of the Mirror felt Christian Benteke's stunning goal was much-needed in terms of the Belgian's confidence:
For much of the game, Christian Benteke had been bullied off the ball by opponents with nowhere near his physical strength, chiefly Daley Blind and Matteo Darmian.

Just as he was in Liverpool's abject 3-0 defeat at home to West Ham a fortnight earlier, Benteke was anonymous, shrugged off the ball with ease and failing to capitalise on his physical threat.

And with just one goal for Liverpool since his £32m summer move from Aston Villa, a dubious one from an offside position against Bournemouth, he badly needed something special to prove himself worthy of his exorbitant transfer fee.

That duly came with his spectacular scissor-kick six minutes from time.

The jury is still out on Benteke, who has endured a slow start to his Liverpool career, but his goal at Old Trafford could provide him with the spark he needs to kick-start his Anfield career.

The Daily Telegraph's Mike Whalley was not impressed with Simon Mignolet's performance:
The Liverpool goalkeeper endured a torrid campaign last season, losing his place in Brendan Rodgers' first team after a series of high-profile and calamitous errors. To his credit, Simon Mignolet appeared to have navigated those troubles with a strong end to the season and his restoration to the number one spot. Early signs in Liverpool's biggest game to date were not good, however.

A misplaced clearance set up a United attack, there were a couple of unconvincing punched clearances which, on another day, might have led to trouble and, most worrying of all, he rolled the ball directly to Juan Mata although, fortunately for the visitors, the United midfielder squared for team mate Marouane Fellaini to clear the crossbar by some feet. This is nowhere near the crisis of last season, but Mignolet's status bears some closer scrutiny.
ESPN's Richard Jolly focussed on the negativty of Liverpool's display, and how it failed to pay dividends:
A promising start is beginning to resemble a false dawn for Liverpool, who have lost their past two matches. They have now suffered three consecutive defeats to Manchester United, indicating that the balance of power between England's two most successful clubs has swung firmly back in the favour of the men from Manchester. Considering United may prove their rivals for fourth place, that should be a concern.

[…]

They came to Old Trafford for a 0-0 draw and, just as they did in their home defeat against West Ham, conceded three times. Brendan Rodgers' negative game plan may have been deemed a qualified success following a wretched first half. By the final whistle, it certainly was not.
The Daily Mail's Rob Draper felt equally uninspired by the performance:
Liverpool, presumably with the 3-0 embarrassment against West Ham in mind, barely seemed concerned with such minor matters as keeping the ball or constructing attacks. They hurried and harried here and there with the commendable spirit of a mid-table scuffler.

They did defend better than the capitulation against West Ham but their use of the ball on the few occasions they had it was uninspiring.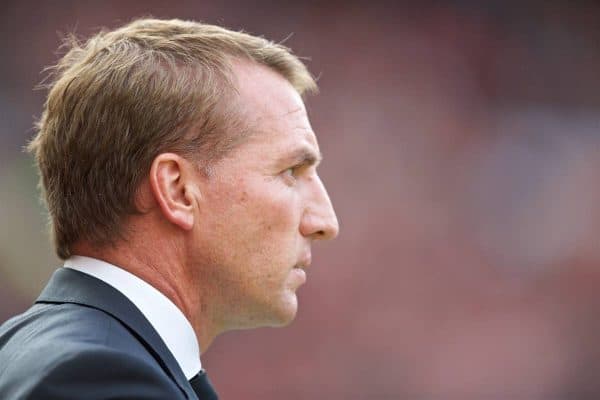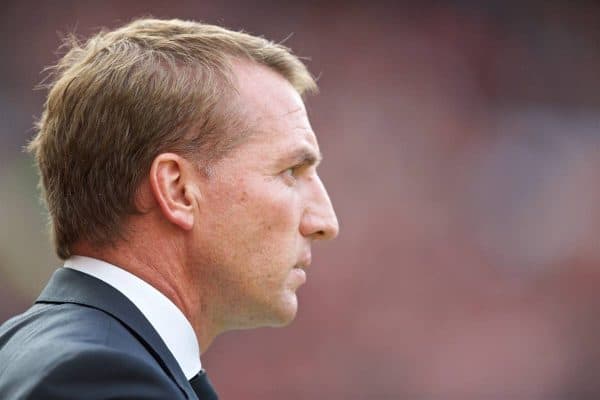 The Echo's Kristian Walsh was another who stated how precarious Rodgers' position now is, following another abject showing:
Make no mistake, the Liverpool manager cannot wait until December this time around to fix things. Two consecutive defeats, and just seven points from 15 – but worryingly, still no real sense of what this new-look Liverpool side are about.

In mitigation, this was a Liverpool side without its captain and its focal point of attack, and it has come after an international break. United did have a midfielder up front in place of the injured Wayne Rooney, however, and their squad is full of internationals too. Both teams were hamstrung, in part, through circumstance. No excuses.

Five games at the start of the season is no real period to judge. But the stench of last season, briefly wafted away in the opening three games, is back. This is not just a defeat to United, but one to follow the two losses last season; the capitulation against Arsenal; the defeats to Aston Villa, Hull, Crystal Palace and Stoke.
[interaction id="55f490ffcfb503701d31a8d4″]