Watching his side play out another disappointing 1-1 draw in Sunday's Merseyside derby, Brendan Rodgers' time as Liverpool manager may be up.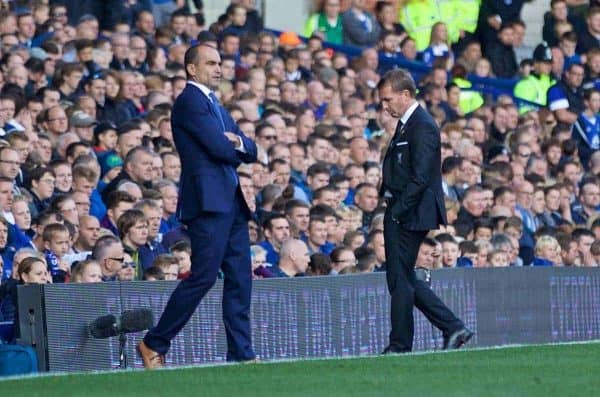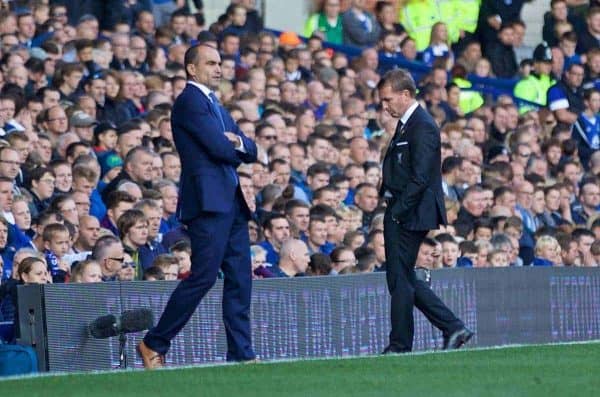 Liverpool's 1-1 draw with Merseyside rivals Everton on Sunday will not be remembered for its quality, but the implications of this result may be significant within the Reds boardroom.
Goals from Danny Ings and Romelu Lukaku ensured a share of the spoils at Goodison Park, and while Liverpool remain in the top half of the Premier League table as a result, there is no cause for celebration for an under-pressure Brendan Rodgers.
Miserably, Rodgers reached the end of the road with this derby-day draw.
The Merseyside Derby

It started so well: the atmosphere was heated, and the performances followed suit.
But the manner in which Liverpool's fortunes dissolved at Goodison Park was alarming.
Ross Barkley grew in stature as Lucas Leiva lost all timing in the challenge; Lukaku continually bullied a struggling back three; and Phil Jagielka and the impressive Ramiro Funes Mori successfully stifled Ings and Daniel Sturridge.
Emre Can's plight in the first 45 minutes was particularly troubling, compounded by his dismal attempted clearance just before the end of the half.
Gifting Lukaku the ball in the six-yard box, the German's error saw Everton regain momentum, and with the Toffees sitting comfortably on their side of Stanley Park, the onus was on Liverpool to wrestle back for victory.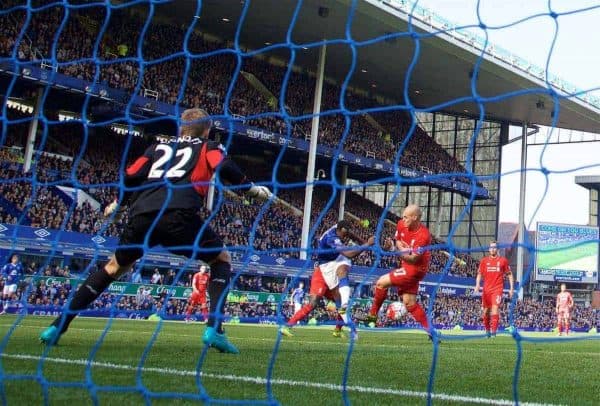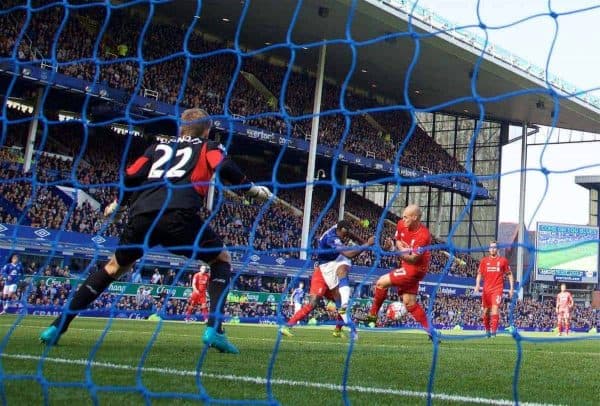 Unfortunately, returning for the second half, Rodgers' side were similarly abject—none more so than stand-in captain James Milner
Fielded in the overlapping third-man role that made him so effective in last weekend's 3-2 victory over Aston Villa, Milner was completely devoid of tactical intelligence or attacking vision.
The 29-year-old, making his first appearance for the Reds in a Merseyside derby after speaking so positively of its history in midweek, looked completely lost.
A symbol of his ineptitude, Milner completed just 52.8 percent of his attempted passes.
Elsewhere, Sturridge and Philippe Coutinho continued to melt into the periphery, while Ings' withdrawal on 76 minutes completely drained the Reds' attack of energy and dynamism.
Incredibly, it was as if Liverpool were playing for the draw; and, even worse, this is nothing new.
Same Old Liverpool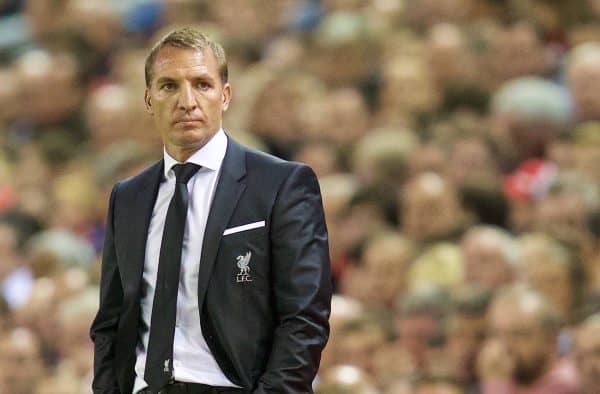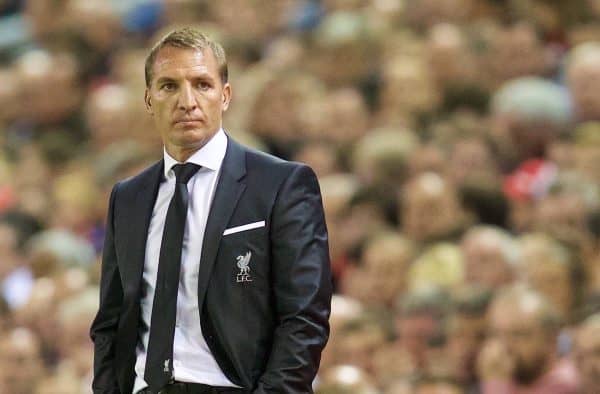 This Merseyside derby was a must-win for Rodgers, with pressure continuing to mount, and his approach to the contest underlined his naivety in big-game situations.
"We will always take the favourites tag," he said before the game. "We are Liverpool. We are expected to do well.
"When you are playing at this club you want to play in these type of games so hopefully we can get the right result."
That notion of hope, and fortune, is one that undermines Rodgers' assertion—while Liverpool historically are a big club that demands the "favourites tag," it is very rare for Rodgers' side to approach these challenges with supreme confidence.
At least, without Luis Suarez.
In 18 away games against Manchester City, Manchester United, Arsenal, Chelsea and Everton, Rodgers' Liverpool have won just once.
This result added to a tally of nine draws within these 18 games, with Liverpool losing eight.
Rodgers' Liverpool seemingly just don't know how to perform in these encounters, and whether this is a motivational or tactical issue, this is indefensible—if the club wishes to challenge for top honours, victory in these encounters is paramount.
This expectation should be harboured by the club's owners, who face a big decision as we approach the international break.
The International Break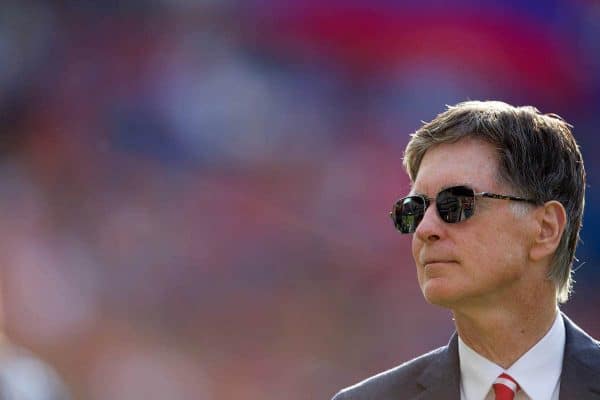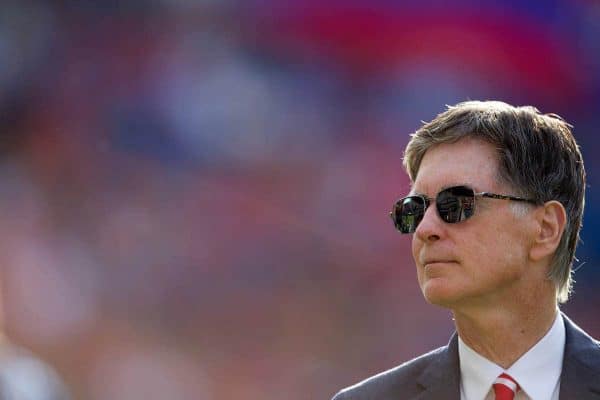 "There's no pressure for me," Rodgers told reporters after the game. "My worry is for the team and you have seen a response of how they feel.
"This is a team which has lost four of the real catalysts and there is a constant rebuilding going on here, whether that's me in charge or someone else."
Heading into the international break, this closing statement is foreboding—and Rodgers acknowledging that the club will have to rebuild with or without him may have inadvertently brought owners John W. Henry and Tom Werner to action stations.
This derby draw was Rodgers' death knell; a spineless performance that underlined the crippling structural issues holding the club back.
The abject displays of Sturridge and Coutinho contradict Rodgers' notion of an on-field response to calls for his sacking, and instead highlight the flaws in Liverpool's recruitment strategy—failing to truly compensate for the departures of Suarez, Raheem Sterling, Jamie Carragher and Steven Gerrard.
Rodgers' nod towards a "constant rebuilding" underlines his inability to manage within this structure.
Rodgers' post-match press conference in full:

There is no cohesion, no masterplan; just a confused lineup formed from the ashes of the club's many, many mistakes in the transfer market.
This is a symbol of the unrest caused by Rodgers' reluctance to work within FSG's preferred model.
His way clearly isn't working, with the dire performance of Milner the embodiment of the manager's failure, as one of the marquee signings of a summer that saw Henry and Werner defiantly, and misguidedly, back their manager.
Now that this collapse is abundantly clear, FSG must react during this international break and rectify their structural mistakes—starting with the man in the dugout.