Alex Malone explains exactly why Liverpool were right to sack Brendan Rodgers and highlights the warning signings that will have prompted FSG to do so.
The only thing that surprised me about Brendan Rodgers' dismissal is that so many so-called experts in the game were surprised. The groundswell of fans that'd had enough of his bluster and excuses was growing by the day and there seemed no end in sight to the turgid, aimless football on display for the best part of 12 months.
Rodgers' win percentage of exactly 50% in his Liverpool managerial career doesn't look particularly bad when stacked against his predecessors (Rafa Benitez was 56%, Kenny Dalglish's 2nd stint 47% and Gerard Houllier's 52%) – but this number actually hides a gradual and alarming slide since the heady days of SAS and Steven Gerrard in 2013/14.
That one season was a spectacular 68% win percentage. The following season the number was down to 47%. This season, 8 games in, the number drops again to 38%. He presided over a team who, in 2014 had its worst start to a season for 50 years, bookended with the worst defeat in over 50 years in the final game of that same season.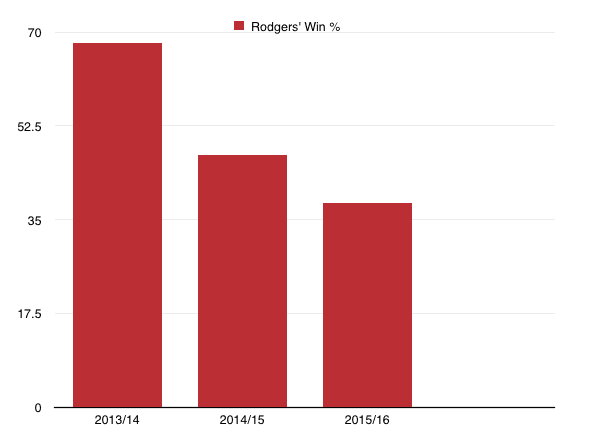 Bottom Half Form
If you look at the last 17 league games (beginning with the home defeat by Man United in March which I am singling out as the beginning of the end) Rodgers won 5, drew 5 and lost 7 of those games – a win percentage of 29%. So in almost his last 'half a season' worth of games he collected a measly 20 points in 17 games. Those 17 games, let's not forget, included the following results:
Extrapolate that 17 game form over 38 games, and it translates to 45 points. In these 17 games – the final 17 of Rodgers' reign, we scored 17 goals and conceded 28. That's a goal difference of -11. Translate that to a 38 game season and it equates to 38 goals scored, 63, conceded, for a goal difference of -25.
(For purely comparative reasons, it's worth noting that last season, Newcastle United finished 15th – their record? Scored 40, conceded 63, a goal difference of -23, and 39 points.)
So in other words, Rodgers' team had slid so far from the peak of 2013/14, that current form over almost half a season, was that of a team highly likely to finish in the bottom half of the table.
All of this doesn't take in to account the European results either. I don't have to rehash them here, as we all know what happened, but safe to say, last season's Champions League and Europa League campaigns were massively disappointing, and the same inadequacies have continued into this season with two Europa games played and no wins.

Goals Conceded
Rodgers' entire reign (and incidentally, each of his previous managerial positions) has emphatically proven that he is wholly incapable of fielding a team capable of defending. In his 166 games in charge, we conceded 198 goals – 1.2 goals per game.
Wanna guess what the stats are for his reign at Swansea? 118 goals conceded in 96 games for a goals conceded average of…. you guessed it… 1.2! At Reading, it was 1.4 per game. At Watford it was 1.5.
To put those 'goals against' numbers in to perspective, last season's top 4 conceded an average of 0.8, 1.0, 1.0 and 1.0 goals respectively per game. This season before, the rest of the top 4 conceded, on average, 1.0, 0.7 and 1.0. That season, finishing in 2nd place, we still managed to concede 1.3 goals per game… more than the team who finished 11th.
Rodgers simply had no answers defensively. His ego prevented him from recruiting a specialist defensive coach, and yet on the awful 'Being Liverpool' documentary he bragged openly about his use of data and statistics to guide his decisions. Surely then, he must have realised that this has been a consistent flaw in each and every one of the teams he has managed?

Signings
Another major reason Rodgers' time at the helm ultimately ended in failure was inadequacy in the transfer market. (And I know the whole 'transfer committee' angle, but you can't tell me that it was a 'committee' that decided to sign Borini and Allen – two of his former favourites, signed before the committee even existed.)
It's well documented that he spent almost £300 million in 3 years. What isn't remembered as much is just how many failures that 300 mil bought I think it's fair to say that none of these listed below have been in any measurable way, successful:
Fabio Borini – 10 million
Joe Allen – 15 million
Oussama Assaidi – 3 million
Luis Alberto – 7 million
Iago Aspas – 7 million
Tiago Llori – 7 million
Ricky Lambert – 5 million
Lazar Markovic – 20 million
Dejan Lovren – 20 million
Divock Origi – 10 million
Mario Balotelli – 16 million
These 11 players cost a total of £120 million, and I'm sure many reading would probably add Adam Lallana (25 million) and possibly Simon Mignolet (9 million) to the 'unsuccessful' list.
Of Rodgers' 24 players brought in (I'm not counting those bought in the summer as it's unfair to judge yet) only two… yes, TWO… can be considered genuine successes. Daniel Sturridge and Philippe Coutinho. So in 3 years, and 24 purchases, that's a transfer success rate of 8% !!! (for those maybe adding Sakho to that list, the 'goals conceded' numbers don't merit him being considered a 'success' from my perspective.)
Finally, there are the flaws we all saw week-in, week-out, and which were becoming more and more pronounced as Rodgers time in charge progressed. That is, the constant tinkering with tactics and formations, and the unfathomable and continued habit of playing players out of position. I don't need to list them – you all know them and have had to observe their struggles just as I have. But with constantly changing formations, exacerbated by a catalogue of players playing out of position, how could you ever possibly think you could be successful?
Lack of Attack
I'll end with what I personally saw as the final nail in the Rodgers' coffin – cowardice.
From the brave, free-flowing, no holds barred, "we'll score more than you" approach of the 2013/14 season, Rodgers became more and more paranoid, conservative and risk averse when things started to go wrong beginning in the 2014/15 season.
It resulted in his win percentage (as you've read) dropping consistently over time. It culminated in two recent games which really struck me. The first was the Arsenal game at the Emirates. The first half saw a Liverpool team somewhat let off the leash and really, refreshingly, having a go.
But once we got to half time having failed to score, Rodgers just didn't have the balls to maintain it, and the tactics in the second half were merely to contain and protect the point. He got away with it, and we squeaked a draw….just.
Possibly buoyed by that Arsenal point, the same mentality was then used not in the second half, but from the opening whistle of the game at Old Trafford. A genuinely poor United team (for evidence see how Arsenal utterly destroyed them this weekend) was given the freedom of Salford, while the entire Liverpool team sat back and allowed an all out assault – by a team featuring a make-shift defence, no forwards, and a central midfield of 31 year old Schweinsteiger and 34 year old Carrick who Arsenal exposed horribly today.

It was cowardice to the extreme and goes against the very ideals and principles of Liverpool Football Club.
It was the mentality of a manager who had run out of ideas, and taken the club as far as his limitations had allowed. It was the same mentality that meant Rodgers fluffed his lines in virtually EVERY crucial game of his Liverpool career. Fortune favours the brave, but Rodgers had forgotten how to be brave – and it contributed to the end of his reign.
I don't have anything personally against Brendan Rodgers. He tried his best, but in the end his flaws and limitations meant that managing England's most successful club was simply too big a job for him.
So, goodbye Brendan. Good luck in your future endeavors.
Now let's get the right man in and get our beloved club back where it belongs.