Marking his Premier League return with a goal in Liverpool's 1-1 draw with Southampton, Christian Benteke emphasised his key role in attack.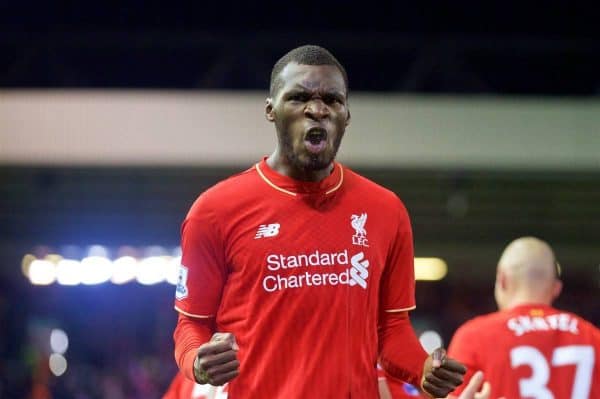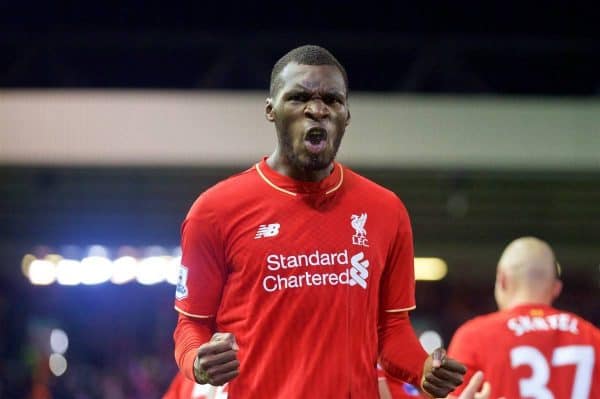 A third draw in as many games is not what Liverpool supporters were hoping for when Jurgen Klopp led his side out to take on Southampton at Anfield on Sunday.
But with Benteke's second-half header cancelled out by a bundled effort from Sadio Mane, Klopp is forced to wait for the first victory of his Liverpool reign.
However, while this was a disappointing result for the Reds, Benteke's performance deserves praise.
Integrating the Belgian, following his return from injury, is key for Klopp to restore fluency to his attacking line.
Liverpool's Lifeless Attack

With Danny Ings a long-term absentee, Daniel Sturridge suffering yet another troubling injury and Benteke recovering from a hamstring strain, Klopp persevered with his three-man attacking line of Divock Origi, Adam Lallana and Philippe Coutinho from the start on Sunday.
The trio combined to produce encouraging performances against both Tottenham Hotspur and Rubin Kazan, but failed to convert this into goals.
At Anfield this was the case once again.
Lallana, who is enjoying something of a renaissance in the first weeks of Klopp's tenure, was bright and inventive in his free role of the right of the attacking midfield, linking well with James Milner and Nathaniel Clyne to penetrate Ronald Koeman's compact defensive line.
The 27-year-old made three key passes in his 66 minutes on the field—the second-most of any Liverpool player, behind Milner (five).
But, while the former Saints captain was impressive in this creative role, the lack of support from both Coutinho (wide left) and Origi (centre-forward) saw Liverpool struggle for fluency.
Converse to Lallana's impressive run, Coutinho is enduring a miserable stretch of form this season, devoid of the urgency and creative flourish that made him such a key player under Brendan Rodgers, and the Brazilian seemed content with firing long-range efforts into the stands rather than produce any constructive buildup play.
This wasn't aided by the anonymous contribution of Origi, of course, with the 20-year-old more often than not drifting from his central position to the flanks.
Origi touched the ball just 12 times in the first half, before being hauled off to make way for Benteke's introduction.
This proved a masterstroke by Klopp, with Liverpool's attacking line immediately revitalised.
Christian Benteke's Intervention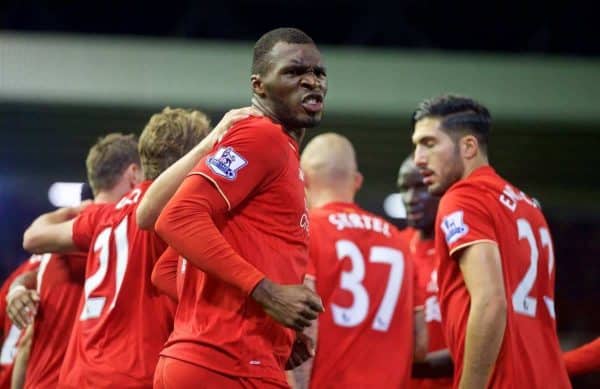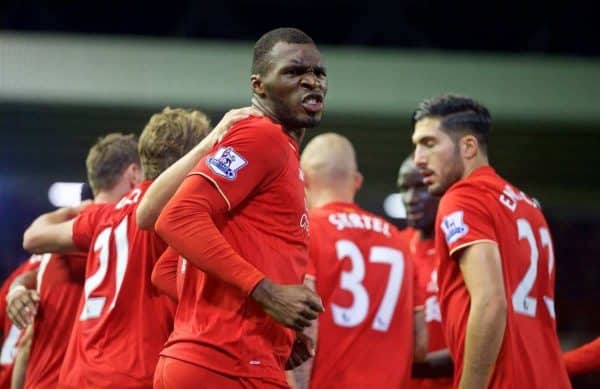 Klopp's pre-match revelation that the knee injury that kept Sturridge out of the Reds' 0-0 draw with Spurs last weekend was "not much better," and that "we have to see day by day," was a familiar one for Liverpool supporters.
It is a disappointing reality, but Sturridge is no longer a reliable first-choice centre-forward, and his prolonged absence, compounded by Ings' season-ending ACL injury, opens the debate as to whether Klopp should strengthen his attacking ranks further this January.
But it is also worth noting that the £32.5 million outlay sanctioned to sign Benteke from Aston Villa this summer was not intended to acquire a backup for the Englishman.
Benteke was, for all intents and purposes, Rodgers' No. 1 striker, and Sturridge's injury should arguably be treated as a sideshow to the Belgian's introduction under Klopp.
Thankfully, Benteke made an immediate impact against Southampton.
As Liverpool looked to improve on their disjointed display in the second half, Benteke became a crucial pivot in a fluid attacking line; adopting a similar role to that of Olivier Giroud at Arsenal.
With Alberto Moreno given more license to bomb forward from left-back, Lallana shifting into a wider role to combine with Clyne and Coutinho closer to his favoured No. 10 position, Liverpool began to find more openings in the final third, with Benteke's physical presence troubling the previously dominant Jose Fonte and Virgil van Dijk.
Providing a stark contrast to the peripheral Origi, Benteke gave Liverpool genuine attacking intent, and this was magnified when his towering header soared beyond Maarten Stekelenburg to give the Reds the lead on 77 minutes.
However, while Benteke notched the first goal of Klopp's reign in the Premier League, there remains doubts as to whether he can truly adapt in the German's demanding attacking system.
Can He Adapt Under Jurgen Klopp?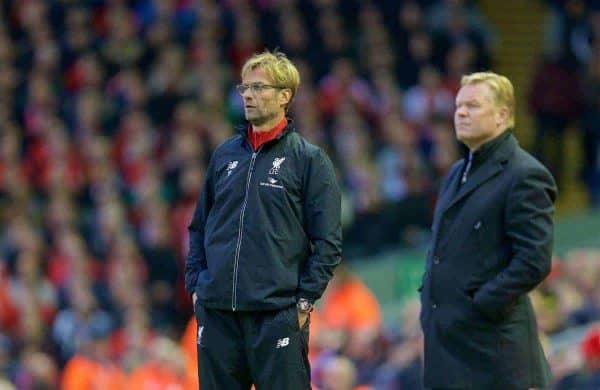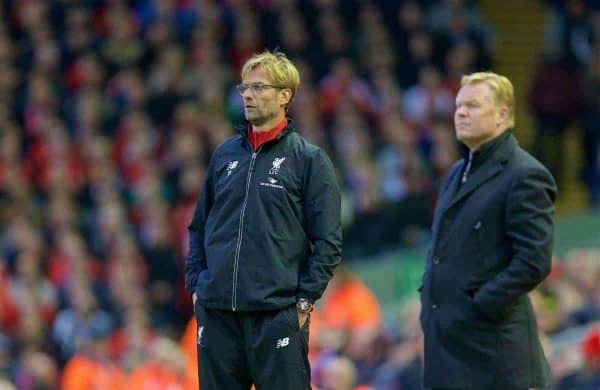 "Isn't it one of the oldest things you say about football – defending begins far away [from your goal]?" Klopp asked reporters ahead of Sunday's game.
"They don't have to run back to our box with our centre-backs, they have to close spaces so the rest can defend easier. They have to find the right spaces to cause the opponent the biggest problems.
"It is not the hardest job in the world; if you do it in an intelligent way it is easier for the rest to defend and win the ball. All strikers have to defend."
The German made it abundantly clear what he demands of his strikers in his pre-match gambit, but worryingly, this jars with Benteke's fundamental skill set.
Benteke is a battering ram of a centre-forward—an extremely powerful striker—but his movement, work rate and defensive contribution are lacking.
He clearly adds a lot to Liverpool's attacking line, as the immediate improvement on his introduction on Sunday proved, and integrating him—particularly in Sturridge and Ings' absence—is one of Klopp's key priorities as he searches for attacking potency at Liverpool.
But this is a two-way street, and Benteke must adapt to Klopp's demands to achieve this.
Do so, and Liverpool could soon find themselves with a devastating attacking line once again.

LIVERPOOL 1-1 SOUTHAMPTON