With top flight football becoming further distanced from fan culture for many, and unaffordable for the average working family, we spoke to Paul Manning, who along with others, is hoping to address those problems with the advent of City of Liverpool FC.

Non-League Day was celebrated at clubs around Merseyside last Saturday as the likes of Bootle, Prescot Cables and Southport invited Premier League fans through their turnstiles.
Meanwhile another group of fans continued their preparations to provide community-owned affordable football within Liverpool's metropolitan borough.
How did the City of Liverpool FC idea come about and what are you aiming to do? 
The roots of COLFC go back as far as 2009 when Liverpool FC were really in the throes of financial meltdown under Hicks and Gillett.
There was a massive grassroots protest movement to get them out of the club, led by Spirit of Shankly (SOS), but there was no footballing alternative to turn to. As Peter Furmedge (one of COLFC's founder members) says "we were like a moth waiting for a flame to be attracted to, but there was nothing out there football and support wise".
At several points over the next four years, the flame of the concept was kept alive, but without ever making the big step forward to actually make something happen and with the realisation that this could not just be a "Liverpool Protest Club" — it had to be bigger than that
In September 2014, Paul Manning called a meeting to discuss the creation of a football club for the whole of the city and invited several people along and that (very long) meeting was the genesis of the creation of City of Liverpool FC.
From that meeting and in several more, attended by around 10 different people we developed the thinking behind what we wanted to do and why we wanted to do it.
You recently had a public meeting to launch the club. What were the outcomes of that and what are next steps to establishing the club?
The public meeting was a requirement of us setting the club up as a CBS (Community Benefit Society), which basically means that it will be a supporter owned club that can make profit annually, but that that profit cannot be distributed amongst shareholders (fans) as a dividend. `Instead it will be reinvested back into the club or its community outreach programme.
The meeting is required to show that we had the support of the community to create the club and we achieved that with unanimous support.
We are now just waiting for Supporters Direct to confirm that the paperwork is all in order and we are ready to begin offering memberships in the club.
There are already several non-league and fan-owned clubs in and around Liverpool, including Marine AFC and AFC Liverpool. How does City of Liverpool FC differ to them?
It's difficult to answer this question without being perceived to be criticising other clubs and especially the two fan owned clubs you mention in the question, so before answering please note that we are merely trying to show differentiation between ourselves and the other clubs in the area and not to be critical of them.
In short, we are a non-aligned football club for the entire City to support and the City Region as well, but most notably the people of Liverpool.
By "non-aligned" we mean we are not a protest club aimed at one particular professional club, so for example AFC Liverpool / Liverpool FC or FCUM / Manchester United.
We won't be playing in the colors of either Liverpool or Everton, nor displaying any emblems of those clubs, nor tapping into any of those clubs' histories, nor singing any songs associated with those clubs, nor having ex-players as club patrons.
City of Liverpool FC is literally nothing to do with Liverpool FC or Everton FC, other than a recognition that the two big clubs in the City simply have to do all of the mad things they have do to compete in the Premier League bubble. It is local people who are getting excluded from watching their home town clubs, as more and more day trippers and visitors are granted access to the stadiums.
This is more of a problem for local Liverpool supporters than local Everton supporters currently, but it is definitely "in the post" for the Blues. Not everything has to be about the Premier League. Why can't we have a non-aligned citywide non-league team for everyone to get behind?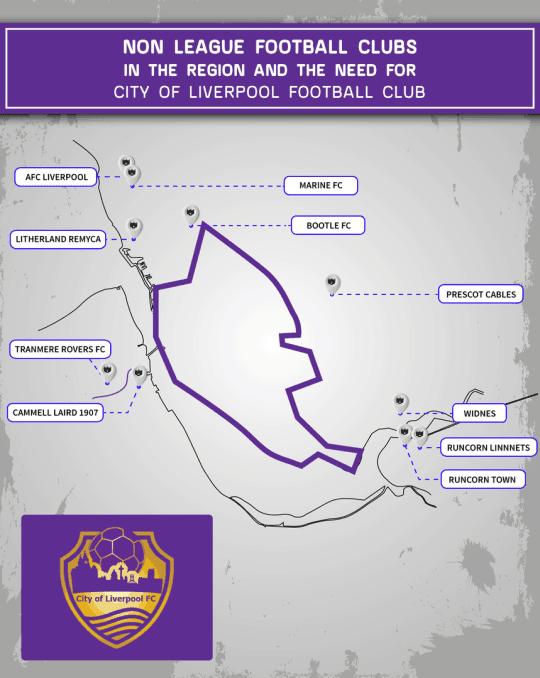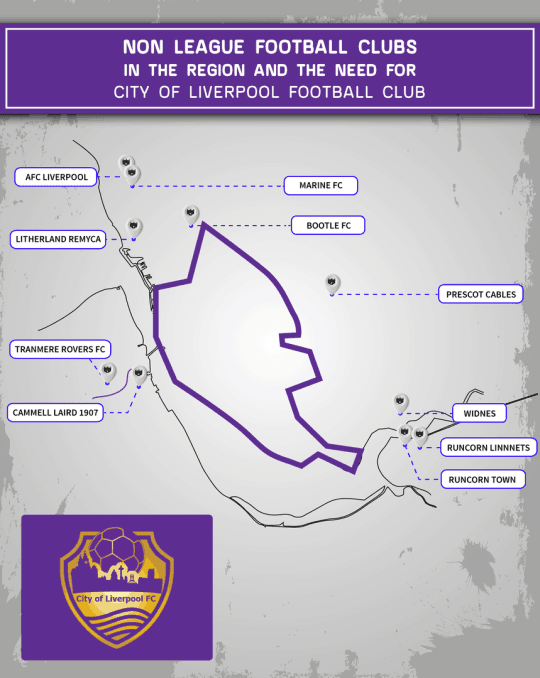 In terms of Marine and other historic local football clubs, they are representative of particular districts of the area, rather than the entire City, so we felt that someone from Toxteth for example would may not feel inclined to travel to Crosby to support Marine, but may travel somewhere centrally to support a citywide club.
We have already had people on social media saying "why not just go and support (insert team name here)" and the simple answer is that we didn't want to just be supporters of another club, no matter how well ran or principled they are. We are activists who want to make a difference in the City now and for the future.
In a recent article in The Guardian, Stuart Fitzgerald of City of Liverpool FC recently pointed to the FC United of Manchester story as an example of what can be done through people power. How much will City of Liverpool FC need the community to get behind them to reach the same standards of success?
A lot!
FCUM are the standard which we need to emulate. In 10 seasons, they have had several promotions and cup wins and success on the field is massively important, but they also raised something like £6m in fundraising and community shares to build their own stadium in North Manchester, which they have moved into this season.
They achieved all of that whilst playing 20 odd miles away from home turf in Bury but consistently drew crowds in the thousands for home games and took a massive away following with them.
They did not let playing out of the area stop them, nor did they allow it to be a crutch for a lack of success. They started off on the right footing and had the right people in charge (and an army of volunteers and supporters) and they made it happen for themselves.
To achieve even half of this, we will need the support of the people of Liverpool, the City Region, the UK and further afield and for them to get behind what we are trying to deliver for the people of Liverpool.
Thankfully, we have already had a really positive response from people and also businesses and institutions who can see what we are trying to achieve and want to support us.
FCUM are also famous for their work in the local and wider area. In what ways do you envisage City of Liverpool FC taking part in community action and projects?
One thing that we decided very early on was that we were not going to simply pay lip service to community outreach and for that reason we intend to have a designated executive director to manage and promote this aspect of the club.
We will deliver a wide ranging programme of projects for the City that will extend beyond football and we have in fact already started doing this, through a scheme we call "Collective".
We are already helping Huyton Juniors FC to prepare for asset transfer and the building of a 3G pitch on their home ground of Jubilee Park in Huyton and also Transport ABC, who we are helping to access lottery funding for improvements to their city centre boxing gymnasium.
Over the course of each year, we will help as many as 6 local amateur sports clubs to carry out this type of "self-sufficiency" work.
Beyond "Collective" the proof will be in the pudding for us. We will deliver.
How can fans get involved in City of Liverpool FC at this stage?
Right now, anyone interested in supporting the aims and ethos of City of Liverpool FC should register on our website at www.colfc.co.uk to be kept up to date with developments or on our social media on Twitter (@CityofLpoolFC) or Facebook.
Very shortly, we will be able to begin offering memberships to all age groups and those memberships will include your £1 share in the club, meaning you can have a say in the future of the club.
You can also volunteer to help the club on our website, so if you want to get involved in a practical sense you can.
Thank you for taking the time to answer our questions, Paul.