Neil Poole believes the fans and the British media have had their pound of flesh from Jürgen Klopp over the past two weeks, and our new German manager is clearly less than impressed. This week sees Klopp take charge of the team at Anfield for the very first time and it offers the supporters an opportunity to provide a proper welcome.

A couple of weeks ago and on the day after Klopp's unveiling as Liverpool manager, the festival atmosphere persisted and I received a text message from a relative with a photograph attached. It was a photograph of Klopp walking down Paradise Street in Liverpool city centre, taken just minutes earlier. Jürgen, black bag slung over his shoulder, is turning, looking straight into the camera like a rabbit in the headlights. In the background, there are many people standing with their phones taking the same picture from a different angle. I jokingly texted back: 'Well, I know who to blame if he sacks us off because he's had it with the paparazzi!'
I was, however, actually made up. My own piece of Klopp. If I'd had been there I'd have taken a picture of him too. I also probably would have approached him. I have precedent for this type of thing, having bounded across the road in April 2014 with a mouth full of meat and potato pasty to confront a frightened looking John W Henry on Chapel Street.
John thought I was going to attack him. I just wanted to shake his hand and force him to tell me he thought we'd win the league. He wouldn't. I walked away thinking he was a bit of a killjoy. I picked a bit of pasty out of my stubble, and ate it, wondering why was he looking at me like I was some sort of knobhead…
However, as I sat watching the Spurs pre-match press conference at the end of last week and listened to Klopp explain how he had started refusing photograph requests from fans because they always ends up on Twitter, the picture I had of him (not on Twitter) came back to my mind and I felt bad.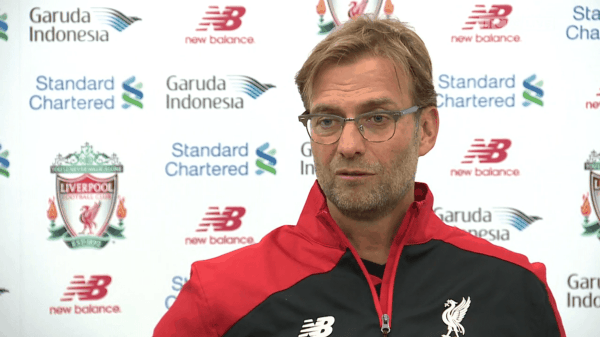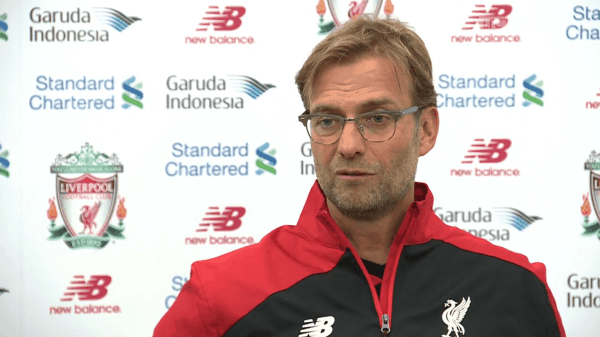 Brendan Rodgers spoke about the hysteria surrounding the club just before he was sacked. And while the hysteria surrounding Klopp is one of gleeful excitement rather than anger, I must admit I've never seen this level of razzmatazz surrounding the appointment of a new Liverpool manager ever. To quote Blackadder, he must think we're as mad as a box of frogs.
Often during a shark 'attack' on a human, the shark's first bite is not one taken in anger but is simply the shark getting a feel for what it's just stumbled upon. More often than not, it decides against feasting on its new friend, but it is too late, the damage is done. Similarly, the supporters are just trying to get a feel for Jürgen at the moment. However, perhaps we should be wary of taking too large a chunk out of him too early while we become acquainted.
All this talk of sharks brings me nicely onto the mainstream media…
Over the last couple of weeks, Klopp has been asked some badly shit questions. Irrelevant ones. Tedious ones. Loaded ones. It was summed-up by the Spurs pre-match press conference when nobody asked him a single tactical question about how his Liverpool team was going to play.
Jurgen Klopp receives 'Normal 1' Liverpool shirt in press conference #LFC http://t.co/uRx70cJgKl pic.twitter.com/UQqJoSCso6

— Express Sport (@DExpress_Sport) October 15, 2015
But someone – a so-called journalist – thought it would be better to use precious time with Klopp to discuss a man who isn't actually Klopp, but dresses up like Klopp.  Add to that the calamity of a 'professional' journalist handing him a Liverpool shirt with 'Normal 1' printed on the back and I'm surprised Jurgen didn't snap off the arm of his glasses, jump over the table and stab someone in the eye, screaming, "I'll give you f*cking normal one!"
Only a week earlier Klopp had joked that he had heard a lot about the British media and it was up to them to prove him wrong. This has somehow manifested into the media trying to prove him right quicker than they can shoe-horn the word Klopp in a headline.
However, the last question asked of him at the Spurs post-match conference, beats the lot. After some pre-amble in which the journalist informed him that Howard Kendall had died, and then explained Kendall was an Everton legend, Klopp was asked if he wanted to offer his condolences.
Here was Klopp's reply:
"For sure. But it's not so fair to bring me this situation after one week. I don't know so much about British football or British legends. There are other people at the club who can do this much better than me."
Regardless of the intention, let's not beat around the bush, it was an absolute twat of a demand to make of Klopp, a foreign manager new to these shores. Not least that it was so shortly after the game and that Kendall's death was only announced mid-morning.
As we have quickly become accustomed to with our new manager, he dealt with it by being truthful and by not hesitating to call the journalist out on the fairness of the question.
It was not fair, not least because Howard Kendall deserves more from Liverpool, and because Liverpool need to be awarded a proper opportunity to offer more than a brief soundbite, which at best would sound contrived and disingenuous.
It was a shock to hear of Kendall's passing. Evertonian mates of mine are genuinely gutted. His time as a player and his three stints as Everton manager means that his story is intertwined with Liverpool's and there is a lot of respect for the man from both sides of the city.
To me, and to many others, he is part of a golden era in football on Merseyside when both clubs were on better terms. Only a stone's throw away from each-other on either side of Stanley Park, in the eighties Liverpool and Everton were the two powerhouses of English football. That was in large part due to Howard Kendall. I hope Liverpool show a proper mark of respect in the upcoming game against Rubin Kazan.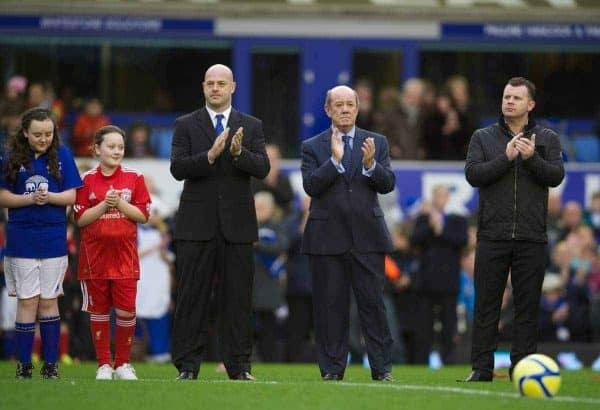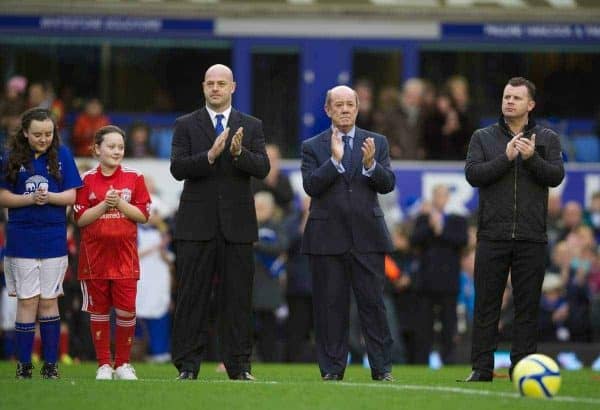 As Liverpool fans we distinguish ourselves as distinct and different from the rest of the carnival that is English football. However, as much as we kick and scream we are inextricably linked to it, I can't help but feel embarrassed on behalf of English football at the moment with what Klopp has had to contend with.
There are already a lot of surreal and fantastical vines doing the rounds of Klopp. However, putting his grinning head on footage of a performing monkey or a dancing bear being poked with sticks probably wouldn't be too far wide of the mark from the reality witnessed in recent weeks.
Luckily, an Anfield debut beckons for Klopp on Thursday night, on the European stage and under the lights. It's where we Liverpool supporters are at our best. The pictures have been taken, the questions have been asked and we have the first game out of the way in the wake of the draw at Spurs.
On Thursday, it will be time to give Jürgen his proper Liverpool welcome. Bring it on.
You can download Neil's E-Book, 'Why the Queen Will Never Support Liverpool Football Club', for FREE now, here.