In Jurgen Klopp, Liverpool would be appointing an outstanding manager that aligns perfectly with the demands of life on Merseyside.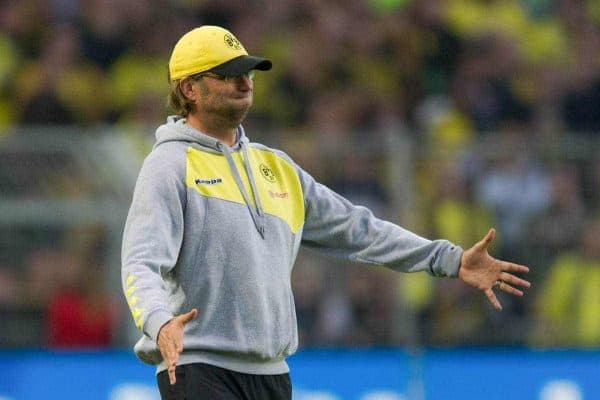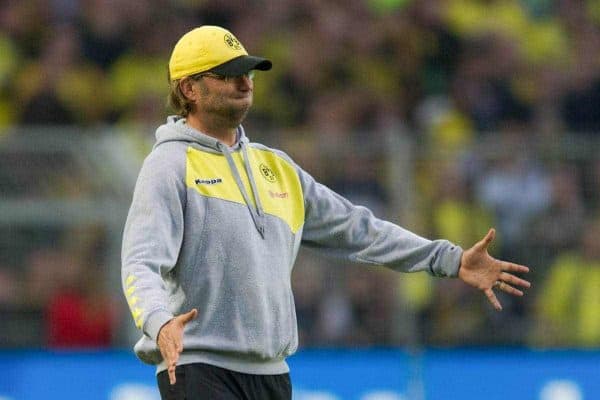 Klopp has emerged as Fenway Sport Group's leading candidate in the search for a replacement for Brendan Rodgers, and the German is a perfect fit for the role as Liverpool manager.
Klopp has been without a club for four months, having left Borussia Dortmund at the end of the 2014/15 season, but is seemingly ready to return to management for the right opportunity.
A popular figure in the footballing world due to his remarkable charisma, and the underdog status of his Dortmund side, Klopp has been unanimously backed by supporters in light of Rodgers' sacking.
But what do we know about Klopp, and what could he bring to Liverpool?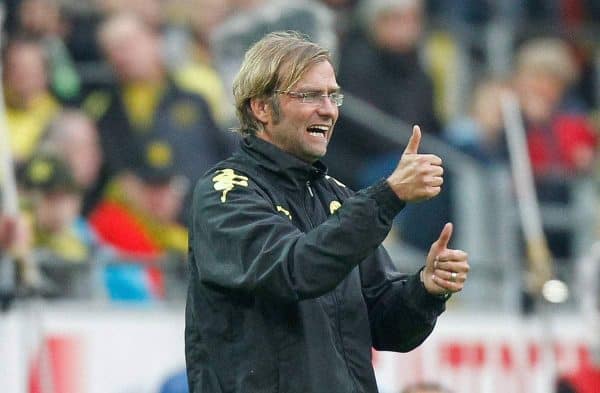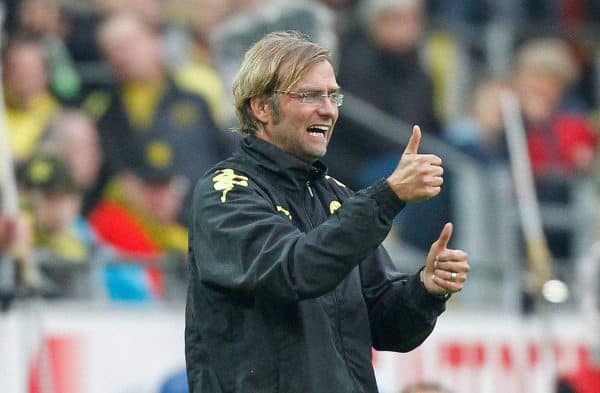 Throughout his 11-year senior playing career, Klopp was a one-club man, and while that level of loyalty is impossible to translate onto the modern landscape of management, the German's devotion has extended to both of his managerial challenges to date.
After passing through the youth ranks at SV Glatten and TuS Ergenzingen, Klopp established himself at FSV Mainz 05.
Beginning his career as a centre-forward, he adapted his game to become a right-back—the Stuttgart-born behemoth scored 56 goals in 346 appearances for Mainz, before retiring in 2001.
On his retirement, Klopp took over the reins as Mainz manager—an unusual move, but one which gave him a comfortable grounding, with his side operating in the German second division.
Klopp took to management with ease, leading Mainz to promotion in 2004 and keeping the side in the Bundesliga for three seasons before suffering relegation in 2006/07. A year later, having failed to inspire promotion at the first time of asking, Klopp resigned.
Joining Dortmund in 2008, Klopp was tasked with restoring the team to greatness—after a disappointing fall from grace under Thomas Doll.
Upon his arrival, Klopp said he had taken the job to "create memories."
"The 2008/2009 season will be remembered for a return of important successes," he continued. "We are involved in three competitions and want to provide positive surprises in the Bundesliga, German Cup and UEFA Cup."
In seven seasons at the Westfalenstadion, Klopp led BVB to six major honours—including back-to-back Bundesliga titles in 2010/11 and 2011/12—though it was perhaps a remarkable Champions League run in 2012/13, ending only with final defeat to Bayern Munich, that remains his crowning achievement.
Klopp left his post in the summer, saying "I am no longer the perfect coach for this extraordinary club," though Dortmund supporters may have disagreed at the time.
But how did Klopp inspire Dortmund to such levels of success?
Philosophy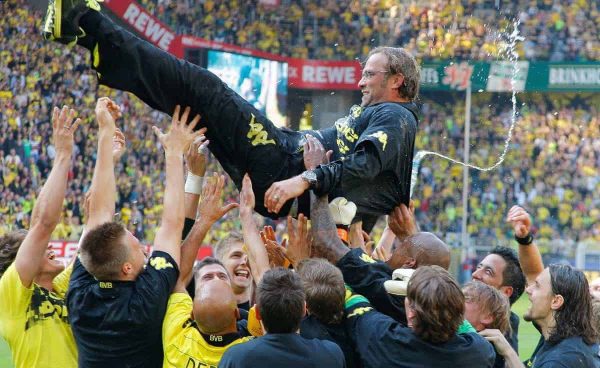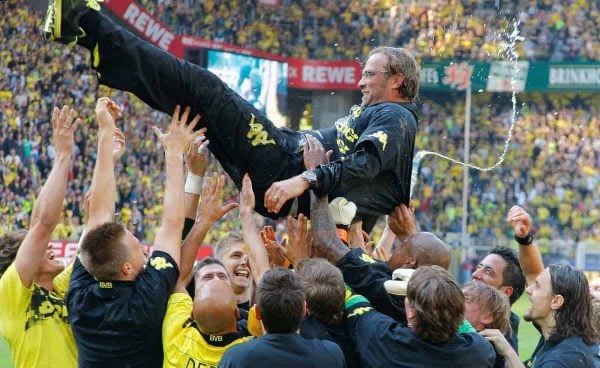 "The football-hungry fan-base here embodies exactly what I love about football," Klopp continued to detail on his arrival at Dortmund.
Hunger is a remarkably apt description of his footballing philosophy, and one which transformed Dortmund from a flagging midtable outfit to a glorious European giant.
Moulding this hunger onto his tactical whiteboard, Klopp adopted the notion of gegenpressing, inspired by the tactical work of his assistant, Zelkjo Buvac.
This meant BVB employed a high-intensity, full-tilt pressing system off the ball, building on a high defensive line with quick transitions and maintaining pressure on their opponents for 90 minutes.
Klopp combined an emphasis on the understanding of space with an overwhelming brand of counter-attacking football similar to that of the German national team in the 2010 World Cup.
For this, Klopp requires a squad that boasts immense stamina, technical ability and supreme pace in the attacking areas.
Though he utilised 4-3-1-2, 4-3-3 and 3-4-3 formations during his time with BVB, Klopp's favoured system is based on a 4-2-3-1.

Using his regular formation from 2012/13, it is clear to see how the 48-year-old deploys his charges.
With the blossoming partnership between centre-backs Mats Hummels and Nevan Subotic serving as the ideal foundation, both Lukasz Piszczek and Marcel Schmelzer were given license to bomb forward and support the attack from right-back and left-back respectively.
Furthermore, with either of Sven Bender or Sebastian Kehl patrolling in the defensive-midfield role, Ilkay Gundogan, utilised as a deep-lying midfielder, played a key role.
"[Gundogan] is willing to learn and is very smart," Klopp said in 2011. "He also brings a great attitude. Ilkay has a great passing game, is a complete player, and fits perfectly into our footballing system."
Gundogan's role as a box-to-box playmaker saw him utilise his energy, creativity and determination to great effect, supporting the three-pronged attacking midfield of Marco Reus, Mario Gotze and Jakub Blaszczykowski.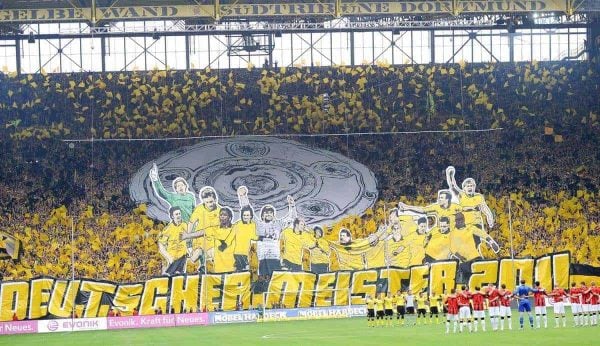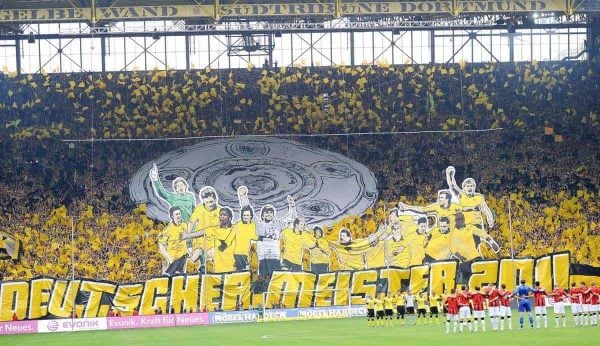 The pace of Reus, Gotze and Blaszczykowski were of paramount importance to Dortmund's attacking game, with the world-class Robert Lewandowski serving as the ideal pivot as Klopp's complete forward.
This was a supremely dominant system, but one that was persistently picked apart by Europe's richest clubs—with this eventually proving Klopp's downfall.
"We are not a supermarket but they want our players because they know we cannot pay them the same money," he said in 2013.
It was clear that, following a fallow season in which Dortmund finished seventh in the Bundesliga courtesy of Lewandowski's departure and subsequent injuries to Hummels, Reus, Blaszczykowski, Gundogan and Nuri Sahin, amongst others, he had reached the end of the road.
Ironically, Klopp would now step into a similar environment at Anfield—so what could he bring to Liverpool?
What He Could Bring to Liverpool

The model that FSG have attempted to implement at Liverpool is of sustenance and progression: looking to build for success in the Premier League and in cup competitions, while developing a foundation of youth and attractive football.
Though Rodgers gave Reds supporters a taste of success in 2013/14, and should be lauded for his work in overhauling the club's youth system and restoring a brand of attacking football, this proved a short-term measure for the Ulsterman.
[quote_box_right]Klopp's Dortmund Honours:
Bundesliga: 2010/11, 2011/12
DFB-Pokal: 2011–12
DFL-Supercup: 2008, 2013, 2014
Champions League finalists: 2012/13
[/quote_box_right]
In appointing Klopp, FSG have the real deal.
Firstly, the style of play that Klopp utilised with Dortmund is aligned with principles of the 'Liverpool Way'.
It is easy to imagine the likes of Alberto Moreno, Nathaniel Clyne, Mamadou Sakho, Jordan Henderson, James Milner, Joe Allen, Philippe Coutinho, Roberto Firmino, Danny Ings and Christian Benteke slotting into this system under Klopp—the foundations are already there.
But, importantly, Klopp is comfortable working within the recruitment model that FSG favour.
The German prefers to focus purely on football, and during his time at Dortmund he worked with sporting director Michael Zorc, who was responsible for incomings, outgoings, youth development and scouting.
[quote_box_right]Dortmund's Spending Under Klopp:
Money spent: £130.13m
Money received: £84.89m
Net spend: £45.23m
Average per season: £6.46m
[/quote_box_right]
That Klopp was able to adapt to the many changes forced upon him at the club underlines his suitability within this system—Liverpool suffered significant losses with the departures of Jamie Carragher, Steven Gerrard and Luis Suarez during Rodgers' tenure, and it was the failure to negotiate these that ultimately led to his dismissal.
Finally, on a fundamental level, Klopp seems to get Liverpool: the passion, the atmosphere, the history, the emotion and the ethos.
After biding his time for the right opportunity, Klopp is seemingly set on a place in the Anfield dugout, and Liverpool must act on this—as he is the perfect man for the job.
[interaction id="561267eb74a791dd4b45c183″]