The situation in which Jurgen Klopp arrives on Merseyside to take charge of Liverpool strikes many similarities to when Rafael Benitez joined the club.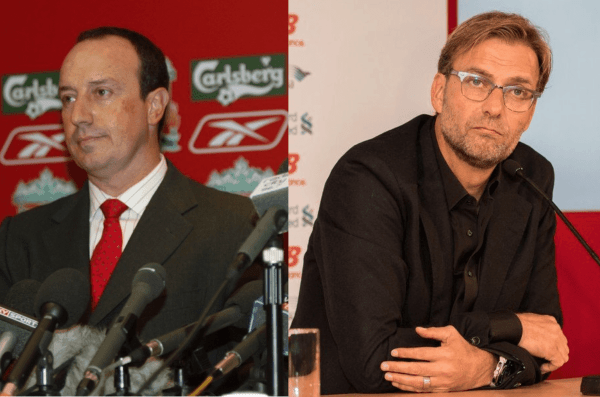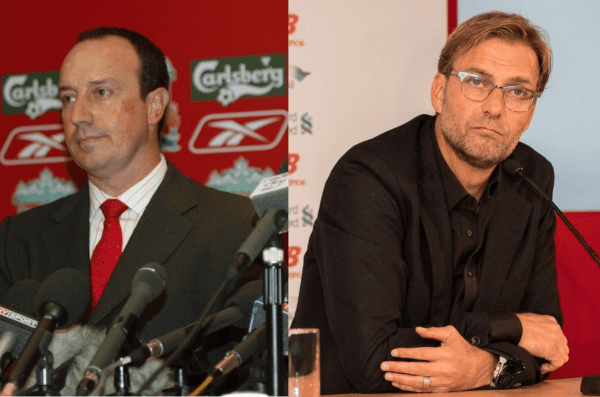 The appointment of Klopp as Liverpool's new manager has swept a level of excitement through the Anfield fan base like rarely seen before.
The arrival of the charismatic German has instantly united the Kop support, and his entrance feels eerily similar to that of Rafael Benitez's in 2004 – not just for the way each immediately galvanised the club or signed their Anfield contracts in exactly the same place.
Here, we look at the parallels between each manager when taking to the Anfield hot-seat.
Timing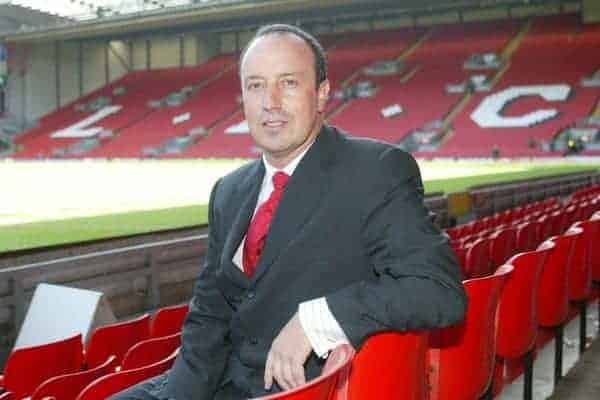 With the Reds struggling, having failed to replicate successes of previous years, Liverpool have swooped to secure a top-level manager, at a time when continuous on-pitch underperformance left many feeling attracting the very best was a thing of the past.
It's not for the first time.
While Champions League football for 2004/05 was won on the last day of the previous season, it came at the end of a turgid campaign under Gerard Houllier in which the Reds had failed to challenge after previous feats – similar to that of Brendan Rodgers' reign.
Both predecessors to the big-name duo played their part in putting Liverpool back on the map during their time – Houllier landed Liverpool a first European trophy in 17 years, while Rodgers came closer than anyone to winning the title since 1990.
But both failed to maintain progress and endured seasons of struggle, with the Reds in desperate need of re-energising.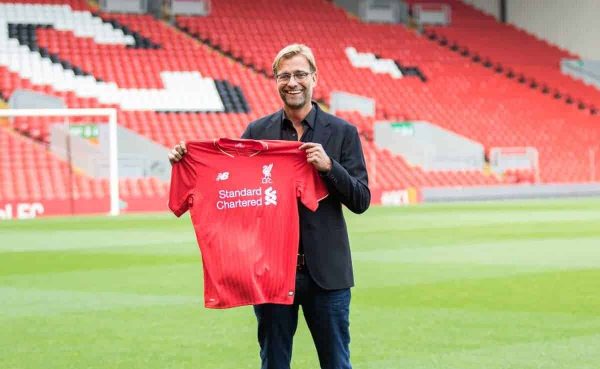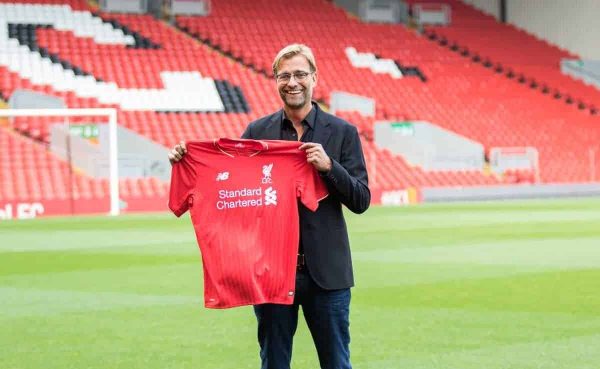 Benitez previously, and now newly-appointed Klopp, arrived at times when the overwhelming feeling was the previous manager had gone as far as they could.
The flat Anfield outfit needed sparking into life by someone who would not only instantly galvanise, but with a level of expertise that could turn the fan base from "doubters to believers."
Benitez provided that 11 years ago, and Klopp undeniably has now, without even having taken charge of his first fixture.
Reputation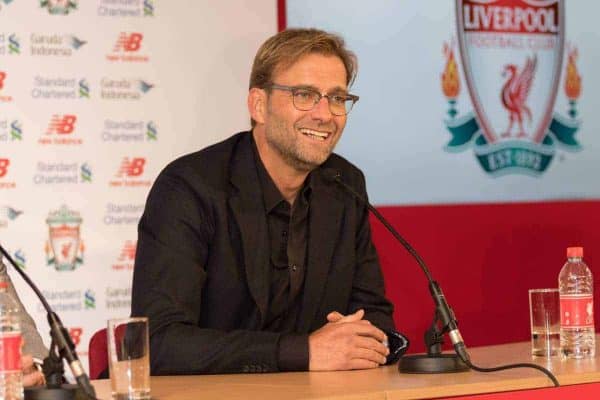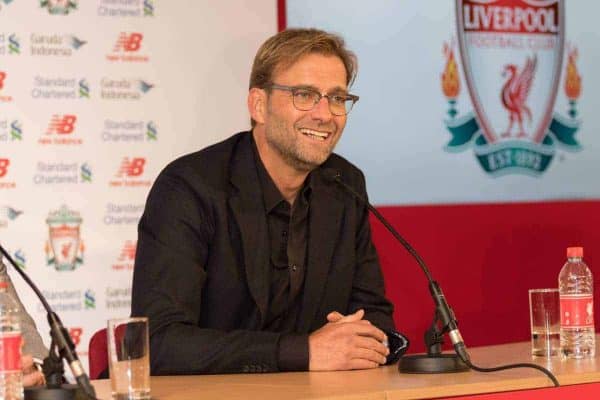 When both managers took to the Anfield hot-seat they did so as big name attractions.
Klopp and Benitez joined Liverpool as young but much-coveted and hugely respected managers – both renowned throughout European football.
There is no doubt that other Premier League clubs enduring difficult patches under their current leaders will watch on with great envy, as Liverpool boast one of the most sought-after coaches in the game in the Anfield dugout in the 48-year-old German.
It's much the same as when the pull factor of Liverpool prized then Spanish champion, Benitez – only three years younger than Klopp when he took charge – away from Valencia, where he became one of the most highly rated and in-demand managers for his work at the Mestalla.
The Telegraph's Chris Bascombe draws the comparison too, as the Reds bag an "A-list" manager:
"Liverpool are not hunting replicas or polishing the CVs of wannabes in 2015. They've bagged the real Jurgen Klopp.

[…]

"Forget that Main Stand being erected at Anfield and all the millions invested in the team by FSG, this is the statement of intent The Kop has been waiting five years for.

[…]

For Liverpool to lure Klopp to Merseyside is the club's biggest coup since Rafa Benitez left La Liga's Champions for Anfield in 2004."
Preferred Formation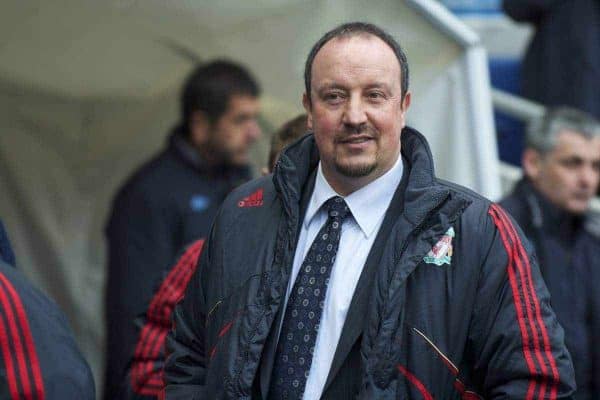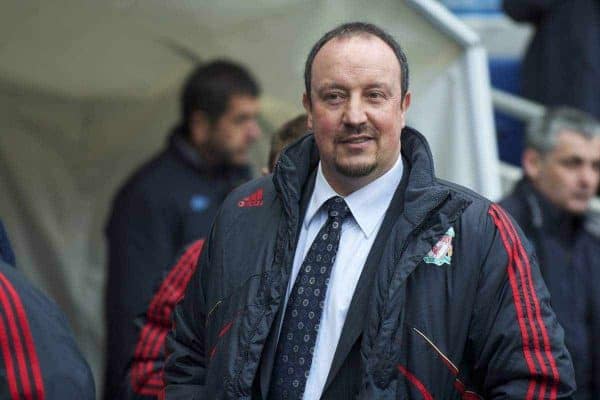 While the top-bracket pair boast contrasting playing styles, they are unified again in their preference for the 4-2-3-1 formation.
Benitez's style was a more rigid, controlling setup, with each unit of the team responsible for their own phase of play, in comparison to Klopp's preference for electric, energetic, "heavy metal" football – but both built from the same base.
The new boss will likely utilise his trusted formation, as the Spaniard did, but it's fair to say he is also set to bring a more thrilling style to grace the fields of Anfield Road.

Relentless gegenpressing, as it became known: slick, quick passing from back to front, attacking advanced space and committing men forward at speed is at the forefront of Klopp's approach in contrast.
Importantly, the team is required to work as a collective to contribute to both attack and defence.
Benitez's style brought instant success with that unforgettable night in Istanbul – it can be hoped that Klopp can follow suit with a debut season trophy.
Success While Fighting Financial Powerhouses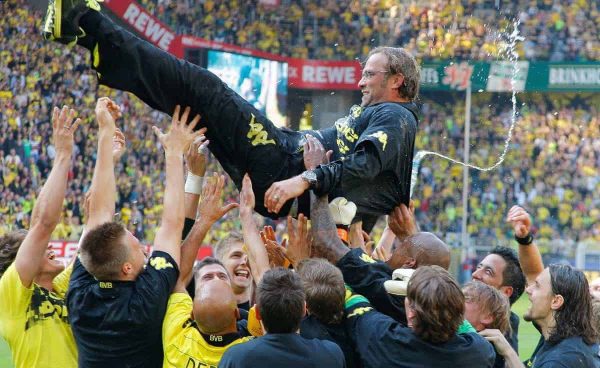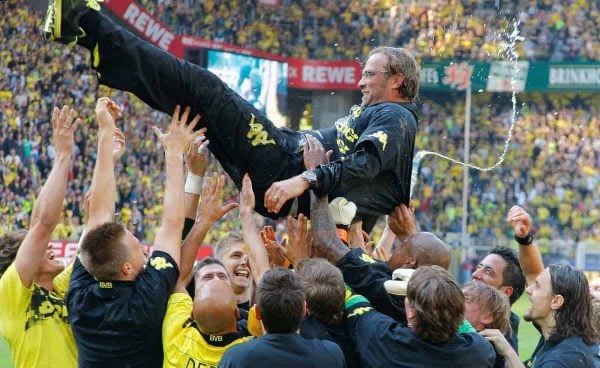 Perhaps most importantly, as the Reds begin another journey to return to greatness, is the success the managers arrived on Merseyside boasting – and the circumstances behind it.
[quote_box_right]Valencia's Spending Under Benitez:
Money spent: £8.26m
Money received: £38.5m
Net spend: -£30.24m
Average per season:
-£10.08m
[/quote_box_right]
Both won major honours in their previous jobs prior to moving to Anfield, but impressively, they did so defying the uneven financial climate of the game, overcoming the mega-rich with relatively limited resources.
Benitez twice shattered the almost unbreakable Barcelona–Real Madrid dominance.
He won the La Liga title on twice in three years – something that has happened only once since – as well as claiming a UEFA Cup title to complete a historic double in 2003/04 – all of which was achieved while making money.
[quote_box_right]Dortmund's Spending Under Klopp:
Money spent: £130.13m
Money received: £84.89m
Net spend: £45.23m
Average per season: £6.46m
[/quote_box_right]
Likewise, Klopp battled successfully against the stranglehold Bayern Munich enjoy on the German game twice – securing successive Bundesliga wins in 2010/11 and 2011/12, before finishing as Champions League runners-up in 2013 – all on an average spend per season of just under £6.5 million.
Benitez then famously led an overachieving Reds to unimaginable Champions League glory in his first season.
Klopp will have to wait for that chance, but he too has experience of overcoming financial limitation for success.
First Games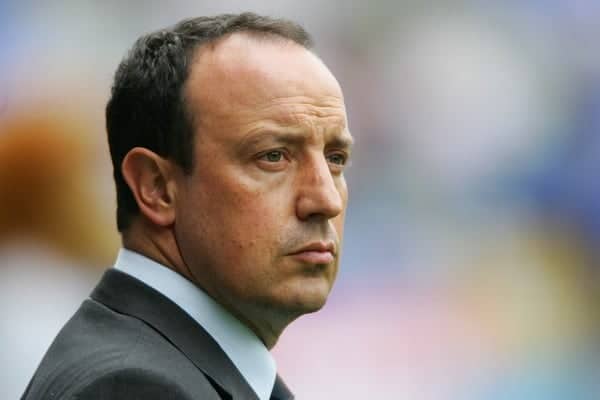 Klopp will remarkably take charge of his first fixture against Tottenham Hotspur at White Hart Lane – the very scene Benitez managed his first Premier League game.
[quote_box_right]Klopp and Benitez at Liverpool: The Parallels
– Age on arrival: 48
– League wins at former club: 2
– Favoured system: 4-2-3-1
– First opponent: Spurs
– Success under financial restraints
– Top-level reputation
[/quote_box_right]
The Spaniard presided over a 1-1 draw on a hot summer's afternoon in the capital, with another debutant, Djibril Cisse, finding the net to put the Reds ahead – before an equaliser from Jermain Defoe denied the new manager a perfect start.
The German now has a week to prepare for his first outing as Liverpool manager at White Hart Lane against Mauricio Pochettino's Spurs, against whom a tough but winnable fixture awaits, as it did for Benitez 11 years ago.
After numerous similarities, it would be nice for one difference between the duo: a win in north London rather than a draw would be perfect.