All the attention has been on Jurgen Klopp but there were two other new faces on the touchline at White Hart Lane on Saturday, his assistants Zeljko Buvac and Peter Krawietz – dubbed 'the eyes' and 'the brain'.

Klopp is not the only major appointment Liverpool have made this month, with his long-term assistants, Buvac and Krawietz, both following the German to Merseyside.
The average Liverpool supporter has an encyclopaedic knowledge of Klopp, his success at Borussia Dortmund and his style of play by now, but a lot less is known about Buvac and Krawietz.
But the pair are vitally important to Klopp's adjustment to life in the Anfield dugout.
So who are Buvac and Krawietz, and what will they bring to Liverpool?
Zeljko Buvac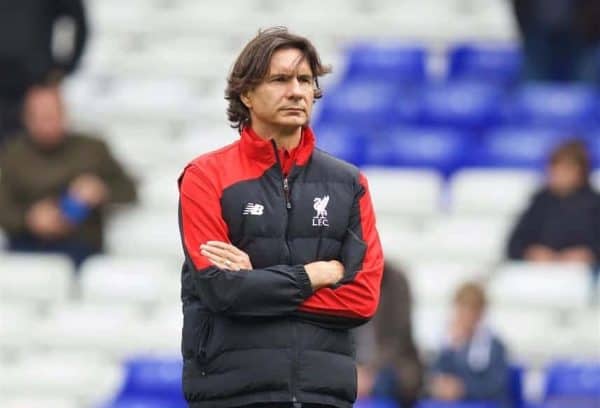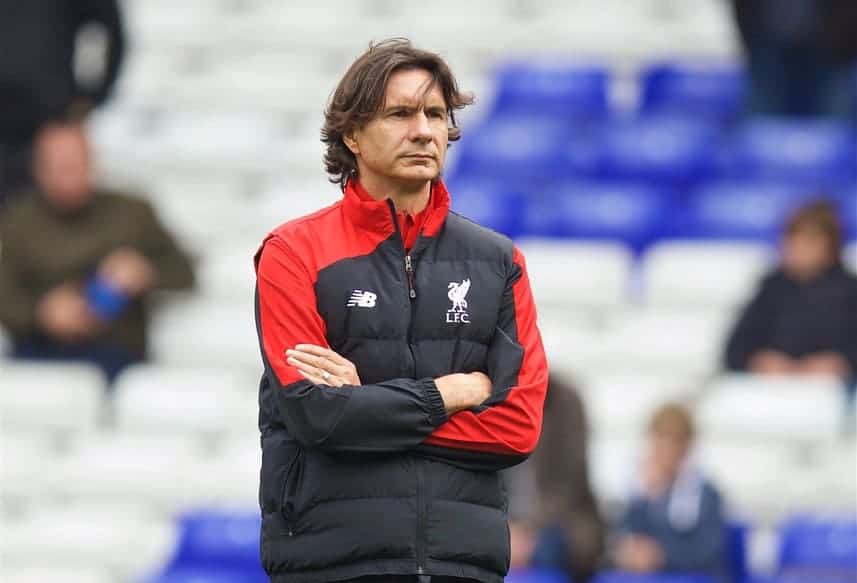 Role: Assistant Manager
Age: 54
Experience: SC Neukirchen, Republika Srpska (manager); Mainz 05, Borussia Dortmund, Liverpool (assistant manager)
"Intuitively, he was a great footballer," Ansgar Brinkmann told German publication SPOX in 2011.
Brinkmann played alongside Buvac and Klopp during his two years with Mainz 05 between 1993 and 1995, with the former striker benefiting from Buvac's keen tactical mind in attacking midfield.
Buvac enjoyed a 13-year playing career spanning FK Rudar and FK Borac Banja Luka in what is now known as Bosnia and Herzegovina, before moving to Germany to ply his trade with FC Rot-Weiss Erfurt, Mainz and SC Neukirchen, where he took over as manager in 1998.
Buvac stayed with Neukirchen for three seasons, before Klopp intervened.
Klopp's appointment as Mainz manager in 2001 was contingent on Buvac joining him as his assistant, such is the respect between the German and his Balkan counterpart.
"Zeljko is football expertise incarnate," Klopp said of his assistant. "I learn every day from him."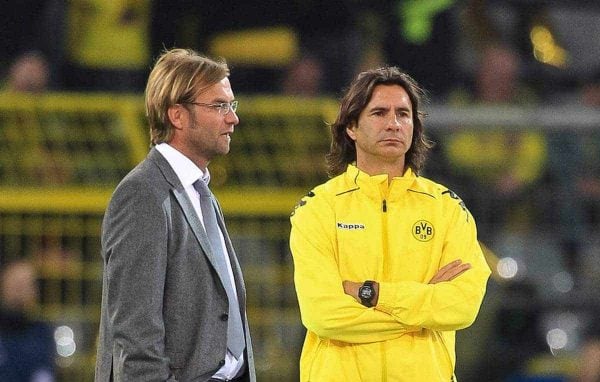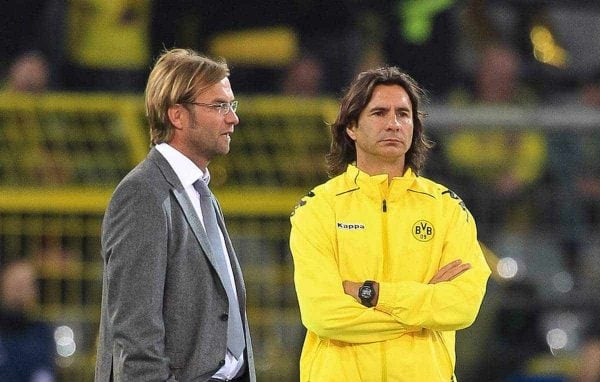 Though Klopp has been lauded for his achievements at Dortmund, the tactical work of Buvac was central to this.
"In all the exercises he always has the whole picture," Krawietz explained of Buvac's training methods.
"If the training does not fit anything and we are making, for example, tactical mistakes, then it is usually [Buvac] that interrupts and explains how to run it properly."
[pull_quote_right]"My co-coach Zeljko Buvac and I always like to celebrate a win with a little beer on the team bus."
– Jurgen Klopp[/pull_quote_right]
As throughout his modest playing career, Buvac possesses a fine-tuned appreciation of space and the intricacies of attacking football.
It is the Bosnian Serb who propelled Dortmund's overwhelming gegenpressing tactic, ensuring Klopp's lineup remained compact and in a position to suffocate the opposition off the ball.
When Klopp was suspended in the Champions League in 2013, Buvac was the man who assumed his position on the sidelines, with Dortmund midfielder Nuri Sahin describing him as "basically Klopp's twin."
Both follow the same philosophy, with Buvac serving as "the brain," as he has been nicknamed, while Klopp is the mouthpiece.
There is a reason why Klopp was so adamant that Buvac follow him from club to club: there is an intrinsic understanding between the pair, allowing them to complement each other perfectly.
Who Buvac Has Replaced: Sean O'Driscoll
Role: Video Analyst
Age: 43
Experience: Mainz 05 (chief scout); Borussia Dortmund, Liverpool (analyst)
Unlike Buvac, Krawietz has no significant playing experience, instead arriving in his initial role at Mainz after obtaining a sports degree at the University of Mainz.
Operating as video analyst during Klopp's time as a player at Mainz, Krawietz told SPOX in 2012 that "[Klopp] was one of the professionals who was interested most in the visual processing of tactical analysis."
Their relationship did not get off to the best start, however, with Krawietz provoking the ire of his compatriot by pointing out his flaws at right-back, but they quickly developed a positive relationship.
After impressing Klopp with his knowledge of video analysis in sport, Krawietz was promoted within the scouting structure at Mainz on the German's appointment as manager, quickly becoming the club's chief scout.
Following Klopp to Dortmund, Krawietz adopted the official role of opposition analyst, utilising his visual expertise to run briefing sessions alongside the manager, as he told SPOX:
"Basically, my job [functions primarily] in midweek, using video to analyze the next opponent and to identify their strengths and weaknesses.

"We want to find out for us on what kind of defence we have to focus and at the same time anticipate what actions in the offensive game could be promising for us.

"This is the quintessence of every video analysis."
Like Klopp and Buvac, Krawietz lists "functioning defensive play" as the priority to success on the field—and his work within the scouting department aided Dortmund in this regard.
[pull_quote_right]"We as a coaching staff have a weakness for young players and also the courage to throw these guys into the action. And also a very good eye, as you can see by the example Marc Schmelzer."
– Peter Krawietz[/pull_quote_right]
With Klopp and his recruitment staff in search of a left-back on his arrival at the club, Krawietz noted the qualities of 20-year-old academy talent Marcel Schmelzer, who was immediately promoted to the first team—where he has remained as a key player.
Krawietz is an incredibly thorough analyst who will serve to comb over the strengths and weaknesses of Klopp's new Liverpool side, as well as those of their opponents.
Crucially, his input in player recruitment will gift Klopp an advantage working alongside the Reds' transfer committee.
Where Klopp is the mouth and Buvac is the brain, Krawietz is the eye.
What Krawietz Has Replaced: Chris Davies