Four months in to James Milner's Liverpool career, the Yorkshireman is already at a worrying crossroad, with a reevaluation of his quality required.

When Liverpool secured the free signing of James Milner last summer most heralded a sensible piece of business. A combative, versatile and consistent performer, the England midfielder's arrival filled a Gerrard-shaped void, adding much-needed steel and experience to a youthful looking squad.
Players of this ilk, the reliable if unspectacular, are apparently immune to those inconvenient yet natural dips that dog their fellow professionals.
Milner, along with Rob Lee and Dennis Irwin – the Milners of yesteryear – supposedly never dip below a six. Only they do and our vice-captain has.
An encouraging pre-season had many tipping our new No. 7 for Player of the Year. Expectations were ratcheted further still following all-action displays against Stoke, Bournemouth and Arsenal as the Reds enjoyed a solid start to the campaign. Only then the unthinkable happened. The wheels fell off and disappeared into the rear-view, taking Milner's form with them.
Suddenly being workmanlike would not suffice.
As the collective toiled fans looked to our most experienced player, the lad on £150,000 a week, to step up and personally stop the rot.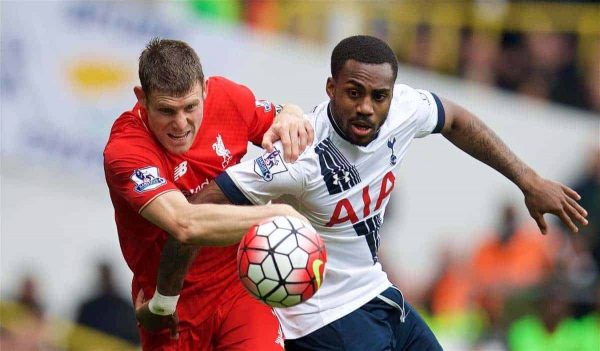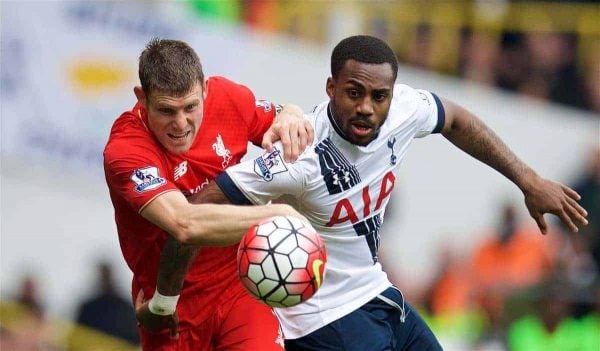 As honeymoon periods go it was a short-lived romance. Milner went from talisman to whipping boy almost overnight, deemed a has-been; a mercenary hunting one final pay-off.
Both arguments ignored mitigating circumstances, the likes of which can undermine even the most consistent of performers.
One of the sticks used to beat Milner with is his supposed insistence on a central-midfield berth. Granted he has hardly covered himself in glory in this, his preferred position, but forget not the absence of Jordan Henderson.
Throughout pre-season this pair dovetailed expertly. When one sat the other bombed forward, returning the favour as games wore on. Critics bemoaned their similarity and questioned whether endeavour was stifling creative input. Perhaps, but the truth is we are yet to truly see.
Liverpool's captain was crocked after just 110 minutes of Premier League football, his injury shelving weeks of preparation and tactical groundwork. Milner, primed to partner Henderson, was suddenly charged with juggling both roles and fire-fighting.
This situation was exasperated as Brendan Rodgers tinkered with the collective formation, manoeuvring players like bewildered pieces on a crumbling chess board.
Even 29-year-olds with 500+ games under their belt welcome the sacred settling in period. Milner was deprived of this luxury.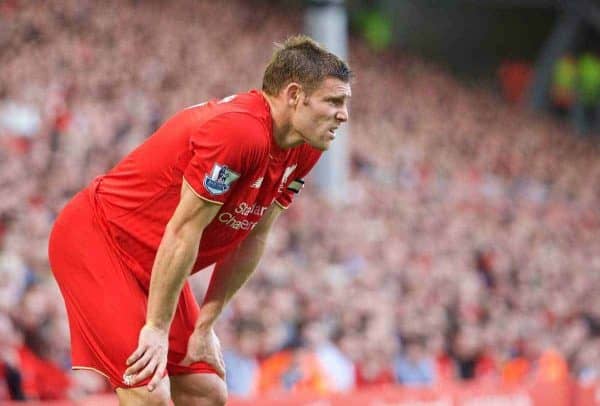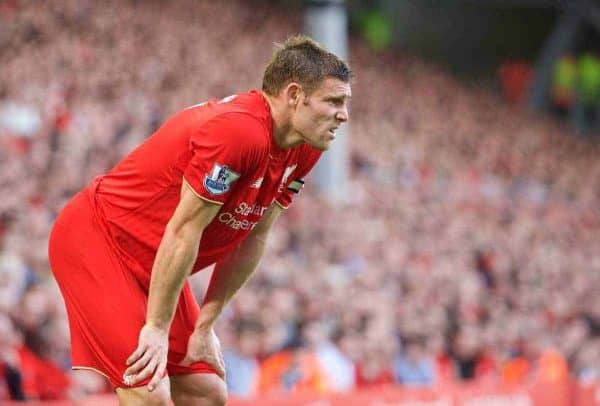 He was also parachuted into a role of responsibility in assuming the vice-captaincy. While others – myself included – see Mamadou Sakho or Lucas Leiva as viable alternatives for the role, the selection of Milner was hardly left-field. In fact it perfect made sense in a world where his partner in crime is not laid up for three months.
Inheriting the armband only magnified the spotlight on a player struggling to manage his own game, let alone those of others.
During this time Milner's game intelligence – an innate understanding – was the one thing not to desert him. Indeed he would readily 'drop in' to cover Nathaniel Clyne or shadow/shackle the free spirit that is Emre Can. His own form however was infuriatingly hit and miss.
There have been moments of quality – his opening goal against Aston Villa and a quite stunning cross-cum-assist against Southampton – but they have been bookended by daft fouls and a litany of utterly appalling set-piece deliveries.
Indeed the decision to stand Milner down from all corners is surely not a coincidence. Quite how a player of his quality can fail to beat the first man with such regularity is mystifying and a failing certain to rile an otherwise passive crowd.
This re-shuffle is just one of the ways in which Jurgen Klopp is helping Milner emerge from unchartered mediocrity.
Rivalling Iago Aspas in the corner taking stakes? No problem, you're off them. Finding the cut and thrust of centre midfield harder than you imagined? Sound, move right. Playing too much football? You'll be withdrawn at Chelsea and Rubin.

It is hard to imagine Rodgers making similar calls. Indeed the Northern Irishman was often accused of bowing to big personalities and Milner's standing in the game makes him one of those (despite the 'boring' moniker).
Jurgen Klopp on the other hand has a track record to back up huge charisma. He will not shy from making big decisions and upsetting players for the greater cause.
Milner will remain a key player but never again will he be deemed indispensable. That is a compromise that suits both parties.
As too would retirement from international football. People forget that the former Manchester City man actually began his career in 2002, as a fresh-faced 16-year-old no less. That means he's clocked up 13 years of Premier League football, each as a box-to-box midfielder.
Rather like a car, that's a hell of a lot of miles to have acquired. Like my old Honda Jazz, nobody's writing Milner off but he could benefit from the occasional rest.
The benefits of such were evidenced last weekend. Revitalised having withdrawn from a Hodgson field trip, Milner looked brighter than he had at any stage of the previous two months.
A desire to overcome his former employers would have played a part but it surely no coincidence that Milly's best game to date came off the back of a fortnight's rest.
There is next to no chance of the midfielder bowing out before next summer's Euros, as is his prerogative. However to go on beyond that tournament would be a serious error of judgement.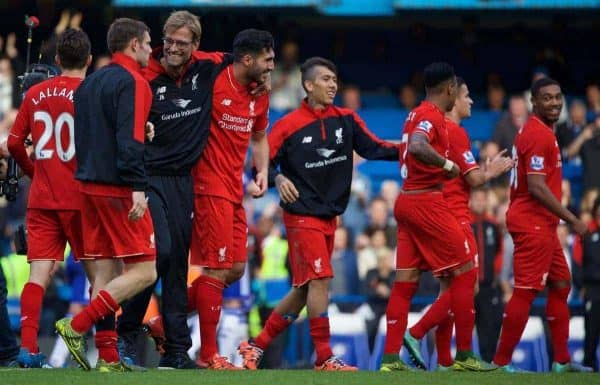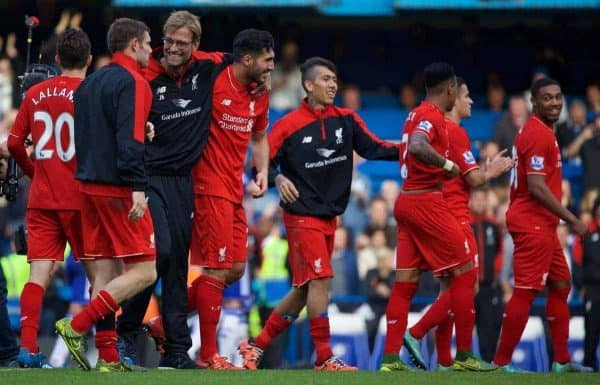 Boasting a degree of sharpness is essential in the Premier League, a division set against a 100mph backdrop. One of the startling drawbacks to Milner's game this term has been the fact he is half a yard slow to things; be it on the turn, stretching for balls or popping balls off.
Any fears we were watching the ghost of Joe Cole were though extinguished on Saturday evening, proof that Milner has plenty of football left in him providing his game is managed. Three assists and a key-pass ratio that dwarfs Coutinho (2.3 a game) are proof of enduring quality.
The key then is tapping into such. If Milner's role is defined going forward and the support cast drilled likewise, he can become a vital component to the Liverpool machine.
In truth that was all he was ever likely to be: a team player, rather than a talisman.
Boring, I know.