Lucas Leiva is in arguably the best form of his Liverpool career right now, and is at a point where he could kick on and cement himself as a Reds legend.

Cast your mind back to November 2008, when Rafa Benitez's Liverpool side drew 0-0 against Fulham at Anfield. It was a disappointing day all round, but Lucas reached a particularly low point in his Reds career.
He was shamefully booed by a significant section of the Liverpool fans, and there was no less popular player at the club at that point.
Much as some would love to suggest otherwise, claiming to have 'always been a fan' of Lucas, he was not good enough, looked out of his depth and seemingly had no long-term future at the club.
It is, therefore, huge testament to the 28-year-old that he is now adored by many, and seen as one of the most important players under new manager Jurgen Klopp.
I'm not saying I'm hungover or anything but am currently holding back tears about how much winning for Liverpool means to @LucasLeiva87.

— Neil Atkinson (@Knox_Harrington) November 1, 2015
Lucas' Liverpool career has had many ups and downs, whether it be the dark early days, his Player of the Year award in 2010/2011, or the serious knee injury he suffered at Chelsea four years ago, but he is in a great place at the moment.
On Saturday, on that same Stamford Bridge turf that saw him rupture his cruciate ligament in late 2011, the midfielder produced a fantastic performance.
He was everywhere against Jose Mourinho's side, contributing the type of influential display many felt he was no longer capable of.
At 28, he is at a pivotal point in his career. Should he stay fit and continue in this rich vein of form, he can become a Reds legend in the coming years.
Divisive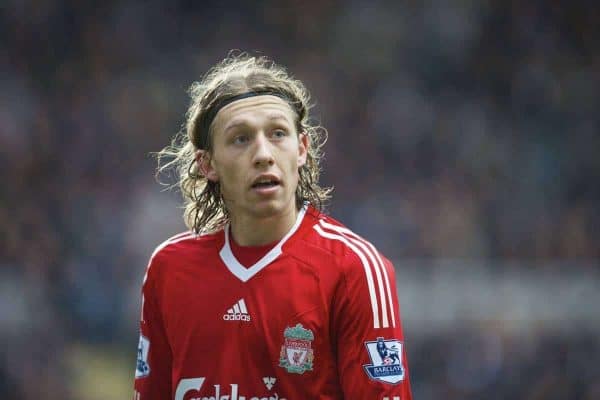 Lucas is certainly a player who has always divided opinion, ever since Rafa Benitez signed him from Gremio in the summer of 2007.
There are some who have never remotely warmed to him, while others feel he is someone hugely important to the side, who does the understated things brilliantly.
Such have been his fluctuations in form over the years, there are also plenty who have often jumped between those two opinions.
https://twitter.com/rayted_are/status/659863705685987332
One thing that cannot be questioned, however, is his love for Liverpool Football Club. You just have to see how elated he was after the win over Chelsea to see that.
That shy-looking 20-year-old that arrived on Merseyside eight years ago is nowhere to be seen, with Lucas now one of the most professional, authoritative figures at the club.
He may not possess the steely, intimidating personality of someone like Steven Gerrard or Jamie Carragher – he spends most of his time with a child-like grin on his face – but there is a presence about him.
Klopp Influence

Although Lucas enjoyed a resurgence in form last season under Brendan Rodgers, in which the Brazilian was pivotal in Liverpool going 13 Premier League matches unbeaten, he looks set to reinvent himself as a player since Klopp's arrival.
Before, he was simply a defensive midfielder who offered almost no attacking threat, but the German has put a stop to that, allowing him more of an unshackled role in the team.
The Brazilian has been given more license to get forward than at any previous point in his Liverpool career, and he is playing with far more dynamism.
His pressing has been relentless, and his position on the pitch has invariably been far higher than we have grown accustomed to seeing in years gone by.
Lucas has almost scored and almost assisted tonight. What a night.

— Jack Lusby (@jacklusby_) October 28, 2015
People tend to forget that Lucas arrived at Anfield as a box-to-box midfielder, but previous Reds managers simply never used him in that way.
Andrew Beasley, writing on his terrific website, BassTunedToRed.com, spoke about Lucas' new involvement in attack:
At Stamford Bridge [Lucas] had two shots and created two chances, which means that he has either set up a teammate or had a pop at goal himself every 31 minutes under the former Dortmund manager.

Bear in mind that Lucas only did this every 72 minutes under Brendan Rodgers (in the league and Champions League since August 2014), so you can see how much more involved he is at the business end of the pitch now.
That perfectly illustrates how his game has evolved in recent weeks. So many of his key attributes had been locked away by previous bosses.
When Klopp was appointed manager there were plenty who felt Lucas could be one of those to struggle, given his injury-ravaged past and Klopp's high-intensity style of play.
He has been a revelation in the first month of the 48-year-old's reign, however, and is one of the most important players at the club currently.
Legend?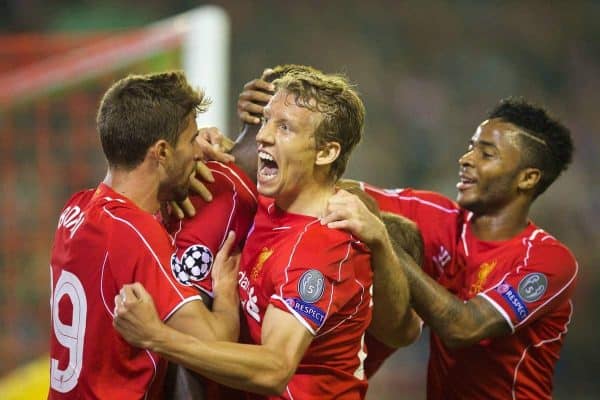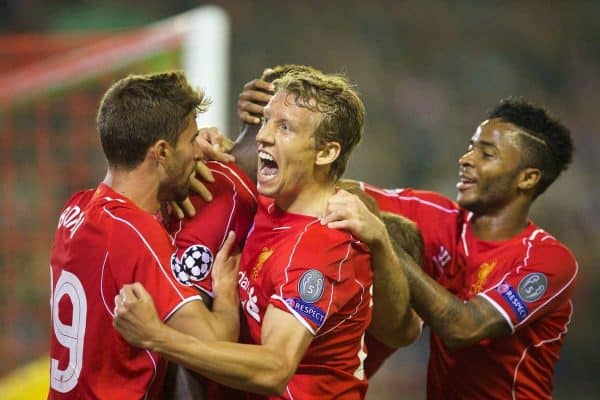 There are four different categories you are likely to fall into when discussing Lucas' status at Liverpool.
Some will simply never like him, while others will feel he has given eight years of terrific service but is nothing more than a good player.
There are some who will already see him as a Liverpool legend, given his longevity, and others who feel he will only become an Anfield icon if he stays at the top of his game over the next few years.
He is someone who will always trigger debate between supporters.


The South American is a big character, and a hugely likeable one at that, and he could well be about to embark on his finest chapter yet on Merseyside.
Those resounding boos that filled Anfield at Lucas' expense back in 2008 feel like a lifetime ago now, and he deserves enormous credit for overcoming such a horrible start with the Reds.
He will never fill too many headlines, and his impact on the team will often be unsung, but he has proven to be a great servant to the club he loves.
Lucas could well be on the verge of legendary status in the next two or three years, should his legs stay fresh and his performances remain as influential as they currently are.
[interaction id="563884cb41d4754d14ed9ddb"]