Steven Gerrard has joined the With Love from Liverpool pro-refugee cause by donating a pair of extremely limited-edition signed boots made by Adidas to commemorate his last game at Anfield.

The collectors' items will be auctioned off on eBay, with the proceeds being donated to the British Red Cross Europe Refugee Appeal.
The signed special-edition Adidas Predator Instinct boots are red and white, with YNWA –'You'll Never Walk Alone' – emblazoned across the heel. They also bear the football legends' iconic number 8 and the names of his children. Only 17 pairs of the boots were made by Adidas, one for every year the former Liverpool FC and England captain played for Liverpool.
Inside the boot is a touching farewell message, which reads 'You leave a legend, you'll return a hero. The city of Liverpool is always with you. You'll never walk alone.' This is the first time a pair of the special-edition boots has been made available to the public to own.
The boots are expected to raise plenty of much-needed support for the British Red Cross Europe Refugee Appeal when the auction begins on Thursday 5th November, with one lucky bidder receiving a monumental piece of sporting history.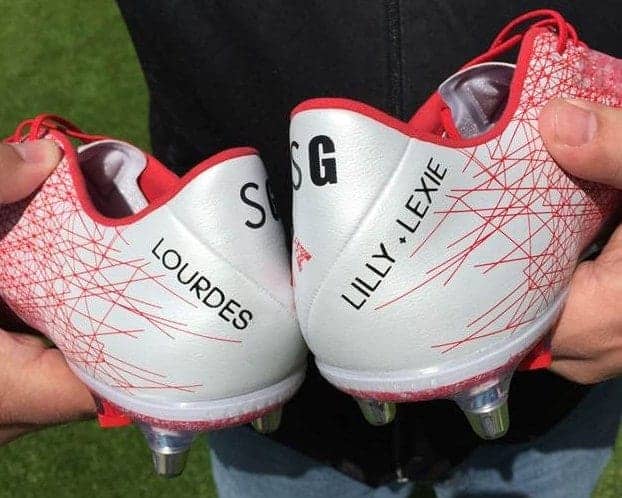 Rob Arnold, senior service manager for refugee services for Greater Manchester Merseyside and Lancashire British Red Cross said:
"Steven Gerrard epitomises the spirit of Liverpool. A local boy who has never lost touch with his roots, is passionate about the City and its people and recognises that Liverpool is a City that cares.
"This is the Liverpool that came together to organise the fantastic With Love from Liverpool concert in just a few days and a City that has given its support and welcome to refugees and asylum seekers for many years.
The British Red Cross would like to thank Steven Gerrard for his generous and unique donation to our European Refugee Crisis Appeal"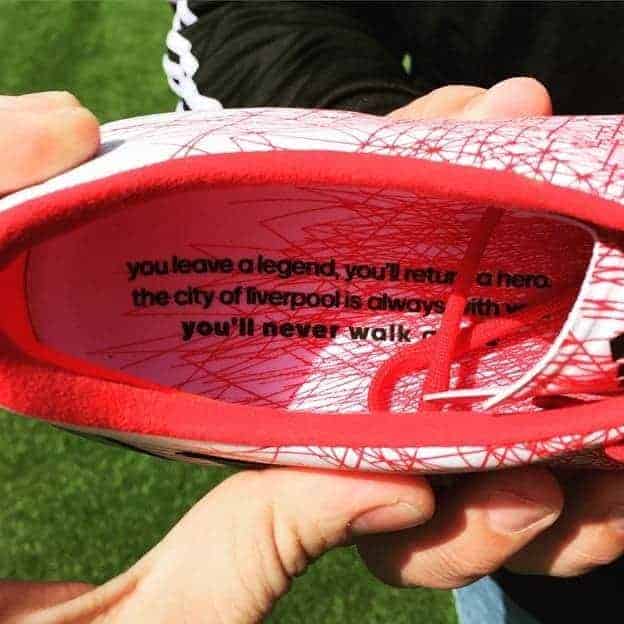 The With Love from Liverpool fundraising concert saw an all-star Liverpool line-up performing a one-off concert at the Echo Arena on 19th September with all proceeds being donated to the British Red Cross Europe Refugee Appeal.
The With Love from Liverpool auction included some exclusive money can't buy prizes and opportunities. A successful bidders will be joining none other than John Bishop to go and see the Reds play at Anfield, whilst another duo won a meet and greet with The Charlatans backstage at their upcoming Liverpool gig. Gerrard's boots will be the final item to be auctioned off for charity.
Joe Anderson, mayor of Liverpool, said:
"I am so proud to call Liverpool my home – a city that has come together to help and support those being forced to flee from conflict and oppression in their home countries.
"Now another Liverpool legend has joined the cause and done his bit to make even more of a difference. I'm grateful to Steven Gerrard for lending his support and getting involved.
"I'm proud that everyone has come together to lead the way showing everyone what a compassionate city we are; and how passionate and committed we are to helping others."
The special-edition Adidas Predator boots, provided by The Anfield Wrap, will go up for auction on Thursday 5th November, and bidding will be open until Sunday 15th November at 6.00pm.
All proceeds from the auction will go to the British Red Cross Europe Refugee Appeal to support their valiant efforts to aid refugees arriving into Europe. To see the boots, and to place a bid, visit www.ebay.co.uk/usr/withlovefromliverpool