Xabi Alonso has been linked with an emotional return to Liverpool, and securing a short-term deal for the Spaniard feels like a no-brainer.

Reports this week have claimed an Alonso return could well be on the cards.
The Spaniard, who turns 34 later this month, is reportedly not being offered a new contract at Bayern Munich, with his current deal set to expire next summer.
The news understandably saw many Liverpool fans giddy at the possibility of seeing Alonso in a Reds jersey again – with six years passing since he left to join Real Madrid.
While a return for the world and European champion would not necessarily be the perfect signing given his age, there are many reasons why it makes total sense.
Idolised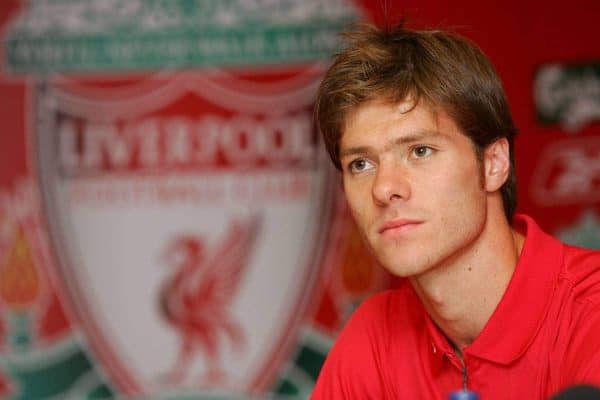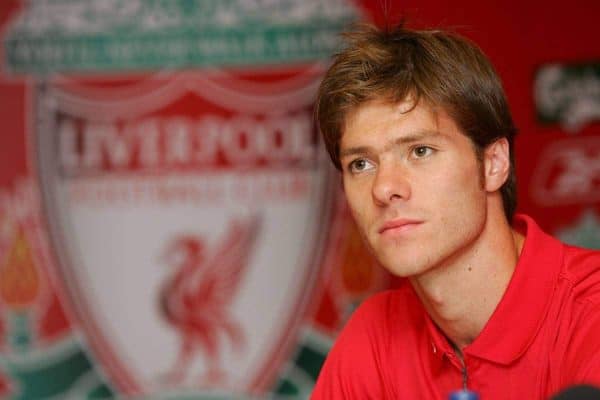 During his five years on Merseyside, Alonso was an incredibly popular figure and there have been few players more universally loved among the Reds' faithful.
Those long-range passes, elegant touches and spectacular goals were things of real beauty, and his genuine love for the city was always evident. He simply 'got' everything to do with Liverpool as a football club and a place.
Seeing him return to the fold would further unite a Liverpool fanbase that is already making positive strides since the arrival of Jurgen Klopp as manager.
You almost have to have a personality defect to have an issue with the ex-Real Madrid man; he is a great ambassador for the game in general.
Age may be catching up on Alonso, but he remains a global name with plenty to offer. It would be a transfer that would further help Liverpool get back on the footballing map again.
Quality

Forgetting all about the emotional aspects of Alonso making a shock return to Liverpool, the biggest positive of him once again representing the club is that he remains a brilliant footballer.
This would not solely be a sentimental piece of business, like Robbie Fowler's return in 2006 or Steven Gerrard coming back, as was recently claimed.
Alonso has been a virtual ever-present for Bayern this season, playing a key role as Pep Guardiola's side have destroyed almost every team they have come up against.
The Spaniard's legs may be slowing up a little, but he has not looked remotely out of place in a side containing the likes of Robert Lewandowski, Thomas Muller, Douglas Costa, Thiago Alcantara, Arturo Vidal and many more.
There will be some who claim that he would struggle in a lesser team like Liverpool, but he has not lost much of the brilliance that made him such an icon in England in the mid to late 2000s.
His ability to dictate a game from his deep-lying role is still up there with the best, and his all-round intelligence means he knows how to avoid exposing his weaknesses.
Few downsides

Re-signing Alonso may not be quite as much of a statement as it would have been three or fours ago, but it is very difficult to find any negatives.
The experience, leadership and winning mentality that he would bring to the current Liverpool squad would be invaluable, and he would clearly get on like a house on fire with Klopp.
Imagine what the likes of Emre Can, Joe Allen and Jordan Rossiter would learn from working with such a master of their position.
Alonso wouldn't have to be playing every game if age looked to be catching up on him, but he would be perfect to bring off the bench whether it be to defend a lead or look to open up a defence.
Those opposed to bringing Alonso back will point to the fact that he simply doesn't have the legs to thrive under Klopp's all-action style. This is a lazy argument.
The 33-year-old is playing under Guardiola, a manager with similar tactics to Klopp, and he continues to thrive when it comes to pressing endlessly.
He is similar to Lucas Leiva in that respect. Many felt the Brazilian would be a waste of time under Klopp, but he has proved his critics wrong with several dynamic performances from his defensive midfield role.
Alonso may not have the energy of someone like Jordan Henderson, and never has had, but he is subtle in the way he excels in his off-the-ball work. Barcelona's Sergio Busquets is another good example of this.
Conclusion

The 'Alonso to make shock return to Liverpool' rumour has emerged on numerous occasions in recent years, but this time there does seem to be a little more credence to the speculation.
The Reds legend was a wonderful servant to the club between 2004 and 2009, and his exploits in Istanbul in 2005 will never be forgotten.
It is for that reason, and many other memorable moments in a Liverpool shirt, that makes a potential reunion turn grown men into quivering wrecks.
His return would be hugely popular, and although it would only be a short-term fix because of his age, the pros massively outweigh the cons.
A Gerrard return would have been ridiculous because his best days are a long way behind him, but Alonso remains top class.
It would be a big signal of intent, the fans would continue to unite and, most importantly, it would benefit the squad greatly. It's all getting a bit much just thinking about it.
Click here for a reply to this article, on why Liverpool shouldn't pursue a move for Alonso
[interaction id="564da9b363937fdb5ede431e"]