Continuing our loan watch progress reports, we take a look at academy winger Ryan Kent's first three months in League One with Coventry City.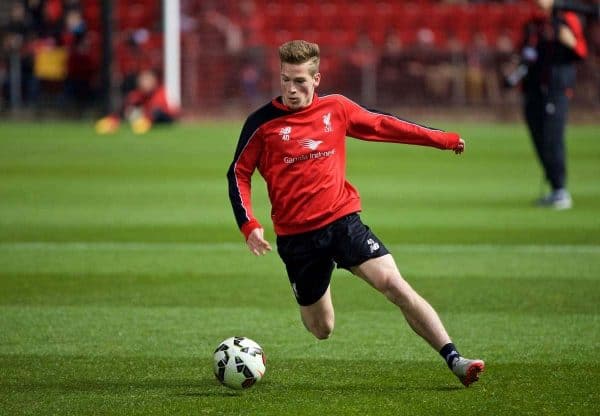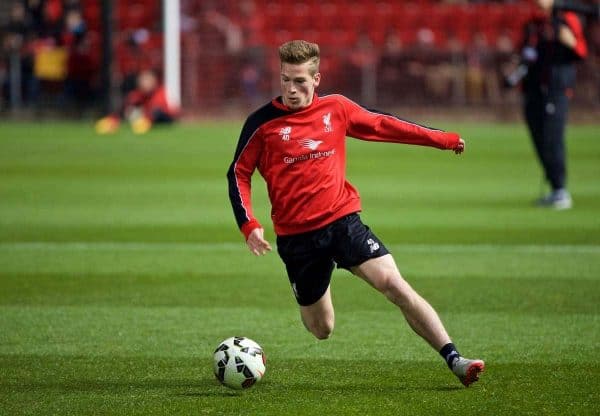 After spending the summer in Brendan Rodgers' touring squad in the Far East and Australia, Kent looked primed for a promising campaign in 2015/16.
While this didn't transpire to be with a role in the Liverpool first team, joining Coventry at the beginning of September marked a big step forward for the young winger.
Now three months into an initial half-season spell, Kent looks likely to extend his stay at the Ricoh Arena, and this can be hugely beneficial.
A bright start to life with the Sky Blues projects a future for the 19-year-old on Merseyside.
Kent at Coventry
Joining a Coventry side harbouring realistic ambitions of promotion to the Championship this season, Kent found himself in a competitive squad, featuring a host of strong attacking talents.
Manager Tony Mowbray can call upon Norwich City loanee Jacob Murphy, Scottish midfielder Jim O'Brien, experienced forward Marc-Antoine Fortune, 18-year-old striker Adam Armstrong, on loan from Newcastle United, and former Liverpool man Joe Cole among others.
This has seen Kent played a bit-part role so far this season, but injury to rumoured Reds target James Maddison has provided the winger with an opening.
Kent has made 14 League One appearances at this stage, starting in nine of those, operating either as a left or right winger or behind the striker as an overlapping attacking midfielder.
Scoring once and adding another assist, Kent's progress has been steady.
Arguably his finest performance came in Coventry's 4-3 victory over Barnsley in November, dominating from the right flank and scoring their first with an exceptional strike cutting in from the left wing, firing beyond Adam Davies from the edge of the penalty area.
Kent was central to Coventry's success in his next appearance for Mowbray's side, pulling the strings in a 4-1 win at home to Gillingham.
The addition of Kent has given Mowbray an invaluable option in attack, with his energy, pace and versatility lending him to a number of roles.
But has he made a lasting impression at the Ricoh Arena?
The Coventry View
Speaking on Kent's arrival, Mowbray outlined his expectations for the Reds' academy star, telling BBC Coventry & Warwickshire that Kent can be his man for "making things happen" after Maddison's injury.
"This lad's more about making things happen, a bit more mobile in terms of speed and directness," he explained.
"I'm pretty sure the only reason he is here is that it is the next step in his development at Liverpool.
"He's looking for an opportunity to progress his career and we can give him an environment in which to do that."
Mowbray made no bones about Kent using Coventry as a stepping stone for bigger things, and O'Brien told the Coventry Telegraph in November that "he can achieve anything he wants."
"He's one of the most exciting players I've ever seen," he said.
"He can go past people as if they're not there and I say to him 'with my vision just imagine how good I'd be if I could do that.'
"If he gets his final ball right—which will definitely come because he's at a good club here and he's from Liverpool so he's obviously had a good education—he can achieve anything he wants."
Kent echoed O'Brien's comments on improving later that month, saying the move to Coventry was a step up in terms of development.
"Coming into a first-team environment I've come to terms with the fact that you're not always going to get your own way," he said.
"That's a learning curve, something I'll have to adjust to and improve—making the right decisions at the right times and picking my moments when to go one v one."
Nevertheless, Kent has made himself a crucial part of Mowbray's first-team squad, and has given supporters moments to cherish.
How the Supporters Feel
To get a supporters' impression on how Kent is progressing on loan at Coventry, we spoke to Sky Blues supporter Sam Parker, who serves as general manager for uMAXit Football and writes for the Coventry Telegraph:
How have Coventry fans taken to Kent during his time at the club?
Coventry fans have been a tortured bunch for many years, so any player that arrives with natural flair, ability and creativity then we immediately warm to them.
Kent has been lucky in a sense that, because Adam Armstrong has started so strongly, he can be used a lot more sparingly, and with a lot less pressure, than if he had joined in previous seasons.
What role has Kent played in Tony Mowbray's first team?
Kent has been used on the wing of a three-man midfield behind Adam Armstrong; it tends to be thrree of Kent, Jacob Murphy, Ruben Lameiras and Jim O'Brien.
In honesty, Kent offers more for us at the minute off the bench, and is frequently used to terrorise tiring League One full-backs from 60 minutes onwards.
What are the highlights of his time at Coventry so far?
There have been a couple of standout performances for Kent, but during the game against Barnsley at the Ricoh Arena, he produced a piece of skill that far outweighed the League One level he was playing at.
It sounds like Kent could remain at Coventry for the rest of the season, but do you think he could go on to establish himself at Liverpool, from what you've seen?
He is a long way off the finished product, and an awful long way off the Liverpool first team, that being said purely based on age.
Talent wise he is one of the better players we have had at Coventry City for some time.
We took Jordan Henderson on loan many years ago, and if at the time you asked if we felt he would become Liverpool standard then it would have been a no.
Henderson and Kent, despite the obvious differences in what they bring to the team, are a clear class above and I see Kent making it at Anfield in the future.
The Future for Kent

On the whole, Kent's first months at Coventry have been beneficial, with the youngster gaining valuable game time in a competitive environment, and holding his own despite the experience around him.
Klopp ran the rule over Kent in November, and according to Mowbray, is likely to remain at Coventry for the rest of the season, with the manager citing the "huge jump" from League One to the Premier League.
This can provide Kent with more time to develop away from the Anfield spotlight, with a view to a return to Liverpool in the long term.
His task for the rest of the season should be to make himself undroppable at Coventry.
So far, Kent has not made the impression that Jordon Ibe did at Birmingham City and Derby County, but he could provide Klopp with a useful option attack—perhaps from next season.
The good work of fellow academy star Sergi Canos at Brentford, however, could provide him competition.
He should use this as an inspiration.