Former Liverpool captain Steven Gerrard believes fans should keep their expectations of the team realistic, despite Jurgen Klopp's impact as manager.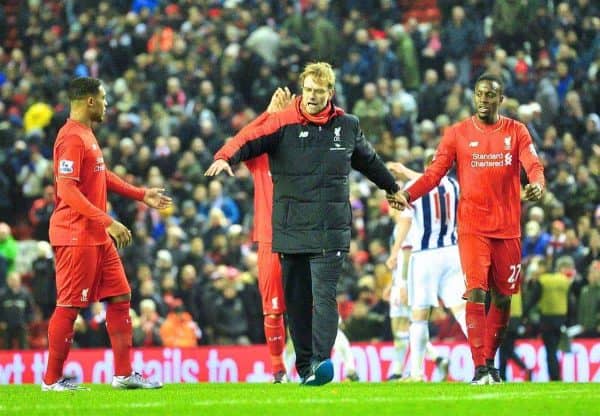 The legendary midfielder is currently back in Liverpool to train at Melwood, as he keep up his fitness levels in the MLS close-season.
Gerrard realises that Reds supporters have a knack of getting carried away with things, and says that expecting too much is no help to the manager or players.
"Obviously we all want to reach for the stars but crazy expectations are not going to help anyone," he said before his appearance on the Clare Balding Show on Thursday.
"I do not think [talk of a title] is fair on the manager or the players. Where they are at the moment they just need to take every game as it comes and have the top four as the main target.
"Towards the end of the time with Brendan [Rodgers], you could see there was a lot of frustration in the crowd and I think that was transmitting to the pitch.
"The players were very tense and nervous and I certainly felt that towards the end of last season. That is normal when results are not going well.
"What Jurgen has done is what Brendan did when he first came in which was to try and release that pressure and expectation away from the players and let them play.
"He is trying to crack the shell to let them come out and express themselves.
Gerrard admits that he found it extremely difficult watching his boyhood club after he had left in the summer, and also, in somewhat contradictory fashion, discussed what he thinks the Reds should aim for this season.
"I will be honest enough to admit that it killed me when I watched Liverpool for the first time as a fan," he continued.
"I hated it at first. I had a weird feeling in my stomach. But now I am used to it and I am happy.
"If someone offered me a trophy and the top four now, of course I would take that. But I also think there is an opportunity to get involved in the title race because no one is running away with it this season.
"Usually at this time of year you would have a Chelsea or a Manchester City looking unbeatable.
"There is not one team that I think will not lose two games before the end of the season.
"Not just for Liverpool, but for Arsenal, Manchester United and Tottenham, it is the first season for a few years when Chelsea and City have not looked like the favourites.
"So there is opportunity to get involved in the title race."
There had been plenty of talk of a surprise title push a few weeks ago, but dropped points against both Newcastle and West Brom have blunted Liverpool's momentum.
Attention now turns to Sunday's trip to Watford, with victory vital in terms of getting back on track.
Gerrard was speaking ahead of his appearance on the Clare Balding Show, which airs this evening (17th December) at 8pm on BT Sport.
[interaction id="567156d29a4ccde73097e780″]