Sunday´s defeat to Newcastle should highlight fundamental problems that Jurgen Klopp must address if he is to turn Liverpool FC around in a meaningful way. The hope is that in so doing, he is more ruthless than his predecessor.

It was as an all too familiar feeling. No sooner had Liverpool served notice of their new found dynamism and self-belief, a collective malaise took hold and the momentum of the past few weeks dissipated in to the Tyneside air.
Liverpool fans would have been more disheartened had the disappointment not been so familiar, so predictable. For all the admirable traits running through this squad of honest players, the fact remains that setbacks such as this will remain the norm until such a time as Klopp has had time to carry out proper surgery on the team.
The German has done an admirable job of enforcing the notion that he believed strongly in this team, yet Sunday´s failings highlighted a recurrent set of frailties, many of them mental.
Klopp has lifted the mood at Anfield since his arrival and there has certainly been an improvement in performances. That being said, the notion that Liverpool were building towards a title charge reminiscent of the 2013/14 season was fanciful at best.
The harsh truth for Liverpool fans is that this is a squad of wildly inconsistent performers. Liverpool are a team capable of taking the breath away against the toughest opposition, and with the next are inducing guffaws of frustration from a support that has become somewhat fatigued by their failings.
To his credit, Klopp has sought to address this. He has served notice to the fans that the perpetual state of nervousness around Anfield is reinforcing an already embedded problem. That problem is one of expectation, and the players´ apparent inability to rise to the occasion when it is at its peak.
Which effectively is the root of the problem.
For all Klopp´s abilities in man management and motivation, the suspicion remains that this squad contains many performers who simply cannot provide Liverpool with the type of sustained level of consistent performance required to be considered in the elite echelon of English or European clubs.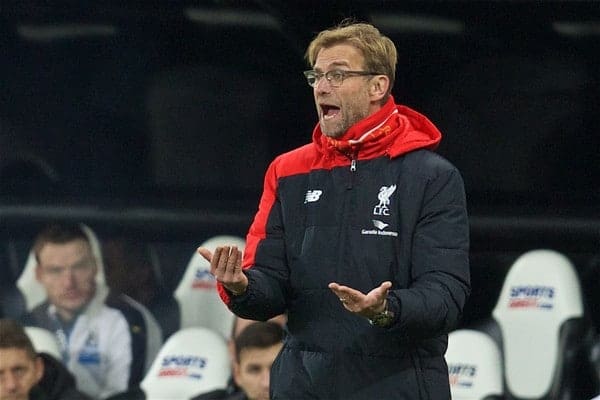 Martin Skrtel appears to be a solid centre half, until the inevitable lapse in concentration triggers a more profound dip in form.
Lucas Leiva often seems to be the league´s most astute defensive midfielder, until such a time as he squanders possession at every turn and undermines any hope of fluidity in the team.
James Milner is and will remain a viable water carrier, yet his lack of flair on the ball partly explains Liverpool´s predictability when in possession against opponents who sit deep.
Dejan Lovren has shown an improvement this campaign, yet can still resemble a disturbed man-child hopelessly chasing a rabbit around a field.
Simon Mignolet feels like a 21st century version of Sander Westerveld.
It may seem harsh to single out the above players for such criticism, yet these are the members of the squad that Klopp will turn to for leadership and direction. Can the German realistically build his hopes on players who are prone to such consistent bouts of inconsistency?
Liverpool´s recent upswing in form should not be looked upon in isolation. After all, this is a squad who won nine out of twelve games in the middle of last season under Brendan Rodgers- taking 30 points from 36 available. They finished the campaign losing 6-1 at Stoke.
Rodgers´ approach to setbacks was to re-draw the battle plan, the coach finally ending up in a state of perennial readjustments geared towards papering over cracks that appeared throughout the squad. In the end, it became a bafflingly directionless search for the intangible solution, and ended up with the former manager rather pathetically bemoaning the tools at his disposal.
Despite Klopp´s affirmations of belief in his current squad, one hopes that he will not be so indulgent of recurring flaws. The German has shown a willingness to develop the tools at his disposal, yet should those tools continue to cause snags in the machine he is building, they should be replaced with ruthless haste.