I tuned into 606 on the usually excellent BBC Radio Five Live on Sunday night only to be confronted by the worst substitution since Rafa Benitez brought Alvaro Arbeloa on in Athens instead of Craig Bellamy. Instead of being hosted as per usual by Kelly Cates, daughter of royalty and a voice of reason, the beeb had given Piers Morgan the keys to the studio. Talk about replacing a Kopite with a gobshite…

Morgan, of course, is a big (literally) Arsenal supporter who has seemingly spent the period since whenever Twitter was invented calling for Arsene Wenger to be led to the Emirates guillotine and replaced with whoever is en vogue at the time. Like Jürgen Klopp. Indeed, after Arsenal's 3-2 Champions League defeat to Olympiakos in September, he was 100 or so kHz higher up the radio airwaves telling TalkSport that Klopp should be the new Arsenal boss.
"If you look at what Jürgen Klopp did at Dortmund, he completely transformed that team from a very mediocre German side into one that beat Bayern Munich to the Bundesliga twice. This is a guy who is twenty years younger than Wenger who is absolutely ravenous for success with a new club. He loves attacking football, so Arsenal fans wouldn't be deprived of attacking football, but he would make our defence a granite-like defence."

He was gutted when Klopp was appointed as Liverpool manager. And still is. Indeed, Morgan is such a lover of our charismatic German that even when Liverpool turned in a woeful display and lost at West Ham he publicly defended him on Twitter while also taking a pot-shot at sleeping bag wearing Professor Yaffle lookalike Wenger: "Klopp hasn't won Premier League in 2 months with another manager's squad: FAILURE. Wenger hasn't won it in 11yrs with his own squad: GENIUS."
That 11 year gap without a Premier League title is Morgan's bugbear. His rationale is that no other 'big' club in Europe would retain a manager who challenges for, but fails to win, the title over such a long period of time. The back-to-back FA Cups Arsenal won in 2014 and 2015 cut no ice with him either (although in typical hypocritical fashion he spent most of 606 arguing that the FA Cup winners should earn automatic qualification to the Champions League despite previously having derided it two days earlier as "not a big trophy.")
Does he have a point? Arsenal have qualified for the Champions League for 18 consecutive seasons having never finished lower than fourth. But in the 17 previous completed Champions League campaigns that have followed they have failed to win 'ol big ears and only reached the final once. Which essentially ranks them alongside Bayer Leverkusen and AS Monaco. Or makes them England's version of FC Porto. Minus the European Cups. Or any titles in the last decade.
Liverpool, in comparison, despite seriously challenging for the Premier League title about as often as Adam Bogdan deals with a corner and only qualifying for the Champions League in nine of those aforementioned 18 seasons, won a 5th European Cup in 2005 and should probably have made it six in Athens two years later. We've also got an FA Cup and League Cup to compare with Wenger's two FA Cups during the last decade.

Given the size of both clubs, the money they have spent on transfer fees and wages, the crowds they attract and the ticket prices they charge there is absolutely no denying both have seriously underachieved in terms of silverware, but whereas at Anfield we've tried to do something about it by making four managerial changes since 2010 the Gunners have done what Liverpool used to do and stuck with their manager.
Personally, if you offered me guaranteed Champions League qualification for the next decade but told me the Reds would only win a couple of FA Cups during that time I'd bid you adieu and get back on the rollercoaster. I'd also be questioning the position of the manager, no matter what he had won previously.
However, that completely goes against what happened at Anfield during the late 1960s when Bill Shankly went six seasons without winning anything. Had radio phone-ins and the current incessant social media scrutiny been part of the game he'd have been under pressure in 1966/67 when defending champions Liverpool (having only signed Peter Wall and Stuart Mason before February) crashed out of the European Cup 7-3 on aggregate to Ajax, were knocked out of the FA Cup by Everton and finished 5th in the First Division having been top of the league with 11 games to play but only winning two of them. Just to rub it in, former Liverpool skipper Matt Busby won the title with the Mancs instead.
A patient approach ultimately paid dividends for Liverpool. Having finished 5th, 3rd, 2nd, 5th, 5th and 3rd without any cup success (and you couldn't always argue there was progress) Shankly led the Reds to his third league title in 1972/73 and landed our first European trophy in the shape of the UEFA Cup. An FA Cup followed a year later before he handed over the reins to Bob Paisley who had TJ Hughes selling out of Brasso every May for the next nine years.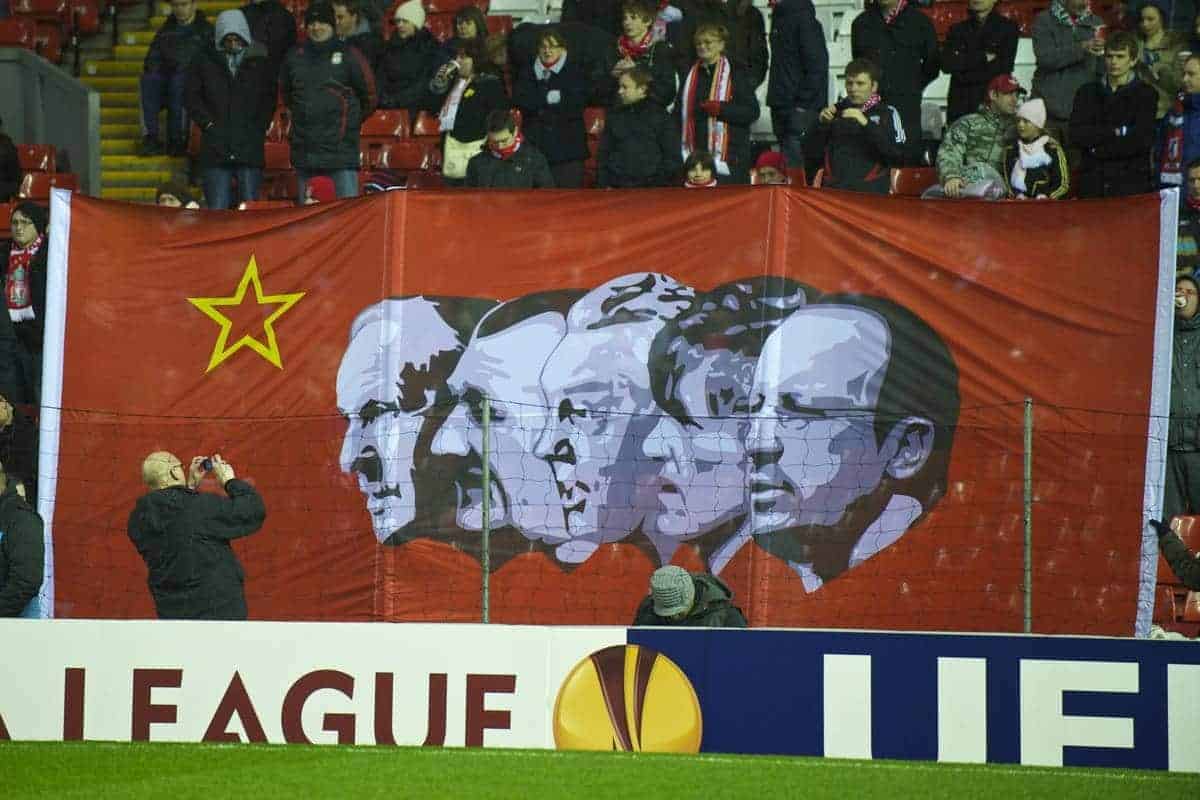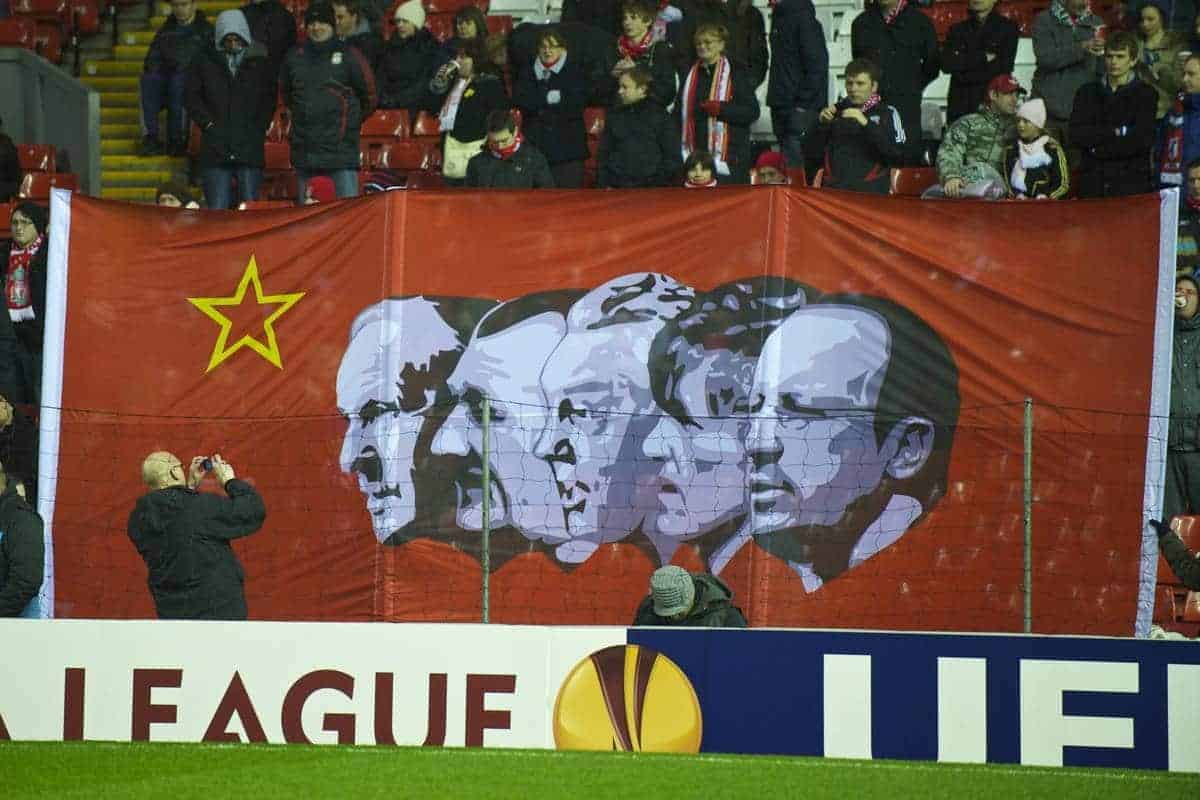 But…and it's a big but…those days are gone. They went, at Anfield anyway, in the 1990s when Roy Evans was in charge. Evans finished 4th, 3rd, 4th and 3rd during his four full seasons as Liverpool boss and won one League Cup. It wasn't enough. The obsession with Champions League qualification (you had to be in the top two at the time to qualify) had started and although his sides played some thrilling football the failure to bring tangible success in the form of pots for the sideboard, at a time when that mob down the road had finally got things right, saw Evans edged out and Gerard Houllier eased in.
That, for me, set the modern day precedent that Liverpool managers are judged by. You don't just have to challenge for the major honours here, you have to win them. If you don't, your days will be numbered – as Brendan Rodgers discovered less than 18 months after nearly winning the league – and that is the biggest difference between the mentality of Liverpool and Arsenal Football Clubs. We're in it to win it, not to just be up there, and that applies now to Jürgen Klopp. Top four should only ever be considered as a stepping stone to the real target.
But let's keep this from Piers Morgan, eh? If he susses that and combines it with his love of Klopp he could switch from Arsenal to Liverpool as easily as he does from Talksport to FiveLive and that's the last thing we need.

• Chris McLoughlin writes for the official This is Anfield matchday programme. He's been chatting to Simon Mignolet about set pieces and clean sheets for the Arsenal programme, on sale at the ground, in LFC club stores and from www.sportmediashop.com.