Liverpool remain among the 10 richest football clubs, according to the latest figures from Deloitte's Football Money League.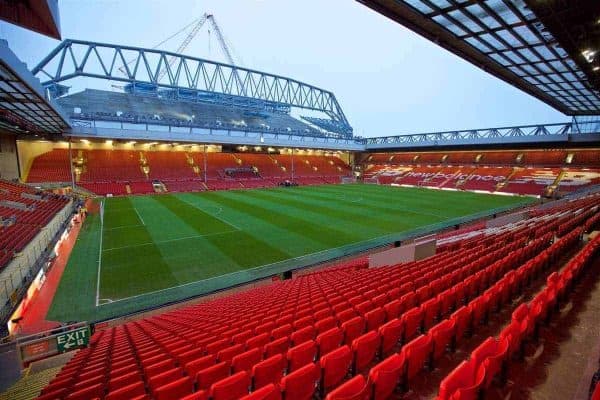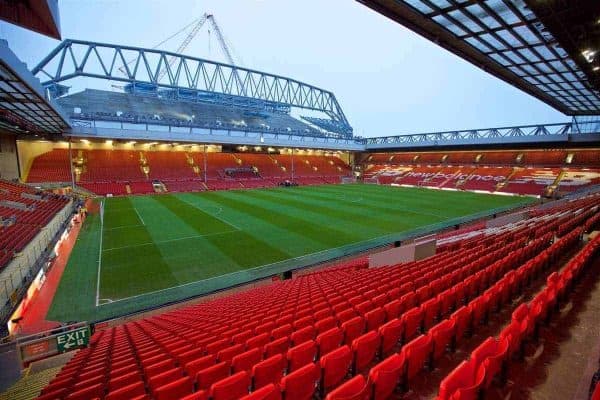 The Reds sit ninth in the annual standings, the same position as a year ago, with the report looking at how much revenue clubs have generated during a season.
The new figures are judged on 2014/15, with Liverpool making a total of £298.1 million during a below-par campaign under Brendan Rodgers.
Only four Premier League sides generated more money in that time – Man United (3rd), Man City (6th), Arsenal (7th) and Chelsea (8th) – and the Reds made an improved profit of £42.3 million when compared to 2013/14.
This was largely down to their involvement in the Champions League last season, which despite being both disappointing and brief, highlighted how important it is to qualify for Europe's biggest club competition.
Liverpool also enjoyed a 26 per cent increase in matchday revenue, and with the new Main Stand set to be ready for the start of next season, that should once again rise next year.
Liverpool – Year on Year Income:

2014-15: £298.1m
2013-14: £255.8m
2012-13: £206.2m
2011-12: £188.7m
2010-11: £183.6m
2009-10: £184.5m
2008-09: £184.8m
2007-08: £167.0m
No Champions League football in 2015/16 will, however, play its part in a potential decline in profit.
There was also an eight per cent rise in commercial revenue, with Liverpool making £116.4million; an increase of £8.3million.
The Senior Manager of Deloitte's Sports Business Group, Tim Bridge, had his say on both Liverpool and Everton's financial performance in 2014/15:
"It has been another good year financially for both Merseyside clubs.
"Despite Liverpool not advancing from the Champions' League group stages and Everton not achieving the same level of success noted in the 2013/14 season, both clubs posted revenue growth, with Liverpool managing to successfully capitalise on their return to the Champions League.
"Everton and Liverpool both managed to increase revenues in all three main revenue streams of matchday, broadcast and commercial, clearly demonstrating the business strength of Merseyside's top clubs.
"Both clubs have the potential to grow further and move up the Money League in the coming seasons."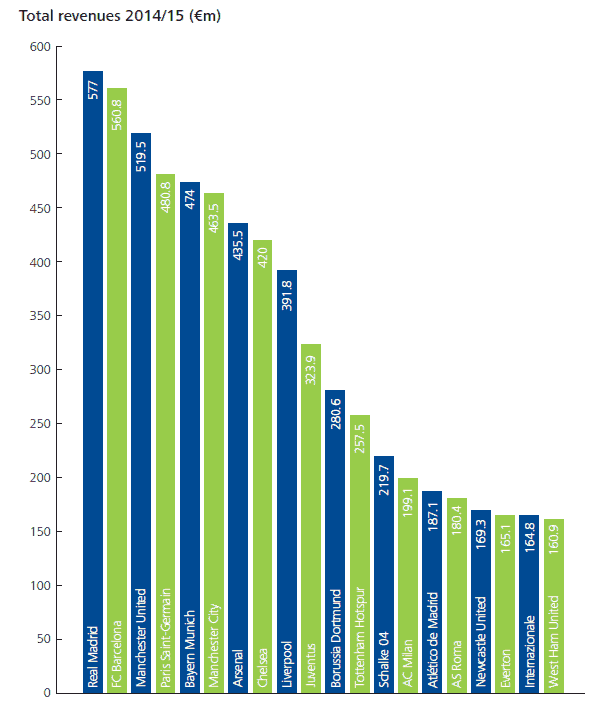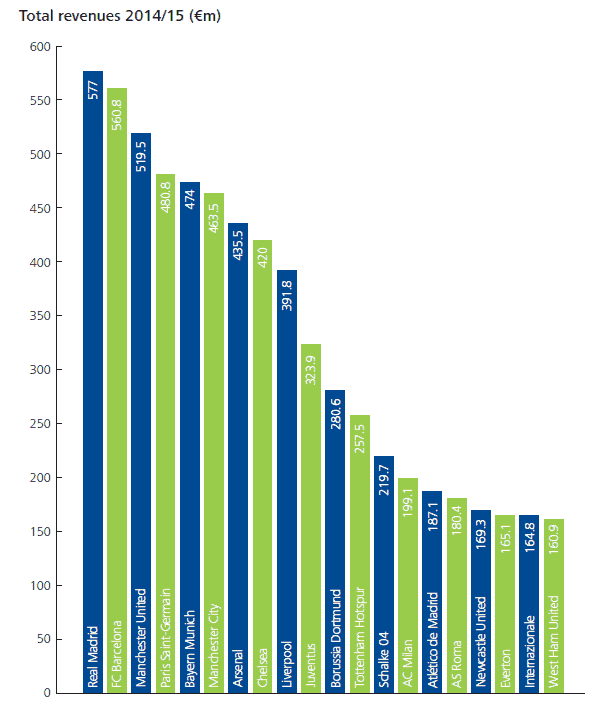 The new Premier League TV deal means English clubs dominate Europe's top 30 list.
The Deloitte Football Money League (2014/15 revenue in millions of euros):
1 Real Madrid (577m euro)
2 Barcelona (560.8m)
3 Man Utd (519.5m)
4 Paris St Germain (480.8m)
5 Bayern Munich (474m)
6 Man City (463.5m)
7 Arsenal (435.5m)
8 Chelsea (420m)
9 Liverpool (391.8m)
10 Juventus (323.9m)
11 Borussia Dortmund (280.6m)
12 Tottenham (257.5m)
13 Schalke (219.7m)
14 AC Milan (199.1m)
15 Atletico Madrid (187.1m)
16 Roma (180.4m)
17 Newcastle (169.3m)
18 Everton (165.1m)
19 Inter Milan (164.8m)
20 West Ham (160.9m)
21 Galatasaray (159.1m)
22 Southampton (149.5m)
23 Aston Villa (148.8m)
24 Leicester (137.2m)
25 Sunderland (132.9m)
26 Swansea (132.8m)
27 Stoke (130.9m)
28 Crystal Palace (130.8m)
29 West Brom (126.6m)
30 Napoli (125.5m)