Liverpool's young squad need guidance and advice on the pitch – an experienced player who can improve in-game management – Sachin Nakrani explains how and why.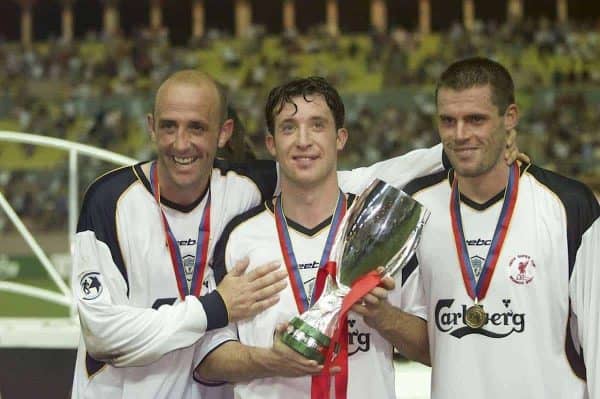 Either side of Christmas, my dad came over to our house to help with a bit of DIY. The first time was to fit a new fridge and the second to install a piece of skirting he'd removed to fit the fridge in the first place. On both occasions I noticed something about the old fella – he looked really old.
Every reach of the hammer, every bang of a nail, every stretch forward and every lean backwards was met with a groan or a sigh, and the pained expression that spread across his face as the afternoons drew on became increasingly inescapable. Watching on (yes, watching; I'm shit at DIY) it well and truly hit me that this warrior of my youth is getting on. Which is hardly a surprise given he's in his sixties.
But here's the thing – for all the effort it took my dad to do those jobs, he did them brilliantly. From start to finish he was in total control, knew exactly what he was doing and what he had to do next. "Your existing space is too tight to slide this fridge into? No worries son, dad will sort it. You just stand there and pass me that screwdriver." Which I did while in awe of this master at work, every ounce of his years of experience shining through.
Which brings me onto Liverpool. It may be because I'm getting on a bit myself, but watching our current boys in Red I can't help but notice that they're exactly that – boys. There is an experience gap right through the squad, leading to a group of talented footballers making bad decisions and/or lacking guidance at crucial moments.
That felt particularly the case during the recent 3-3 draw with Arsenal when Liverpool led twice and twice were pegged back inside the space of six minutes. And four days later, against Manchester United, there came another failure at a set-piece which could have been prevented had there been someone on the pitch in Red demanding his team-mates organised correctly and focused fully on making sure the tall Belgian with the reckless elbows did not get his head to the ball first.
As of writing, there are only three players who are 30 or over in the current squad – James Milner (30), Martin Skrtel (31) and Kolo Toure (34), and another two who are 29 – Jose Enrique and Lucas Leiva. Given two of those players, Toure and Enrique, are squad players at best (and in Enrique's case, not even that), it won't come as a surprise to hear that the average age of Liverpool's first team is also callow.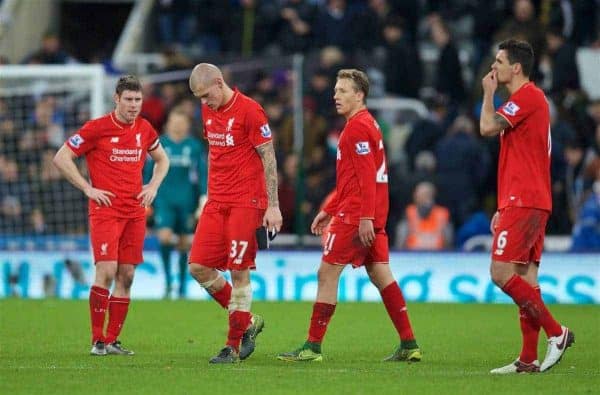 The make-up of any club's first team is subjective, but if we go on the basis of this pretty fair, when-everyone-is-fit line-up: Mignolet; Clyne, Skrtel, Sakho, Moreno; Can, Henderson; Lallana, Firmino, Coutinho; Sturridge – Liverpool's first-team average age is 25.18.
That's lower than the average ages of the last five Premier League title-clinching sides; Manchester United 2010/11 (27.0), Manchester City 2011/12 (26.81), Manchester United 2012/13 (27.09), Manchester City 2013/14 (28.27) and Chelsea 2014/15 (27.90). In some cases the difference is small but it's a difference, nevertheless, and a barrier to winning the big one. No19.
Of course there are other, major factors holding Liverpool back in that regard, namely the lack of a reliable goalkeeper and a reliable striker who can stay fit for longer than six minutes, but an experienced head would no doubt aid this young team.
However, as stated, there are very few in the current squad and even fewer who are genuine first-team contenders. And those who are either lack top-level talent, trophy-winning experience or both. And, arguably more worringly, they collectively lack the traits which mark them out as genuine leaders. Lucas, at a push, can be thought of as one among the 'senior' pros, but the rest? Frankly, I'd rather follow Lord Cardigan into war.
We've reached this point through a variety of reasons, with the two that standout most being Liverpool's piss-poor transfer dealings over the last few years – based as it largely has been on getting 'maximum value' rather than getting in properly good, fully-formed players – and the obsession across football in general with youth.
I remember having a conversation with a mate of mine, Marcel, about 12 years ago, when we were both still into Football Manager. I asked him how his season with whoever he was in charge of the time was going and he replied it was going great on the basis he had got the average age of the team down. Trophies? Oh sod them, it was all about getting in as many under 22-year-olds as possible. That was the dream, and Marcel was living it.
The cultivation and progression of young talent is of course important, and in particular local young talent. But it should never be the endgame and certainly not become an obsession which obscures or hinders tangible success. That feels the case at Liverpool right now, and, for instance, one has to ask if there was really any need to sign Marko Grujic? Does a raw, developing squad need another raw, developing player? And what type of message does his acquisition send out to Cameron Brannagan, a fellow 19-year-old midfielder who has come through the Academy system and impressed in the recent FA Cup tie at Exeter?
There will be those who insist promise over age is the way to go and that Liverpool's current batch have what it takes to grow together and become title winners down the line, but then again Katie Hopkins could stop being a vile-mouthed cartoon twat. In other words, there is simply so long the likes of Philippe Coutinho, Emre Can and Jordon Ibe will wait to win a title at Anfield if there is a more realistic chance of doing so elsewhere. It's called Sterling's Law.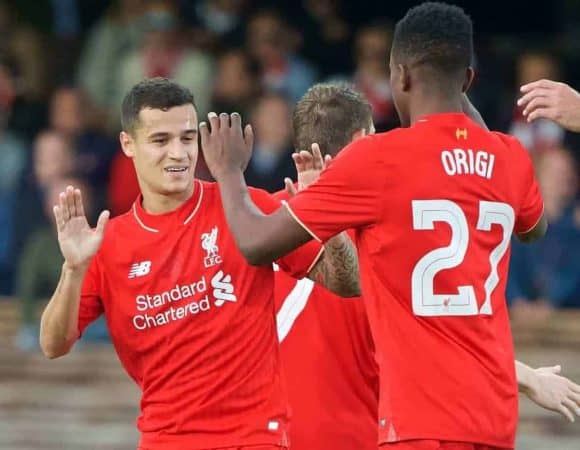 So Liverpool need to have an eye on the short and long term, targeting players who can boost the squad's capabilities of winning trophies right now through their experience, inspirational qualities and, of course, quality. And as Liverpool supporters we should know better than most that bringing in an old'un can have a hugely positive effect on a squad rich in talent but less so in wisdom. After all, it's not so long ago that the club signed a 35-year-old who went from raising eyebrows to raising three trophies in the space of a single season.
Pound-for-pound, Gary McAllister is one of Liverpool's greatest modern-day captures, and not just because of the direct role he played in helping the club win the treble. Alongside the penalties, free-kicks and precise corners (oh, how I miss those corners), he was also, to use a cliché, a 'positive influence in the dressing room', and for no one more so than Steven Gerrard, as the man who went onto become captain fantastic made clear in his 2006 autobiography:
"On away trips, I timed my run to the bus so I could sit next to McAllister, absorbing advice. Every journey was like a lesson, with me as the awestruck pupil. Gary Mac definitely helped me, particularly with my passing. He was such a clever man in possession himself, and his opinion was valued by everyone. Macca was one of those players who could stop a session and suggest something and everyone listened, even the coaches. Just watching Gary in training improved me. He was a master-class on legs."
There are players who could have a Gary Mac effect on the current squad, such as Tiago, a key member of Atletico Madrid's 2013/14 title-winning squad and whose contract with the La Liga club expires in the summer. He's currently out with a broken leg, which, to put it mildly, is a setback, but should the 34-year-old former Chelsea midfielder recover and be up for a return to the Premier League then he would be worthy of consideration by Jurgen Klopp and Liverpool's transfer committee.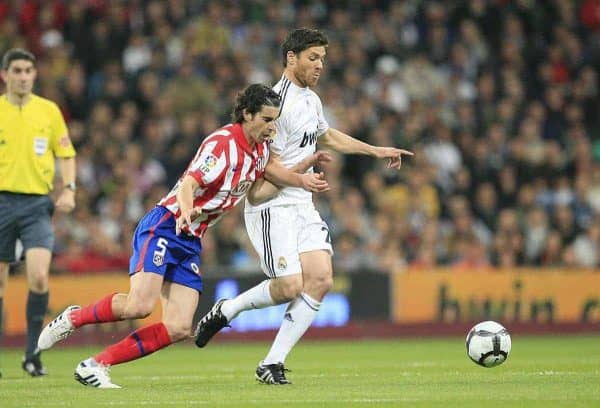 As would Arjen Robben, whose importance has dwindled at Bayern Munich since the emergence of Douglas Costa but whose top-level experience and talent is not really up for debate. For sure, the 31-year-old would boost Liverpool's lack of pace and decision making in the final third. And what about Xabi Alonso? Like Robben, his contract at Bayern ends in 2017 but aged 34 and with a sense of unfinished business surrounding his departure from Liverpool in 2009, the Spaniard with stardust in his boots would possibly be up for an Anfield swansong.
Then there is Gerrard himself, who if the whisper-mill is to be believed hates life in the MLS and would relish a return Liverpool. Personally I would be against him coming back. That chapter, so epic and emotional, is closed and we as a club need to move on.
An obvious argument against bringing in older, slower legs is that they simply would not be able to operate in a Klopp team, that the demands the German puts on his players is too much for someone without the necessary energy requirements.
For sure Klopp is working the team, as can be seen by stats put together by Anfield Index that show Liverpool are 35% up on pressing actions and 32% on sprint distances since Der Trainer arrived at the club in October and that there will be more demanded if the effort Borussia Dortmund put in under him is anything to go by.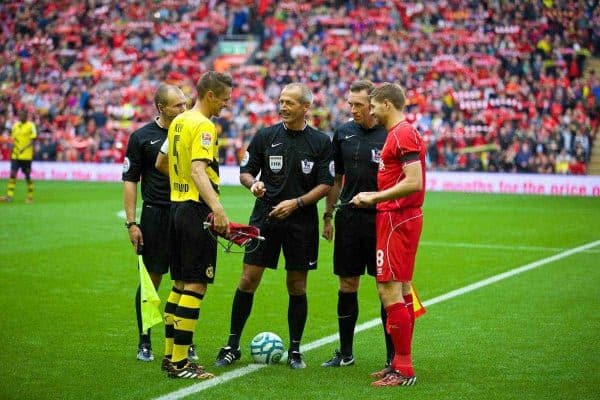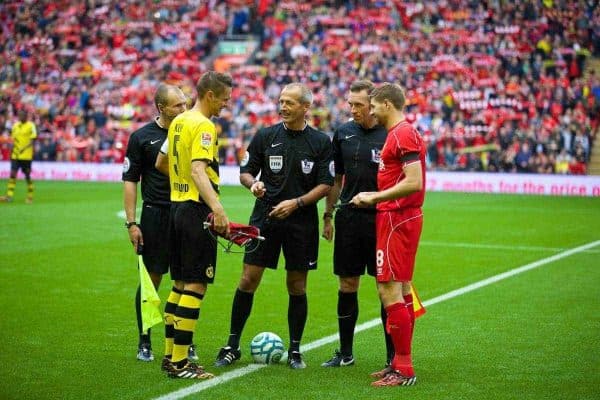 But it should also be remembered that in Klopp's peak-Dortmund sides, a space was found for Sebastian Kehl. In the 2011/12 season, when the club won the Bundesliga title for a second successive time, the holding midfielder made 27 appearances at the age of 32, with his influence, like that of McAllister at Liverpool in 2000/01, important on and off the pitch.
As the German football writer Stefan Bienkowski puts it: "What Kehl offered was a leadership quality that the team lacked. He was great in the big games and helped Dortmund get over the mental block of thinking they'd never be better than Bayern."
Bringing in a player over 30 comes with no guarantees, and it's certainly no panacea for Liverpool's problems in both boxes. Signing someone in that age bracket would also mean paying the type of wages which Fenway Sports Group, for all their faults, have admirably strove to wipe off the books.
But it has become clear this season that this young squad needs an injection of experience and proven quality – a player who can bolster their in-game management, big-game knowhow and make them better in the short and long term. To put it another way, they need a dad who's been there, done that and fitted the fridge.
Sachin Nakrani is a writer and editor for Guardian Sport, and creator of We're Everywhere Us book.
Q&A: Sachin talks Klopp, Barnes, working in the media and supporting LFC