An early penalty from James Milner secured Liverpool passage to the last 16 of the Europa League with a 1-0 win over Augsburg.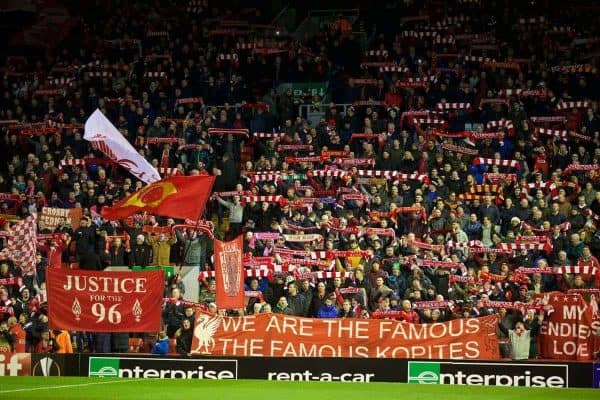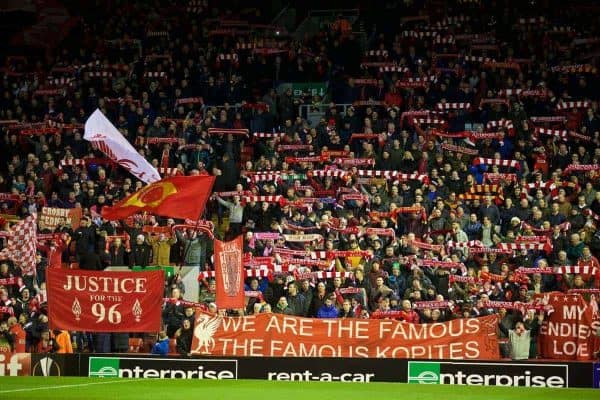 Milner sent the ball past Augsburg goalkeeper Marwin Hitz in the first five minutes to seal the Reds's latest Europa League victory, but it wasn't quite plain sailing for Jurgen Klopp's side.
After a dominant start from a Liverpool attack featuring Philippe Coutinho, Roberto Firmino and Daniel Sturridge, Augsburg grew into the contest.
It went down to the wire, with Augsburg manager Markus Weinziel sending on a number of attackers in the closing stages, including star striker Raul Bobadilla—but, fortunately, to no avail.
Here's how Liverpool supporters saw Thursday night's 1-0 win over Augsburg.
Many focussed on the positive performances of Coutinho, Firmino and Sturridge in attack…
Didn't directly yield a goal, but the Coutinho-Firmino-Sturridge trifecta showed glimpses of an emerging synergy

— John O'Sullivan (@NotoriousJOS) February 25, 2016
First half we saw how good Firmino, Coutinho and Sturridge can be. We didn't finish off the chances but the football was brilliant at times.

— Joe Musker (@JosephMusker) February 25, 2016
"Lot of nice moments, plenty of good opportunities, and a glimpse of what could be if Sturridge, Coutinho, and Firmino can stay fit and on the pitch together."
– ubermick on the forums.
Get in. Job done. Attacking trio were electric at times and surely will only get better the more time they have together.

— Floyd Nundy (@TheFNundy) February 25, 2016
While others bemoaned the lack of a clinical edge in Liverpool's forward play…
Shoulda been done and dusted earlier in the game!Thankfully seen it through nervously!to get further we need to be far more clinical.Ynwa

— John Aldridge (@Realaldo474) February 25, 2016
Job done, but that was poor. So many chances to score a second goal. #LFC

— Sai (@TheEngancheRole) February 25, 2016
Two leg stats, LFC v Augsburg:
Goals: 1-0
Shots on target: 12-5
Shots in the box: 24-7
Should've battered them… But good job we had a pen.

— Andrew Beasley (@BassTunedToRed) February 25, 2016
"Well, we have seen some great attacking play, but finishing wasn't quite as good…
It's just a shame that after a game like this, in the end, the penalty is what made the difference, should've scored 2 or 3 goals at least."
– johnny-mne on the forums.
https://twitter.com/brianredmond5/status/702949303275429888
Including Klopp himself…
Klopp saying what we're all thinking when asked about Liverpool's lack of goals, hopes his side are "saving them for the final." #LFC

— Jack Lusby (@jacklusby_) February 25, 2016
Many showed their respect for a strong Augsburg following, who stayed at Anfield long beyond the final whistle…
Even in defeat @FCAugsburg are a credit to themselves and the club pic.twitter.com/2tehOOW7sC

— Carl Markham (@carlmarkham) February 25, 2016
Augsburg in many ways the winners as well. Gracious in defeat. Their presence has been felt. For a club of their expectations. Wow. #LFCFCA

— James Thorogood ???? (@JMThorogood) February 25, 2016
Have so much respect for Augsburg and their fans! So full of class! Wish you nothing but the best for the future @FCA_World! ??

— JH14 – 6 Times (@hendersonfan14) February 25, 2016
Augsburg is a quality club. Been excellent since the day we got them in the draw.

— Viktor Fagerström (@ViktorFagerLFC) February 25, 2016

https://twitter.com/firminyoo/status/702948541249916928

Augsburg fans after the game #Class! Still bouncing ?? pic.twitter.com/r2aH2Uma6E

— Paul Siner (@iceman23siner) February 25, 2016

https://twitter.com/manusiamonster/status/702948492382089216
Crucially, however, most supporters were simply relieved to make it through, with eyes now turning to Sunday's League Cup final…
YES! All over, #LFC are into THE LAST SIXTEEN. 1-0.

Phew!

— Jim Boardman (@JimBoardman) February 25, 2016
Bang average tonight but job done. Onto Wembley ..

— Aaron Cutler (@aaron_cutler) February 25, 2016
"We're through, that's what matters. Hopefully we play better on Sunday."
– shankly96 on the forums.
Massive relief getting through. Not amazing play but we still won. Now we take home the cup Sunday and that'll be it.#LFC

— Dejan Lovren (@JTurnerL4) February 25, 2016
And breathe….

— Kauser Soze (@NinaKauser) February 25, 2016
Liverpool take on Manchester City at Wembley Stadium on Sunday afternoon, looking to seal the first piece of silverware of Klopp's reign on Merseyside.
Liverpool 1-0 Ausgburg

Report: Milner penalty sends Reds through to last 16
Reactions: "Job done, on to Wembley…"
Ratings: Coutinho takes top marks
Klopp: "Absolutely deserved"
Presser: Watch in full here