Liverpool have gone five hours without a goal and this drought with the striker situation leaves optimism waning, writes Andrew Ronan.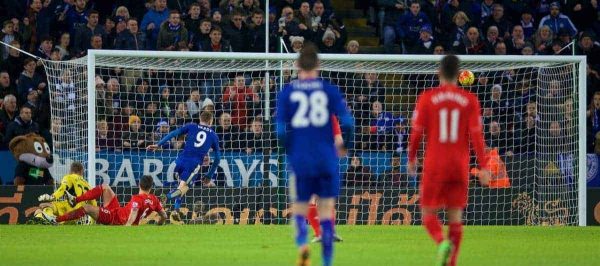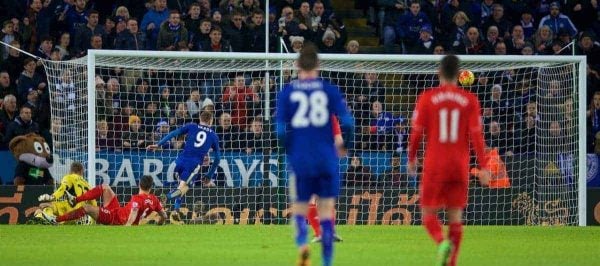 Aside from being the title of a cult 90s flick starring Bill Murray, Groundhog Day is actually celebrated on February 2nd in places as far flung as Pennsylvania and Serbia. It's become a less celebrated event, however, in the Anfield area.
On Tuesday, Liverpool's own Bill Murray – Jurgen Klopp – took his Groundhog Day cast to Leicester where Jamie Vardy highlighted the difference a prolific striker can make.
Vardy's two instinctive finishes were another reminder to Klopp that, without a proper goalscorer, he's doomed to go through more games with a group of players who couldn't hit a cow's arse with a banjo.
For all their possession, huffing and puffing, and occasional neat play, Liverpool never truly looked like scoring at the King Power Stadium. It's now three games since the goal binge against Norwich that Liverpool have failed to score in.
Even the news that Daniel Sturridge has finally taken part in a full training session at Melwood this week is widely being treated with a mere shrug of the shoulders, such is Sturridge's injury history.
Klopp sent Sturridge on a 'mini pre-season' a few weeks back – presumably to build up his strength – but he knows, of course, that a few personal training sessions doesn't guarantee that Sturridge will come back lean, mean and ready to battle. He is presiding over a player with immense talent who, unfortunately, has an equally as large mental barrier which is convincing him he's made of glass.
Klopp must curse his luck that Christian Benteke is the alternative. The big Belgian has done a proper Benjamin Button job from when he joined Aston Villa up until now. His one goal in every two games ratio at Villa has become one in four at Liverpool, and he looks like he has forgotten how to do basic things like move into space, control the ball, and play a simple five yard pass.
With Danny Ings sidelined for the rest of the season, it looks like it's up to Divock Origi to put the ball in the net when he returns from injury in the next few weeks. With all due respect to Origi – even though he was beginning to hit form before he got injured in December – it's a big ask for him to shoulder the burden.
Klopp has curiously persisted with playing Roberto Firmino at the head of his attack since Origi got injured. While Firmino is capable of moments of brilliance, he is equally capable of being the most frustrating footballer you're bound to see. His constant inclusion at the head of a front three says a lot about Klopp's faith in the so called kids.
In the three cup games that Klopp has started the kids they have performed admirably. Sheyi Ojo made a solid cameo appearance against Exeter in the FA Cup then scored against them in the replay. Jerome Sinclair scored a poachers goal in the first game against Exeter. Why does Sinclair not deserve a start against better opposition?
Although Ojo is naturally an attacking midfielder, does his pace and trickery not deserve to be showcased at the front of that attacking three?
Like Origi, Ojo and Sinclair are, of course, very young and inexperienced, but is it not better to have three hungry attack minded players sharing the burden as opposed to one?
Klopp will more than likely stick to playing the kids against lower level opposition in the cups, which is unfortunate because they will get the fans more excited than Benteke would if they were involved in the big games.
Liverpool's striker problem didn't start the day Luis Suarez left Anfield, but the day Liverpool didn't bring someone in who could go some way towards equalling the Uruguayans goal ratio.
After yet another wasted transfer window, it doesn't get any easier to understand why there's no one at Anfield who can stay fit and put the ball in the net.
With Sturridge being an injury prone liability, Benteke a walking liability, and Klopp's strange reluctance to throw a younger attacking player into the mix, it's hard to see where the goals will come from.
There is still some hope of glory in the form of the three cup competitions, however with Groundhog Day in full swing at Anfield it's hard to get excited about anything.
Video: Jurgen Klopp bemoans Liverpool's decision making vs. Leicester