Jurgen Klopp will welcome an old adversary to the Premier League next season, with Pep Guardiola named as the next Manchester City manager.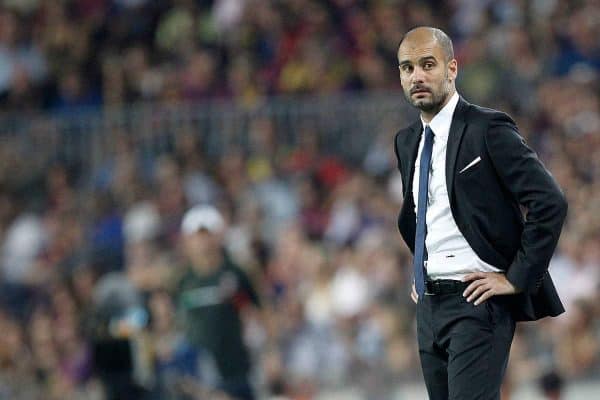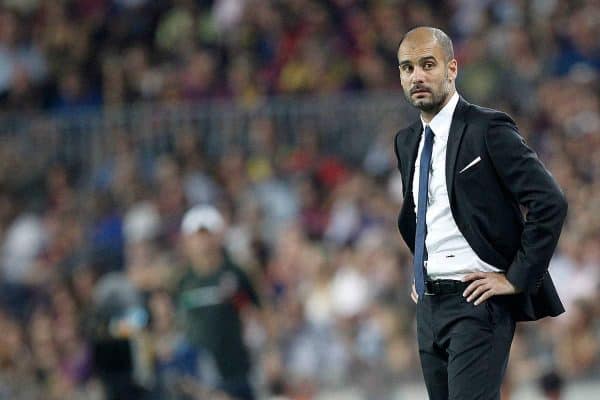 City's current incumbent, Manuel Pellegrini, announced the club's decision to change manager during a press conference on Monday afternoon, with the Chilean to leave the Etihad Stadium at the end of the season.
Taking his place will be a true managerial behemoth in Guardiola, with the Spaniard coveted by supporters of all of the Premier League's top sides.
Having found success in both La Liga and the Bundesliga with Barcelona and Bayern Munich, Guardiola faces a big challenge in establishing City as the dominant force in the English top flight.
A familiar foe will be among those standing in his way, with Klopp having lined up against Guardiola eight times during his time as Borussia Dortmund manager.
But how did they play out, and what could it mean for Liverpool next season and beyond?
Dortmund 4-2 Bayern, 27 July, 2013 – DFL-Supercup
Klopp gave Guardiola the perfect welcome to German football as Dortmund took on Bayern in the 2013 DFL-Supercup—the Bundesliga's equivalent of the Community Shield.
Taking place at Dortmund's Westfalenstadion home, the tie served as the perfect prologue to a closely fought campaign between both sides.
Marco Reus scored first, kicking off a fiercely contested clash that eventually saw Bayern's Arjen Robben equalise after half-time.
An own goal from Daniel van Buyten and an Ilkay Gundogan strike gave Dortmund a comfortable lead, though Robben soon clawed one back, before Reus put the tie to bed with minutes to spare.
Guardiola gave new signing Thiago Alcantara a forceful slap during a second-half team talk, showing his frustration throughout—an early defeat to Klopp did not sit well with the Spaniard.
Dortmund 0-3 Bayern, 23 November, 2013 – Bundesliga
The summer of 2013 saw Klopp lose one of his prized talent to Bayern, with the German later describing Mario Gotze's £32 million move to the Allianz Arena as being "like a heart attack."
Gotze soon settled in under Guardiola, and made his mark with the opening goal in Bayern 3-0 win over Dortmund in the first Bundesliga clash between Klopp and the former Barcelona manager.
Further goals from Robben and Thomas Muller sealed a comfortable win for Bayern, their first in seven meetings with Klopp's Dortmund.
Guardiola showed his respect for Klopp in his tactical outlook to this victory, ditching his short-passing philosophy in favour of a direct approach, successfully bypassing Dortmund's press.
Bayern 0-3 Dortmund, 12 April, 2014 – Bundesliga
Klopp soon had revenge however, as BVB travelled to Munich to take on a Bayern side waltzing to the Bundesliga title.
Goals from former Liverpool target Henrikh Mkhitaryan, Reus and young winger Jonas Hofmann secured a priceless victory for Klopp's side, with Bayern thoroughly disappointing throughout; it was the first time they had recorded successive league defeats since November 2011.
This marked the first time Dortmund had lined up against Bayern since Robert Lewandowski announced his intention to join Guardiola's side on the expiry of his contract that summer.
The Pole began the game on the substitutes' bench, with Mkhitaryan hinting at a future without Dortmund's beloved No. 9.
Dortmund 0-2 Bayern, 17 May, 2014 – DFB-Pokal Final
Guardiola quickly countered to make it two-for-two between the two Bundesliga giants for 2013/14, adding towards a remarkable quadruple season with victory in the final of the DFB-Pokal.
Dortmund held Bayern until the latter stages of extra time, before Robben and Muller struck in quick succession to spare the tie going to penalties.
This consigned Klopp's side to a one-trophy campaign, with the German left disappointed as Bayern return to dominance under their new manager.
Dortmund 2-0 Bayern, 13 August, 2014 – DFL-Supercup
Another season, another DFL-Supercup for Dortmund, continuing Klopp's cup success at the Westfalenstadion.
In a repeat of 2013/14's clash, Klopp took on a more experienced Guardiola, who named Lewandowski in his starting lineup for the first time against his former club.
Fielding Pierre-Emerick Aubameyang as his centre-forward following Lewandowski's departure, Klopp was quickly rewarded, with the Gabonese scoring Dortmund's second after Mkhitaryan had put them ahead on 23 minutes.
A fine replacement, Aubameyang (16) came close to equalling Lewandowski's goal tally (17) in the Bundesliga in 2014/15, though Guardiola will have been happy with his team's overall success.
Bayern 2-1 Dortmund, 1 November, 2014 – Bundesliga
Guardiola had the first laugh in the league in 2014/15, delivering a hefty blow to Klopp's injury-hit side with a 2-1 win at the Allianz Arena in November.
Though Reus opened the scoring, goals from Lewandowski and Robben secured another victory for the Bavarian giants.
Having failed to replace Lewandowski, Dortmund suffered a similar collapse to that of a post-Suarez Liverpool under Brendan Rodgers in the same season, with the signings of Adrian Ramos and Ciro Immobile failing to boost Klopp's attack.
This defeat magnified the financial gulf between Klopp's Dortmund and Guardiola's Bayern—something that will be apparent once more in the Premier League.
Dortmund 0-1 Bayern, 4 April, 2015 – Bundesliga
Though Klopp's side enjoyed something of a resurgence in the second half of 2014/15, Guardiola continued to pile on the pressure in his last meeting with the soon-to-be Liverpool manager in the Bundesliga.
A solitary strike from Lewandowski was enough to earn Bayern the three points, helping them on their way to the title, while Dortmund finished the season in seventh.
This defeat may have been the straw that broke the camel's back, with Klopp announcing his resignation 11 days later.
Bayern 1-1 Dortmund (0-2 on pens), 28 April, 2015 – DFB-Pokal Semi-Final
Klopp did enjoy his last meeting with Guardiola however, with Sebastian Kehl's spot-kick giving Dortmund a 2-0 penalty-shootout win over Bayern in the semi-finals of the 2014/15 DFB-Pokal.
Though Dortmund eventually lost to Wolfsburg in the final, Klopp continued to highlight his prowess against Guardiola.
Soon, he will be pitting his tactical nous against the Spaniard once again, and having described Klopp and Liverpool as a "good fit" before the 48-year-old's arrival on Merseyside, Guardiola will no doubt anticipate some more close-run clashes with the charismatic Klopp.