Liverpool face Man City in the League Cup Final on Sunday, and we take a look at how the Reds have fared in their 11 previous finals in the competition.

The Reds have a glorious opportunity to win their first trophy for four years this weekend, with City standing between Jurgen Klopp's side and victory.
It is sure to be a memorable occasion, and should Liverpool win, it could signal a turning point for the club, in terms of belief and success moving forward.
Sunday will be the 12th time that the Reds have appeared in the League Cup Final, and their winning record in them has been very impressive down the years.
Here is a look at how Liverpool have fared in their 11 finals to date.
Following a 0-0 draw in the initial final at Wembley, a replay was called for to separate Bob Paisley's Reds and Brian Clough's formidable Nottingham Forest side.
John Robertson's 54th-minute penalty proved to be the winner, but controversy surrounded the awarding of the spot-kick.
Phil Thompson clearly fouled John O'Hare outside the penalty area, but referee Pat Partridge deemed it to be inside the box.
Liverpool had been defeated in their first League Cup Final, but it wouldn't take long before glory in the competition was theirs.
LFC XI (in the replay): Clemence, Neal, Smith, Thompson, Kennedy, Callaghan, Hughes, McDermott, Case, Heighway, Dalglish.
1981 – Liverpool 2-1 West Ham (replay)
The Reds and the Hammers had shared a 1-1 draw at Wembley, thanks to respective goals from Alan Kennedy and Ray Stewart, but like three years earlier, a replay was needed.
This time Paisley's men prevailed.
Paul Goddard gave West Ham an early lead, but Kenny Dalglish levelled the scores and a rare Alan Hansen goal earned his side yet another piece of silverware.
LFC XI (in the replay): Clemence, Neal, Thompson, Hansen, A. Kennedy, Case, Lee, McDermott, R. Kennedy, Dalglish, Rush.
1982 – Liverpool 3-1 Tottenham (aet)
For so long, in this final between Liverpool and Tottenham 24 years ago, it look as though Steve Archibald's early goal was going to win it for the north Londoners.
Ronnie Whelan equalised late in the day, taking the final into extra-time, and then got his second of the game after 111 minutes.
Ian Rush then put the icing on the cake, and the Merseysiders had won back-to-back League Cups.
LFC XI: Grobbelaar, Neal, Lawrenson, Thompson, Kennedy, Whelan, Lee, Souness, McDermott, Dalglish, Rush.
1983 – Liverpool 2-1 Man United (aet)
Cup finals between bitter rivals Liverpool and Man United don't come around too often, but when they do, they are always special occasions.
This 1983 showdown between the pair was as tense as ever, and Norman Whiteside's opener after 12 minutes put United in command.
Kennedy only seemed capable of scoring important goals, and he equalised with 15 minutes left. Extra-time was needed once again.
Whelan proved to be the hero, as was the case a year earlier, with the midfielder curling home a memorable effort to make it three League Cups on the bounce for Liverpool.
LFC XI: Grobbelaar, Neal, Lawrenson, Hansen, Kennedy, Whelan, Lee, Souness, Johnston, Dalglish, Rush.
1984 – Liverpool 1-0 Everton (replay)
A fairly forgettable 0-0 draw at Wembley between the two Merseyside rivals meant that a replay at Maine Road was called for.
Once again, it was far from a classic encounter, but a moment of brilliance from Liverpool's talisman at the time made all the difference.
Graeme Souness, one of the world's finest midfielders, fired home emphatically from 25 yards, and incredibly the Reds had won a fourth League Cup in succession. It was Joe Fagan's first major trophy as Liverpool manager.
LFC XI (in the replay): Grobbelaar, Neal, Lawrenson, Hansen, Kennedy, Whelan, Lee, Souness, Johnston, Dalglish, Rush.
1987 – Arsenal 2-1 Liverpool
In what was a rare League Cup Final defeat for Liverpool, Arsenal overturned a 1-0 deficit to stun Dalglish's men 29 years ago.
Rush gave his team the lead midway through the first-half, and considering the Reds had never lost a game in which the Welshman had scored, they had a reason to feel pretty positive about things.
Charlie Nicholas, now known for his Gillette Soccer Saturday antics, scored twice to turn the game on its head, however, and that was that.
LFC XI: Grobbelaar, Venison, Gillespie, Hansen, Spackman, Whelan, Molby, McMahon, Johnston, Walsh, Rush.
1995 – Liverpool 2-1 Bolton Wanderers
After eight long years without being in a League Cup Final, a Roy Evans-managed Liverpool side faced Bolton Wanderers at Wembley.
The day was dominated by the brilliance of Steve McManaman, who has become underrated since leaving for Real Madrid in 1999.
The dazzling winger scored two supreme solo efforts to put the Reds in complete control, and although Alan Thompson pulled a goal back, Liverpool held on.
League Cup number five was won.
LFC XI:James, Jones, Babb, Scales, Ruddock, Bjornebye, Barnes, Redknapp, McManaman, Rush, Fowler.
2001 – Liverpool 1-1 Birmingham City (Liverpool won 5-4 on penalties)
Nobody would have predicted it at the time, but this victory over Birmingham City was to be the first of three memorable cup triumphs for Liverpool in 2000/01.
Robbie Fowler, past his best but still an idol at Anfield, scored a stunning strike to give the Reds the lead at Cardiff's Millennium Stadium, and it looked set to be the only goal of the game.
In stoppage time, however, Stephane Henchoz was adjudged to have fouled Martin O'Connor inside the area, and Darren Purse scored from the spot.
The match went to penalties, with Sander Westerveld's save from Andy Johnson sealing glory for Gerard Houllier's side.
LFC XI: Westerveld, Babbel, Henchoz, Hyypia, Carragher, Hamann, Biscan, Gerrard, Smicer, Heskey, Fowler.
2003 – Liverpool 2-0 Man United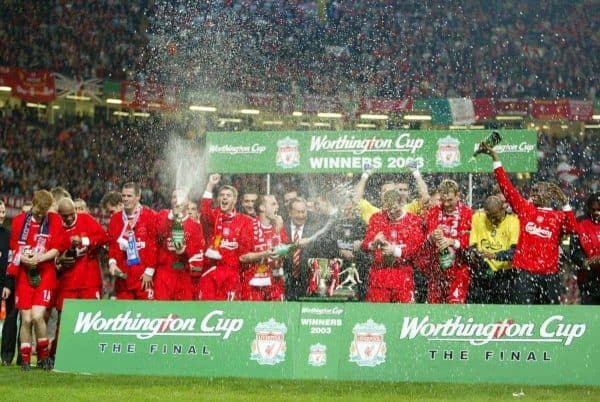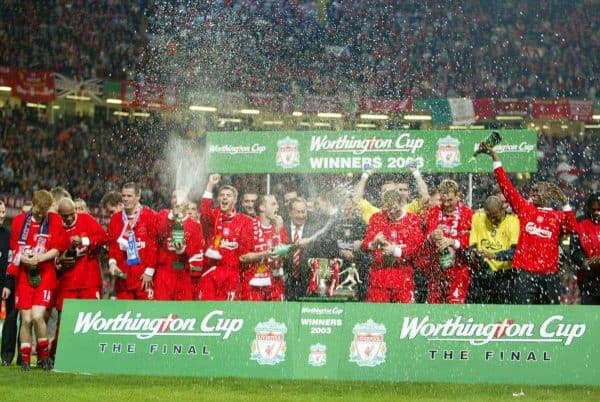 Liverpool have fared well against United in League Cup Finals, and despite riding their luck back in 2003, they got the better of their great rivals on the day.
Steven Gerrard's long-range effort deflected off David Beckham and into the net shortly before half-time, sending half of the Millennium Stadium into raptures. From that point on, Houllier's men defended for their lives.
Jerzy Dudek was in inspired form in the Liverpool goal, continually denying Ruud van Nistelrooy, and Sir Alex Ferguson's all-conquering team simply could not find an equaliser.
Michael Owen raced clear to seal the win late on, and the Reds celebrated jubilantly.
LFC XI: Dudek, Carragher, Henchoz, Hyypia, Riise, Diouf, Hamann, Gerrard, Murphy, Heskey, Owen.
2005 – Chelsea 3-2 Liverpool (aet)
The rivalry between Rafa Benitez's Liverpool and Jose Mourinho's Chelsea started here, in a thrilling but ultimately depressing final back in 2005.
John Arne Riise's brilliant volley in the first minute got the Reds off to the perfect start, and they led as the game drifted towards its latter stages.
Gerrard headed into his own net to take the match into extra-time, though, and goals from Didier Drogba and Mateja Kezman all but sealed victory for Chelsea. Antonio Nunez did pull a late goal back, but it was to no avail.
Liverpool got their revenge in the Champions League semi-final a few months later.
LFC XI: Dudek, Finnan, Carragher, Hyypia, Traore, Garcia, Hamann, Gerrard, Riise, Kewell, Morientes.
2012 – Liverpool 2-2 Cardiff City (Liverpool won 3-2 on penalties)
Liverpool's most recent showing in the final was also the last time they won a trophy.
Dalglish's men were strong favourites against a Cardiff City outfit playing Championship football, but the Welsh side gave a superb account of themselves.
Joe Mason stunned Liverpool to give Cardiff an early lead, but Martin Skrtel's close-range effort managed to force extra-time.
Dirk Kuyt, the ultimate big-game player, looked to have scored the winner, only for a last-gasp Ben Turner goal to take the final to penalties.
Anthony Gerrard, Steven's cousin, missed the decisive spot-kick, and Liverpool had won a first piece of silverware in six years.
LFC XI: Reina, Johnson, Skrtel, Agger, Enrique, Gerrard, Adam, Henderson, Downing, Suarez, Carroll.
[table id=139 /]