Another strong performance from Roberto Firmino up front in Liverpool's 2-2 draw with Sunderland pointed to a bright future for the Brazilian.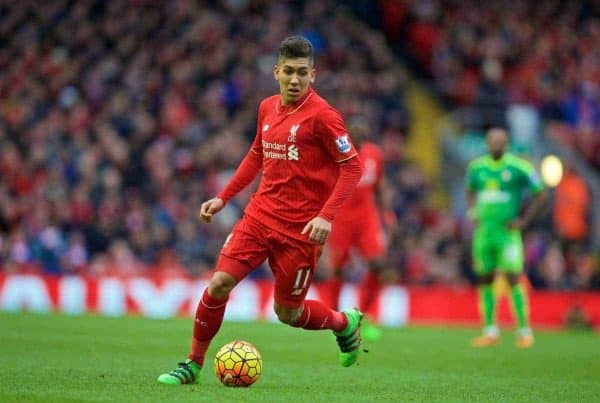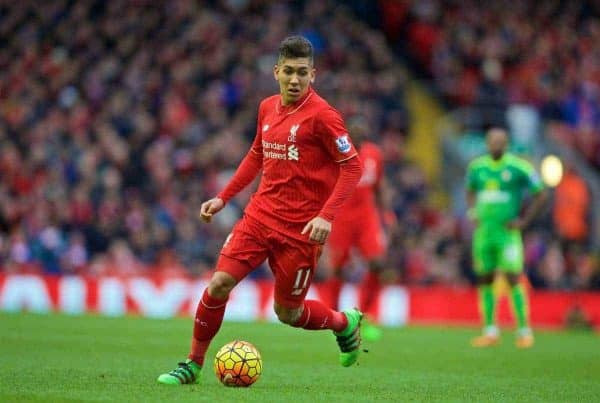 From the absence of Jurgen Klopp through illness, to the weak injury-sapped starting lineup, to the black flags scattered around the Kop, to the supporters' 77th-minute protest at increased ticket prices, Saturday's Premier League clash with Sunderland was entrenched in anguish.
Letting a two-goal lead slip, courtesy of some poor organisation from Simon Mignolet and some limp defensive work from Mamadou Sakho in the closing stages at Anfield, Liverpool were once again dismal.
Watching on from his hospital bed, after successful surgery to remove his appendix, Klopp will have been as frustrated as his backroom staff, toiling to no avail on the touchline.
Perhaps most disappointed in this defeat, however, will be Firmino, who saw another scintillating individual performance undermined by the frailty of his peers.
Though headlines have rightly focussed on an overwhelming Anfield walkout, Firmino's display deserves to be acknowledged.
The Brazilian stands as the shining light in what has been a woeful start to the year for Liverpool.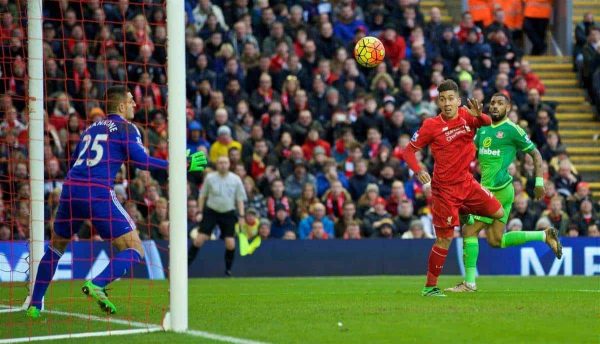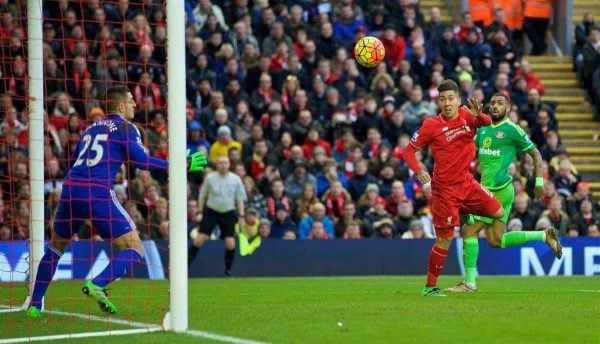 Firmino was in inspired form against Sunderland.
Lining up in a lone, central role in a 4-3-3 formation, the 24-year-old looked to plough a furrow between the strong defensive pairing of John O'Shea and Lamine Kone.
Supported by a dutiful Adam Lallana, who regularly drifted in from his right-sided role, Firmino troubled the Sunderland back line throughout.
Though it took the Reds until the second half to find the back of the net, Firmino looked most likely to beat goalkeeper Vito Mannone throughout the opening 45 minutes, firing a pair of long-range strikes just over the bar—something he repeated before his goal after the break.
In the second half, Firmino kicked into action, with Liverpool finding a fluency in their attacking play.
With the ball falling to James Milner on the left flank, the England international spotted Firmino peeling off his marker near the six-yard box and sent in an inch-perfect delivery.
Firmino nodded home, adding another goal to an ever-increasing tally when deployed as a No. 9.
It was his involvement in Liverpool's second, however, that was most impressive. As Black Cats right-back Billy Jones dawdled in possession near the halfway line, Firmino pushed up, nipped the ball from the 28-year-old and surged into the penalty area.
Squaring for Lallana to tap in, Firmino's performance should have secured Liverpool the win, and though it wasn't to be, the Brazilian should be credited for a brilliant all-round performance.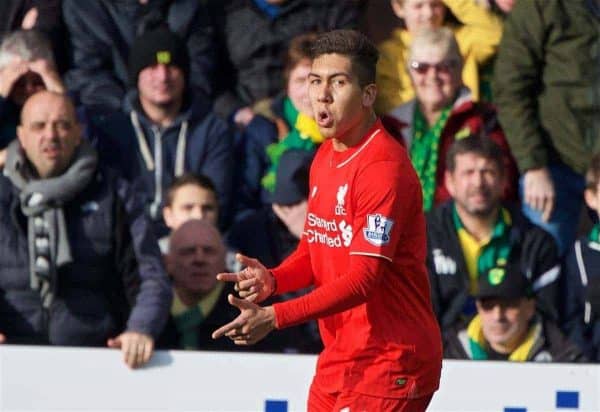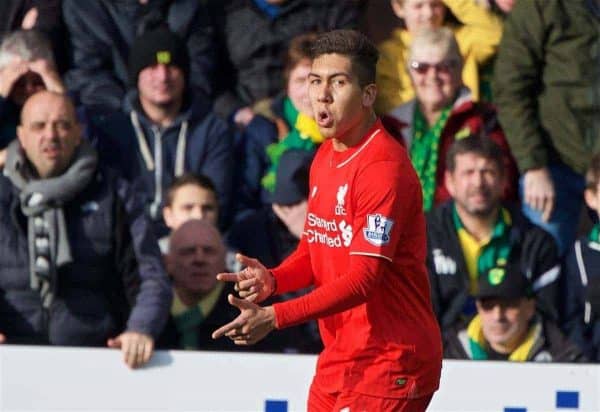 After making the move from Hoffenheim in June, Firmino took a while to adapt to life in the Premier League.
Arriving in a new league, without a winter break for the first time in his career, and on the back of a long summer performing for Brazil in the Copa America, this was always going to be the case for Firmino.
Brendan Rodgers' misuse of his talent will not have aided this transition.
But now joined by another former Bundesliga fixture in Jurgen Klopp, and settling into a new role as Liverpool's No. 9 following injury to Danny Ings, Divock Origi and Daniel Sturridge, Firmino is firing.
In his 10 appearances as a centre-forward for Liverpool so far, Firmino has scored six goals and assisted on a further five, while he has five goals and two assists in his last five games in the league.
Against Sunderland, Firmino served as a true leader in the attacking line, dictating play and spearheading moves with commitment and quality, with shades of former Reds striker Luis Suarez.
Seven months after making the move to Merseyside, Firmino is finally highlighting why Liverpool were willing to pay £29 million for him last summer, and encouragingly, he is only getting started.
This is no purple patch, and at 24 there is plenty of scope for him to improve.

Klopp named two centre-forwards on his substitutes' bench for Saturday, with dugout mainstay Christian Benteke joined by Liverpool's No. 15, Sturridge, who made a surprise return from injury.
Speaking ahead of this Anfield clash, Klopp suggested that Sturridge could come into contention for Tuesday night's FA Cup fourth-round replay against West Ham United, "if nothing happens in the next session."
With Klopp taking a patient approach to Sturridge's recovery so far, it is unlikely that he was included as a desperate measure—if he was on the bench, Sturridge will have been ready to play.
Though injuries restricted stand-in manager Zeljko Buvac's influence, that Firmino's performance in attack was so strong is likely why the Bosnian-Serb refrained from introducing either Benteke or Sturridge on Saturday.
But on his own return to action, Klopp will no doubt be looking to utilise the pair in tandem.
The prospect of a fully fit Sturridge, an in-form Firmino and another returning absentee, Philippe Coutinho, operating in a fluid forward line is a mouthwatering one.
Though he has invariably shone in his role as Klopp's centre-forward in 2016, as his isolation in Tuesday night's 2-0 defeat to Leicester City proved, he needs consistent support if he is to be effective.
Soon he should have this, and Firmino will continue to go from strength to strength as a result.
[interaction id="56a5f5b98b03d1a94795fe38″]