Welcome to a new feature series on This Is Anfield, where we look at one upcoming or current theme surrounding Liverpool and ask the opinions of multiple onlookers as to how the Reds should proceed.

As Jurgen Klopp and his men prepare for a double header, hoping to proceed in the Europa League against Augsburg and then win silverware in the League Cup final against Man City, we've got the viewpoints from four individuals as to where the priorities are and, crucially, which players can help the team be successful over an important few days.
The discussion group will be made up of four parts: the host, a newspaper or online journalist, a Liverpool writer from TIA or another site and a supporter involved in discussion on social media.
Taking part this time are the Liverpool Echo's Neil Jones, TIA local Jack Lusby, podcast enthusiast David Hendrick and host Karl Matchett.
While a rest in the build-up to a big game is a good thing generally, too often we've seen Liverpool start slowly and play poorly after a prolonged break.
It begs the question of what's more important for certain players: to play against Augsburg – risking fitness and freshness for the final but being in more of a rhythm of playing – or staying on the sidelines for the second leg to guarantee fitness for the final on Sunday, but also perhaps being 10 days without having played a match by that point?
Neil: For me, Liverpool still need to give some minutes to the players that have been missing. Sturridge & Coutinho have had what, three hour-long run-outs? Is that enough heading into a Cup final, where the nervous tension adds to the physical strain on a player's muscles?
Add to that the fact that, in real terms, Sturridge and Coutinho (plus Firmino, Can, Milner et al) have barely played together in the past year and a half. They might have a natural understanding, and one that is strong in training, but any chance to boost that has to be taken.
There is close to 72 hours between kick off against Augsburg and kick off against Man City, which should be enough for an effective recovery. The one downside is the looming possibility – probability, for anyone who watched the first leg – of extra time. That will certainly be in Klopp's mind. A 20-minute run out could easily descend into longer.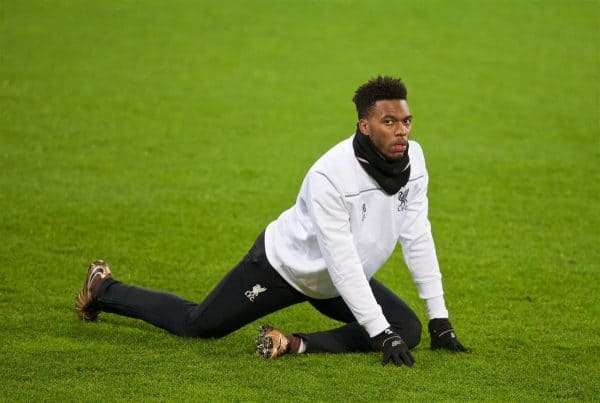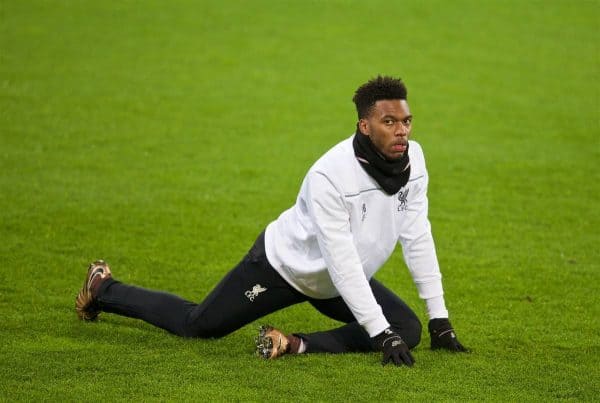 Jack: I'd say that, given the weekend off, the majority of Klopp's first-choice lineup should start on both Thursday and Sunday, with rhythm and momentum more important than the preservation of fitness at this stage—most players should be able to cope with two games in four days, given what is at stake.
Dave: This Liverpool team seems to be a mixed group of players who can be effective even after a spell out, and some who need to play themselves into a groove. I find players like Henderson, Milner and Lallana need to play themselves into form whereas the likes of Sturridge and Can can immediately perform.
With that in mind I think Klopp needs to strike a balance and rest certain players against Augsburg while ensuring that others start so they don't go into the cup final rusty.
Karl: 10 days is too many for a lot of players to simply click into gear at top speed, and we only get one chance with the cup final. Sure, playing the biggest names in both matches means that someone might get injured, but it's only 90 minutes. They spend more time in training, and plenty of Liverpool's injuries have come on the training ground this season.
I'm not one to be bothered about the Europa League, certainly not at this stage, but I do want key individuals in a good rhythm for the final, so play them and sub them if necessary.
Given the 0-0 scoreline after the first leg and the final being only a few days away, just how much of a priority should the second leg vs. Augsburg be for Liverpool?
Is it really realistic to think the Reds can win the entire tournament and, if not, should a much greater emphasis be placed on selecting the team for Thursday based on the cup final XI?
Jack: I think it's important to ask whether Liverpool are more likely to finish in the top four in the league or win the Europa League this season, and while both are a stretch given the quality of the opposition, I'd say focusing on the Europa League makes more sense—particularly as Sunday's final is a one-off for both sides.
Dave: I think Liverpool have an outside chance at winning the Europa League and I think they should go all out for it.
I don't think they need to play their first 11 to beat Augsburg, they should have enough quality to win without, say, Coutinho and Sturridge. Obviously the cup final is a big deal but all winning it guarantees is a place in next year's Europa.
Winning the Europa means Champions League football and regardless of what people say about days out and silverware, being in the Champions League is more important than winning domestic cups in terms of the advancement of the club, the ability to sign top players and the ability to maximise earnings for the club, which you would hope leads to decreased ticket prices in the long run.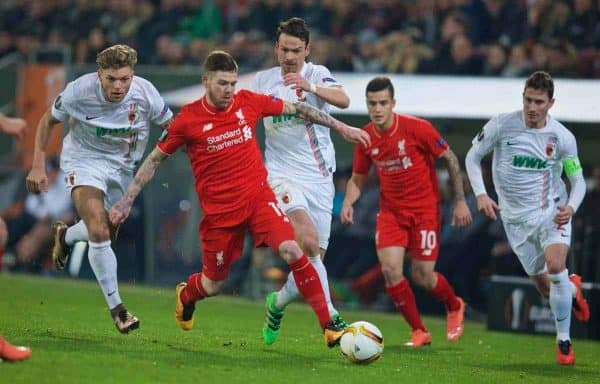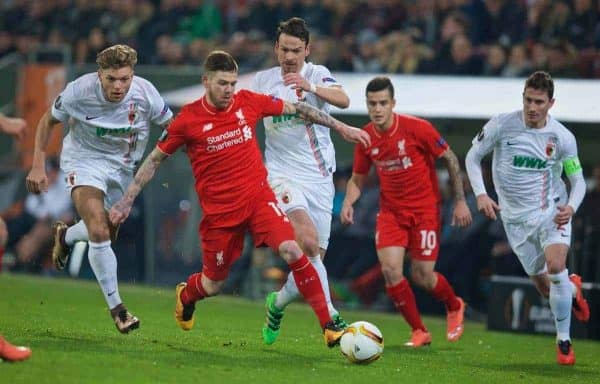 Karl: It's not a priority in my eyes, because winning the Europa League isn't on the cards.
Liverpool are wildly inconsistent and there are far better teams left in the competition, it's just unrealistic to think anything big will happen. That said, it's still a game, and a game the team should expect to win. The XI should be strong, but the subs made should be with the final in mind.
Neil: It's an important game as far as I'm concerned. Not as important as a cup final, but important nonetheless.
I think it's going to take a big effort to win the Europa League this season – I just think Liverpool will run into a better side at some point – but that doesn't mean you shouldn't try! There's a big reward if you are bold enough to go for it and good enough to achieve it, after all.
The team selection on Thursday, I feel, has to make some concessions, but I wouldn't be making seven, eight, nine changes. No way. A good win against Augsburg could be a great fillip heading to Wembley, and not enough players are in good enough form to simply rest on Thursday and then turn it on against City.
The last two games have seen a settled side, with two clean sheets away from home. At face value that's a reasonable return overall, but has anybody not contributed enough or played themselves out of contention for the biggest game(s) of the season in your eyes?
Dave: Milner. Replace him with a quality wide player with pace and purpose, and you'd see a lot more from the Liverpool attack. Milner is an honest pro who works hard but he lacks quality and he lacks purpose. He's proven to be a poor signing and, given the financial investment made in him, poor business.
It's a shame that Ibe has been so poor because he offers more than Milner. I'd still be tempted to play Ibe just for his pace and ability to make something out of nothing. Markovic would be ideal in this team but for reasons known only to one man, he's in Turkey.
Neil: Nobody has played their way out of contention. Realistically, I think 10 of the cup final team (barring late injuries) picks itself. Mignolet, Clyne, Sakho, Moreno, Can, Henderson, Milner, Coutinho, Firmino, Sturridge.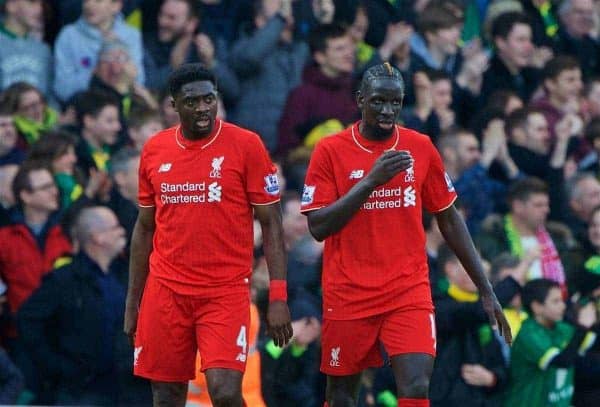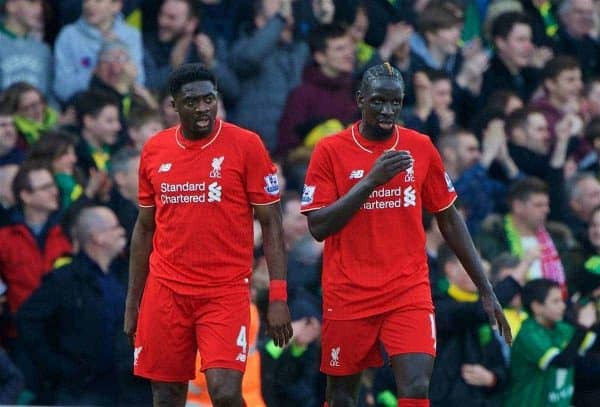 The question, then, is who partners Sakho. It's Kolo Toure for me, even if Dejan Lovren is fit. He gets treated as something approaching a cult figure at times, but he's a better defender than he's given credit for. He's earned his place.
Karl: It's easy to point to Milner because he doesn't offer enough in the final third at times, but he's playing an important tactical role and, unfortunately, there's nobody else who will both do that and provide cutting edge in the final third.
Henderson hasn't been great, but he can be a big presence in big matches, so I wouldn't be altering the midfield much at all. The defence has been good and needs to stay in place.
Jack: I expected a whitewash last time out against Augsburg, but given it was an away clash against an underdog, I'd say this was somewhat naive. I'd take the performance against Villa as the primer for this week's fixtures, and—for me—every player should keep their place in the lineup from that 6-0 win.
The only player I have major reservations over would be Mignolet—but should Danny Ward really be thrown in at the deep end?
Assume for a moment that Herr Klopp is of the opinion that both matches are of equal priority and a strong team will be fielded in each to try and win, possibly with an unchanged lineup. Which currently available XI would you go for?
Karl: Mignolet; Clyne, Toure, Sakho, Moreno; Milner, Henderson, Can, Coutinho; Firmino, Sturridge.
Dave: Mignolet, Clyne, Toure, Sakho, Moreno, Can, Henderson, Ibe, Firmino, Coutinho, Sturridge (coming off on 60 against Augsburg regardless of score).
Jack: Mignolet; Clyne, Toure, Sakho, Moreno; Henderson, Can; Milner, Firmino, Coutinho; Sturridge.
Neil: See above! Mignolet, Clyne, Toure, Sakho, Moreno; Milner, Henderson, Can, Coutinho; Firmino, Sturridge.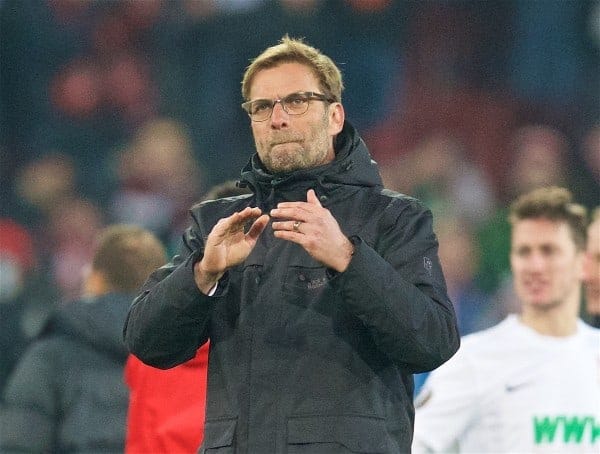 Predict the 90-minute score and scorers vs. Augsburg!
Neil: Liverpool to win 1-0. The goal from Milner.
Jack: A 2-0 win for Liverpool, Sturridge brace.
Dave: 3-1 to Liverpool, Sturridge, Firmino and Henderson.
Karl: 2-0 to Liverpool, Sturridge and Origi netting.
Thanks to Neil, Jack, and Dave for their time and thoughts. Let us know yours in the comments below.