With the impressive rise of Tottenham under Mauricio Pochettino, there are certainly similarities and comparisons to be made with Liverpool's future under Jurgen Klopp.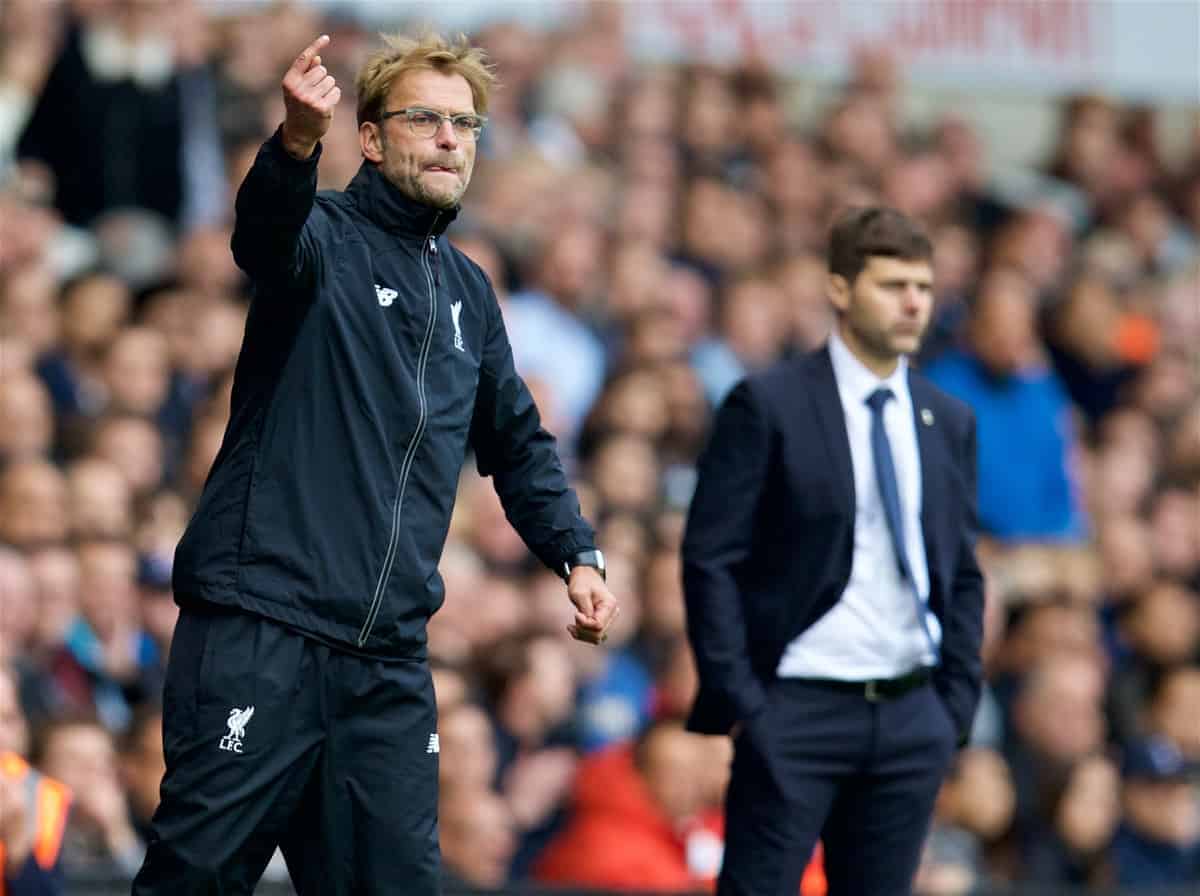 For much of the Premier League era, Spurs have garnered a reputation as top-flight also-rans; producing a valiant effort in the race for the top four, but invariably falling at the last hurdle.
Four months ago, Jamie Carragher told Sky Sports that he believed this was the way Liverpool were heading, saying: "they think they're a big club but the real big clubs are not too worried about them — who they buy, what they're going to do."
Meanwhile, under the enigmatic Pochettino, Spurs are on course to challenge for the Premier League title this season.
Liverpool have changed manager since Carragher's comments, but despite the arrival of Jurgen Klopp the Reds remain in mid-table, with much work to do for the German.
As they plot for success with the right manager on Merseyside, Liverpool would be wise to adopt the Spurs model, as under Pochettino they look primed for glory — for a number of key reasons.
Focus on Defence
Shortly after his arrival as Liverpool manager, Klopp expressed a desire to tighten up a defence that had leaked 10 goals in their first eight league games, contributing to the Reds recording the worst goal difference (-2) of any side in the Premier League's top 12.
"I expect to see that we have worked together, although not too often, and we can be very well organised after this short time," he said.
"You cannot just think about offensive things — up to now we have not scored enough goals but you have to feel stability.
"When you feel this you are free for creativity and that is how football works."
Ironically, Klopp's first game in charge game away to Tottenham in the Premier League, and after going on to explain "nil-nil is an absolutely normal score," that is how it played out at White Hart Lane.
In 17 league games since that stalemate, Liverpool have kept just four clean sheets, and only two teams in the top 12 (Watford, with +1; and Stoke City, with -5) have a worse goal record.
At the top end of the table, Spurs preside over the league's best goal difference, with an impressive +27.
This is largely due to Pochettino's focus on a solid, compact defensive line, typically featuring a strong core of centre-backs Toby Alderweireld and Jan Vertonghen, and defensive midfielder Eric Dier.
With Pochettino's rotated full-backs bombing forward, Dier drops between Alderweireld and Vertonghen to form a three-man unit; the fulcrum of their strong defensive record.
Pochettino — a former centre-back — has recognised the importance of a compact defence and the protection of a diligent defensive midfielder — much like Klopp.
But unlike Klopp, Pochettino has the right personnel at his disposal.
Strength in Depth
Having spent much of his time as Spurs chairman buying low and selling high, Daniel Levy's bubble burst when a major reinvestment of the £85 million received from the sale of Gareth Bale before the 2013/14 campaign saw little in terms of return.
Bale's departure was followed by the arrivals of Paulinho, Nacer Chadli, Christian Eriksen, Roberto Soldado, Etienne Capoue, Vlad Chiriches and Erik Lamela, but once again — despite some flashes of excellence — Spurs failed to make progress, finishing sixth in the league.
But building on those kernels of talent, Levy has now assembled a squad with genuine strength in depth — something that the talented, but flawed, Liverpool squad is ripe for replicating.
Over the course of the 2014/15 campaign, Dier, Ben Davies and Dele Alli were acquired, while last summer saw Alderweireld, Kevin Wimmer, Kieran Trippier and Son Heung-Min arrive.
There were, of course, some major failures, such as the £8 million signing of Federico Fazio in 2014, but the shape of Pochettino's squad for this season indicates progress made by Levy.
This is a squad with no stars, with Harry Kane the most assuming 20-goal-a-season forward in the league, and quality balanced throughout every position.
Pochettino's ability to rotate between his full-backs shows this strength in depth, while the previously stuttering Lamela has now developed into a key player in north London, partly aided by the support of Son, Chaldi and Clinton N'Jie.
Mousa Dembele is another player to have revived his fortunes under Pochettino, with the injection of youth alongside him in Alli giving the Belgian the impetus to improve.
Crucially — centre-forward aside — Pochettino has at least two strong options for every position, and this has proved vital, due to the Argentine's demanding tactical system.
A Strict Philosophy
In the first weeks of Klopp's Liverpool reign, much of the focus on the German's tactical approach was centred on the distance his sides covered on the field.
With gegenpressing becoming a popular word in the Merseyside lexicon, supporters were gearing themselves up to watch the likes of Roberto Firmino and Philippe Coutinho outrun and outpress opposition defences, driving themselves to victory through sheer persistence.
As the months have worn on and players have tired, however, Klopp has witness the pitfalls of implementing this system midway through the season.
Pochettino's Spurs have truly benefited from this high-tempo, high-intensity brand of football in the 43-year-old's second season at White Hart Lane, with only Eddie Howe's Bournemouth averaging a higher distance covered and more sprints per game.
This is something that has given this modest, hardworking Spurs outfit an edge, as Davies explained earlier this month:
"I think, when you first start putting all the work in, it's tough. You have to be determined enough to be able to put up with it every day to get yourself fit and maybe at times it gets hard but I think now maybe we see the rewards out on the field.

"We're covering more distance than teams, we're able to press teams and not give them a moment on the ball. That's not just for 20-30 minutes, that's throughout the whole game.

"The amount of goals and way we play towards the end of games really does show with the fitness, and as players you're able to keep going for longer."
With his side looking to steal an unprecedented title from under the noses of fellow underdogs Leicester City, Levy has seemingly settled on the perfect formula, with a talented, young manager leading a side completely in tune with his ideals.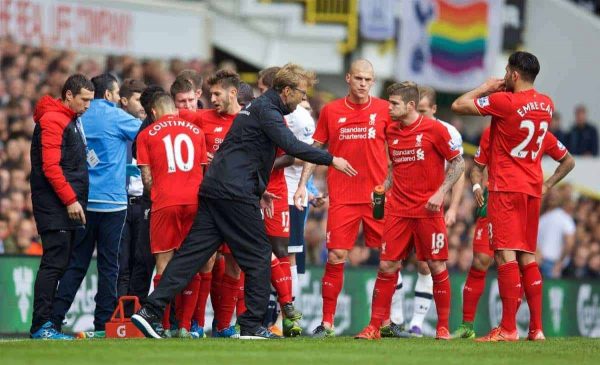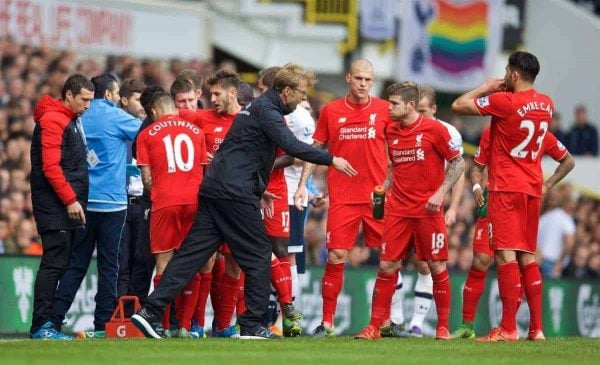 Intriguingly, Liverpool became the first side to outrun Spurs in October's 0-0 draw — their first outing under Klopp — and in this may be a chink of hope for supporters.
Klopp arguably finds himself in a similar position to Pochettino in 2014/15, at the helm of a side at odds with his tactical demands, but with enough quality on show to suggest that success could come with a little work.
Over the course of the summer, you can expect Klopp's methods to be similar to those of Pochettino's.
Following their model of hard work, a balance of experience and youth and an overriding team spirit may represent the best way of seeking glory in the rich vs. not-quite-as-rich landscape of the Premier League.