As Twitter celebrates its 10th birthday, we take a look back at some of the most memorable tweets concerning Liverpool over the last decade.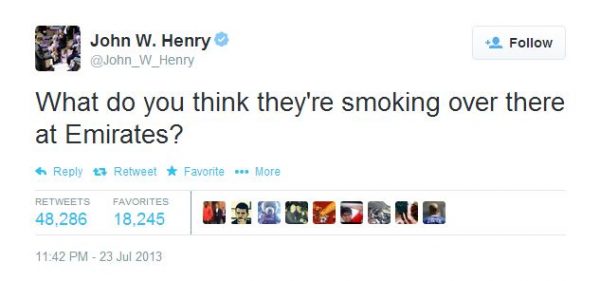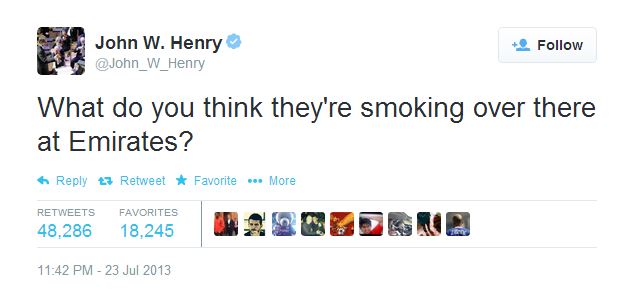 Social media plays an enormous role in modern football.
Twitter, in particular, gives fans a platform to voice their opinion on all things Liverpool, while players can keep their supporters updated with their day-to-day whereabouts.
In the 10 years since Twitter's inception, there have been many memorable tweets that have gone viral due to their popularity.
Here is a selection of some of the finest.
Jurgen Klopp became Liverpool manager in October, and Arsenal fan Piers Morgan's tweet from a year earlier went down a storm when it was confirmed:
If Liverpool sack Rodgers and bring in Klopp, I will self-immolate.

— Piers Morgan (@piersmorgan) November 23, 2014
Liverpool owner John W. Henry sarcastically tweeted about the incessant rumours surrounding the Reds making a move for Borussia Dortmund forward Marco Reus back in 2014:
Oh and sign Reus!

— John W. Henry (@John_W_Henry) September 17, 2014
It caused some to wonder whether the German may actually be on the verge of moving to Anfield, but the non-gullible among us realised it was all very tongue-in-cheek from Henry.
He also produced this brilliant tweet 12 months earlier, following Arsenal's embarrassing £40,000,001 bid for Luis Suarez:
What do you think they're smoking over there at Emirates?

— John W. Henry (@John_W_Henry) July 24, 2013
The owner's wife, Lina Pizzuti Henry, has a strong social media game, and she responded memorably to a fan hinting that Reus was down because Klopp had moved to Liverpool:
@LVanGaalOutclub let your cousin know that his dad is in a wonderful place.

— Linda Pizzuti Henry (@Linda_Pizzuti) October 9, 2015
Former Reds wide man Ryan Babel took to his account back in January 2011 – Kenny Dalglish's first match back as manager – to slaughter Howard Webb's awarding of a penalty to Man United against Liverpool.
The tweet read: "And they call him one of the best referees? That's a joke. SMH" – with a photo of Webb in United shirt.
Babel's antics earned him a £10,000 fine, but it went down well with the Liverpool fans. He was spot on.
One of the first things that comes up when you search Howard Webb. Ryan Babel you're a genius. pic.twitter.com/Q36APYSxEy

— Thomas Ritchie (@tomritchie_19) February 19, 2014
Another since-deleted tweet arrived when former defender Glen Johnson took to Twitter within an hour of throwing away a three-goal lead at Crystal Palace in May 2014, criticising:
"So many sofa experts in this game..Absolutely no idea bout football what so ever #Jokers"
Jose Enrique was another who used Twitter to take a swipe at critical fans, stopping his social media accounts earlier this year: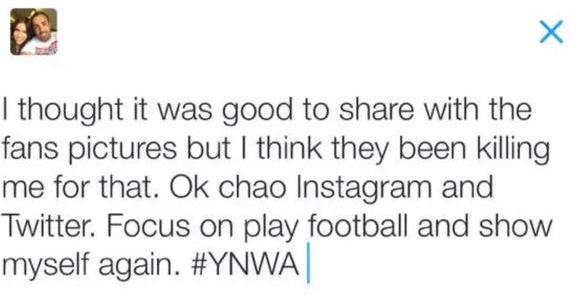 Fans may have been unhappy to see an ageing Kolo Toure in the Liverpool side to face Real Madrid at Santiago Bernabeu in late 2014, but the Ivorian was a rock from start to finish.
Twitter reacted accordingly:
https://twitter.com/BBCSporf/status/529748743248437248
https://twitter.com/FootyVines/status/529735930069151744
One particularly big Kolo fan had the centre-back's name tattooed on his hand, although unfortunately the spelling was appalling. Toure offered to change his name in order to ease the embarrassment:
"@JoshKillner: Can't believe @domjpearson made The Metro with his 'Kolo Touro' tattoo. #lad http://t.co/BJkggXENwf" I will change my name

— Kolo Toure (@KoloToure) September 5, 2013
Mamadou Sakho posted some video footage of a special guest at Melwood earlier this month. What we could do with him in the team still:
Special visit at Melwood this morning !! ?? – Ce matin à Melwood ! #YNWA #LFC pic.twitter.com/buho4yCb5q

— Mamadou Sakho (@mamadousakho) March 8, 2016
RELATED: 10 of the Best Liverpool FC Twitter Accounts To Follow
What are your most memorable LFC tweets? Let us know in the comments below.