With Jordon Ibe dropping down the pecking order in recent weeks, the winger has a challenge ahead of him to regain his place at Liverpool.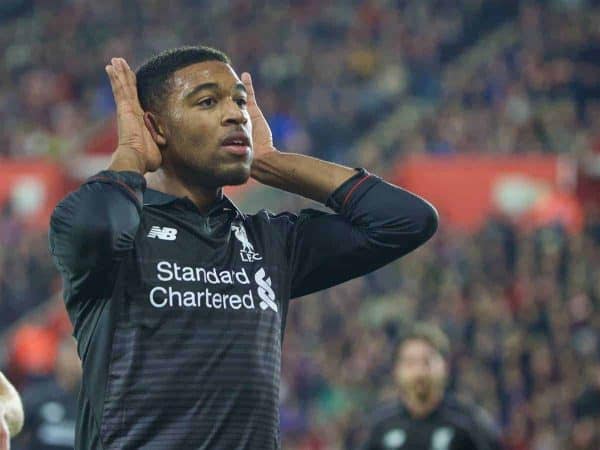 Liverpool have visited Southampton's St Mary's Stadium twice in 2015/16, with hugely contrasting fortunes on each trip to the south coast; and the same can be said for Ibe.
In December, as the Reds surged to a 6-1 victory in the League Cup, Ibe was at the heart of Liverpool's devastating attacking play, replacing Daniel Sturridge just before the hour mark to set up one goal and hammer home another in an emphatic display from the right flank.
But as Klopp took his side back to St Mary's earlier in March, Ibe was conspicuous in his absence, instead playing 70 minutes in the Liverpool U21s' 5-0 defeat to Southampton's U21s.
This marked the second time since the turn of the year that Ibe has turned out for the young Reds, despite little in terms of injury, and marks a worrying downturn in fortunes for the 20-year-old.
Currently out of favour under Klopp, how can Ibe force his return to the Liverpool first team?
Post-Sterling Rise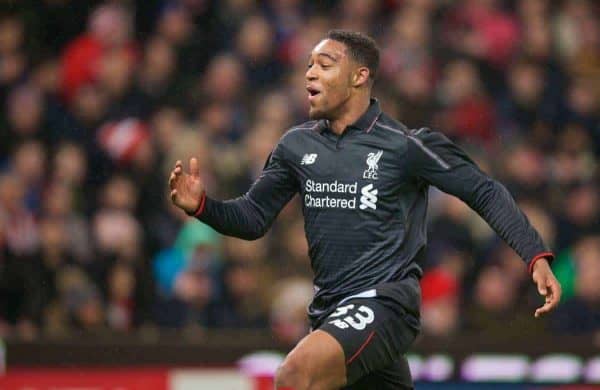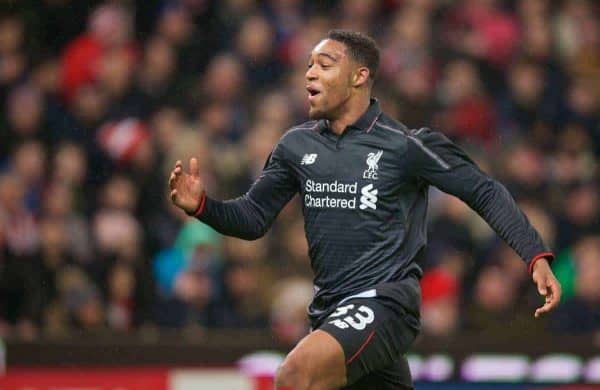 When Raheem Sterling's very public push for a move away from Liverpool resulted in a £49 million deal with Man City last summer, Ibe was held up as the poster boy for a new era under Brendan Rodgers.
Exactly one year Sterling's junior, Ibe was regarded as a similarly talented young winger, with the pace, physicality and unpredictability that would ensure his stardom in the Premier League.
Playing a key role in Rodgers' side throughout the pre-season tour of the Far East and Australia, Ibe's place under the Ulsterman was confirmed by a starting role in Liverpool's opening-day win away to Stoke City.
Contending with £29 million summer signing Roberto Firmino for a place on the right flank, Ibe continued to play a rotational role under Rodgers in 2015.
But it wasn't until Klopp arrived that the youngster showed his potential as a match-winner.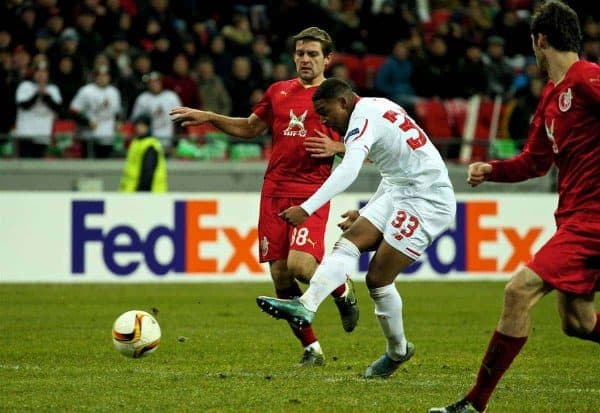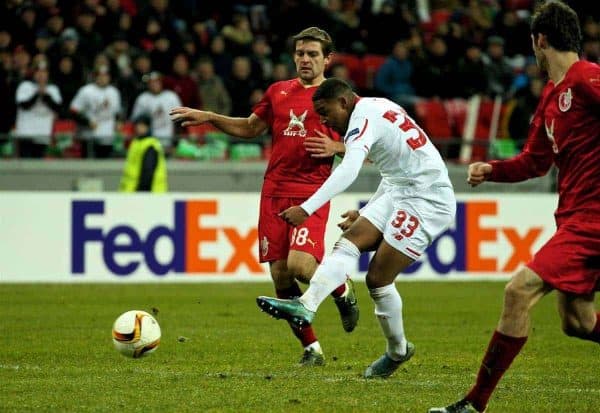 Starting on the right of a 4-3-3 in the Reds' away win over Rubin Kazan in the Europa League, Ibe proved decisive, troubling left-back Elmir Nabiullin throughout and netting the only goal of the game.
Days earlier, Ibe had earned his place in the lineup with a bright cameo in October's 3-1 win at Chelsea's Stamford Bridge in the league, replacing James Milner and stretching the Blues' defence as they pushed for an equaliser at 2-1 down, going on to set up Liverpool's third.
His influential League Cup quarter-final cameo at St Mary's in December was followed by a goal away to Stoke in the next round, latching onto Joe Allen's disguised pass before powering beyond Jack Butland.
Perhaps his best performance of the season so far came in the Reds' 3-0 win at home to Exeter City in the FA Cup third round, showing his ability to dictate play from out wide; a rare quality.
These performances showed Ibe's talent as a young winger, but his consistency has landed him at an unfortunate juncture.
Position Under Klopp

As Liverpool reach a sustained level of form in 2016, Klopp looks to have settled on his first-choice forward line, with Firmino, Philippe Coutinho and one of James Milner and Adam Lallana operating in support of Daniel Sturridge.
This has proved hugely effective, particularly in February's 6-0 win away to Aston Villa, and March's 3-0 win at home to Man City.
Afforded just two minutes of game time over those two fixtures, Ibe's position under Klopp at this point was magnified, though this was to get worse for the winger.
For both Liverpool's home Europa League clash with Man United, and their second trip to St Mary's, Ibe was left out of the squad, instead featuring for Michael Beale's U21s.
Since the beginning of February, Ibe has seen just 176 minutes of first-team action from a possible 1,140; just 15 percent.
Prior to February, Ibe had played 1,205 minutes of a possible 3,360, or 36 percent.
The last time Ibe started and finished a game for Liverpool came in February's 2-1 loss away to West Ham United in the FA Cup fourth round; coincidentally, this is the same for Christian Benteke.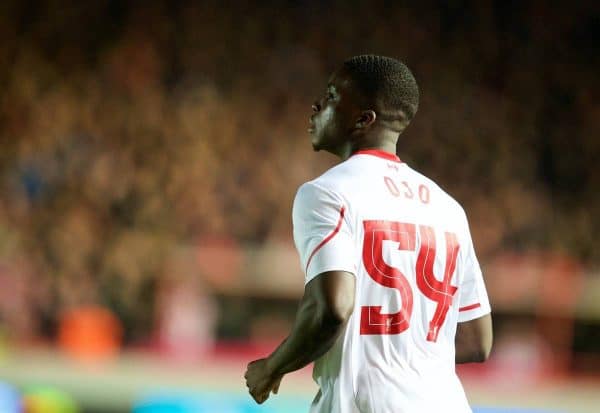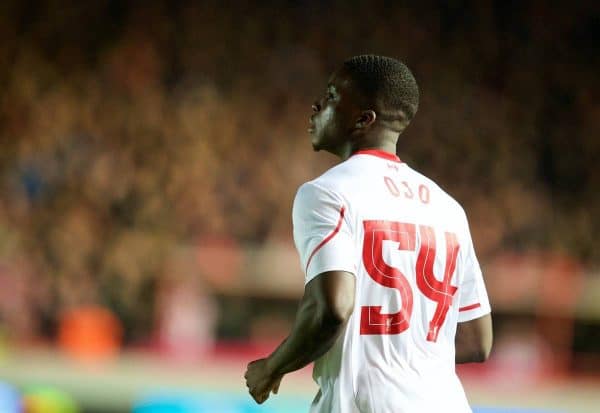 While it is easy to comprehend why both Benteke and Ibe have been left out of Klopp's starting lineup in recent months, given the form of Coutinho, Firmino, Lallana and Sturridge in particular, the No. 33's drop down to the U21s should serve as a warning sign.
For Benteke, the writing seems to be on the wall ahead of the summer; for Ibe, however, this demotion represents something of a challenge for a player with his best years ahead of him.
Nevertheless, that Sheyi Ojo has moved ahead of Ibe in Klopp's pecking order, with the 18-year-old making his Premier League debut in the defeat at St Mary's, serves to highlight the magnitude of this challenge.
How Ibe Can Improve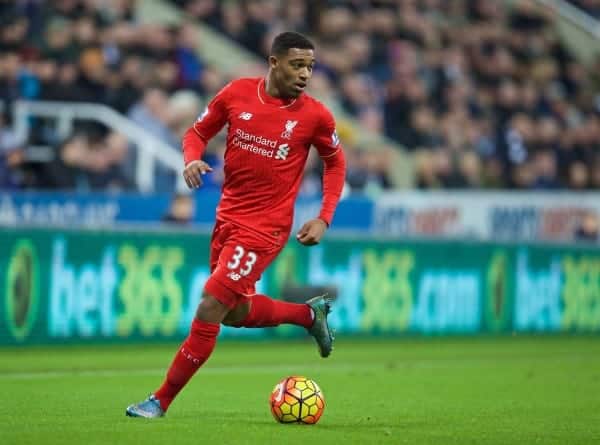 Ibe has struggled to impose himself even in his two appearances for Beale's U21s, employing the same head-down, unintelligent wide play that has marred his progress in the first team.
In their 1-1 draw away to Man United's U21s, Ibe lined up on the opposite wing to Ojo, and the gulf in class between the two was worrying.
While Ibe ploughed a disappointing furrow on the right flank, Ojo performed with a vibrancy and urgency on the left that fuelled Liverpool's attacking play, continuing his fine work from the U21s' 3-2 win over Middlesbrough the previous week.
Ojo scored a hat-trick that evening at Victoria Park, showcasing his ability to spearhead attack moves when drifting behind the defence, as well as providing an X factor from the flanks.
Rewarded with his league debut at St Mary's, Ojo is currently showing the decisive form that Ibe should be aspiring the reach.
Between now and the end of the season, it is likely that Ibe and Ojo will compete for a place in the Klopp's first-team squad, and while both possess the same pace and power, Ojo currently shades his elder in terms of desire and tactical intelligence.
As Ibe plots to regain his place in Klopp's first team, he be would be best advised to pare down his game, with the German reportedly instructing the 20-year-old to "leave the tricks to Coutinho and Firmino."
This means keeping his head up, taking the landscape of the game in as it plays out ahead of him and acknowledging when it is better to pass, and when it is better to shoot; in short, study his performance against Exeter.
If this fails to materialise before the end of the season, Klopp may be wise to consider a loan move for the winger in 2016/17, as Lazar Markovic returns to take his place.
Ibe is a player with vast potential, but has so far struggled to realise this on a consistency basis—and with Ojo emerging as a serious competitor, it could be a case of now or never.