Liverpool manager Jurgen Klopp insists their Europa League trip to Old Trafford will be "no holiday" despite holding a significant advantage.
The Reds lead 2-0 from the first leg of the last-16 encounter, meaning if they grab an away goal Manchester United will have to score four, and considering how Louis van Gaal's side have been playing, the general opinion is the hosts face an uphill task to turn things around.
But Klopp is taking nothing for granted with his methodical approach meaning his team travelled to Manchester and trained at Old Trafford on the eve of the game as they would do for any Europe tie.
That contrasted with United's approach last week when they asked UEFA for special dispensation to train at their Carrington complex and travel to Merseyside on the day of the game – regulations state you must be based within 27 miles of the host venue and Manchester is just outside that radius.
"We made our position a little bit better (in the first leg)," Klopp said.
"It is not perfect, it is not 5-0 or 6-0, it is not a holiday tomorrow. It is really hard work and I have no problem with this.
"I didn't think for one second about it (training and staying in Manchester).
"When I heard we would play against Manchester United I decided we would come one day early. In a Europa League game it's always like this.
"It's not about feeling comfortable and sleeping at home. We had a few seconds in the hotel before we came here (to Old Trafford) and everything is okay: the room is okay, the bed is okay.
"The trip was a little different because we usually fly rather than go by coach but the rest is exactly like a normal European game.
"When I played with my former club in European tournaments I always enjoyed it to breathe the stadium and where you will be playing the next night."
Much was made of the atmosphere at Anfield last week, which harked back to the famous nights of the past, with the roar from the Kop as loud as it has been for a long time.
Klopp is confident his side can handle the other end of the scale at Old Trafford.
"We have to forget that we have a 2-0 lead and we need to play again," he added.
"Hopefully it's a good atmosphere. I like it – even when everyone hates you. It's not a problem.
"I don't understand what the crowd are singing so it's pretty easy for me.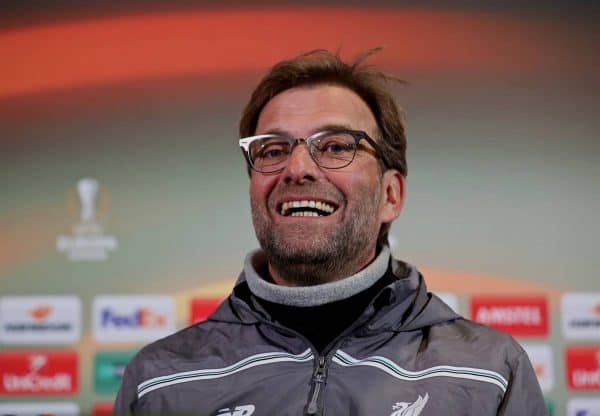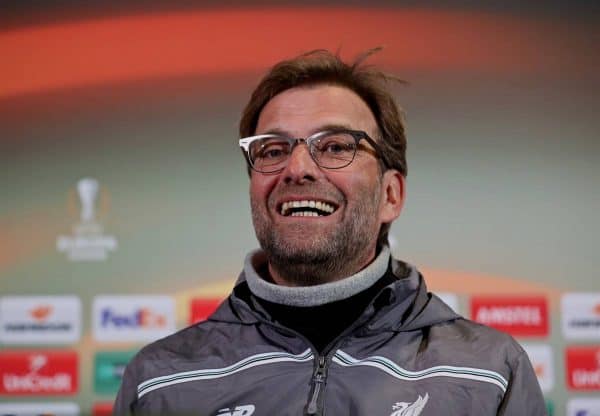 "We will decide how good the atmosphere is with our performance.
"How many Liverpool fans? 3,000. That's enough. That's a really good number.
"If they give their best I am sure we will take this and show it in our performance.
"It's not the Manchester United crowd against the Liverpool crowd. It's the two teams against each other.
"The performance is always one reason for the atmosphere. If we do our best it will be difficult for Man United to enjoy the game.
"I am not worried. I am not scared or afraid. It is football. The ball is round, right?"