Liverpool's thrilling late victory at Crystal Palace was further proof of the belief and winning edge that Jurgen Klopp has instilled in his players.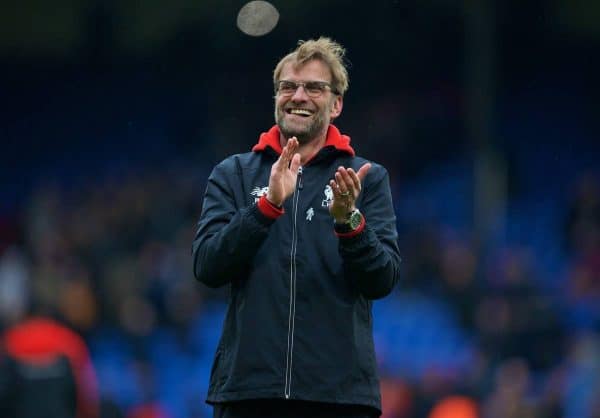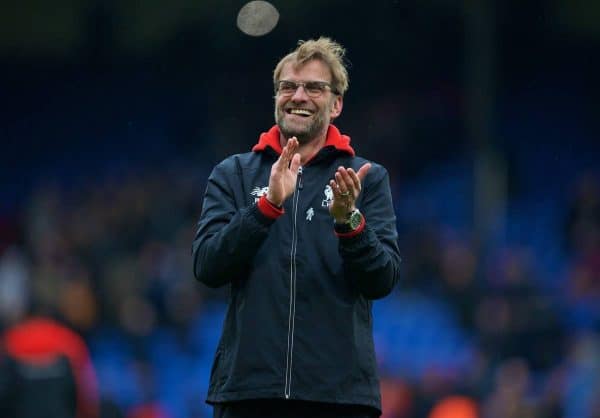 As Christian Benteke stroked his last-gasp penalty into the net on Sunday, you could almost hear rival supporters saying, "jammy Liverpool, scoring late again."
There is absolutely nothing lucky about it, even if there are those who believe it should never have been a penalty in the first place—it was, by the way.
The ability to dig deep and grind out wins in adversity is an attribute that makes the truly great managers so special, and Klopp certainly fits into that category.
The German has made a sizeable impact at Anfield since replacing Brendan Rodgers, but the most telling aspect is how he has transferred his winning mentality into his players.
The Proof

Liverpool were a soft touch under Rodgers. While the Ulsterman did get the Reds playing some superb football at times, they lacked ruthlessness and belief.
The players Klopp has inherited are no different to those who played under Rodgers—losing Luis Suarez and Steven Gerrard made Liverpool even less mentally strong—but they now look like completely different footballers.
There is more of an edge about them—who knew Adam Lallana could get so angry?—and there is a togetherness when their backs are against the wall. None more so than on Sunday.
To win at Palace, when you have been trailing with 10 men, is quite an achievement, and there is no way such a turnaround would have occurred under some previous managers.
The Selhurst Park triumph was far from a one-off, though. Liverpool have recovered from a losing position to take points in nine matches since Klopp took charge.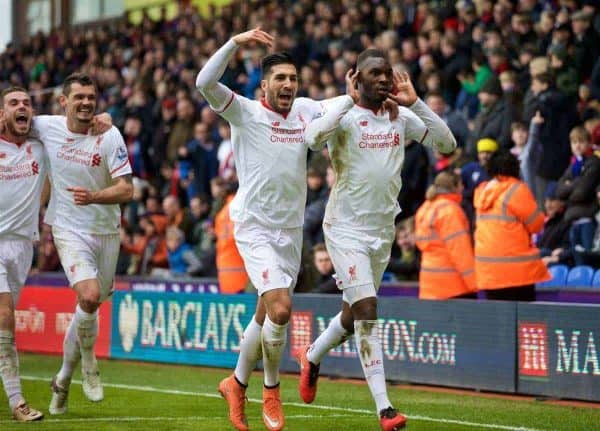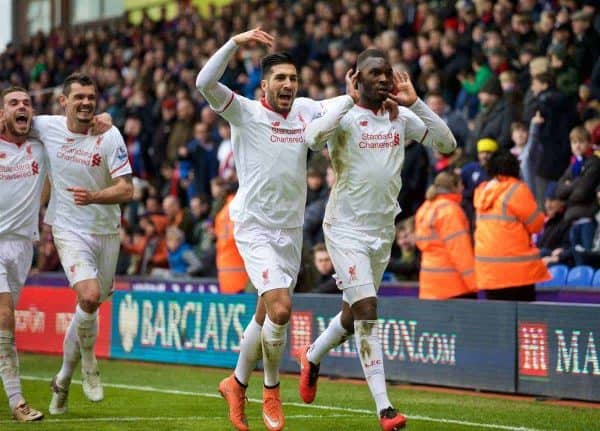 The 5-4 win at Norwich is clearly a standout in that respect, and at 3-1 down at Carrow Road many former Reds sides would have wilted. They would also never have responded after Sebastien Bassong made it 4-4 late on.
The Merseysiders may have ended up losing the League Cup final to Man City on penalties, but they dug deep and grabbed a late equaliser in normal time.
Klopp's men recovered from gifting early goals to both Chelsea and Southampton, winning 3-1 and 6-1, respectively, while Divock Origi and Joe Allen both rescued a point in the dying seconds at home to West Bromwich Albion and Arsenal.
Even the 2-2 draw at minnows Exeter City was a strong show of belief by a young Liverpool side. At 2-1 down it really felt like a shock defeat was on the cards, but they didn't panic and got a hard-fought equaliser.
There have been strong, late comebacks left, right and centre.
Special Characteristic

Watching Man United dominate English football in 1990s and 2000s was a depressing experience, and the amount of late goals they scored was unbelievable.
Back then, we were no doubt among the rival fans calling them "jammy," but deep down we knew that they possessed a remarkable amount of belief that they always grind down the opposition.
Sir Alex Ferguson was a born winner with a ruthless edge, and over time, that shone through in his players.
It took a bit of time, like it has with Klopp, but it became their greatest strength.
The same applies to Jose Mourinho, another great manager who it is impossible not to loathe, with his Chelsea, Porto and Inter Milan sides all lauded for their never-say-die spirit.

Considering Klopp has only been at the helm for five months, for this mentality to be making such a difference so soon can only bode well for the future.
The likes of Lallana, Emre Can and Dejan Lovren, among others, have become noticeably more gritty and determined under the 48-year-old, and it is a huge reason for their current improved form.
It will undoubtedly still take time to make an even bigger impact, and "winners" will likely be brought in over the summer, but we are seeing a very different Liverpool to the one we saw last season.
In fact, we haven't seen a Reds side with such belief since the Rafa Benitez era, when some truly gutsy victories were churned out time and time again by big characters.
Big Months Ahead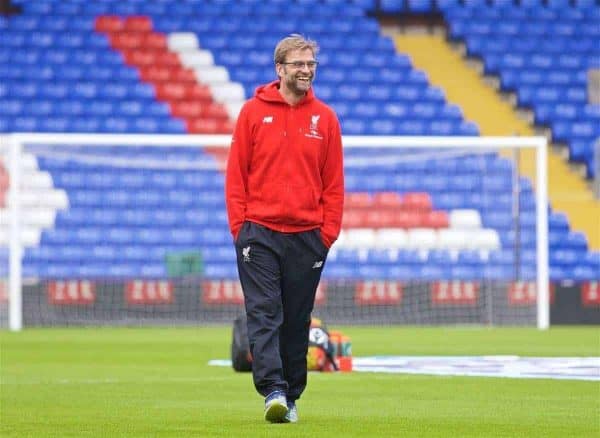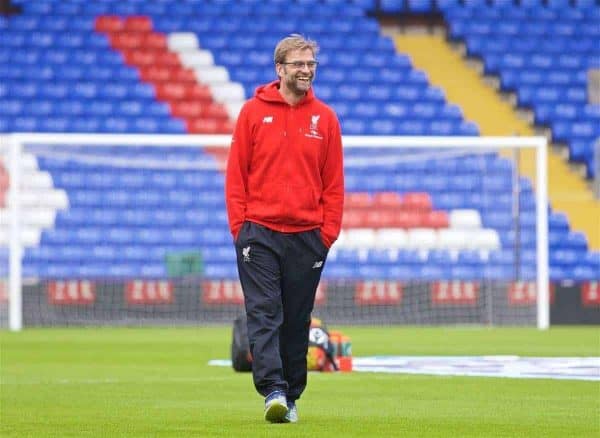 With a couple of months of the season remaining, Liverpool have given themselves a chance of finishing in the Premier League's top four.
Three wins in succession for the first time in a year have put them to within six points of fourth-placed City, and if they win their game in hand, they will be level on points with sixth-placed United.
The Reds are gathering momentum by the game, and who's to say they can't finish the league campaign stronger than anyone?
There is also the small matter of the Europa League, with the last-16 showdown with United promising to be a hotly contested affair.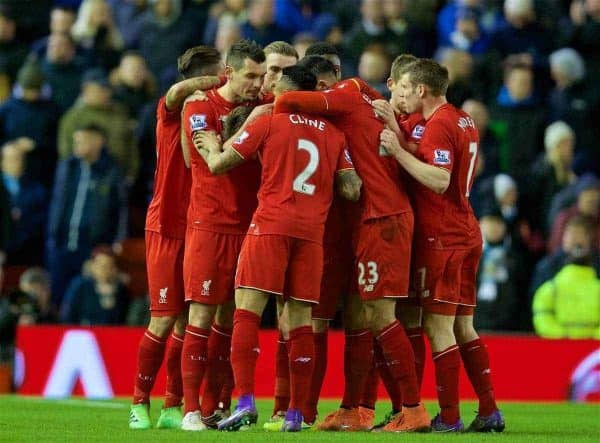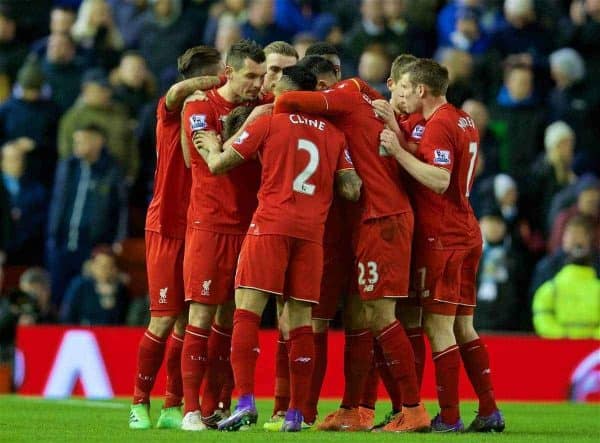 This Liverpool team is already a different animal to the one that lost at home to Louis van Gaal's side in January, on a day when the Reds looked lacking in character and mercilessness.
Klopp's men will now firmly believe they can knock their biggest rivals out of Europe, which again epitomises the faith the manager has injected into his players.
Having spent so long having to endure our rivals being the teams that win ugly and notch last-minute winners, Klopp is making sure Liverpool are as strong-willed as anyone.
To do it in such a short space of time is testament to what a fabulous manager he is.
CRYSTAL PALACE 1-2 LIVERPOOL