Despite heading into Thursday night's Europa League last-16 second leg two goals behind, Louis van Gaal is confident Man United can outscore Liverpool.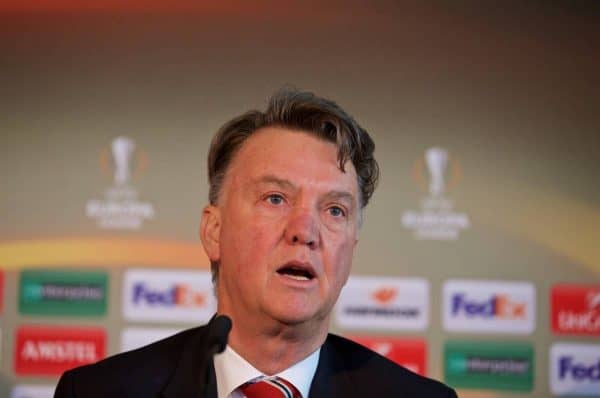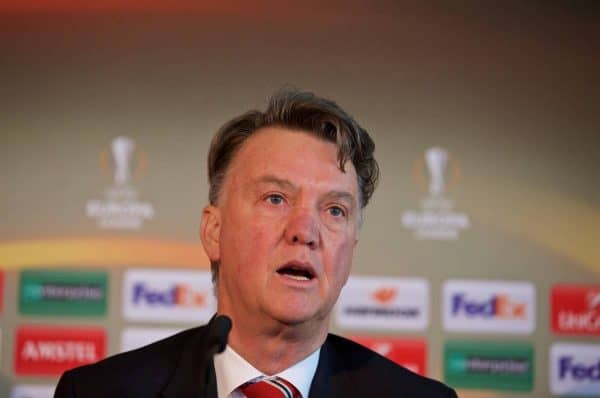 Goals from Daniel Sturridge and Roberto Firmino provided the flourish to what was an exceptional team performance by the Reds last Thursday, giving Jurgen Klopp's side the advantage heading to Old Trafford.
Having kept a clean sheet at Anfield, Liverpool are in a great position to advance to the Europa League quarter-finals.
But, speaking to reporters on Wednesday afternoon, Van Gaal insisted he was approaching United's home leg with confidence, saying his side can outscore their opponents.
"We don't want to concede a goal. We are thinking only of making goals," he said.
"We have done that against Midtjylland in the last round. We don't want to concede, but if we do, we can score four.
Bizarrely, despite the possibility of conceding a fatal away goal, Van Gaal claimed that his side only needed to win 2-0 in normal time, with the Dutchman confident the United supporters will cheer their side on to victory in extra time.
"We have to beat them with 2-0, not with 3-0 because we can do that also in extra time," he continued.
"Then we have to beat them to get to the next round. But first, two-zero."
Whether United supporters will be as confident, given Van Gaal's words, is unlikely.

Joining Van Gaal for Wednesday's address, United midfielder Ander Herrera focussed on the importance of a home advantage.
"I think since I'm here in Manchester United, we have played five times against them," added Herrera.
"We have won four times. Two times we played against them at home we won clearly, played better and were the better team.
"So I think we have very good examples the way we have to play."
Intriguingly, Herrera also pointed to the quality of the pitches at Anfield and Old Trafford as a major factor behind his confidence heading into Thursday night's clash.
"We feel stronger when we play at home. We will have more fans at home. The capacity of this stadium is bigger than Anfield.
"We have the best fans in England and they will be very important.
"We should have played much better in the first game but we have another chance. We learned a lot from the game at Anfield and the second leg will be totally different.
"The pitch is bigger, the grass is better here."
After a comprehensive display from the Reds at Anfield, Van Gaal and Herrera will be desperately hoping that extra four metres of turf can prove the difference.
Meanwhile, Liverpool are unlikely to be concerned.