Currently sidelined with a thigh injury, Lucas Leiva is targeting a return next month, as Liverpool push for success in the Premier League and Europe.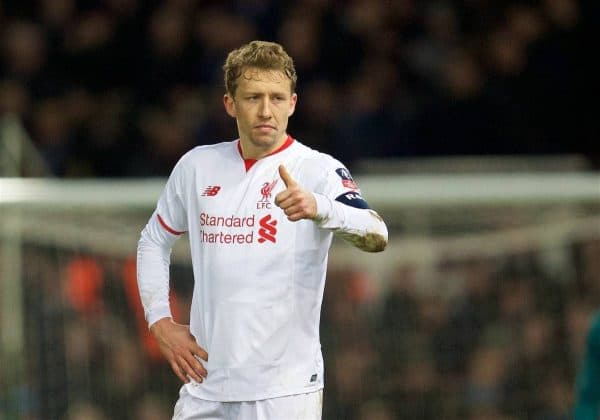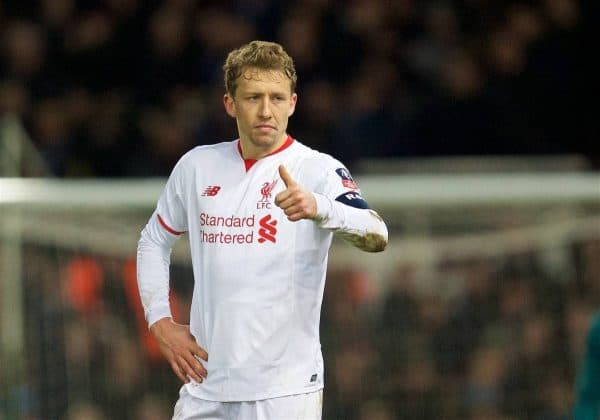 Lucas suffered a disappointing injury taking a penalty in February's League Cup final defeat to Man City, and was ruled out by Jurgen Klopp for "five or six weeks."
With Emre Can enjoying a significant upturn in form in recent weeks, Lucas' absence has proved simple to navigate.
But with Liverpool looking to challenge for a top-four finish in the Premier League, as well as pushing for success in the Europa League, the Brazilian will be a welcome addition on his return.
According to Lucas, this is set to come at the beginning of April, with the 29-year-old targeting a comeback following the international break.
"I'm progressing very well," he told LiverpoolFC.com.
"I'm really happy with the way it's going.
"I'm aiming that after the international break I'll be close to coming back and hopefully playing a big part in the last part of the season."

Lucas was named Liverpool's Player of the Month for February, after a number of impressive performances in midfield and at centre-back last month.
This included a comfortable showing alongside Mamadou Sakho in the Reds' last-16, second-leg win at home to Augsburg in the Europa League.
With a two-goal lead over quarter-final opponents Man United heading into Thursday night's deciding leg, Lucas is confident that Liverpool showed they have what it takes to succeed.
"It was very good—the team is looking really positive and confident," he continued.
"Everything the manager has been asking us in the last few months, we are starting to do every week.
"Hopefully it will be a good end to the season for us.
"[United] still have a chance, of course. It's a good result for us but we now have to go away and perform again.
"If we approach it in the same way we did the last game against them, I think we have a big chance to go through.
"Hopefully, we'll get to the final of this tournament because I think it's a really important one for us."
Having endured heartbreak in one cup final already this season, Lucas will be desperate to ensure Liverpool triumph in the Europa League.
Targeting a return in time for the semi-finals, the midfielder could play a big part yet.