A miserable performance from Martin Skrtel, on the defender's return from injury, presented a major setback in Liverpool's 3-2 defeat to Southampton.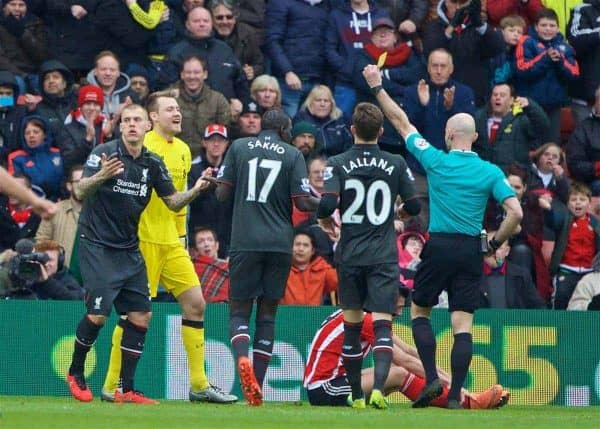 While undoubtedly frustrating, a lengthy injury layoff can provide a professional footballer with a precious modicum of clarity; able to study their strengths and weaknesses, in order to return with the right mentality.
For a 31-year-old Slovakian centre-back, this doesn't seem to have been the case as, having missed 13 weeks with a hamstring injury, Skrtel returned to produce a familiarly shambolic display in Liverpool's 3-2 defeat away to Southampton on Sunday afternoon.
Replacing Dejan Lovren during half-time at St Mary's Stadium, Skrtel's arrival prompted a heartbreaking capitulation from the Reds, losing momentum and, crucially, a two-goal lead.
While it would be remiss to entirely blame Skrtel for Liverpool's weekend demise, the long-serving defender was certainly the common denominator.
As Jurgen Klopp analyses this defeat, the German will no doubt acknowledge the need for change, with Skrtel's future in doubt as the 2015/16 campaign rolls on.
Liverpool's First-Half Dominance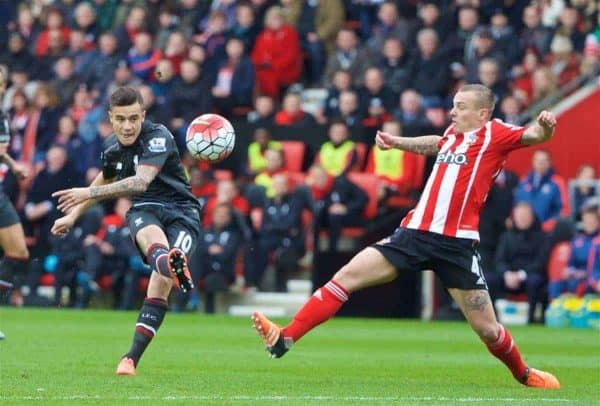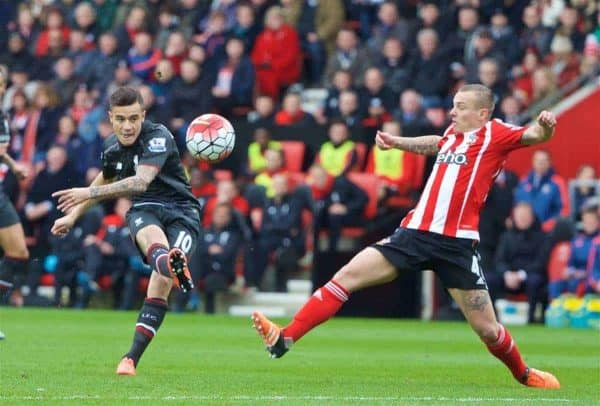 Negotiating injuries to Roberto Firmino and Alberto Moreno, as well as Jordan Henderson's illness and James Milner's suspension, Klopp made three changes to his Liverpool side for their trip to the south coast.
This saw Jon Flanagan brought in, 48 hours after signing a new long-term contract, with the 23-year-old serving as captain in Henderson and Milner's absence, as Klopp switched to a 4-4-2.
Joining Daniel Sturridge in attack, the hugely promising Divock Origi provided pace and power, while Joe Allen linked up with Adam Lallana and Philippe Coutinho as Liverpool looked to pin Southampton back early on.
Provided the perfect platform to push forward with Emre Can thriving in an all-round midfield role, the Reds were an unstoppable force in the first half at St Mary's.
Coutinho struck first, cutting inside from the left flank to fire a low, long-range effort beyond the sprawling Fraser Forster, before Sturridge capped an emphatic counter-attacking move following a powerful run from Origi.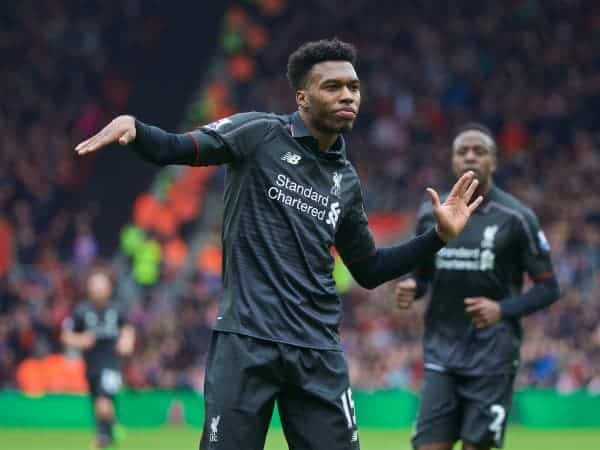 Allen could have made it 3-0 minutes later, but the Welshman was unable to find the back of the net after a hugely impressive, sweeping move involving Can and Lallana.
As Southampton manager Ronald Koeman conceded in his post-match press conference, Liverpool were just too good for the Saints in the first half, with the Dutchman recalling December's 6-1 defeat at the hands of Klopp's side in the League Cup.
During that win three months ago, Klopp fielded a similar lineup, with the dovetailing attacking duo of Origi and Sturridge dominating Southampton's shaky back line.
His centre-back pairing that night, however, was Skrtel and Lovren, whose poor understanding was exploited in the first minute, with Sadio Mane firing the League Cup's quickest goal this season.
On the whole, Lovren has since established a solid partnership with Mamadou Sakho, but with the Croatian—in Klopp's words—struggling to cope with the "emotion of the stadium" on Sunday, the manager was forced into a change at half-time.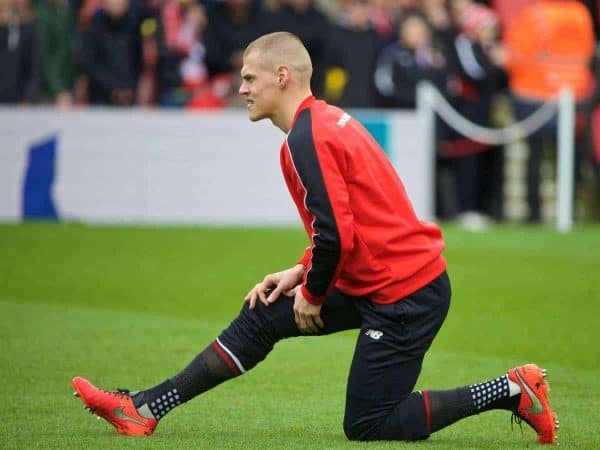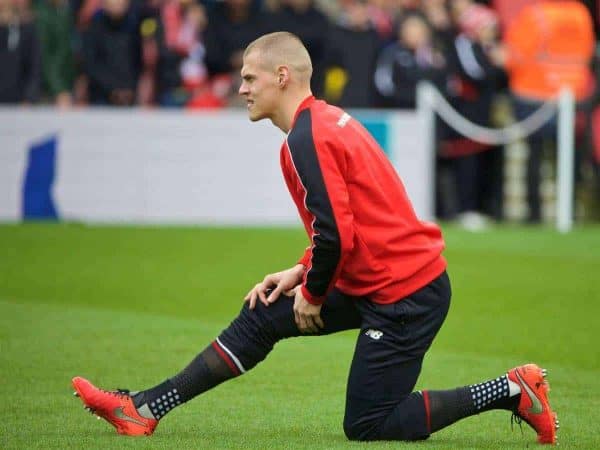 Spending the interval exchanging long passes on the St Mary's turf, Skrtel primed himself for his first appearance for Liverpool since December's 3-0 defeat to Watford, and after a red card in his second outing for the U21s against West Ham United on Wednesday night, will have been looking to settle quickly alongside Sakho.
In his first appearance for the U21s, against Man United, Skrtel looked comfortable, dealing with high balls with confidence, and employing his bullish physicality to counter United centre-forward Adnan Januzaj.
But with Koeman delivering a stirring half-time gambit in front of striker Graziano Pelle, Skrtel was in for a major challenge; and, unfortunately, the Italian enjoyed a profitable half.
It took just four minutes for Skrtel's flaws to be uncovered, with the centre-back hauling Pelle down in the penalty area with a trademark shirt-pulling manoeuvre, giving Southampton an opening from the spot.
Simon Mignolet saved Mane's penalty, sparing Skrtel's blushes, but it wasn't long before the centre-back was exposed once again.
Stepping out to contest a direct pass towards Pelle, Skrtel allowed Mane the space to drive through a disjointed Liverpool defensive line, surging beyond Sakho and firing beyond Mignolet to give Southampton a lifeline.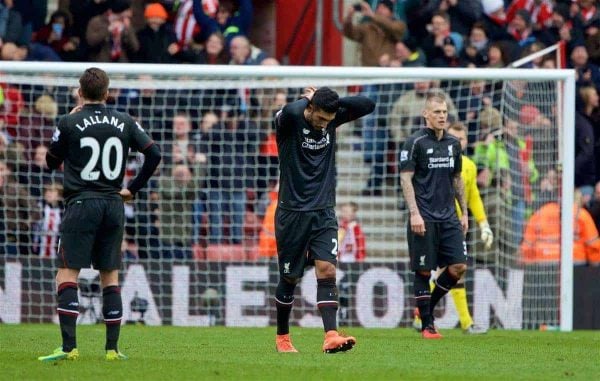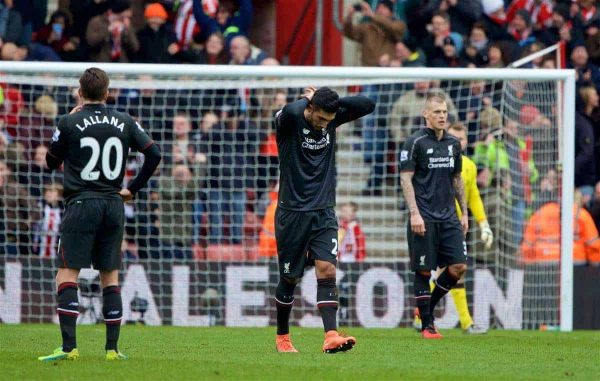 Skrtel was also central to Mane's second, missing a header following Mignolet's skewed clearance, sending the Senegalese through to convert Southampton's winner.
Between these calamitous errors, Skrtel looked devoid of confidence, struggling to keep his composure in possession and, worryingly for Klopp, failing to match up to Pelle in the air.
For a centre-back who enjoys such a lofty reputation with opposition supporters—he was described in Southampton's matchday programme as "the heartbeat of the Liverpool back line"—Skrtel is worryingly limited.
This is a centre-back who is: uncomfortable operating in a front-footed, high line; easily bullied in the air; unable to propel attacking moves with progressive passing play; and, for a Premier League veteran, a muted vocal presence.
In short, Skrtel is far removed from the centre-back that Klopp needs to build around at Liverpool.
Time For Change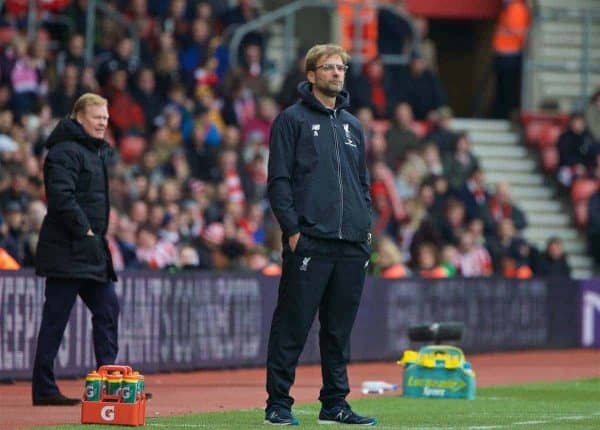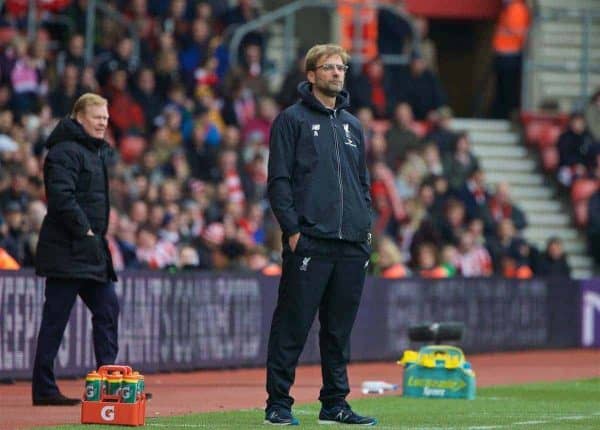 That Skrtel has outlasted Rafa Benitez, Roy Hodgson, Kenny Dalglish and Brendan Rodgers at Liverpool, and currently serving in his ninth season at the club, is remarkable, given the Reds' poor defensive record over the past decade.
The notion of this tattooed, shaven-headed centre-back being one of Liverpool's leaders is a fallacy somehow overlooked by four managers.
With Rodgers replaced by Klopp at the beginning of October, Liverpool have appointed an experienced, level-headed manager who promises to oversee a change in direction at the club.
As he has proved in his first months in charge on Merseyside, Klopp is not a manager who will bow to reputation, and a summer overhaul could be on the cards—particularly if, as this result dictates, Liverpool stutter in the final months of the campaign.
Skrtel should be at the heart of this systematic shift, with his worrying display at centre-back against Southampton far from a one-off; it was peppered with the hallmarks of his ineptitude.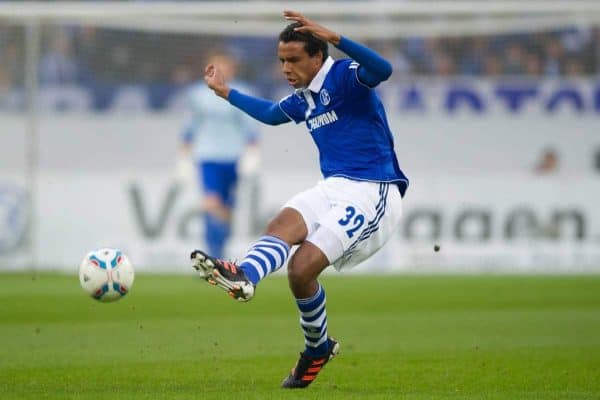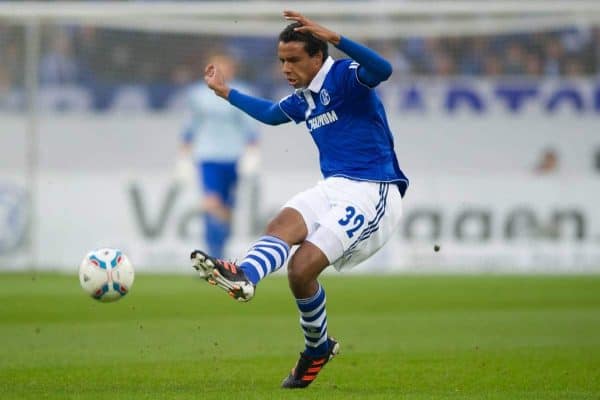 The move to sign Joel Matip on a free transfer this summer, as well as the improvement of Lovren in the right-sided role alongside Sakho, suggests Skrtel is not at the forefront of Klopp's first-team plans.
This should be a major positive for supporters, as this summer should see Klopp finally address Liverpool's brittle centre-back ranks.
This summer, Skrtel's time on Merseyside should come to an end.