Taking Daniel Sturridge's place in the Liverpool starting lineup on Wednesday night, Divock Origi was central to the Reds' 3-0 win over Manchester City.

With Sturridge having endured cramp in the latter stages of Sunday's League Cup final loss to Manuel Pellegrini's side, Jurgen Klopp opted to leave the centre-forward out of his squad for the Reds' return to the Premier League.
This saw Origi lead the line, as Liverpool dominated the title challengers over 90 frenetic minutes on Merseyside.
Goals from Adam Lallana, James Milner and Roberto Firmino sealed the three points, but in a performance of all-round quality from Klopp's side, many others stood out.
One such player was Origi, whose defence-stretching play in the centre-forward's role proved key.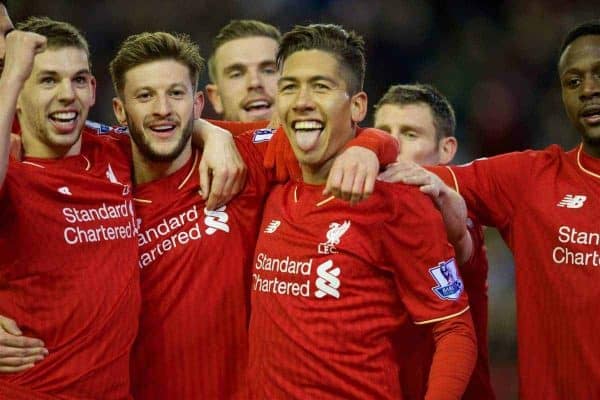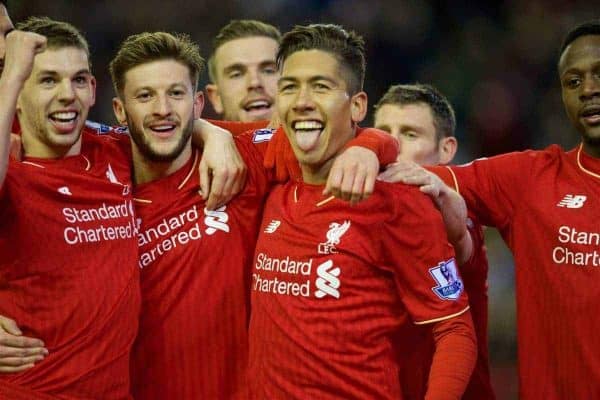 After 120 minutes of action and a crushing defeat at Wembley on Sunday, Klopp made five changes to his Liverpool side, bringing in Origi alongside Lallana, Dejan Lovren, Kolo Toure and Jon Flanagan.
The German persevered with his 4-2-3-1 setup, however, with Origi supported by a fluid attacking midfield of Lallana, Milner and Firmino, switching roles throughout.
With Emre Can in inspired form at the base of the midfield, and City sluggish from the first whistle, Liverpool were able to dominate.
A high-intensity pressing game saw the Reds snap into 50-50s, harry City's midfielders off the ball and quickly surge forward into attack.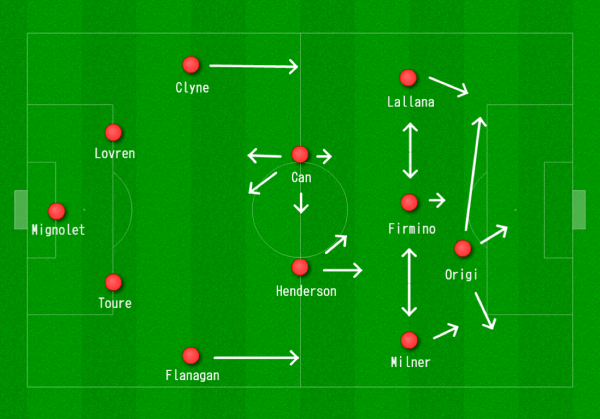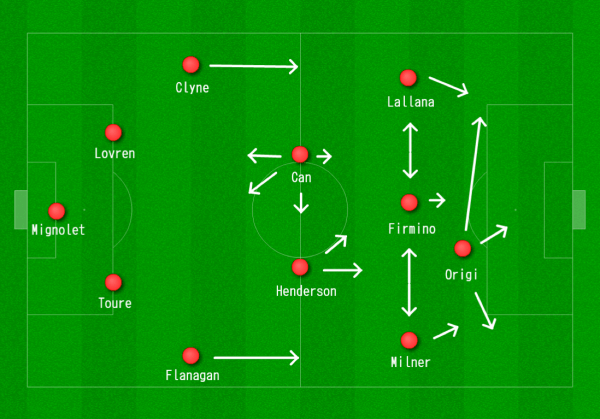 While it took 34 minutes for Lallana to break the deadlock, Liverpool's dominance ensured this was something of a foregone conclusion.
Throwing on two extra strikers in the second half in Wilfried Bony and Kelechi Iheanacho, Pellegrini pushed desperately for a response from his side, but his efforts proved futile.
This signalled a marked shift in momentum from Sunday's cup final, with Liverpool very much the underdog at Wembley; on their own turf, the Reds were able to dominate, and win comfortably.
While the absence of Sturridge seemed like a risk by Klopp ahead of the game, Origi's performance belied this notion.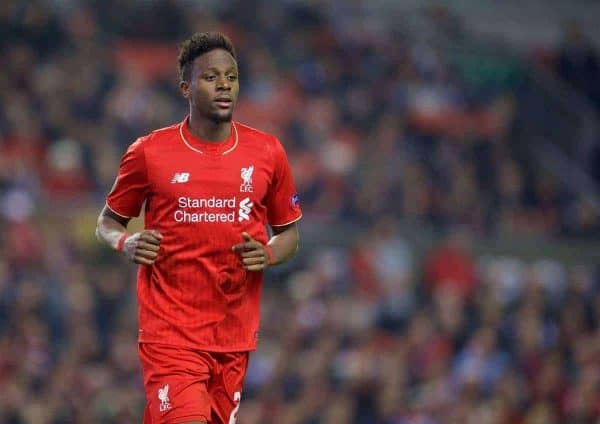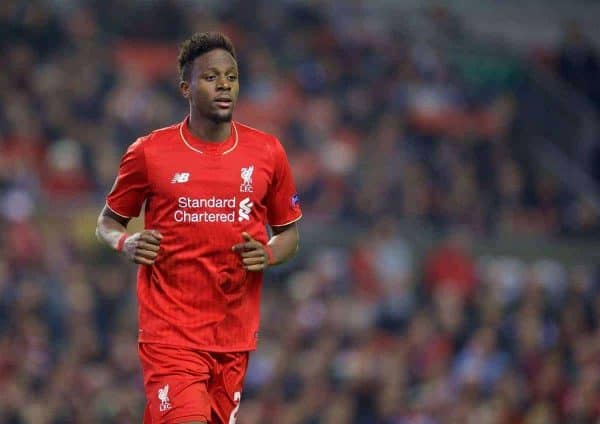 Fielded as a No. 9 in a malleable attacking system, Origi was primed with a varied role at the tip of Klopp's forward line.
Stationing himself between centre-backs Vincent Kompany and Nicolas Otamendi, the 20-year-old looked to utilise his pace and power to latch onto high balls behind the City defence, with Jordan Henderson launching direct passes into attack in the opening stages.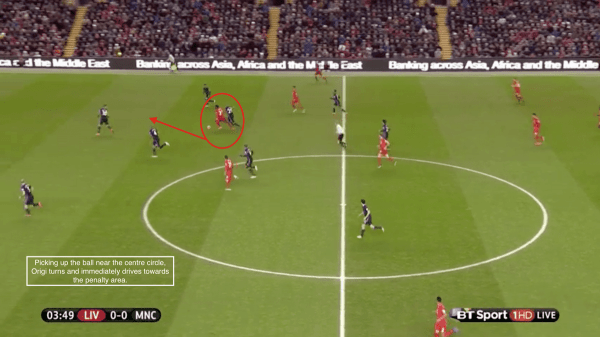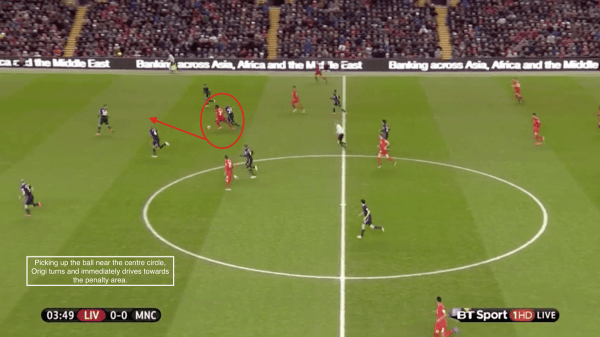 Dropping deep when City were in possession, Origi signalled his intentions picking the ball up near the centre circle in the fourth minute, driving towards Pellegrini's back line.
This saw Origi look to get the ball forward quickly and put Kompany and Otamendi under the pressure, and while he was thwarted on this occasion, it proved a useful tactic.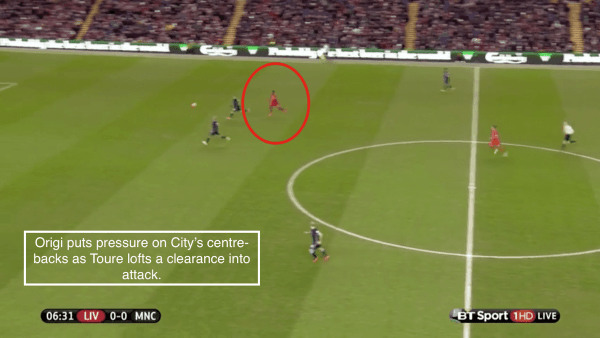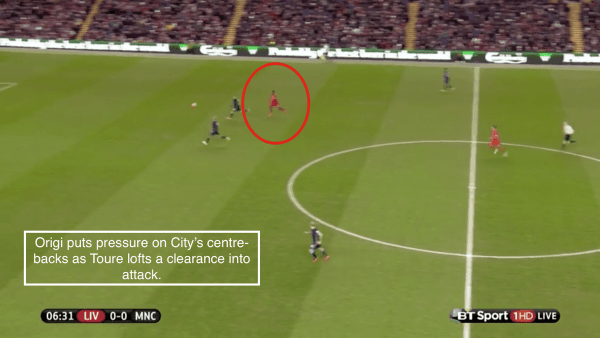 As Leicester City's Jamie Vardy has highlighted throughout 2015/16, chasing lost causes is a crucial component of a modern centre-forward's game in a pressing system, and Origi kept the pressure on City's centre-backs throughout.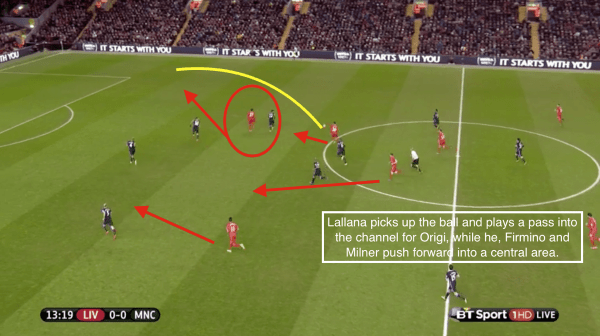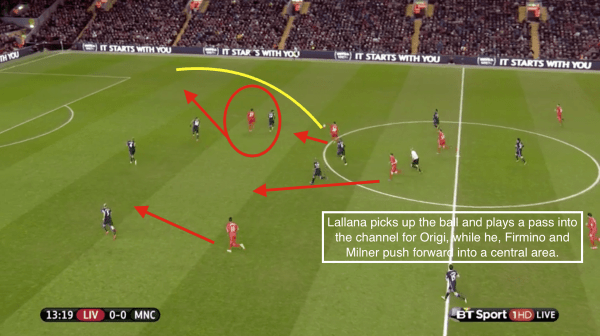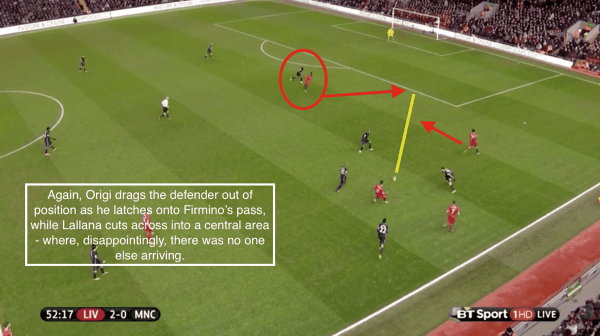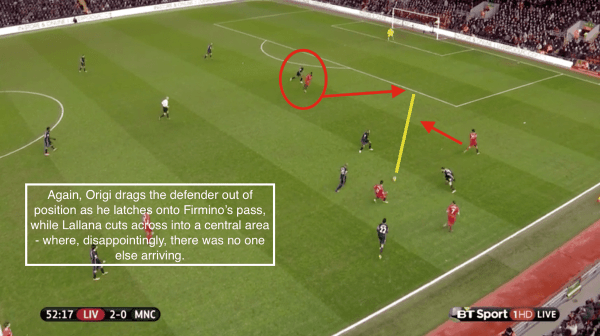 The ex-Lille man spent the majority of the evening drifting into wide areas, dragging Kompany and Otamendi out of position and opening space for his team-mates.
Lallana, Milner and Firmino's goals were all aided by the intelligent movement of Origi, with the overlapping, third-man runs of his attacking midfielders leaving the City back line overwhelmed.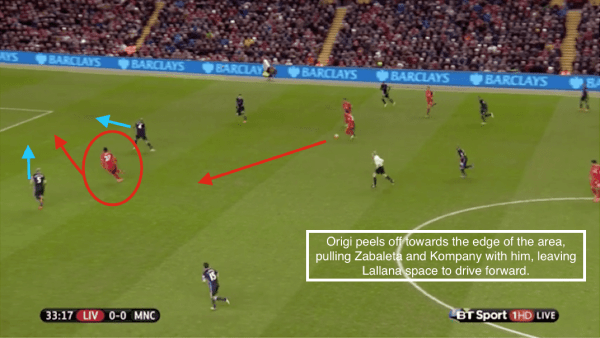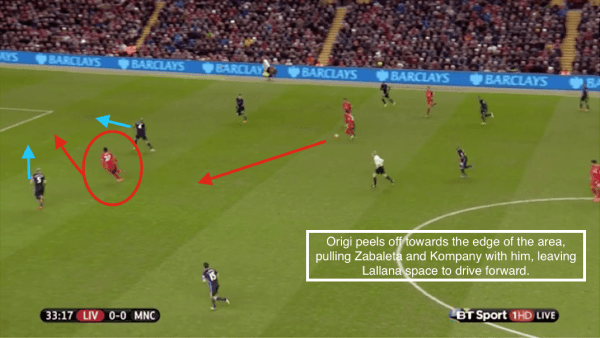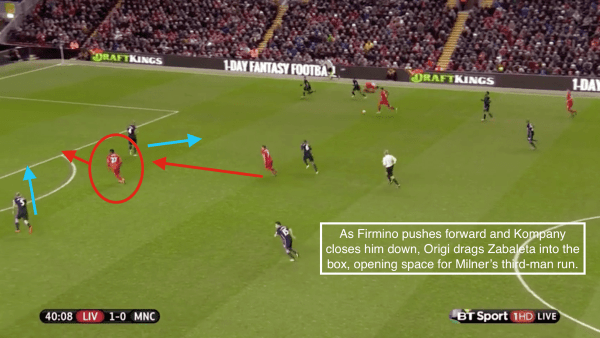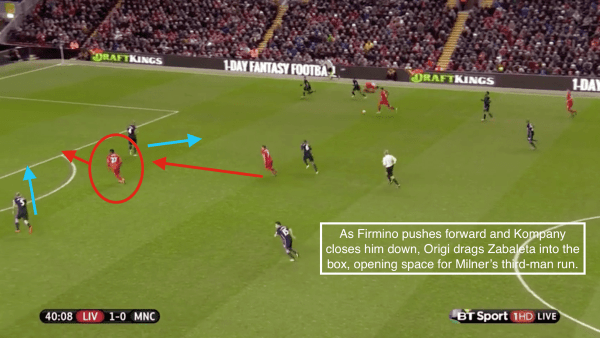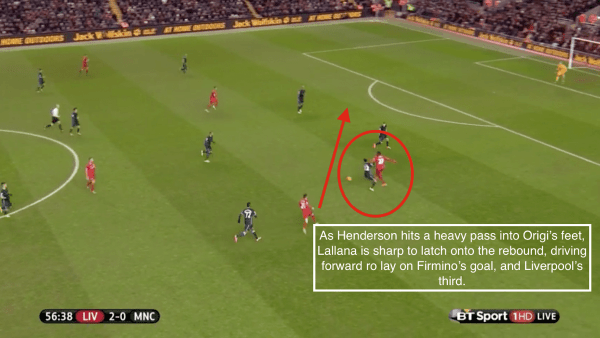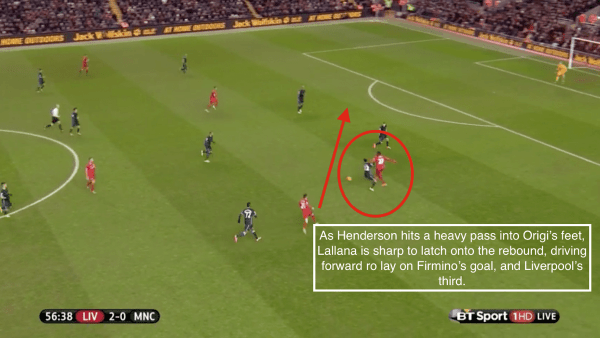 His role in Lallana's opener was perhaps most characteristic of this approach, with both Kompany and Pablo Zabaleta pulled out of position by his diagonal run into the box.
This left the England international time and space to surge forward and send a low effort beyond Joe Hart.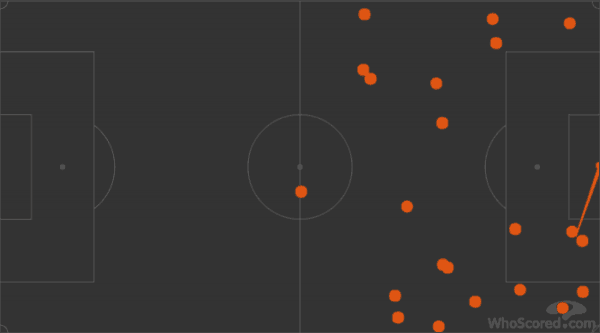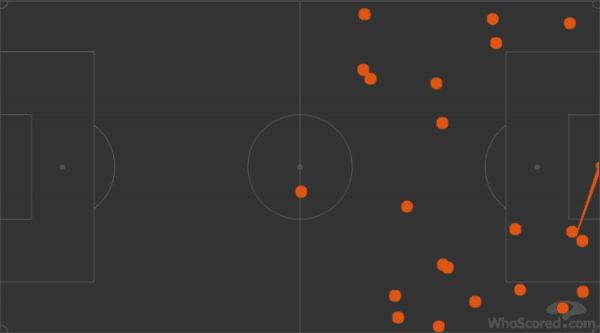 Origi only touched the ball 22 times during his time on the field on Wednesday night, but it was his intelligent movement and work rate that made the difference as Liverpool's midfield shone.
With Liverpool cruising by the hour mark, Klopp withdrew Origi after 69 minutes, replacing the No. 27 with his compatriot, Christian Benteke.
The tempo had dropped by this point, but with the likes of Joe Allen continuing to employ this dynamic attacking approach, making third-man runs beyond the City defence, the contrast between Origi and Benteke became clear.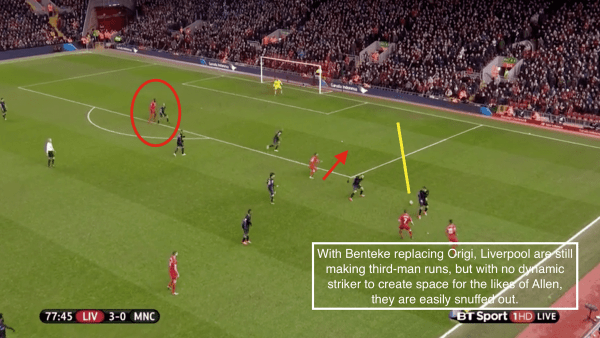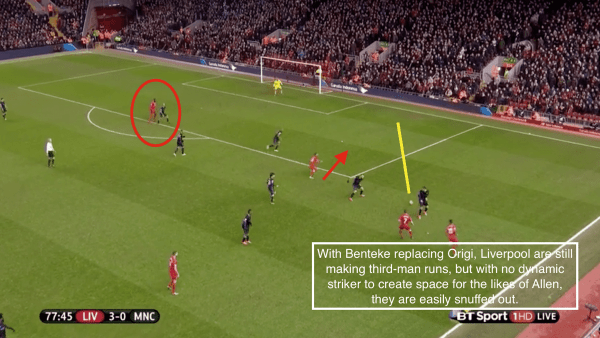 An unused substitute in Sunday's League Cup final defeat, Benteke was tasked with reclaiming his starting role by Klopp ahead of this Anfield clash, and the £32.5 million looked desperate to impress.
But while he held the ball up well and brought team-mates into the game, his tendency to stay on the shoulder of City's defence saw Liverpool's fast-paced attacking play break down.
In 21 minutes on the field, Benteke did little to stake his claim for a starting role on Sunday against Crystal Palace, with Origi having proved his credentials as backup to Sturridge.
A Long-Term Role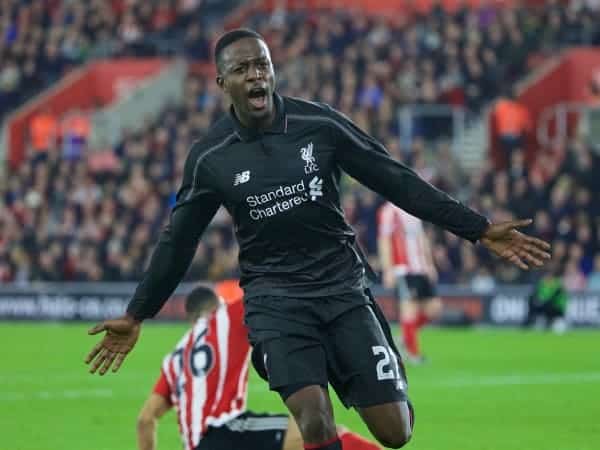 After struggling to impose himself in Sunday's League Cup final, Kompany will have been disappointed to have failed to shackle Origi as Liverpool dominated City at Anfield.
The City captain is unlikely to have been surprised by how effective his Belgium team-mate proved, however.
Speaking months after Liverpool announced their £10 million deal to sign Origi from Lille in 2014, Kompany described the striker as "a monster."
"If he continues in this way," he continued, "in a few years he will be among the five or ten best strikers in the world."
Standing at 6'1″ and blessed with considerable pace, Origi is well placed to develop into a complete centre-forward, with Klopp's focus on his development pointing towards a bright future.
At just 20 years old, and producing intelligent performances such as on Wednesday night, Origi is primed for star status at Liverpool.
Against City at Anfield, Origi was selfless, hardworking, measured and hugely effective.
In outshining Benteke once again, he may have convinced Klopp further that he is the right man to provide competition for Sturridge in the Liverpool attack.