Jurgen Klopp has called for Liverpool supporters to be "decisive" and back his side in their Europa League round-of-16 clashes with Man United.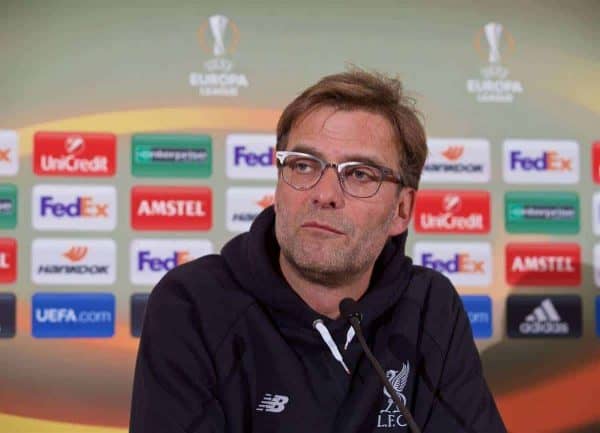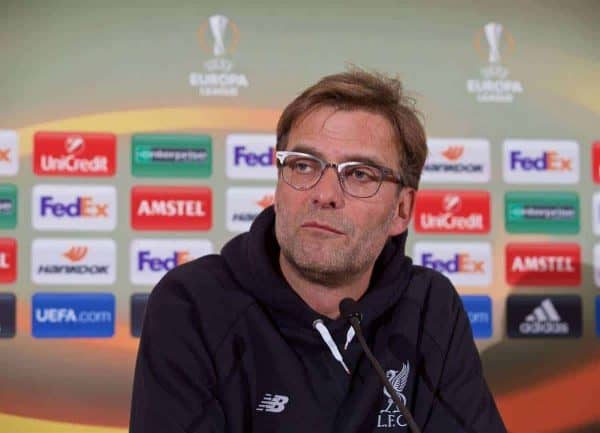 Klopp could not hide his excitement when Liverpool were drawn with their bitter rivals for the Europa League's round of 16, and welcoming United to Anfield for Thursday night's first leg, he is hoping this will spread throughout the ground.
This is the first time Liverpool and United have met in European competition, and with both sides vying for Champions League qualification this season, its importance is magnified.
Speaking to reporters ahead of the game, Klopp described the influence of supporters as "very important" in their push for European success.
"Hopefully everybody can show from the first second that they're really excited for this game," he said.
"Everybody needs to be in shape for these two legs.
"I believe in the influence of the crowd.
"I try everything to show the crowd that we do it for them, that we really enjoy this relationship with the crowd.
"That's it, so it's very, very important and it can be very decisive.
"It's a big part of football, and hopefully tomorrow we can set an absolutely new level in the younger history of LFC.
"Since I'm here, no problem. Easy.
"They can do the best performance on the stand if they want, I'm open to it."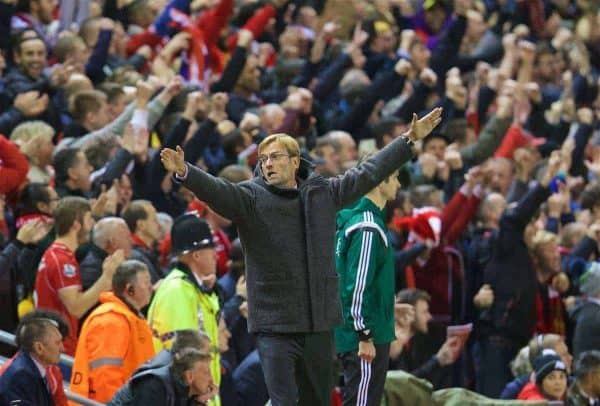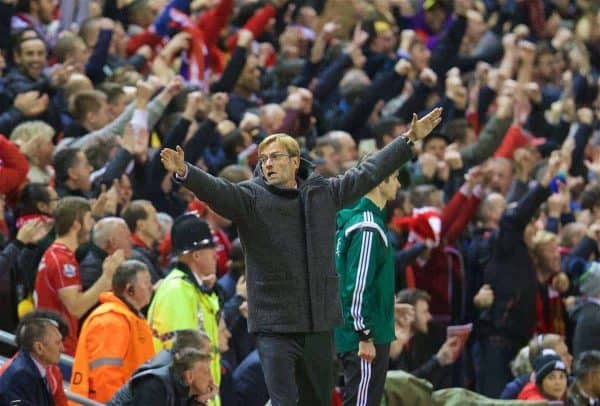 Klopp has presided over an improvement in the atmosphere at Anfield since his arrival in October, with the German's appointment sparking positivity throughout the Reds' fanbase.
But with his side struggling for consistency throughout 2015/16, this backing has continued to ebb
On Thursday night, however, Klopp believes this will change, with this clash one of his most anticipated outings since taking charge.
"That's why I love football. Of course we all loved it when we were young," he continued.
"In each region of the world you have games like this, and being part of it I still cannot [get] enough.
"For most of my life I couldn't imagine I would be part of this.
"Being on the bench for Liverpool playing United, I can't imagine [much] better."
Klopp's enthusiasm is infectious, and with the 48-year-old looking to motivate his side to a winning performance on Thursday night—and next week's second leg—he will be hoping this extends to their support, both home and away.