Liverpool romped to a comfortable 2-0 first-leg win away to Europa League last-16 opponents on Thursday night, in front of a defiant Anfield crowd.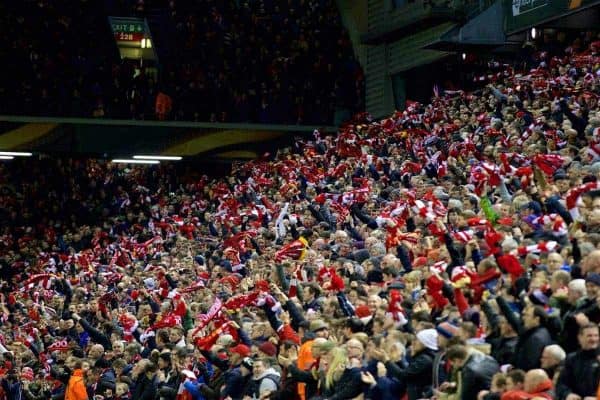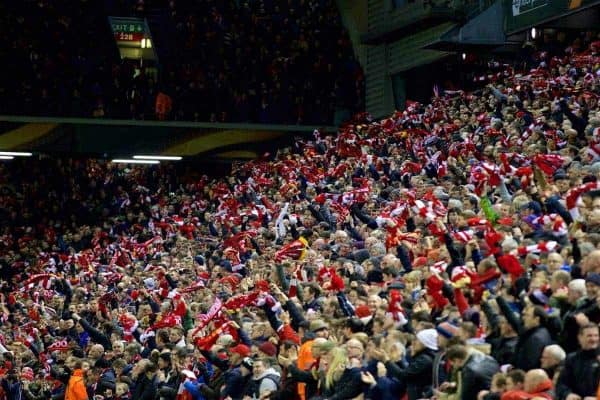 Liverpool 2-0 Man United
Europa League – Anfield – Thursday 10th March 2016
Goals: Sturridge 20′ (pen), Firmino 73′
Goals from Daniel Sturridge and Roberto Firmino either side of the interval capped a dominant all-round display from the Reds at Anfield, setting up a tantalising second leg in Manchester next week.
The heroics of David De Gea kept United in the contest, with the Spaniard making a number of vital saves to deny the likes of Sturridge and Adam Lallana.
But with Anfield in full voice in this first European meeting between the two clubs, Liverpool will be delighted to have secured such a controlling lead.
Here's how supporters saw Liverpool's 2-0 win at home to United.
Most focussed on the Reds' dominance over their bitter rivals, with United lacking any structure throughout…
Proper European job executed by Klopp and the team tonight. Two goals and a clean sheet to take to Old Trafford.

— Sam McGuire (@SamMcGuire90) March 10, 2016
A 5-0 or 6-0 that somehow is only a 2-0. Liverpool have monstered United.

— Miguel Delaney (@MiguelDelaney) March 10, 2016
Brilliant night for #LFC – on a different level to a poor United side. You can't see us not scoring at Old Trafford. Job half done!

— Si Steers (@sisteers) March 10, 2016
Liverpool will get where they want to be under Klopp, or close to it. It's very hard to see Man Utd doing that under LVG.

— Jason Burt (@JBurtTelegraph) March 10, 2016
Hell of a performance, utterly bossed that game. Not singling anyone out, whole team did their job.

— The Liverpool Way ??? (@theliverpoolway) March 10, 2016
Could've won by more, but ultimately that was a cracking display. Really controlled and efficient.

— Jason Roberts (@Ja5onRoberts) March 10, 2016
"Deserved win – bossed them from the kickoff to the final whistle, and if it wasn't for the fact that they have one of the best keepers on the planet (or our finishing was better) it should have been four."
– ubermick on the forums.
Liverpool were so much better tonight. Deserved a 3rd or 4th

— Mark Jones (@Mark_Jones86) March 10, 2016
Superb LFC display at Anfield tonight to comfortably and deservedly go into that second leg with a 2 goal advantage.

— Neil Mellor (@NeilMellor33) March 10, 2016
That was brilliant. We dominated from start to finish and kept the all important clean sheet. Away goal would be huge next week.

— Aaron Cutler (@aaron_cutler) March 10, 2016
"Dominant performance. Should have been 4 or 5. They are blessed to have such a good keeper. Otherwise United were an embarrassment on and off the pitch."
– Herb on the forums.
Good result and good performance, particularly by defensive players who were practically perfect.

— Paul Grech (@paul_grech) March 10, 2016
I'd have liked one more.. That was a great performance on the whole. Henderson needs a rest until next season..

— Chris Williams (@Chris78Williams) March 10, 2016
Would've been 4 or 5 if it wasn't for a world class keeper. Really good performance. Bringing Allen on was a great move by Klopp.

— MB (@MrBoywunder) March 10, 2016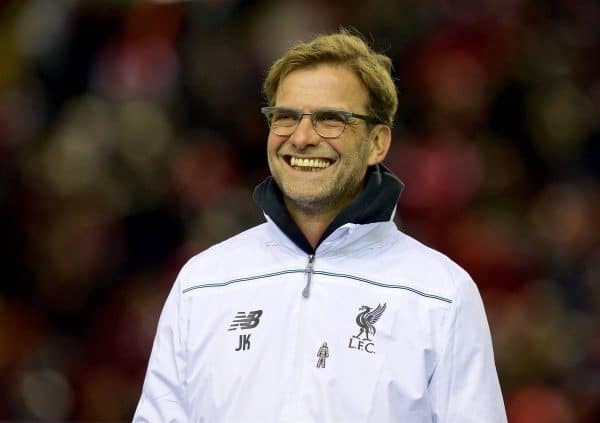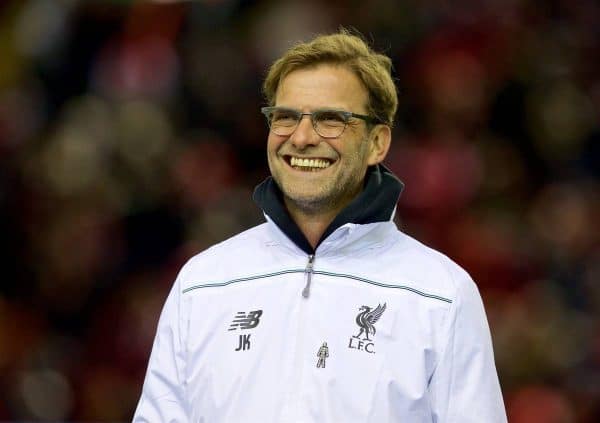 With some pointing to the signs of Jurgen Klopp's vision slowly being realised…
Klopp is gradually transforming Liverpool into an energetic, coherent unit, in a way that Van Gaal has failed to do with Manchester United.

— Gary Lineker (@GaryLineker) March 10, 2016
People talk about the performances away vs Chelsea & Southampton, but the game tonight and vs City last week, are true signs of a Klopp team

— Rory Greenfield (@RoryGreenfield) March 10, 2016
"Fantastic win. We made it look easy. Well done our lads. Klopptastic performance.
– theres always tommorrow on the forums.
Won 2-0, yet we could've won by a bigger margin. Speaks volumes about what Jürgen Klopp has done for #LFC and its fans.

— Leroy | LFC Impulse (@LFCImpulse) March 10, 2016
Klopp's vision is all over this Liverpool team. When we do fail it is in the execution, not in his idea. Van Gaal's United tho is visionless

— Taintless Red (@TaintlessRed) March 10, 2016
Jurgen Klopp is turning Liverpool into a side that plays digital football. Meanwhile, Louis van Gaal is still trying to tweek the aerial.

— Adam Sweeney (@AdamWSweeney) March 10, 2016
Once Klopp gets a couple of lads in who can execute his style of play properly #LFC will be flying. Absolutely flying

— Chris Williams (@Chris78Williams) March 10, 2016
Firmino and Nathaniel Clyne were singled out for their strong performances…
Nat King Clyne: also incredibly good today

— nate (@natefc) March 10, 2016
Clyne's best performance in a Liverpool shirt.

— Tom McMahon (@tomjpmac) March 10, 2016
My love for Firmino grows by the game

— John O'Sullivan (@NotoriousJOS) March 10, 2016
We had Hoffenheim right off btw. £21 million *upfront* for Firmino?

— Sam McGuire (@SamMcGuire90) March 10, 2016
And much of the focus turned to the support of the Anfield crowd…
#NoPyroNoEuropeanParty pic.twitter.com/mWCoBhLWbF

— Chris Williams (@Chris78Williams) March 10, 2016
Brilliant night at Anfield. Incredible atmosphere matched by the team's performance on the pitch, it could easily have been 5! #LFC

— Sam Drury (@SamDrury11) March 10, 2016
Still at Anfield. First thought – when that second goal went in, oh, the noise. Beautiful, irresistible, madness. #lfc

— Dave Phillips (@lovefutebol) March 10, 2016
THAT's what you call a European night.

— Jim Boardman (@JimBoardman) March 10, 2016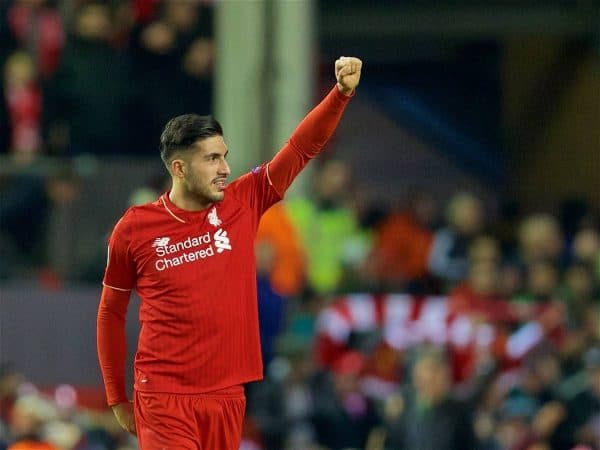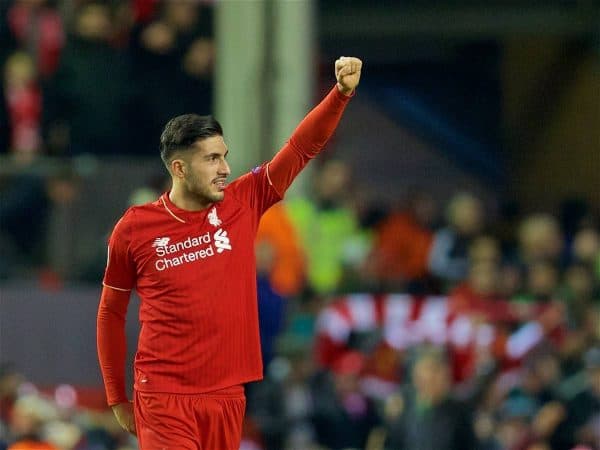 While many simply lapped up the ecstasy of a 2-0 win at home to United in Europe—a fantastic result for the Reds…
Superb result for the boys tonight

— PB (@patrikberger73) March 10, 2016
"The best win this season…I couldn't be happier!"
– gb1986 on the forums.
LIVERPOOL LIVERPOOL LIVERPOOL!!!!!!!

— Sai (@TheEngancheRole) March 10, 2016
Victory!!!

— SimonBrundish (@SimonBrundish) March 10, 2016
"Glorious victory, well done Liverpool FC."
– ptt on the forums.
Speechless. Show them the way to go home…

— Jim Boardman (@JimBoardman) March 10, 2016
POETRY IN MOTION TRA LA LA LA LA pic.twitter.com/HAsgMMXprI

— Red Star Liverpool ?????? (@RedStarLvrpool) March 10, 2016
The perfect night. pic.twitter.com/VLQgaFPWBw

— This Is Anfield (@thisisanfield) March 10, 2016
So many great #LFC performances tonight. Firmino was brilliant as were Can, Clyne & Coutinho. Allen fantastic off the bench too.

— Sam Drury (@SamDrury11) March 10, 2016