As the 2015/16 Premier League season enters the final sprint, we assess how Liverpool will fare over the last 10 games and where they could finish this campaign.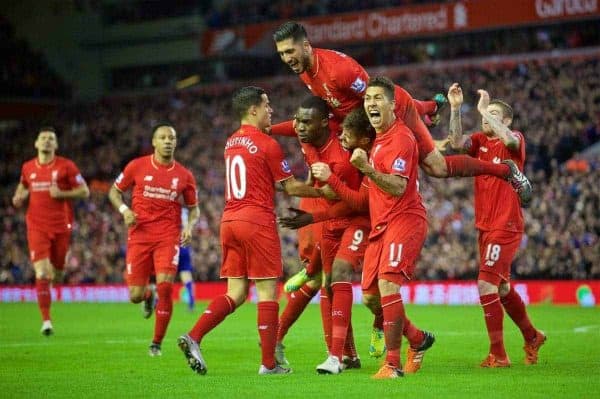 Battling their way back into the race for fourth place, an exciting end to the Premier League campaign awaits Jurgen Klopp's side.
Sitting just six points adrift with 10 games left, Liverpool are dreaming of securing a return to European football's top table for the German's first full season in charge.
But can the Reds turn their dreams into reality over the remaining league fixtures?
Final 10 Predictions
Southampton (A)
The Reds have enjoyed recent trips to St Marys, winning on all of the last three visits – including the memorable 6-1 League Cup thrashing.
It would be safe to back the Reds making it four straight wins on current form, but the game is made more complex by the crucial Old Trafford second leg three days prior, which the Saints will look to take advantage of.
Perhaps pessimistic, especially with Liverpool's improved performance level and belief, but a draw seems the likely outcome.
Points taken: 1
Tottenham (H)
The visit of Mauricio Pochettino's title chasers is arguably the toughest remaining game for Klopp's side.
Liverpool have enjoyed the upper hand of this fixture on Merseyside – with Spurs winning only one of their last 17 trips.
But this Spurs team are a different proposition, a consistent and complete unit that it is hard to see the Reds beating without a big, collective effort.
The first match after the international break, a draw looks a realistic conclusion.
Points taken: 1
Stoke (H)
The visit of Mark Hughes' dangerous Potters will be a tricky test as they seek revenge for League Cup semi-final heartbreak.
A lot could hinge on whether Liverpool are still in European competition – with the quarter-final first leg scheduled prior to Stoke's visit.
It's fair to expect three points to materialise however, which must start a very winnable run perfectly.
Points taken: 3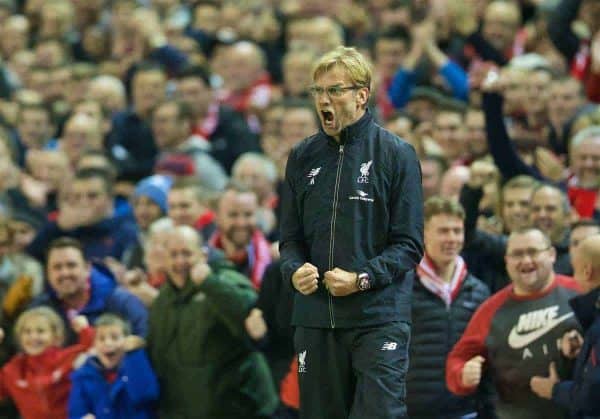 Bournemouth (A)
The Cherries are next up on the potentially rewarding list.
Eddie Howe's side proved a tough nut to crack at Anfield in August's narrow 1-0 league win, as well as in Klopp's first win in the League Cup.
But despite an impressive debut Premier League season, another three points should certainly be forthcoming, even if Liverpool do have a quarter-final second leg days earlier.
Points taken: 3
Newcastle (H)
The visit of Newcastle will see Klopp want to avenge the poor 2-0 loss at St James' Park.
Set to be an emotional return for Rafael Benitez, the relegation battlers will pose a test, and Liverpool know all too well the unpredictability the Magpies have to produce the unexpected.
Kopites will wish Benitez the best of luck at Newcastle, but for 90 minutes at Anfield winning three more points is all that matters – which Klopp's side should grasp.
Points taken: 3
Swansea (A)
Battling relegation and doing so in brave fashion under Francesco Guidolin, a trip to Wales will be far from straightforward.
But with Champions League aspirations, the Reds can't afford slip-ups in games that simply must produce three points, and the Liberty Stadium visit has to see another maximum suffice.
Points taken: 3
Chelsea (H) – TBC
Liverpool have a horrible recent record against Chelsea, winning only one of the last nine meetings.
The Londoners have become a team of spoilers to the Reds, but in a season of failure for the Stamford Bridge side, Klopp's men have already picked up three points against the Blues, winning 3-1 in October.
But improvement under Gus Hiddink will see a different contest this time, and as painful as it is to say, a defeat has to come somewhere.
Points taken: 0
Everton (H) – TBC 
The Anfield derby has yet to be confirmed, and the unpredictability of where the Premier League will find room to fit the game in echoes the feeling surrounding it.
Klopp will hope to deny Everton a first Anfield win since 1999 in his first all-Merseyside clash, while Roberto Martinez's side will hope their goalscoring knowhow inspires a rare win.
Heart says win; head says draw.
Points taken: 1
Watford (H)
It remains to be seen just how much rides on the final Anfield clash by the time the Hornets arrive.
Quique Sanchez Flores' team have proven tough to beat this season, but avenging the appalling 3-0 loss at Vicarage Road – as well as wanting to sign off positively at home – should serve as motivation for maximum points.
Points taken: 3
West Brom (A)
Liverpool are renowned for struggling against Tony Pulis teams, and a typically tough afternoon awaits at the Hawthorns.
Only Divock Origi's stoppage-time equaliser earned a point against the Baggies at Anfield, and though a convincing victory would be perfect to end the season, Pulis will have his say.
Points taken: 1
Total points from the final 10 games: 19
Points Total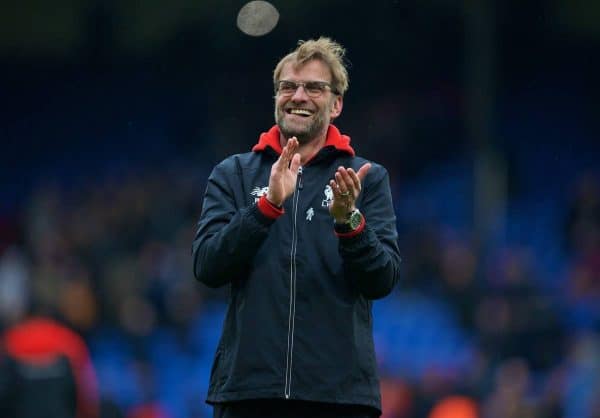 Winning 19 points from the run-in would see Liverpool end with 63 – one more than last season.
Though predictions may err on the cautious side, claiming points at a rate of 1.57 per game this year overall makes it's unrealistic to expect Liverpool to produce a blitzing winning spree – despite the slight rise to 1.6 per game since Klopp arrived.
Securing 19 points between now and May would see Liverpool improve further to just under tro per game, but it's still unlikely to be enough for fourth place, despite the Reds qualifying for the Champions League stage with just 60 points in 2004.
Seventy points has proven the magic number to secure fourth spot in recent seasons, but Klopp's side would be seven points off that, leaving them hoping for others to slip up, and a lower total needed.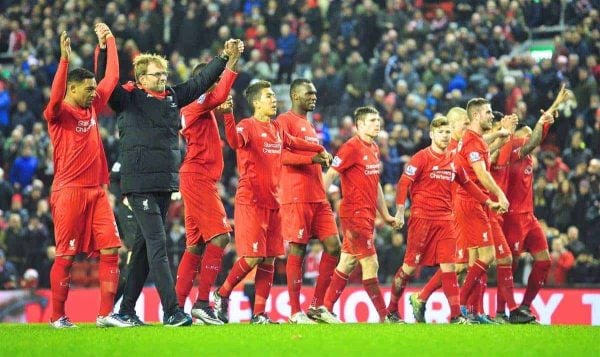 The Reds look set to fall short in the pursuit for fourth, having left themselves a task too big to claw back.
Also with 10 games to play, it's hard to see current occupiers, Man City, not winning at least half of their games when assessing their fixtures, with 19 an equally realistic amount for Manuel Pelligrini's side to achieve which would likely see them secure fourth with 69 points.
Sixty-three points has earned fifth and sixth spot in four of the last five seasons, and sixth looks a likely finish in 2015/16, with the Reds pipped to fifth by West Ham – who have a kind run-in – but leapfrogging Man United.
Liverpool can only continue to win and hope rivals fail spectacularly, but qualification for the Europa League is more realistic than the Champions League.
A return to Europe's secondary competition would arguably be better to avoid for next season – winning the Europa League is the way to ensure of that.
Finishing sixth won't be the conclusion Klopp wants, but it might be what he has to settle for following a rollercoaster, but educational, first six months in charge.