Spanish football expert Karl Matchett provides the lowdown on Liverpool's Europa League semi-final opponents, Villarreal.
The Reds travel to Spain on Wednesday, ahead of Thursday's first-leg against the side currently fourth in La Liga.
Jurgen Klopp's side are seeking to take a positive result back to Anfield for the second-leg the following week, and move a step closer to the Reds' first European final since 2007.
But Villarreal have won all six of their home Europa League games this season – conceding just once.
Here's all you need to know about the team nicknamed 'the Yellow Submarine' – and how Liverpool can overcome them.
For those who don't know much about Villarreal, tell us a little about them as a club; their recent history and how they qualified for the Europa League last season.
A small town with a great stadium, a fun team to watch and some extremely talented players!
Last year they were fighting for the top four but dropped off late in the campaign as they put more emphasis on cup competitions—which they ended up losing out on, too.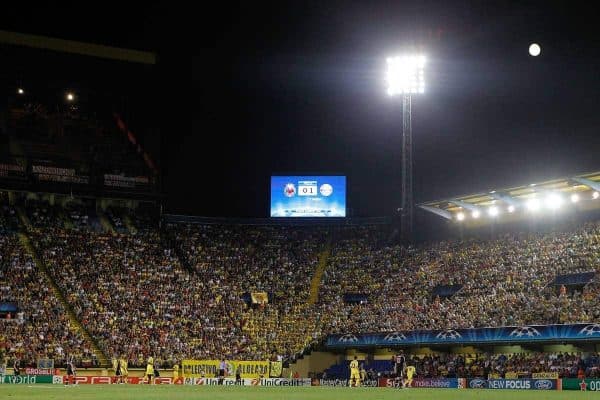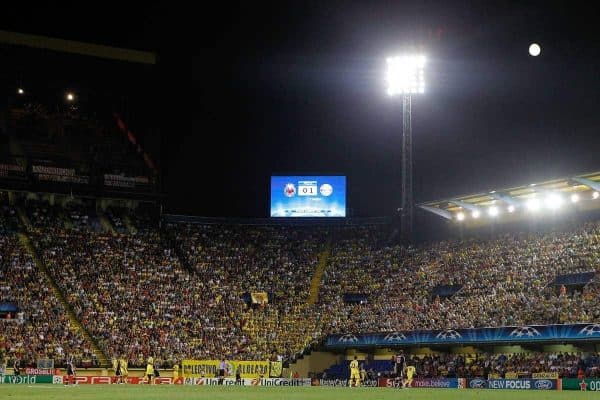 This year they're in the top four in La Liga which is damn impressive considering it's only their third season back in the top flight, having been relegated in 2012.
That was a crazy blip though; for the past 10 years or more they have been a top-six side, give or take, with a lot of players who have been excellent in Spain and elsewhere.
Kavehci Nihat, Marcos Senna, Diego Forlan, Diego Godin, Robert Pires, Giuseppe Rossi and so on have all been stars for them along the way.
They're fourth in La Liga this season so the best outside of the big 3. How have they been playing? What's their style of play?
Very well, up until about a month or so back. They're a solid, consistent side, they play 4-4-2 almost without deviation other than a few times when they'll bring on an extra midfielder to hold a result late in games.
They seem to have gained a reputation from some people in England as a counter-attacking side, which isn't quite accurate – they can be devastating on the counter, but especially at home their main method is to have lots of midfield possession and try to involve the wide players in buildup down the channels.
Both "wingers" will come infield once into the final third to link play and leave room for the full-backs to overlap. Bruno Soriano will dominate the middle by taking possession frequently and he doesn't mind a big tackle either, and Villarreal's centre mids are very good at quickly playing a diagonal pass over the defence for Cedric Bakambu, a rapid and powerful striker, to run onto.
So you could say a 'lite' version of Diego Simeone's Atletico side?
In many respects, yes. They are solid defensively with two banks of four and tend to drop off quickly to defend their own 18 yard box.
They'll back themselves to see off attackers over a sustained spell if necessary, before building themselves back into the match with possession.
They are not quite on Atleti's level at either end of the pitch, but not a million miles off.
Who are their key players and danger men?
Bruno in midfield is the man they look to feed most often, but really they have great technique throughout the middle four.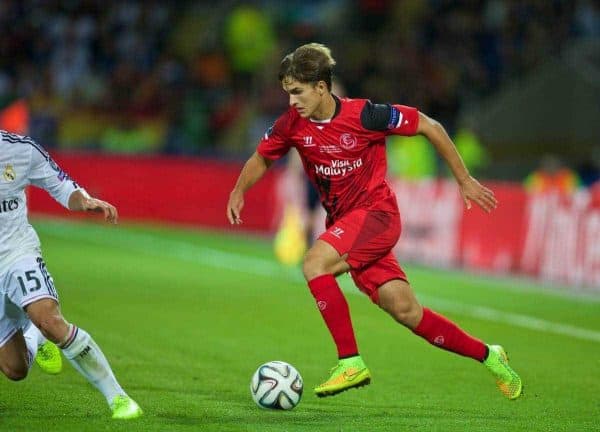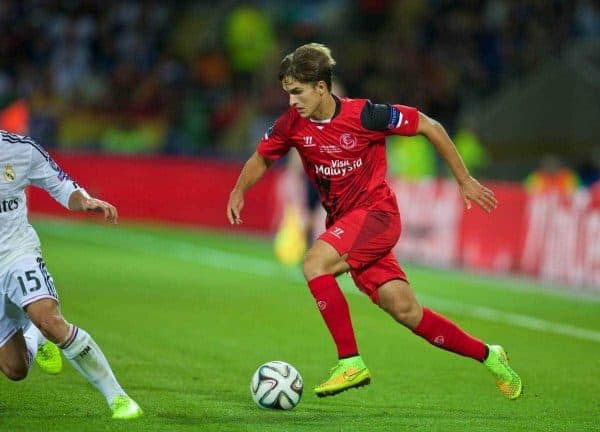 Manu Trigueros has a great shot from range and can surge from deep very quickly, Denis Suarez (pictured above) can be unstoppable when on his game and Roberto Soldado is hard-working, finds spaces between the lines and links tremendously with Bakambu up front.
Soldado isn't the poacher he was earlier in his career, he's a hub for the attack to move around now just outside the penalty box and does it very well.
And what's their weaknesses? How can Liverpool overcome them in the two legs?
They don't have many weak areas of the team, but there are a couple of players who have weak spots in their game.
Eric Bailly is a great young centre-back but he makes rash decisions at times: press him high and fast and you could win possession in good areas, and he's always got a reckless lunge in him too which can give Liverpool free kicks and possibly cards for him.
Also at left-back, Jaume Costa is excellent but injured so it will be either the Jon Flanagan-esque Antonio Rukavina who sits in the back four and doesn't roam forward, or the exciting but inexperienced Adrian Marin.
The latter is fast, offensive-minded and will remind viewers of Jose Gaya. Neither are as good all-round in their game as Costa is.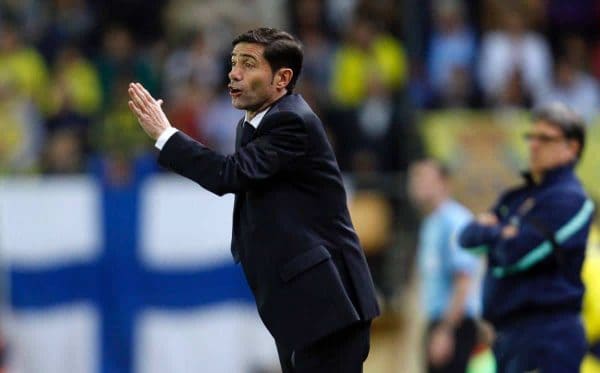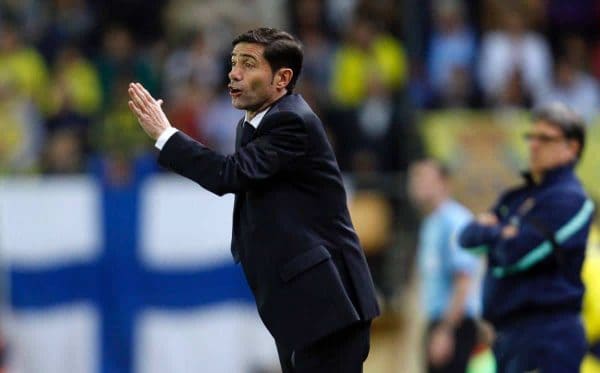 How do you think they'll approach the two legs? Will they look to take score draw to Anfield, or would they be happy with a 0-0 in the first leg?
Not a chance – they won't want to concede in the first leg at home, but they'll definitely be looking to win the game.
They will attack relentlessly every time they get the ball, until they have the lead—then it'll be a more calm, measured approach to try and wear down the opposition and not give any easy chances away.
If they have a lead to take to Anfield they'll shut up shop and look to exploit set pieces and counter-attacks. It's worth mentioning, it'd be a very stupid idea for Liverpool to give away cheap free-kicks around the edge of the box.
Denis Suarez (right foot) and Bruno (left foot) are as good as it gets at striking direct on goal. Take note, Lucas and Co.
What are the Spanish media saying about their chances in this tie?
In typical Spanish fashion, barely anything, because Real Madrid have a semi-final match to play this week too!
In fairness, Villarreal didn't play until Sunday night so a lot of the focus for them has been on that league match rather than the build-up to the Europa League semifinal.
And their players / management? Wasn't there a quote about 'wanting to play Sevilla in the final'?
In some ways it's understandable; Marcelino's last job was at Sevilla, that's the team which has won the last two Europa Leagues and so on.
There were also cup games last season where Sevilla got the better of Villarreal—but let's be honest, they're not going to be disappointed to reach the final whoever they face there and getting past Liverpool will require an almighty effort first of all.
How would you set Liverpool up in the first leg in order to get the result in Spain on Thursday?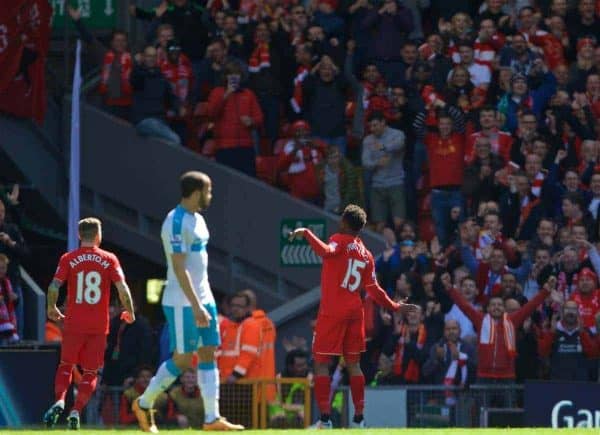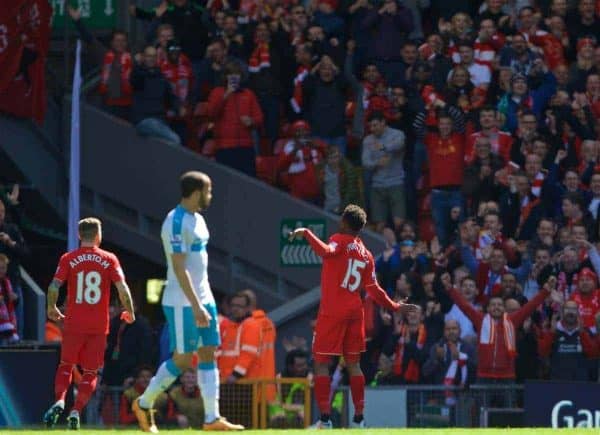 In a diamond midfield. It offers the benefit of placing an extra body in the space in front of the back four which Soldado, Suarez and Jon dos Santos will look to exploit together, and allow Liverpool to press high.
Henderson and Can would have been very nice to have had for this set up, but perhaps Allen and Milner can provide enough work rate and aggression to partly make up for it.
Chances have to be taken, because it's unlikely they'll get many—that means Sturridge starts.