Jurgen Klopp's makeshift Liverpool side surprised him with the completeness of their display as they eased to a 4-1 win over Stoke.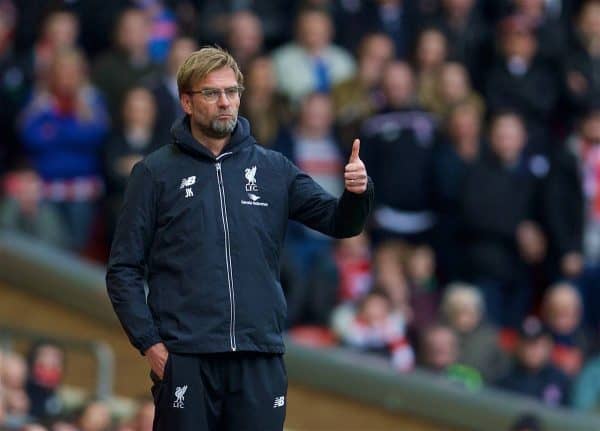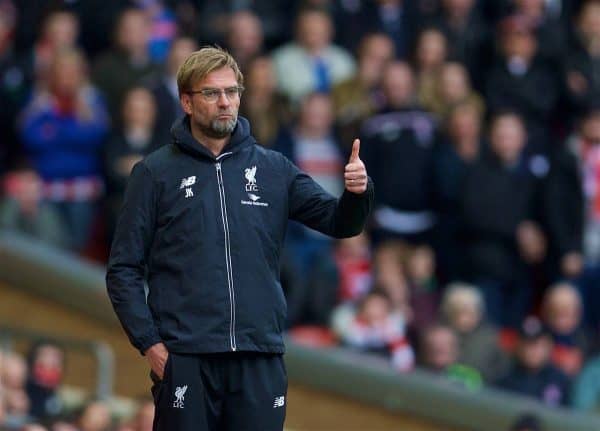 The match at Anfield was the filling in the sandwich of the Europa League quarter-final against Borussia Dortmund and Klopp made seven changes with Thursday's second leg in mind. Kevin Stewart and Sheyi Ojo were given their first Premier League starts while Kolo Toure, Martin Skrtel, Joe Allen, Daniel Sturridge and Roberto Firmino also came into the team.
But any thoughts of a European hangover were swiftly dispelled, with Alberto Moreno rifling in his first goal since December 2014 after only eight minutes.
Bojan Krkic headed in an equaliser but Sturridge restored the lead in the 32nd minute and half-time substitute Divock Origi continued his fine week with two second-half goals.
Neither Stewart nor Ojo looked out of their depth in the Premier League, with the latter setting up Sturridge's goal with an excellent piece of skill and cross.
Klopp said: "After three or four moments on the right wing, doing what he did on the left, the dribbling and the cross, that was really brilliant, and Daniel finished perfect.
"The first goal, quick in mind, that's what we said we had to be. That's why we changed the line-up. Alberto I would say, since I am here, had his strongest performance.
"Of course the goal gave him confidence but he was concentrated, good in defence, very good in our build-up. The whole game was good against a really difficult to play side.
"Now for a second time they changed their style of play only for us. In the League Cup semi-final at Stoke, the first half they played football, second half they changed a little bit and when they came here it was a long-ball festival.
"With the wind and Peter Crouch, it was clear it would be difficult, but the experience of Kolo (Toure) and Martin (Skrtel) ruled it in the end.
"For a team that has never played together, it was brilliant. I thought we would have more problems. I thought it was a formation that could win, but not like this."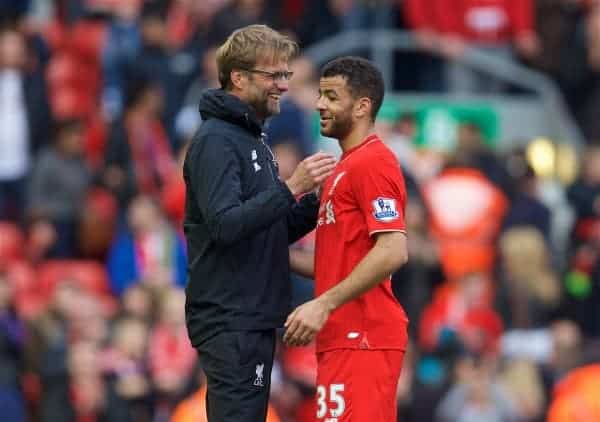 Klopp surprisingly preferred Origi to Sturridge in Dortmund on Thursday and was rewarded with a fine performance and goal from the 20-year-old Belgian.
"You see what confidence can do," said Klopp.
"I think Divock said it himself that when he came here everything was different. He is still a very young player. Coming here he knows expectations are really high because he's a highly-rated striker.
"He had a lot of little injuries, now that's the most important thing for him is to stay fit. The last injury he used (to increase) his body strength. Now he has to wear another kit.
"The second goal is only possible with confidence. He really wanted to shoot. It was not a cross or anything. Even on the bench it was a surprise but nice goal."
The result lifted Liverpool above Stoke, with the Potters conceding four goals for the first time all season. Boss Mark Hughes rued uncharacteristic defensive lapses.
---
Watch Klopp's post-match press conference in full:
---
He said: "We had a decent amount of control in the game, we were working the ball up the pitch to good effect, getting the ball out wide, but unfortunately for us the story of the game was our inability to stop balls coming into our box. And when they did come into our box, we lacked the ability to clear them or defend them correctly.
"In the end 4-1 we feel is a little bit hard on us given what we did in the first half but you've got to have a full 90-minute performance and unfortunately we didn't have that."
Hughes and full-back Erik Pieters had words late in the game, with the full-back substituted shortly after and notably not exchanging so much as a glance with the Stoke boss.
Hughes shrugged off the incident, saying: "There may well have been (words) but those things happen. We just needed to be a little bit more solid and I just felt I needed to make a change."
LIVERPOOL 4-1 STOKE