Ours is truly an incredible club, writes Jeff Goulding as he tells his story of Thursday night's incredible scenes at Anfield.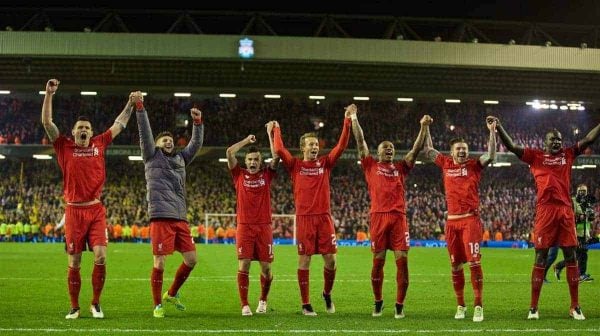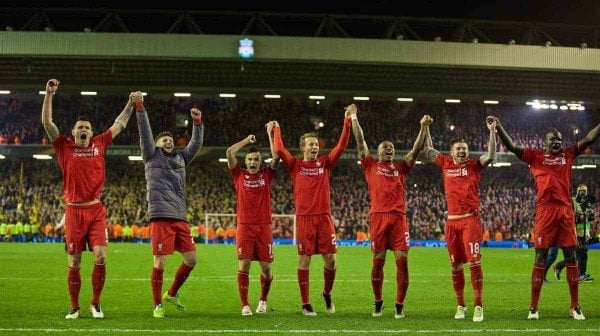 Time and again we are driven to the brink of defeat, but refuse to accept our fate. Dortmund is just the latest chapter in a story that goes back decades. Both on and off the field, Liverpool has become a name synonymous with resistance, with never knowing we are beaten and with refusing to lie down when others would surrender.
Reams have been written since Thursday night. Words that have tried but, for all their brilliance, could never succeed in capturing the truly inspirational nature of that game to us and to countless millions watching across the globe. I will try to add my own here. It's not easy, it's taken me hours to write these two paragraphs.
I had desperately wanted to get to the game early, but was running late. Exchanging text messages with my lad, who was already there, my sense of nervousness and excitement was building. As the car edged towards the ground I was struck by the volume of people making their way so early.
It was 7.15 and the pavements were already crammed on both sides, fans animated in conversation and delirious with anticipation. Along Arkles Lane and down Utting Avenue the coaches were lining up. There were signs of the enormity of the game all around.
My phone goes again, another text message. "Hundreds of Dortmund fans outside the memorial already. Class." Can this car not go any faster?
There would be no pub for us before the game. I wanted us to get there early, so we could soak up the atmosphere around the ground together. What we once took for granted has, in recent years, become a more precious commodity. Who knew if we would be back here next season and I wanted to savour every moment.
We were always going to get in way before kick-off, but not before a lap of the stadium. There was history in every step, etched into every brick. Ghosts of European nights pasts were all around; St Etienne, Barcelona, Olympiakos, Juventus and the minnows, Chelsea and United too. All had succumbed and been written into our epic story.
Tonight it was Dortmund, a team and set of supporters who ooze quality and class. They mingled freely among us, more like pilgrims than fans, delighted to be here at one of Europe's most fabled stadia. Some had travelled without tickets, just to be amongst it all. A young lad approached us, dressed in Dortmund colours, "Do you have any tickets?" he asks in flawless English. "Only our own mate." Then he's off again on his quest.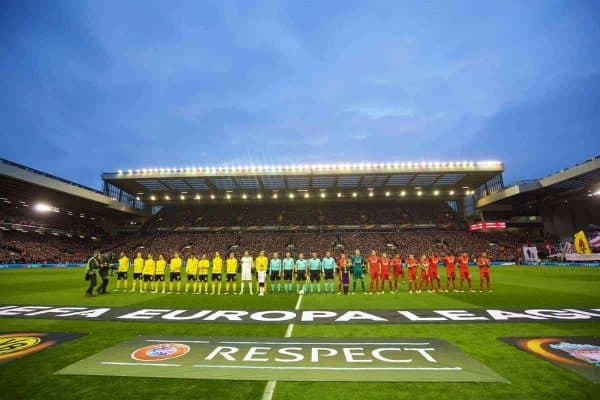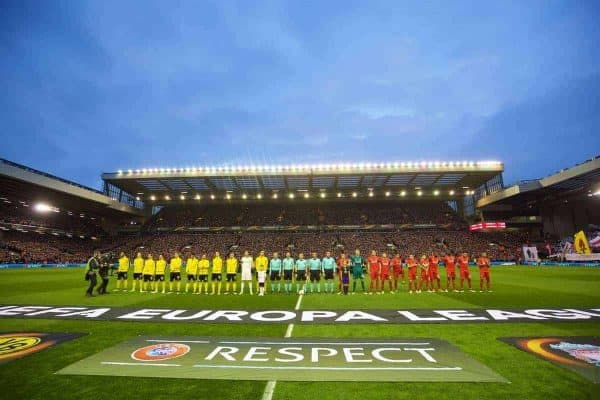 Anfield Road is jammed and Reds pose for 'selfies' with Yellows and laughter fills the air. The fan park is bouncing and their air is filled with excited chatter. We move through the 'tunnel' under the new main stand and weave our way through the throng, before emerging in the light near 'The Albert'.
Across the road supporters have hung a sign on the front of one of the shops next to the Hillsborough Justice Campaign store. "Willkommen In Liverpool" it says. The sound of singing from inside the pub drifts into the street and joins the smell of beer and burgers. A cacophony accents is all around; English, Scouse, German and Irish. All nations, all cultures in one place dreaming of glory.
This is European football. This is Anfield.
We walk on past 'The Park'. The door is open, but the place is obviously rammed and the atmosphere within looks raucous. Songs are being sung and a crowd are bouncing in front of the bar, beers and phones in the air. We laugh and joke that we're not getting in there even if we wanted to.
Across the road is the Kop end, with the usual build up inside and outside the gates. Shankly is mobbed as he always is, arms outstretched glorying in the eternal adulation. He is the benchmark, the golden thread of our happiness stretches back through the years to him. His statue reminds us of who we are and our opponents that they aren't just facing a team, but a glorious history.
Far above Shanks are the metal panels that shield the supporters from the outside world and help to lock in the atmosphere. It's past 7.30 now and we can hear fists and boots banging against the steel, a chant of "Liiiiiverpool!" can be heard in the street. They are calling us. We hug, shake hands, wish each other luck as if it is us who are about to do battle (in a way we are) and agree to meet after the game.
Inside I climb the steps to Block 109. I rise and am greeted with the 'Yellow Wall' at the opposite end of the pitch, a magnificent sight. The I turn my head left and gaze on our own 'Red Wall'. It's as impressive as ever and I wouldn't swap it for the world.
George Sephton is, somewhat bizarrely, playing a Bob Marley tune. The reggae tones waft lazily around the ground and the Kop seems to inhale them deeply, swaying and singing "Don't worry about a thing, 'cause every little thing is going to be all-right." Perhaps it was a portent for what was to follow.
This was a carnival of football. None of the bitterness and intense rivalry of a Chelsea or United encounter. Instead this was two of Europe's elite locked in mutual respect and the joy of the game. I'm reminded of old 'Pathe' footage of '60's Scousers in love with life, music and football and singing Beatles and Cilla Black tunes.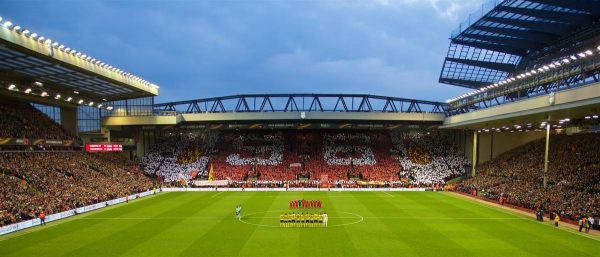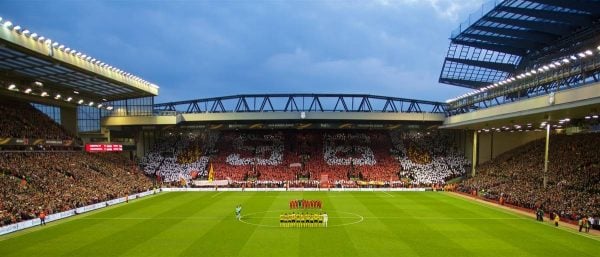 Now I'm in my seat and our anthem starts. It's the loudest and most prolonged rendition I've heard in a long time and my eyes well up. Then the minutes silence and I struggle to stop a tear.
This was to be the start of two days that would epitomise the history of this club. The agony and the glory and victories wrenched from the hands of seemingly hopeless causes by sheer force of will and dignified, but defiant determination. This is what Liverpool Football Club is all about and will always be.
The first half was a European master-class. Dortmund were immense and fully deserving of their 2-0 lead. They simply blew us away and if we were to salvage any pride, let alone progress, we would need to climb that hill once again. Half time was a blessed relief. I actually said to the guy next me "thank God for that." He knew what I meant and nodded grimly. This could have been so much worse, the hill could have been even steeper.
"What will he say to them at half-time?" he said "Will he rip into them?"
"What can he say? I replied. Dortmund had been superb, but Liverpool had fashioned enough chances of their own. They just hadn't been as clinical as their counterparts. We now know what Klopp said and his words would spark one of the most memorable nights of my life.
Just as in 2005, The Reds faced a second half in need of 3 goals. At Anfield against the Greek champions and in the Ataturk against Italian giants they would find a way back; could they do it again?
This is a different time though, a different manager and new players. Surely history is of no consequence now. Not so, what Liverpool have achieved in the past, it seems, echoes in eternity. Our legend, our spirit and legacy is so tightly woven into the fabric of the club, that it doesn't matter who you are or where you are from; when you pull on that jersey it becomes part of your DNA.
When Origi pulled one back early in the second half, I felt the atmosphere move up a notch. There was still a mountain to climb, but this was familiar territory. There was plenty of time left and only two more to score. Impossible is nothing.
However, it's just not in our make-up to coast. We don't do things the easy way. A victory without struggle would be easier on the heart, but it wouldn't taste anywhere near as sweet. So there was an air of inevitability about Reus's heart-breaker and Dortmund's third.
Strangely though, it didn't dampen the spirit inside the ground. I guess we all strapped in for the ride. We were going nowhere, so the only option was to stand and fight. The ground roared back, willing the players to hold their heads up and strike back. Klopp was going crazy on the touchline, gesturing and orchestrating the crowd and his team. Again I'm reminded of Shanks doing the same at Wembley in the victory against Newcastle in the '70's. History was everywhere.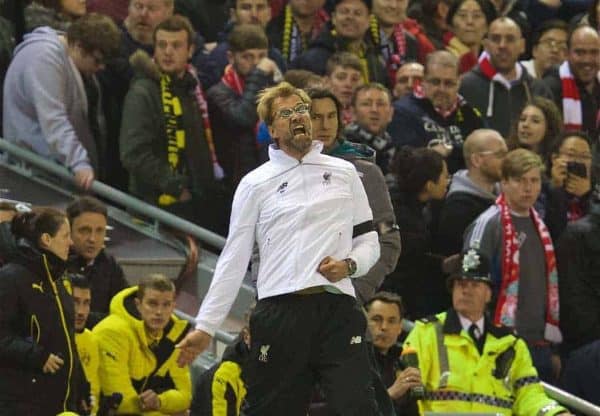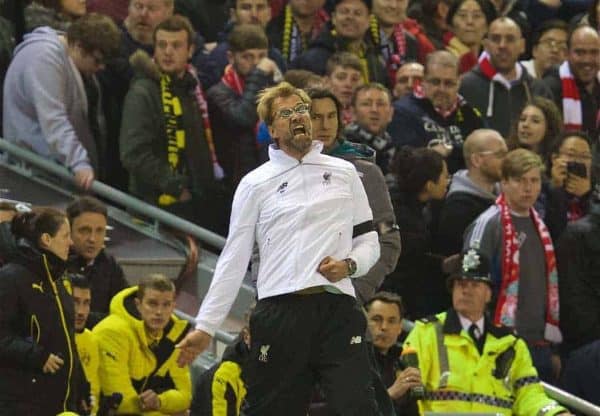 "They look rattled" said the lad behind me as Dortmund frantically cleared in front of The Kop. He was right. "They will be if we get another" said another voice in front of me. The game was moving at pace and eating up the clock, The first half had been wading though treacle, the second was like a ride on the rapids.
The noise was growing, a strange mixture of anger, frustration and sheer joy. Joy that we were there to witness it all, that we would be able to tell our stories for years to come and a belief that we could have an effect on the outcome.
Then Liverpool spring a delightful move and suddenly Coutinho is free with the ball at his feet. He has a lot to do, but this is the 'Little Magician'. Before I've had time to think about it, the ball is in the net.
Then Delirium. An ecstasy of falling and and stumbling, of hugging each other, fist-pumping and screaming yiiiiiiiiiiiiiirrrrrs! at the top of your lungs. Then the scarves are out, being spun in the air and ring of fire erupts around the stadium. It was a majestic sight.
The Germans could only stand in stunned silence. Perhaps they knew then. Perhaps their team did.
Time had no meaning for me at this point. I couldn't have told you how long was left, I just felt we would do it. There was something about Dortmund's body language, our player's hunger and, well just something. You can't explain it, but sometimes when your at Anfield on a night like this, you just know. Maybe we transmit that belief to the pitch.
We have a corner. There's no celebration. I turn to my mate and say "we are shit at corners." It's become a tradition. We say it every time we win one, in the hope that this will be the one that proves us wrong. It was.
Coutinho chipped a low one to the near post and Sturridge seemed to glance it back into the six yard box. The seemed to be a scramble of legs and next minute the ball is in the net. The roar sounded incredibly loud and seemed to come from all corners of the ground. This was unreal. How many times have we been here. Belief soared.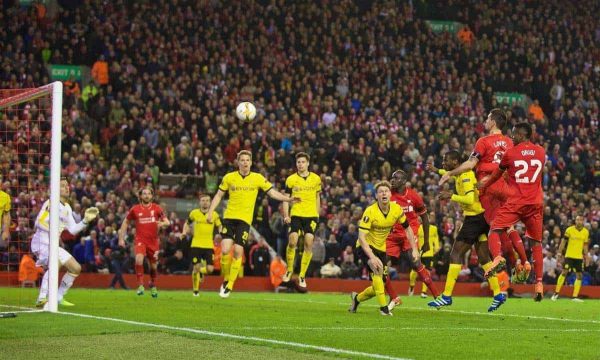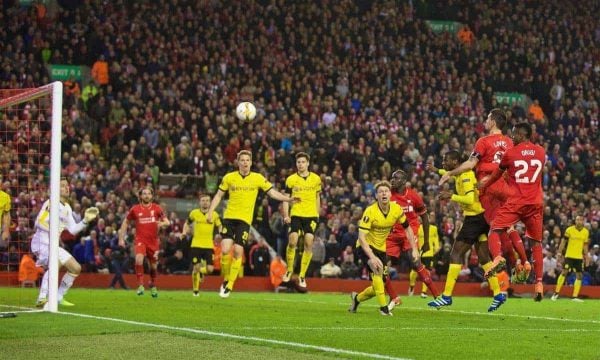 I know now that there were a full thirteen minutes remaining after Sakho had levelled. To me it seemed like the next event was the fourth official holding up the board. It had briefly said 1 minute, inducing momentary panic, befor ehe corrected it. Four minutes left. Another deafening roar rang around Anfield, in one voice it cried "Come on!"
If the grass in front of The Kop could talk, it would enthral us with tales heroic deeds, of Fairclough in '77 racing onto a Kennedy pass and blasting Liverpool into the semi-final if the European Cup, of Gerrard latching onto a Mellor header and dragging The Reds out of the group stages and onto the road to Istanbul.
It would now tell future generations of how, in the dying embers of the game, Dejan Lovren rose from within a clamour of players to head home a Milner cross and drive Anfield crazy. Only our club, only Anfield can produce nights like this.
Jubilation greeted the final whistle. I was exhausted, drained both physically and emotionally. You'll never Walk Alone rang out once more, all around me stunned and ecstatic faces. One guy just looked me, speechless, his fist pounding against his chest. He didn't need to speak, I knew what he meant.
It had been sheer force of will, a refusal to given up when the odds seemed stacked against us that saw us through the game. On and off the pitch Liverpool drew on a rich history of defiance, determination and just plain bloodymindedness.
I will never forget and neither should anyone else. Just as past miracles inspired our players on Thursday night, so too will Jurgen's heroes inspire future generations to glory. Liverpool FC is eternal.