Jurgen Klopp insists his team selection decisions are made only with the next game in mind, not based on the reputation of a player.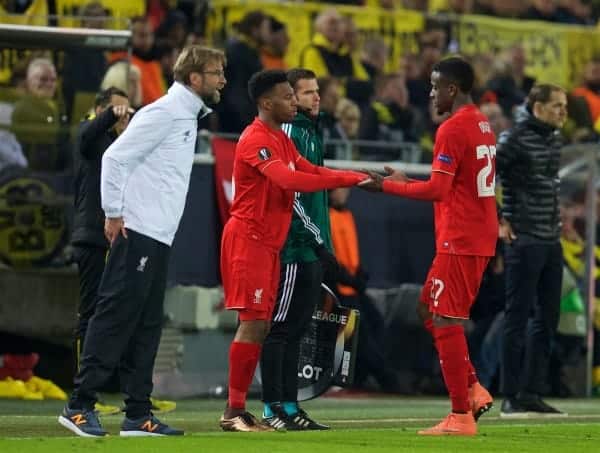 Daniel Sturridge was benched in favour of Divock Origi for the Europa League quarter-final at Dortmund on Thursday night, but Klopp says his only focus is on selecting the best team for the next match.
"I always think about Daniel, even when he was not available. We decided for this game (Dortmund) for Divock and I think it was a good decision.
"But his (Sturridge's) response was very good when he was on the pitch, you saw immediately how strong he is and how good he is and that's very good for us. Now he is rested and we will see.
"I won't tell you about my lineup for tomorrow, but of course he's involved in my thoughts.
With Sturridge generally seen as Liverpool's No.1 striker, Klopp was asked how having Origi and Roberto Firmino as competition can affect his decisions.
"That's the best situation you can have.
"They have all to be in the best shape, then we can play, or two of them, that's very likely that they can play. Divock and Daniel played together for sure at Southampton, which was not too bad. It works really good. You need more than one striker.
"If all strikers are fit, then you have to make decisions and that's about the plan you have for the match and not the name of the player.
"The changes I made in the last games is because we have to think what is best for the team and the more players we have available the better that is."
Quizzed further about the same topic, Klopp reiterated that his decisions are made with only the game, not the reputation of the player, in mind.
"I don't make decisions about who was when, I have no doubt about the quality of Daniel Sturridge.
"How could he be on his 100% best shape with his long breaks in training and matches?
"It's only about what's the best for tomorrow, what's the best for this game, it's not about the name or something."