A regular in the Kop at Anfield, Jeff Goulding gives his view as the Liverpool support push to become the Reds' 12th man under Jurgen Klopp.
On Wednesday, under blazing floodlights, The Kop took its final bow of the season. At the end of the game the field of battle lay empty. I made my way to the front of the Kop. It's late, I've got work tomorrow and frankly I'm just too old for this sh*t. However, I've been doing this since I was a kid and I don't think I can ever stop. I take my place and wait for the men in red to begin their circuit of the pitch. It's a time for mutual thanks and for them and us to soak up the shared adulation.
There's a line of stewards in front and I'm relieved as they lie down affording me a clearer view. There's that sense of expectancy building and none of the sense of grim duty that accompanied last season's lap of dishonour, nor the feelings of bitter frustration associated with Rodgers' near miss before it.
I've had a few days to reflect on the game and the season since that last night at home on Wednesday. There is much to give thanks for this time. Jurgen Norbert Klopp for example. The man has breathed new life into a Liverpool team on the brink of flatlining only seven months ago.
We've had glory round the fields of Anfield Road once more. And oh how glorious it has been.

The scenes that greeted the team bus before Dortmund and Villarreal were one long testament to the fact that supporters had indeed changed from doubters to believers. The crushing of United, the refusal to yield to a superior German side and the obliteration of the Spaniards that followed showed that the players had also become willing disciples.
As if ramming home the point, the Kop begins to sing the Bob Marley song that took hold at the Westfalenstadion and which has now grown into a new red standard. However, there was a hint of irony in this particular rendition. Today's Kop may have learned not to worry about a thing, the players may have taught us that every little thing is going to be all right; but for the previous 90 minutes the famous old stand had been anything but laid back.
The final home game had been largely meaningless. Chelsea could no longer catch us. Aside from the relatively recent needle between the too clubs and the delight both feel in getting one over on the other, there was hardly anything at stake.
Yet we had bemoaned every stray pass, bellowed our disapproval at every squandered opportunity and urged the team to run themselves into the ground, when a more measured and patient approach could have served us better.
Was it the faint hope of finishing fifth that drove our passion? Could a belief that players' thoughts had already strayed to Basle that fuelled our fury? Klopp rightly referred to this in his post-match comments. The players and the crowd were too impatient, he said. Spot on yet again Jurgen.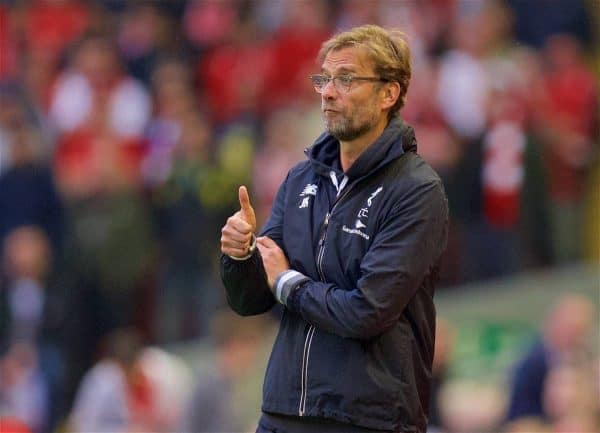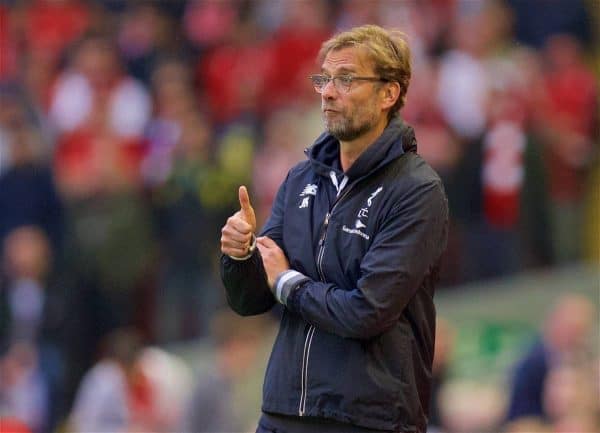 At a club where the relationship between pitch and stands borders on the symbiotic, the crowd has the potential to both help and hinder. On Wednesday night we were definitely a hindrance. The players were sub-par and Chelsea, in particular Eden Hazard, were dominant in midfield. At times they went through us like the proverbial knife through butter, yet in the first 15 to 20 minutes we could have easily been two or three in front.
That's when the mood began to change for me and frustration took hold amongst the watching public, transferring itself to the players. It is a huge credit to the work that Klopp has done with his squad that more than ever they really don't seem to worry about a thing. They truly believe, regardless of the odds or the time on the clock, that every little thing is going to be all right. They could still do with a little help from their friends though.
With injury time running out against the Londoners, Liverpool had produced yet another late, late show. It seems to be rapidly becoming a trademark under their German coach.
How many times over the last quarter of a century have we had to endure that cliched tabloid slogan 'Fergie time'? It used to sicken me, not because there's is anything wrong with a team fighting until the very last, but because of the devastating psychological effect this 'legend' had on opposing players and supporters like ours.
When playing United you could never relax. No lead was secure. If you were a goal up in the 89th minute, you knew you still had five minutes of defending to do. The number four, it seemed, was painted onto the fourth official's board. The players knew it too and it surely made them edgy.
It was a powerful weapon in the Manc armoury. How great is it that Jurgen has added it to ours this season?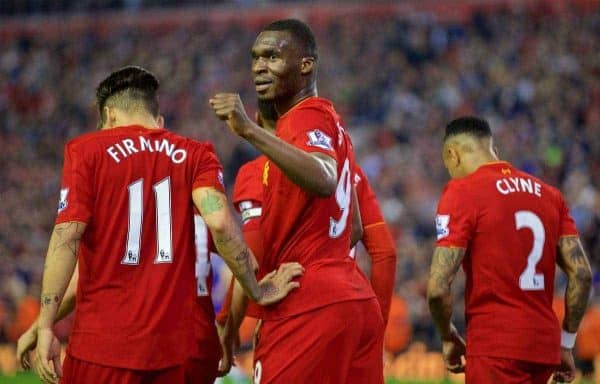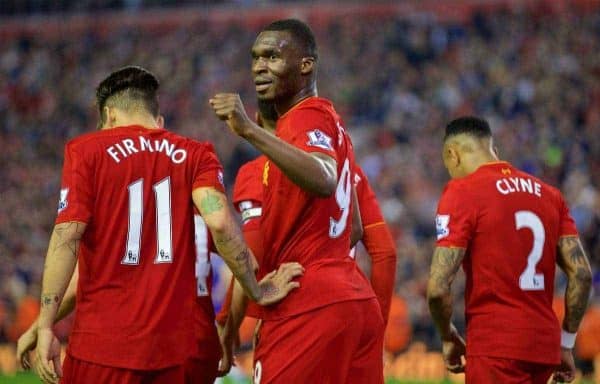 What effect this will have on future opponents is yet to be seen, but there is no doubt that any team playing Liverpool next season will be unable to rest on their laurels, even if they go two or even three goals up. Sheyi Ojo may never realise the significance of his late surge on Wednesday night.
With the game seemingly up and thoughts drifting towards Switzerland, the youngster glided towards the touchline in front of the Kop and swept a perfect ball into the six-yard box. The keeper got a hand to it, but only diverted it into the path of Benteke, who nodded it into the waiting net.
The celebrations were beyond all proportion; or were they? After all another chapter in the story had just been written. Liverpool the 'comeback kings' once again. There was little more than a minute left and for all their superiority, Chelsea had succumbed. Of course they had, because against today's Liverpool, it's really never over until it's over.
So, this is my message to you. Why worry if we haven't scored after 15, 20, or even 80 minutes? Why moan or shout or lambast players who miss a shot or misplace a pass? Because in the end, every little thing is going to be all right.
Klopp has once again shared his thoughts on the question of support in a German newspaper this week. In the interview he says that it is the responsibility of the players to create the atmosphere. He is perhaps being diplomatic here, but really Jurgen?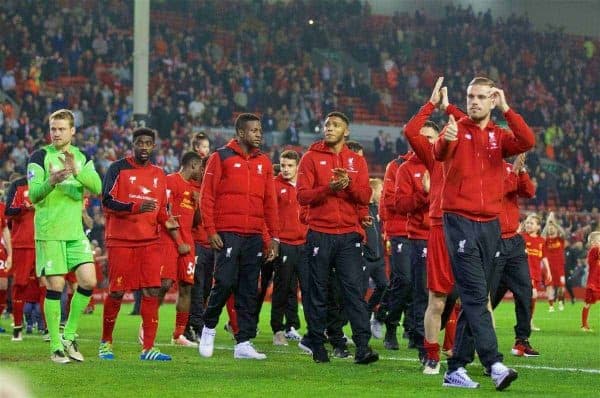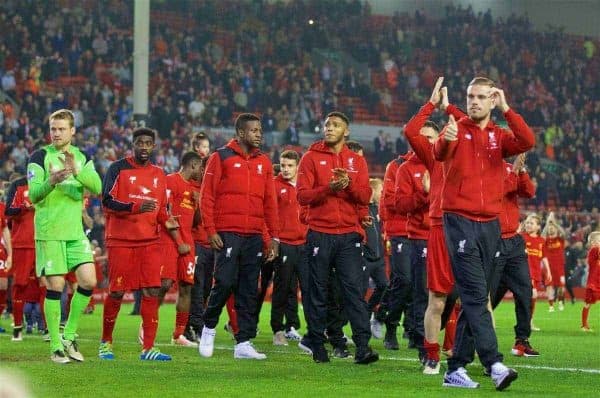 Players don't sing, they don't shout, they don't carry banners onto the pitch. When they're a goal down or struggling they can only rely on their their team-mates to get them out of trouble; unless the crowd takes responsibility also.
Generating a positive atmosphere is easy when we are winning. It comes naturally when the team are playing their opponents off the park. But the mark of truly great support is doing all of that when the team are struggling.
For me this has been the missing ingredient for too long. The manager has called upon us to create the same feverish cauldron that greeted United, Dortmund and Villarreal in every game. I would go one further. We need to create it whether we are rampant or dire next season. Instead of groaning at every wayward corner or poor shot, we should encourage and support.
Liverpool will strengthen next season. Klopp has hinted at quality not quantity when it comes to rebuilding. If we manage to secure a seat at Europe's top table, optimism will skyrocket. Even so, there are still going to be those inevitable setbacks. Games where it just doesn't go to plan. That's when the players need us most. That's when it is our responsibility to create that atmosphere, because when the players can't – who else can?
These are once again joyous times to be a Red. Next season promises so much. The manager and players know their part. Let's make sure we do too.