Manager Jurgen Klopp admits he was lost for words after Liverpool's 3-0 victory over Villarreal booked a place in the Europa League final.
A Bruno own goal inside seven minutes was followed by strikes from Daniel Sturridge and Adam Lallana in the second half to book a spot against defending champions Sevilla later this month.
Villarreal appeared to be overwhelmed by the occasion and defender Victor Ruiz was sent off for a needless second yellow card midway through the second half.
"I have not the right words for this performance so maybe you can find a few – it is your job," he told his post-match press conference.
"It was nice to watch, be part of it, the whole performance from 6.45pm when we drove through the road again.
"The first half-hour was power, the will was obvious and 15 minutes [of the first half] we lost a bit of patience.
"Second half we were back to the plan. We were very emotional plus very smart and scored some wonderful goals."
Sturridge justified his manager's faith in picking him to start for the first time in four European games with one goal and he almost got a touch for the opener turned in by Bruno.
"A great game from Daniel Sturridge," Klopp added.
"You all see now when Daniel Sturridge is fit he is an unbelievable striker but even he needs players to play with and I know about his quality, I knew before I came here. Great player."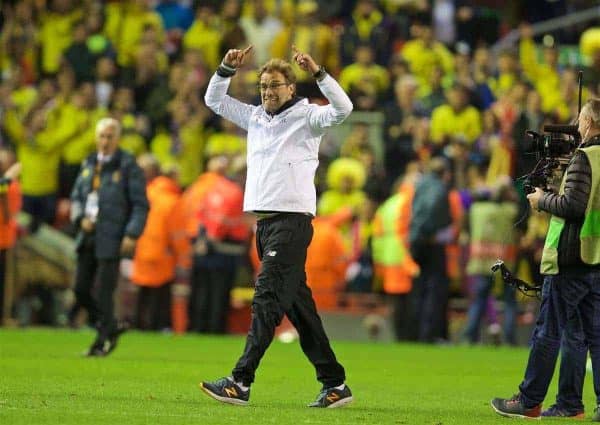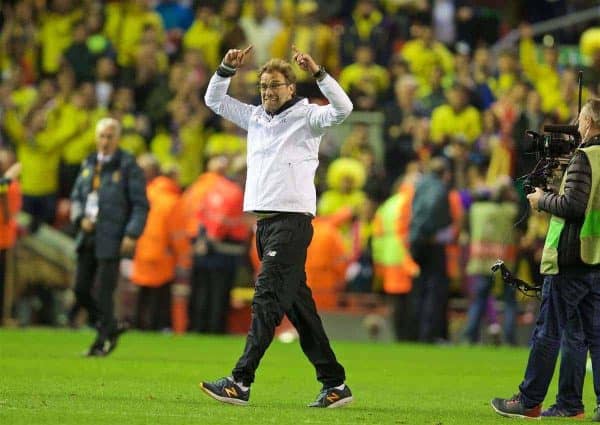 Klopp was involved in a touchline row with opposite number Marcelino in the first half after complaining about the ferocity of some of the visitors' tackling.
Marcelino did not take it too well and criticised Klopp's manner in the technical area. However, the German hit back by saying: "I would not be like him one second in my life – and he is a great manager."
Villarreal's manager claimed referee Viktor Kassai favoured the home side but apart from a stupid Alberto Moreno push on Denis Suarez with the score at 2-0 there was little validity to his complaints.
"In the context of this game the referee was letting a lot go so to then see a sending-off you make your own conclusions," he said.
"I don't think the refereeing was quite equal for both sides."
On the game itself he added: "Things didn't work out how we had planned them. It hit us hard conceding that early goal, it was a hammer blow.
"It was tough against an opponent who played with a huge amount of intensity, maybe on the margins of the rules at times but it was allowed.
"Liverpool played better than us but for all their superiority they didn't create too many chances.
"When we got to the sending off it was pretty much game over by then."