With 90 minutes separating Liverpool and the Europa League final, Jurgen Klopp is looking to draw on the passion of "the whole Liverpool world."
Liverpool welcome Villarreal to Anfield on Thursday night, looking to overturn a 1-0 defeat in the first leg of their Europa League semi-final and secure a place in the final on May 18.
A late strike from Adrian Lopez proved a big blow to the Reds' at Estadio El Madrigal, but Klopp remains optimistic of victory on home soil.
Speaking at his pre-match press conference on Wednesday afternoon, Klopp acknowledged that "the whole Liverpool world" would be watching his side against Villarreal, and is looking to evoke their passion.
"We have 95 minutes between now and saying congratulations to whoever," he said.
"This game is a big opportunity in a difficult season for Liverpool.
"[It's] the main thing of football, these moments when you really know we're all together.
"Not only the crowd in the stadium—at home [too].
"It's a moment—I don't want to make it too big—but it's a moment for the whole Liverpool world.
"Everyone will watch it. Everybody will be involved with Liverpool.
"There's absolutely no pressure. I'm happy about the opportunity."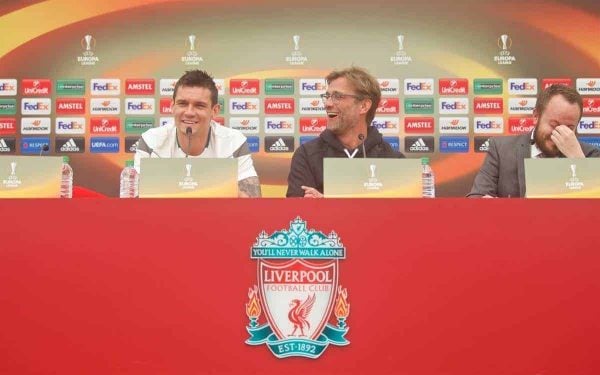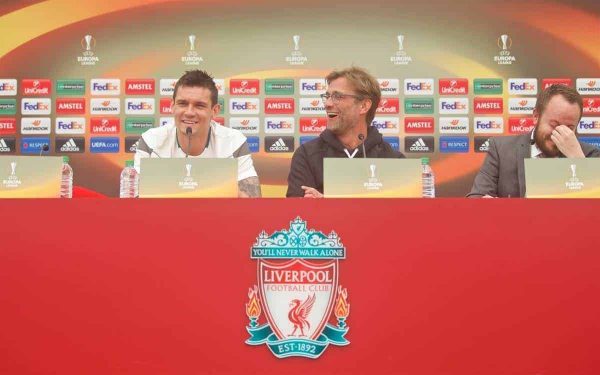 Liverpool already provided supporters with an iconic moment with Dejan Lovren's last-minute winner in the quarter-finals against Borussia Dortmund.
After sealing the Reds' place in the semi-finals, Lovren joined Klopp on Wednesday to underline the importance of supporters, including those planning to meet the team bus outside the stadium before kickoff, and a positive atmosphere inside Anfield.
"I was surprised because I hadn't seen that before," he said, recalling the thousands of supporters who welcomed the coach on Anfield Road before the Reds' win over Dortmund.
"I took my phone, took some pictures, it was amazing.
"Our fans are our 12th player during the 90 minutes. With them anything is possible."
The Croatian is hoping for a less eventful evening that that 4-3 win over Klopp's former side, however, despite emphasising the strength of Marcelino's Villarreal.
"I think even before, from 2005, the fans know that with Liverpool everything is possible.
"We have great players, we have great characters in the team, but it won't be the same game as against Dortmund.
"Dortmund was one of the best teams in the Europa League, we won against them.
"It will be a difficult game, Villarreal is a really compact team, with good individual players—a really counter-attacking team.
"It would be a dream come true [to reach the final]. For me, the fans, for everyone.
"We can save this season with the final. But in the end we still have to play Villarreal."
Lovren stressed the need to play clever football against Villarreal, something Klopp echoed in his pre-match address, but both will be hoping for passionate backing from Anfield to aid their efforts.